Vacations should be simple. With these apps, like Flush and Uber, they can be. Get 10 Free Apps To Make Your Vacation Easier in this post.
If you're planning a trip, check out our other travel posts for help.
When you're on vacation, you really want to make your life as simple and relaxing as possible. Me. Too.
But here's the thing about vacation. You're (probably) in a completely new city. It can be hard to navigate, find the best places to eat, and you might end up completely frustrated and hangry if you're walking in circles trying to find an open restaurant.
Breathe.
Vacations shouldn't be stressful. You take them to get away from the stress of your day to day life. These apps will assure your vacation is as smooth as possible.
Free apps are a great way to help you travel frugally. For more tips, check out our How To Travel On A Budget post.
10 Free Apps To Make Your Vacation Easier
Affiliate links are included in this post and Drugstore Divas may make a small commission if you use them.
Google Maps
Google Maps is a must when you're on vacation in a new city. You just type in the address of where you want to go, and Google Maps gives you directions to get there. You can get directions for driving, walking, or public transportation.
And, if you do decide to walk, make sure your fitness tracker is charged. We have a nice list of Apps To Earn Rewards For Using Your Fitbit. So you can get paid while you're sightseeing.
Google Maps has been invaluable for us on vacations, both domestic and international. If you are traveling internationally, just be sure to get an international SIM card so you can use Google Maps while you're there. If not, you'll get crushed by roaming charges.
Upside (formerly GetUpside)
If you're going on a road trip, you need the Upside app. It's an app that offers you cash back for purchasing gas at specific gas stations.
Honestly, with the way prices at the pump are right now, this app is very helpful. But, it's better on a road trip when you're driving a bunch of miles and paying for gas all the time.
What's great about it too is when you open the app, you'll see the gas stations in your area and the prices that they're charging for gas. So you'll be able to decide if you should get gas at the closest station or if you should drive a little bit more and get gas at a cheaper station (a function that's also very helpful right now).
The GetUpside app also offers you cash back at local restaurants and grocery stores, in specific locations, so you can definitely save on your vacation with the app.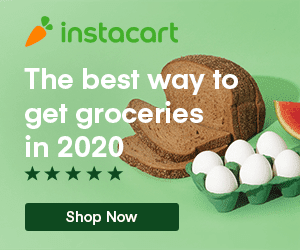 Instacart
Pete's family used to go to the Outer Banks for a week every summer. Part of that time was spent putting together a shopping list so his sisters could go to the grocery store.
No one wants to spend vacation at the supermarket. Plus, you know how it is. If you're in a new grocery store, it takes forever to find where anything is.
That's why Instacart is amazing. You place your order online, someone shops for you, and then that person delivers the groceries to your door. That means you don't even have to figure out where the local grocery store is.
So, if you're staying at a rental home, Instacart is the perfect app for you.
Plus, having ingredients at your rental means you're not eating out every meal. And that saves you money too.
DoorDash/GrubHub/UberEats
Yes, using Instacart implies that you have to actually cook while you're on vacation. What if you don't want to and would rather just have someone cook for you? Your better option, then, would be DoorDash.
With DoorDash, GrubHub, and UberEats (depending on which services your area), you can order take out from local restaurants (including small eateries and chains) and have it delivered straight to your hotel or vacation rental.
What's great about these services is that without them, many of these restaurants wouldn't offer to go menus, so you can order take out from places like Taco Bell
Flush Toilet Finder
Flush Toilet Finder is great if you're with someone like my mom who always has to go to the bathroom. She likes knowing where the closest fast food restaurant is, just in case she needs to use it. That works well if you're local, not so much when you're on vacation.
Flush finds public restrooms for you.
You just open the app (and allow location services to find where you are) and you'll get a map that pinpoints public toilets in your area. It also lets you know their accessibility, like if you need a key to open them and if they're ADA accessible.
Uber/Lyft
One of the biggest recent conveniences is Uber and Lyft. My gosh. Instead of scheduling a taxi ahead of time (if you're off the beaten path, like we are), you can just open your phone and get a ride basically instantly. You also don't have to worry about paying in cash or tipping your driver.
We have friends who use the ride share apps locally all the time, but they're really great if you're on vacation.
If you fly to a new town, you might not have a rental car to get around. And you probably don't know the ins and outs of public transportation there, so Uber and Lyft are so helpful.
WhatsApp
When my parents were going on a European cruise, we made them download WhatsApp. It's a great way to stay in touch without worrying about overages on your phone plan.
WhatsApp is a messaging app, which allows you to text (and now, make calls) over WiFi, which means that if you can find a hotspot, you can text and call without worrying about international fees.
To be completely sure you're not using international cell towers and accruing roaming charges, turn off your phone's cellular data. You'll be able to use your camera no problem, but you won't be able to access any websites or apps (including WhatsApp) if you're not on WiFi.
OpenTable
If you're looking for somewhere to eat while you're on vacation, OpenTable is a great app. You can explore over 52,000 restaurants and look at their menus, photos of the restaurant and food, and more.
What's great is that many restaurants use OpenTable to book reservations, so you can do that right from your phone instead of actually calling the restaurant. You'll get a text and/or email with the confirmation, so you can rest assured that your reservation was made.
Once you find a restaurant you want to eat at, check Restaurant.com to see if you can find a discount certificate for that restaurant.
City Specific Travel Apps:
You won't be able to use these apps in every city, but they're helpful when you're in a city.
BCycle
When we were in San Antonio, we rented bikes via the town's bike share program: B Cycle. We were able to find locations with bikes, find bikes to rent, and more.
If you're in a city that offers the program, we definitely suggest downloading the app and checking it out.
We have a great post, A Guide To BCycle Bike Share For Tourists, to help you get started.
MyVegas Slots
With the MyVegas Slots app, you can play virtual slot machines to earn points. Those points can be traded in for free food, free cruises, discounts on hotel rooms, and more.
Many, but not all, of the offers are in Las Vegas. But there are currently some nationwide deals, like Checkers, Rally's, and Circle K. With the latter offer, you can save on gas. You can combine that with the GetUpside offers too.
For more, check out our Saving In Las Vegas With The MyVegas Slots App post.
Note: Now, a side note about these apps. They're all free to download. Some may have a fee to use them or to use enhanced features.
Which of these Free Apps To Make Your Vacation Easier do you think will help you the most?