ALDI has great prices, but some things should be left at the store. Make a shopping list with these Things You Should Always Buy At ALDI. It'll help you maximize your shopping budget.
For more about the store, check out all of our ALDI posts.
I'm such a fan of ALDI. Ever since open opened in our town, it has been my go to for a lot of groceries.
Not all of them.
But a lot.
ALDI has really great prices on a lot of things. But sometimes, with coupons and cash back apps, you can get better prices at other stores. And ALDI doesn't accept coupons.
So I don't buy everything at ALDI. But I do have 10 things I always buy at ALDI.
And you should have this same list of 10 things too.
10 Things You Should Always Buy At ALDI
This list isn't in any order, not even the order these items popped into my head.
Eggs
ALDI has the cheapest egg prices of any store in our area.
Check with your local stores, but our regular price for eggs is cheaper than any sale price at any other grocery store in the area.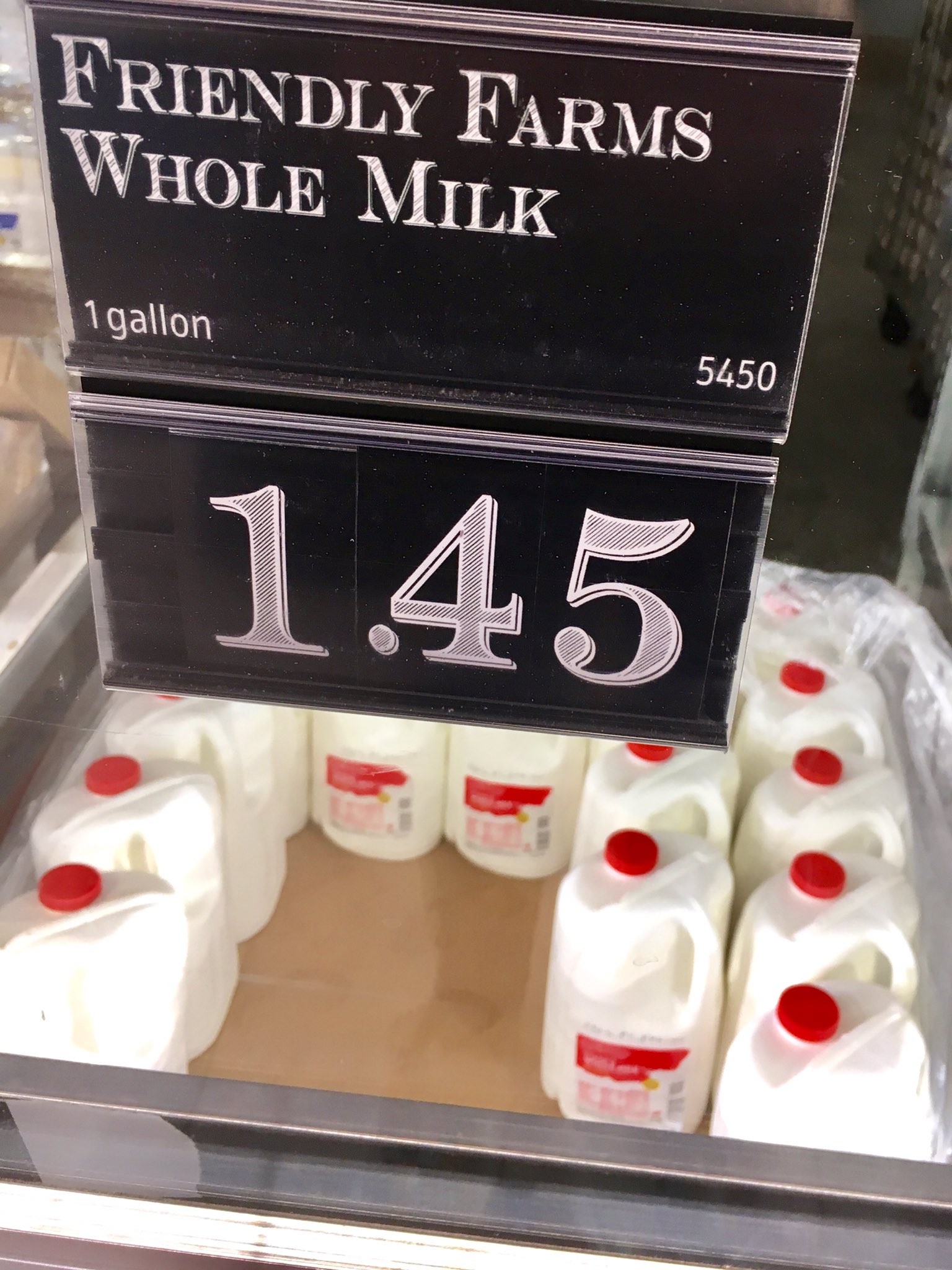 Milk
We can't drink a full gallon of milk before it expires. But I will buy a full gallon of milk every time I shop at ALDI because it's so much cheaper than buying smaller portions.
When I get home and we open the milk, we immediately pour 3/4 of it into freezer-safe containers and freeze the milk. Then, when we are getting close to finishing what's in the fridge, we'll take one of the containers from the freezer and put it in the fridge. By the time we're done with the first portion of the milk, the next portion is defrosted.
This saves us so much money in the long run.
Sandwich Bread
Every Sunday, as needed, I'll make a few loaves of artisan bread. We'll have that for breakfast as toast (with butter and apricot jam, OMG) or with dinner if I make something like ravioli or spaghetti.
But for everyday sandwich bread, I pick up a loaf at ALDI. The bread is so cheap, and it's always in stock. I've done hurricane prep shopping at ALDI, and there's always bread at the store.
Crackers
I'm a big fan of buying generic. There are very few things that I'm brand loyal to. Honestly, you have go be that way if you're going to be a successful couponer.
So generic crackers are my jam. But the Great Value golden rounds are garbage. They instantly crumble, before you can even get them out of the package. Fool me once, amirite?
Savoritz round crackers — which I have bought a ton of times and only now realized there's a brand name hidden in the name — are so good. The roasted vegetable ones are amazing. Perfect with a bit of cream cheese, with peanut butter and jelly, with cheddar cheese, with anything really. And these Savoritz round crackers don't fall apart if you breathe near them unlike those other crackers.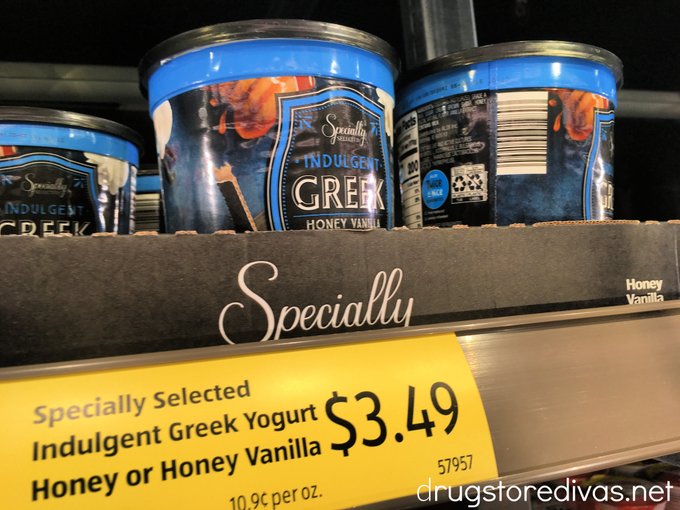 Yogurt
Living in Pennsylvania was the first time I lived alone. And that meant the first time I went grocery shopping alone. The absolute best part, I always said, was opening the fridge and always seeing things I wanted to eat.
When I was there, someone introduced me to a vanilla Greek yogurt with a cream on top that was amazing. I haven't been able to buy it in years because, well, the brand stopped carrying it.
The closest I've been able to find is ALDI's Specially Selected Indulgent Greek Honey Vanilla yogurt. It comes in 32 ounce containers, and I will but it every trip and then eat it as my breakfast for a week.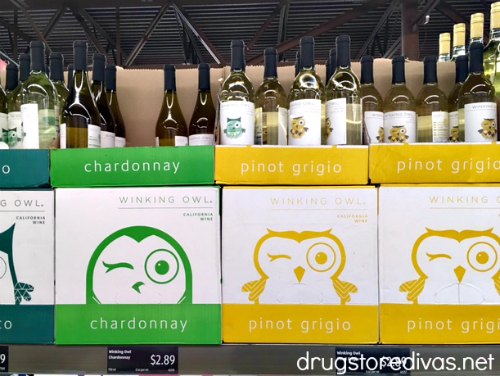 Wine
My mom and I went to ALDI for its grand opening, and while we were walking around, we saw Winking Owl wine for under $3 a bottle. I had pretty low expectations for it, but for under $3, it wouldn't be a big loss if it was awful
Shockingly, Pete loved it. So now, every time I'm in ALDI, I buy him a bottle of cab sav and a merlot. ALDI doesn't sell just reds, though. You can get whites as well. And this summer, our ALDI started carrying Sangria — for the same under $3 a bottle price.
Not all ALDI stores sell wine (or beer, for that matter). It depends on the state's liquor laws. But if you are in an ALDI that sells wine, buy it.
Ravioli
Bagged ravioli is so expensive where we are. I don't know why, but it is. I love how easy ravioli is to cook, too. Boil it, pour some olive oil and spices on top, and dinner is done. Or boil it, top it with marinara sauce, and that's even easier. You can even jazz it up and make baked ravioli. But I didn't make ravioli for a long time because it was so expensive.
ALDI sells a Priano cheese ravioli for under $3 a bag for 25 oz. That's really good for this area, so I always grab two bags. It's pretty good too. Every so often, there's a Priano flavored-filled ravioli (It should be noted that ALDI has some "here today, gone tomorrow" items that you may never see again). Those ones haven't been as good as the plain cheese ravioli.
ALDI also sells dried ravioli and smaller bags of filled ravioli. I don't buy those (partially because of the taste, partially because of the price).
Berries
Berries can be so expensive. We are so lucky that we can find them for super cheap here sometimes, especially in ALDI. A few weeks ago, strawberries were $.99 a pint, which is amazing. The next week, strawberry pints were $2.49.
So you definitely have to be conscious of the pricing, and buy your berries accordingly. There's always some berry (or fruit) that's being sold for a great price. So don't put strawberries on your list every week and expect to come home with them. But look at the blueberries, blackberries, or grapes. There will be something worth bringing home.
And, many berries (blackberries, raspberries, and strawberries, in particular) are great to freeze too. You can use them frozen in smoothies without even having to defrost them.
So if you see them for super cheap, pick up a couple boxes. Freeze them and enjoy.
Salad greens
We have salad on the side of almost every dinner. I grew up eating bagged salads, which I've always been fine with, but Pete prefers the boxed salad so we started buying a box of salad greens. When I found out ALDI had a spinach and arugula mix — my absolute favorite — I was so excited.
It's about the same price as the same mix at Walmart, but it's a better quality (in my opinion). There's more arugula than spinach in the ALDI version, which makes me feel like I'm getting more for my money because arugula is generally more expensive than spinach. And the arugula is my favorite part.
The arugula has such a good flavor that I don't even put dressing on this salad. And that saves me calories — which makes this purchase really worth it.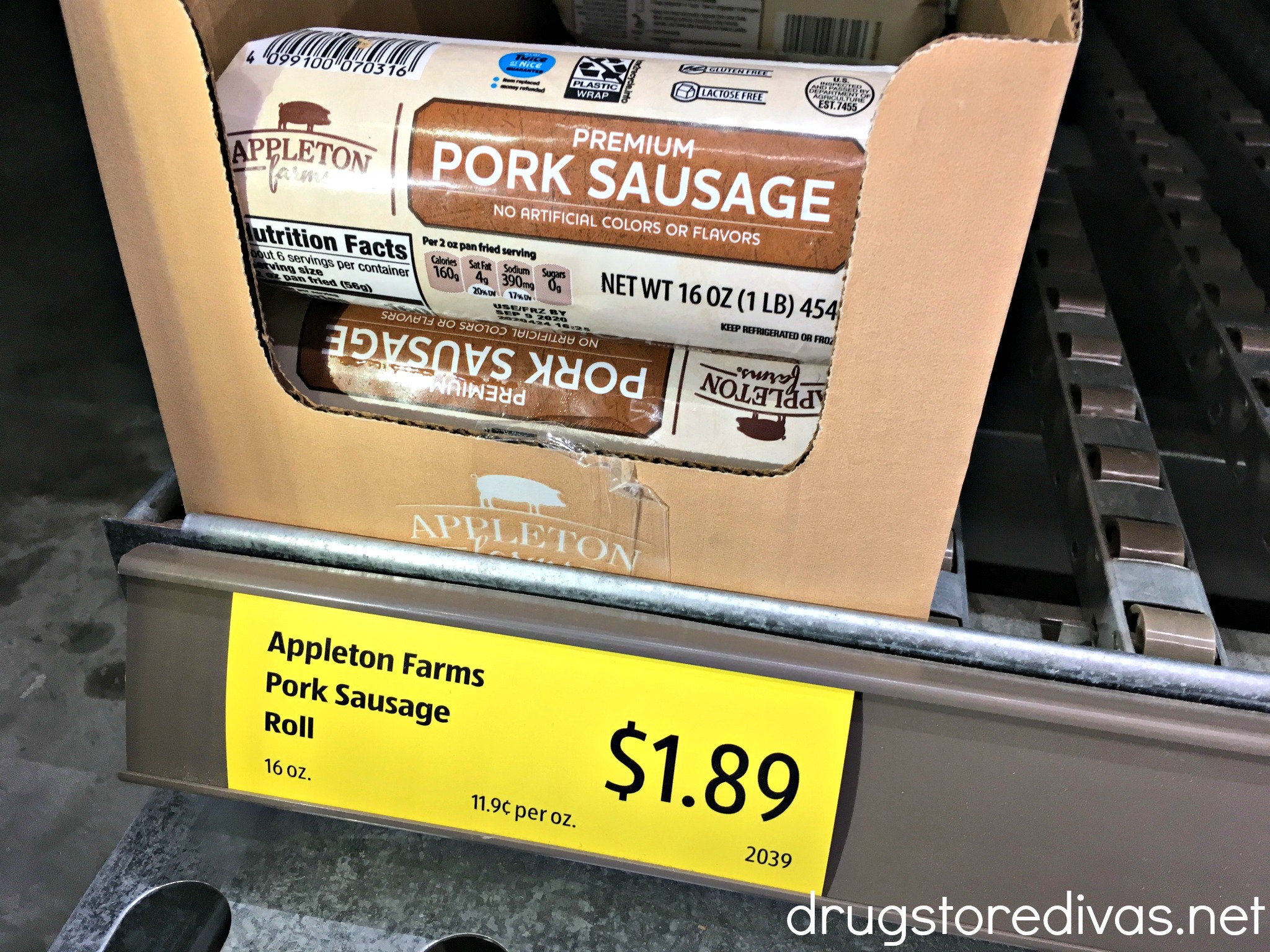 Pork sausage
I'll be honest with you. I cook healthy meals almost every night, and then every other week or so, I make something with sausage, like sausage stuffed zucchini boats. Sausage definitely isn't that great for you, and I'm not of the mindset that I need to find the best for you version.
So, when I'm at ALDI, I'll buy the pork sausage log. I choose it over the sausage links, which ALDI also sells, for a couple reasons. First, I always cut the casing off the sausage links and use the inside as crumbles, so the pork sausage log saves me the trouble. Second, the log is a little cheaper than the links. And third, it's easier for me to freeze the log (which I always do) than the links because it takes up less room in the freezer.
5 Things I Often Buy At ALDI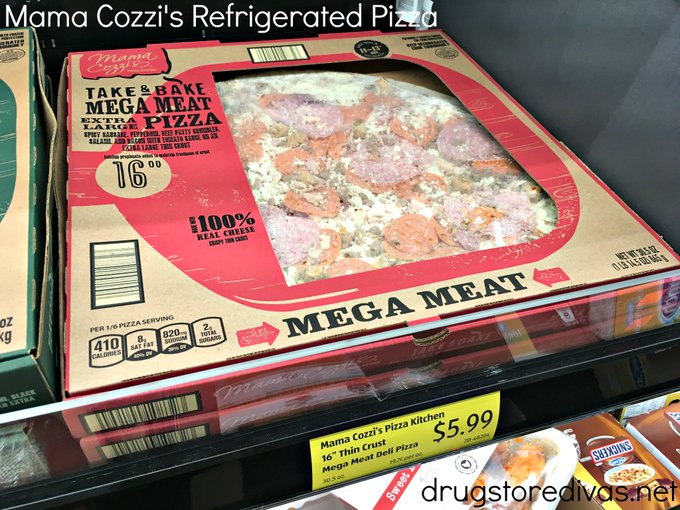 Refrigerated pizza
Depending on when I go to ALDI, I might buy Mama Cozzi's refrigerated pizza for dinner that night. For the size of the pizza, it's a great price. Plus, you ca get a pie with a ton of toppings for the same price that you'll get a plain refrigerated pizza in Walmart (and way less than at a chain grocery store). And the topping are my favorite part.
If I see it, I buy the Mama Cozzi's Buffalo Chicken Pizza. It's a thin crust pizza that's so good. ALDI doesn't always have it, so if you do stumble over it, add it to your cart. There's a BBQ flatbread that's good too. But I saw it once, we loved it, and our ALDI never carried it again.
The regular Mama Cozzi pizzas are pretty good, especially as far as refrigerated pizzas go. Plus, we can get two meals out of a $6 pizza, so my wallet loves that.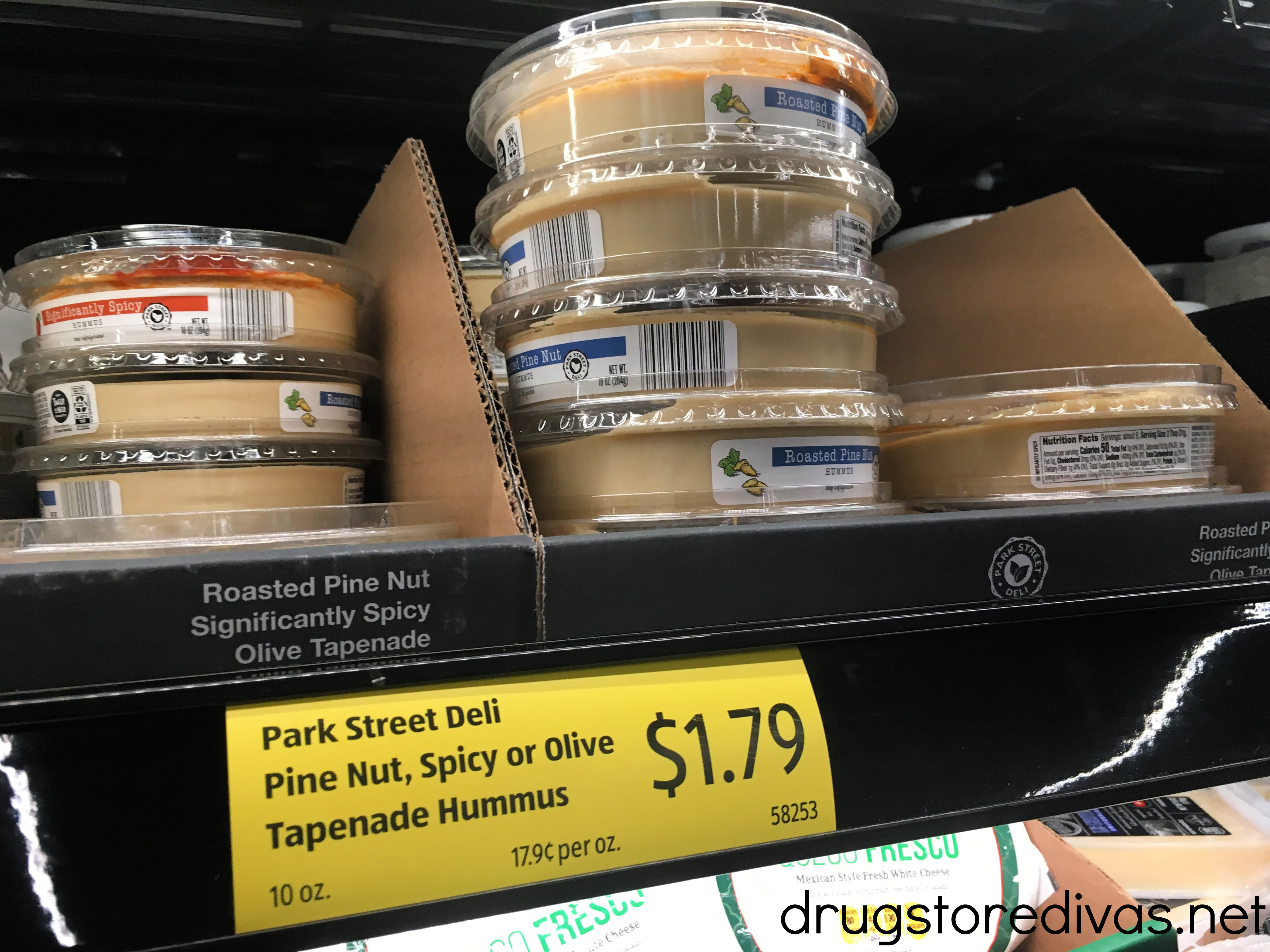 Hummus
Pete makes hummus at home a lot, and it's so cost effective.
Let's talk about that for a minute. There are some things that are worth making, price wise, like hummus. There are some things that I can make at home, like cream of mushroom soup, that are cheaper to just buy. So cost wise, hummus is cheaper to buy. But sometimes, you just want a lazy snack. And if that's where we're at, I'll buy the hummus (which appears to have no actual name besides hummus).
The significantly spicy version is exactly as its advertised. I like spice, but it's too much for me. I prefer the roasted garlic one instead.
Frozen chicken tenderloins
Our grocery store has a great sale on frozen chicken every few months, and I usually stock up then. But if it's in between then, I'll pick up frozen chicken at ALDI. It's not a great price, but it's okay.
Here's the thing, though. I will solely purchase the Kirkland All Natural Chicken Tenderloins. I've tried the chicken breasts, and those have so much rib meat, skin, and tendons. So I was one and done with those. Well, I'm saying that as an expression, but we gave them a few tries and were never impressed.
And we also tried the fully-cooked, breaded chicken in the red bags. The chicken in those pieces is so over-processed tasting. I don't know if it is, but it just tastes that way. I was so disappointed with the chicken and the chicken breast patties, so disappointed that we actually have an opened bag of chicken breast patties dying a slow death in our freezer because I just won't cook them ever again.
Bagged spinach
Every so often, bagged spinach is under $1. So I'll buy a few bags and just stick them in the freezer.
The spinach is fresh, but I still freeze it, right in the back it comes it. I don't know if that's the proper way to freeze spinach, but it works. I use frozen spinach in our chickpea and spinach burgers and spinach and artichoke dip, so this works perfectly for that. Just defrost the spinach in the bag and throw it in your recipe.
If you want to use this as fresh spinach, like in a salad, this won't work.
Canned goods
We eat beans a lot. Not as much as I think we do, based on how many I buy, but beans are a great price at ALDI. So if we need them, I buy them.
We'll use chickpeas to make roasted chickpeas in the air fryer, cannellini beans in our kale and bean soup, black beans in our Mexican rice casserole, etc.
Canned tomatoes are also a really good price at ALDI. I use them in a pinch, especially when I don't have fresh tomatoes for pasta alla norma.
And, recently, I found out ALDI started carrying canned mushrooms. So I've been picking those up every once in a while. Canned mushrooms aren't bad if you're cooking them down in a recipe, like I do when I make that aforementioned homemade cream of mushroom soup. But in a recipe where mushrooms are the star, like grilled mushrooms, canned won't cut it.
Which of these 10 Things You Should Always Buy At ALDI is on your list every week?