From personalized pillows and mugs to shirts and more, this list has the Best Gifts For Dog Lovers out there.
This is just one of the gift guides we have on Drugstore Divas. Be sure to check out all of our gift guides.
Do you have a dog lover in your life? Dog lovers can actually be super easy to shop for because you can pick up anything dog-related and they'll love it.
But that makes shopping for dog lovers difficult because it doesn't really narrow it down at all. So I'm here to help. I put together a list of the 10+ Best Gifts For Dog Lovers.
There's not a dog on the list, which is probably what dog lovers hope for every birthday or holiday.
Don't get them a dog.
Definitely skip that.
Trust me.
If you're looking for more gift ideas, we've got you covered. All of our gift guides are in our Holiday Gift Guide.
There's more than just holiday gifts. You can shop for birthdays, end of the year gifts for teachers, and more.
10+ Best Gifts For Dog Lovers
Affiliate links are included in this post and Drugstore Divas may make a small commission if you use them.
Winer Dogs Wine Markers
Go back. Read the name of this gift again. I promise, the name isn't inappropriate. It just looks that way.
Now that we got that out of the way, let's talk about how these Winer Dogs Wine Markers are absolutely perfect for anyone who loves wine and dachshunds.
The wine markers are super practical because they sit on the bottom of a stemmed wine glass to assure that drinks don't get mixed up. And they're super fun and adorable because what dog lover wouldn't want a tiny sleeping pup at the base of their glass?
And then, of course, the play on words is brilliant.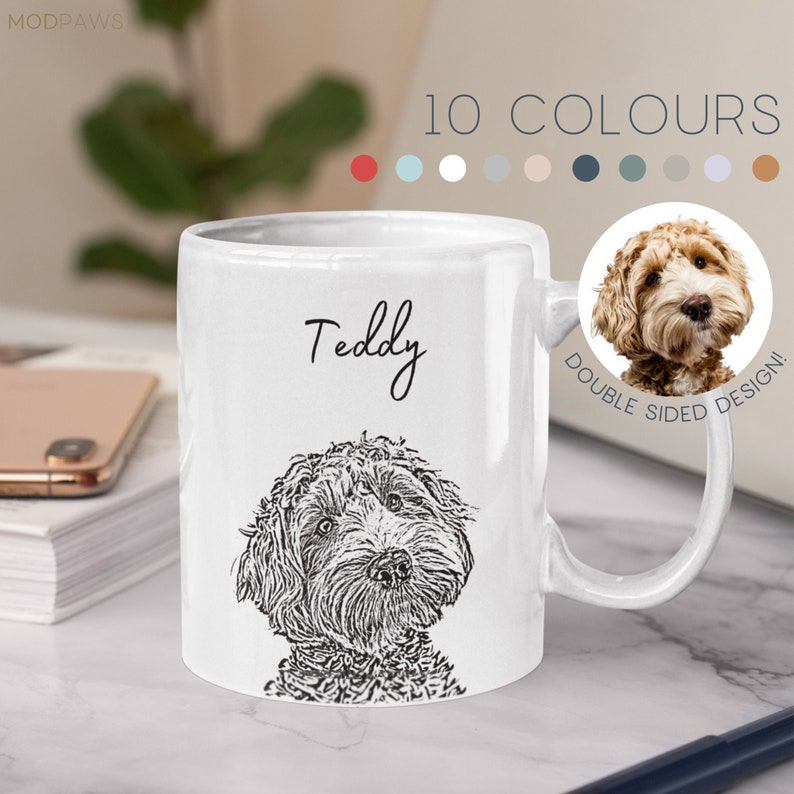 Custom Pet Mug With Pet Photo
Personalized gifts are my favorite. They really make it feel like you tried to get something that's exactly unique to your gift recipient.
And I know for sure your dog lover would love this Custom Pet Mug With Pet Photo.
You send in a photo of the dog, and its name, and it's preserved forever on the sweetest coffee mug.
People I Want to Meet: 1. Dogs Zipper Pouch
Dog people love joking that they're dog people and not people people. And really, can you blame them? I don't really know any people who are people people anymore.
So this People I Want to Meet: 1. Dogs Zipper Pouch is perfect. Dog lovers can carry it around when they're near people — and not in the mood to be social.
Sorry. Just came for the dogs.
Dog Mom Sweatshirt
This Dog Mom Sweatshirt is my absolute favorite item on the whole list. It looks so comfortable and cozy. It's basically triple-digit degrees here in North Carolina, and I'm still like, "Oh I'd love this sweatshirt."
And I'm not even a dog mom. So imagine how much actual dog moms will love this.
Plus, this Dog Mom sweatshirt gives strangers a fact about you, so if they want to make conversation, asking about your dog is a good ice breaker.
Cute Little Dog Mug
I love cute things, so of course, this adorable Cute Little Dog Mug had to make the list.
That's its name. It says Cute Little Dog on the mug.
What's great about this Cute Little Dog mug is it comes with a top so if your dog lover is drinking her morning coffee and the dog needs to run out right then for a walk, she can put the top on and come back to a hot cup.
It has a spoon to stir too, and when the spoon is sticking out, it's a paw print waving back at your dog lover (or signaling for help because it's drowning. It depends if you're a glass half full kind of person. And for the drowning dog's sake, I hope it's a half empty glass).
"Dogs Welcome People Tolerated" Sign
Dog people really love dogs. Not people. So if the items above didn't prove that, this "Dogs Welcome People Tolerated" sign is perfect for your friend's mantle.
It blends in with any décor too, so your friend will definitely display it.
Just warn them not to display it near water. So not on a windowsill over a kitchen sink. We had a similarly-made sign. It accidentally got spilled on and the whole thing started coming apart.
Willow Tree Angel of Friendship
So many items on this list are funny or sarcastic, so I had to add a sweetest gift for dog lovers: the Willow Tree Angel of Friendship.
It sweetly depicts the love between and owner and her dog, and that is just beautiful. This figurine is often gifted to an owner after her dog has died, which is really sad. But if you gift it when the dog is still alive, it'll have such a different meaning.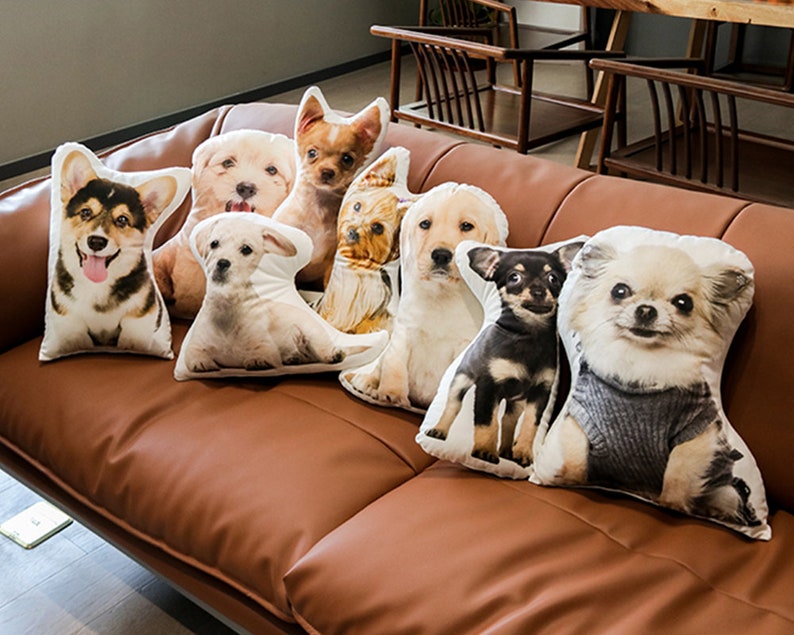 Custom Pet Pillow
If your dog lover wants to snuggle, but his or her dog doesn't want to, this Custom Pet Pillow is the perfect compromise. It's a pillow made from a photo of their dog.
You can choose the pillow to be between 6 inches and 24 inches and it can be a single- or double-sided print.
"I'll Be Watching You" Towel
Dogs spend so much of their time under you, wagging their tails, waiting for you to drop something. When you're eating, forget about personal space. But when you're cooking, dogs are there too.
Watching. Wagging. Waiting.
So this "I'll Be Watching You" Towel is perfect. It's a play on the Police song (the stalker song that so many people used as a wedding song). The towel reads: Every meal you make, every bite you take, I'll be watching you.
Hysterical. And true.
The Dog Is On My Lap Socks
Dogs love to snuggle. And people who love dogs love to use that dog as an excuse for why they can't do things. They were late because they had to walk the dog. They have to leave early because the dog needs to be fed.
Or, as these The Dog Is On My Lap socks say, they can't get up because the dog is on their lap.
So, while the dog lover has her feet up, how about you be a dear and fill her wine glass, please and thank you.
Fetch Bottle Opener
If you know a dog lover who drinks beer and you don't buy him this Fetch Bottle Opener this holiday season, you really dropped the ball.
The dog's mouth is the actual bottle opener, and when you open a beer bottle with this Fetch Bottle Opener, the bottle cap sits in the dog's mouth and looks like a frisbee.
This is the best gift on this entire list and I honestly don't know why I didn't lead with it.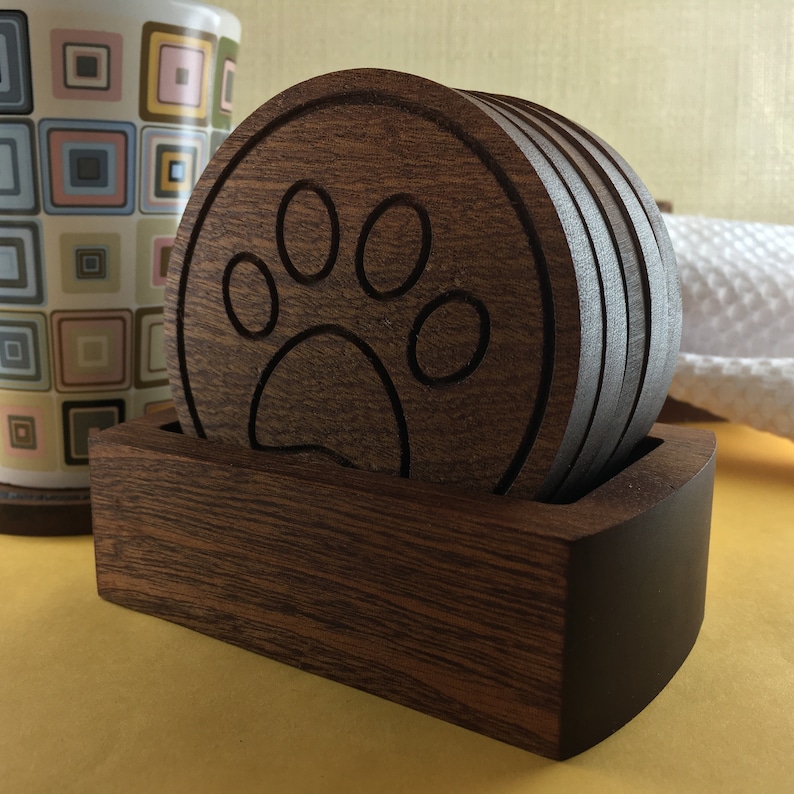 Paw Shaped Coasters
We have so many coasters in this house, but Pete's favorite are the pizza slice coasters I got him because he loves pizza.
So your dog lover's favorite coasters — even if he or she already has some — will be these Paw Print Coasters. They have a non-skid and scratch resistant bottom, so they're perfect for home use.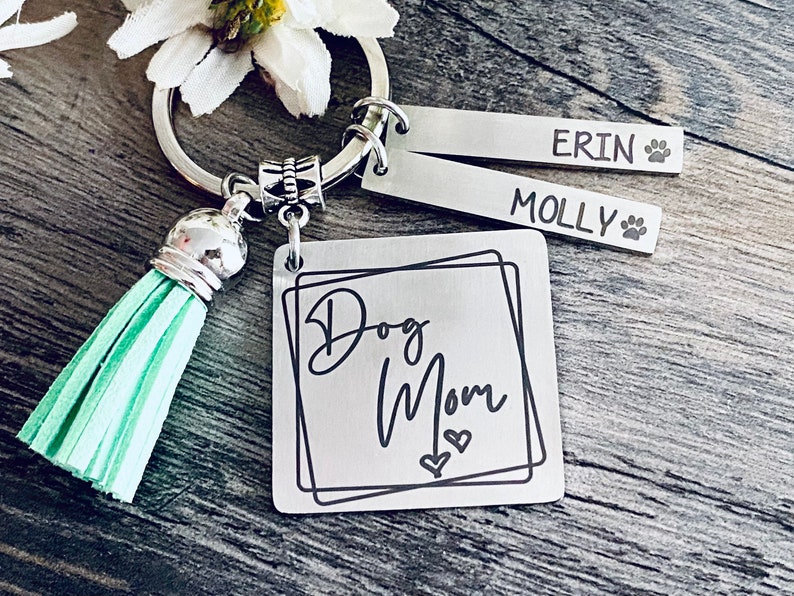 Purchase Gifts For Dog Lovers Online:
All the great gifts for dog lovers out there aren't on this list. Like the dog mom keychain above. They're just our favorites.
For more ideas, check out the stores below.
Be sure to look at a store's minimum cart total to qualify for free shipping. Also, choose instore or curbside pickup to avoid shipping costs.
More Gifts For Dog Lovers:
If none of these appealed to you, try our list of Top 20 Shirts For Dog Lovers.
More Animal Gift Ideas:
Maybe you're not shopping for a dog lover. Maybe you're shopping for another animal lover. We have a few other gift guides that might help you.
Which of these gifts for dog lovers is your favorite? Let us know in the comments.