From paper clips to cookie cutters, there are so many great squirrel gift ideas to purchase to help celebrate National Squirrel Appreciation Day (January 21). Find them all and more below.
If you're doing more shopping, check out all of our gift guides for ideas.
A few years ago, when I was on vacation in Orlando, my friend Mallory sent me a message: Today Is National Squirrel Appreciation Day!
Oh, is it? Well then.
I actually had to stop everything I was doing and put together a list of 15+ Squirrel Gifts to help you celebrate National Squirrel Appreciation Day.
Because why not.
I love an excuse to celebrate anything, if I'm being completely honest. So today (January 21), celebrate National Squirrel Appreciation Day.
Unless you really hate the little guys. Then, just wait for National Sloth Day on October 20.
We don't have a post for that one, but we should.
This is just one of our posts to help you shop for the perfect gift. Be sure to check out Drugstore Divas' Holiday Gift Guide for all of our shopping guides.
15+ Squirrel Gifts To Help You Celebrate National Squirrel Appreciation Day
Affiliate links are included in this post and Drugstore Divas may make a small commission if you use them.
Squirrel Cookie Cutter
The perfect way to celebrate National Squirrel Appreciation Day is with squirrel-shaped cookies. Use this Squirrel Cookie Cutter to cut them out.
If you make gingerbread cookies, you don't even have to decorate them.
Squirrel Gel Pen Set
When I was in high school, I used to have a collection of the cutest pens and pencils. It's just so fun to sit in class with something a little more unique than a boring No. 2.
So, if you know someone still in school (or you work at an office that needs a little personality), this Squirrel Gel Pen Set is perfect.
Squirrel Socks
If you've been around here a while, you know almost all of our lists have a pair of socks on them somewhere. I give Pete a pair of fun socks every year for Christmas.
Socks can be a really great gift idea, as long as we're talking about a pair like these Squirrel Socks and not just a plain pair of white socks.
Squirrel Print Scarf
It took me a while to get on the fashion scarf bandwagon, but I'm here for that ride now. I absolutely love adding fashion scarves to a plain black dress.
So definitely grab this Squirrel Print Scarf. You never know when you might want to add some pizzazz to your outfit.
The Sneaky Snacky Squirrel Card Game
I'll be very honest. I have no idea how to play Educational Insights' The Sneaky Snacky Squirrel Card Game. But it's on this list because it looks adorable.
And even if you don't play the game, the pieces would look perfect in a display case.
But you should probably figure out the game. It has a 5-star rating with almost 9,000 reviews. So it's probably a good one.
Squirrel Tape Dispenser
I have the cutest tape dispenser, shaped like a high heel, that a friend got me years ago.
This Squirrel Tape Dispenser is a close second, though.
It's made of wood, so it definitely will fit your home — if you have a rustic cabin style.
It's A Squirrel Thing You Wouldn't Understand T-shirt
Honestly, I'm a third of the way through this list and I'm still not sure why there's a full holiday dedicated to squirrels.
So this It's A Squirrel Thing You Wouldn't Understand T-shirt is actually perfect for me to buy myself and wear every January 21. Because really, I don't understand.
Squirrel Storage Cube
I love storage cubes. They're the perfect way to quickly clean up without all the effort of actually cleaning up. Just throw the mess in a storage cube and move on with your life.
A cute cube, like this Squirrel Storage Cube, really makes all the difference.
Welcome To The Nuthouse Pillow Cover
I'm laughing so unbelievably hard at this Welcome To The Nuthouse Pillow Cover. It's perfect for anyone whose house is a little crazy. And honestly, whose isn't from time to time?
Keep in mind this is just a pillow cover, not a pillow. So if you're getting this as a gift, you'll want to buy a pillow also.
Squirrel in Underpants Deluxe Air Freshener
The Archie McPhee store in Seattle is filled with the funniest gag gifts on the market. So this Archie McPhee Squirrel in Underpants Deluxe Air Freshener is exactly the brand's aesthetic.
And maybe your car's too.
Squirrel Drink Markers
Drink markers are important to have if you're having a party. That way, no one's drinks get confused.
If you don't have drink markers, consider grabbing these Social Climbers Squirrel Drink Markers. They squirrels sit on the stem of your wine glass and "climb" up your drinks. That's adorable.
Excuse me … Your Birdfeeder Is Empty t-shirt
When I was at Brookgreen Gardens, we stopped by the gift shop. And this Excuse me … Your Birdfeeder Is Empty t-shirt was there.
Of course, I had to send a photo of it to my friend Mallory, who had originally told me about this wacky holiday. Because, in the years since she had told me National Squirrel Day was a thing, she has "adopted" a squirrel and had her husband build the squirrel a picnic table … to stop him from eating out of her birdfeeder.
Squirrel Paper Clips
Seriously, these Squirrel Paper Clips are the cutest things ever. They come in a case with 30 paper clips.
Just keep in mind that if you use them and give someone a report with one, you might get a plain paper clip back in return. People are gonna wanna keep these.
Squirrel Shaped Rice Paddle
If you make rice, you know the best way to fluff your rice and scoop it out is with a paddle. No one said you need to do that with a plain paddle.
This Squirrel Shaped Rice Paddle is perfect.
It will work just fine and will look a lot more fun on your counter than a plain paddle.
Squirrel Candy Dish
We use our fruit basket as a candy dish, which is a really bad habit. We definitely need a candy dish specifically for candy.
So this Squirrel Candy Dish is perfect. You can also use it for nuts as well.
Squirrel Pencil Case
This Squirrel Pencil Case is so cute. But it's not just for pencils. You can use it for makeup, a travel bag, or just a way of organizing your junk drawer.
Squirrel Tea Infuser
Tea infusers are so cute. In fact, I have a whole post of 15 Cute Animal Tea Infusers.
One that I missed in that list is this Squirrel Tea Infuser. How cute would he be to have tea time with?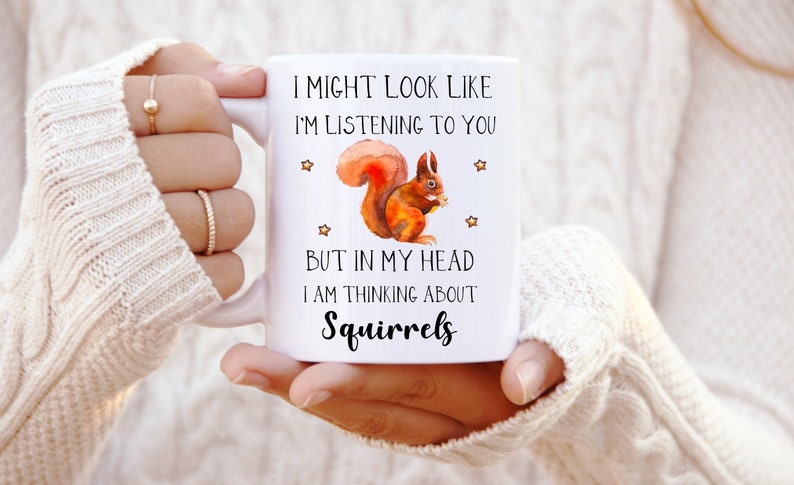 Purchase Squirrel Gifts Online:
These aren't all the squirrel products that are online, just our favorites. There are so many out there that we couldn't include them all, like the squirrel mug above.
For more squirrel merchandise, check out the stores below:
Be aware of a store's minimum cart total to qualify for free shipping. Also, choose instore or curbside pickup when available to avoid shipping charges.
More Animal Gift Ideas:
Squirrels aren't the only animal gift list we have at Drugstore Divas, if you can believe it. If you're shopping for a fan of other animals, we have a few posts you might like.
Which of these Squirrel Gifts is your favorite? Be sure to let us know in the comments.