If you're shopping for a cat lover, you'll love this Top 10+ Gifts For Cat Lovers list. There are towels, spoon rests, shoes, and more.
For more help with your shopping, check out all of our gift guides.
Do you love cats? Do you have a friend who love cats? You're in luck. Because I put together a really fun list of the Top 10+ Gifts for Cat Lovers. There are whimsy items, practical items, and a bag of cat-shaped pasta (that I can't quite decide if it's amazing or odd. I'm going with amazing).
If you own a cat, you know that little feline is celebrated all day, every day. So you might as well celebrate its owner with a fun gift on this list (especially if you are the owner!).
And if you're trying to figure out what to get a cat lover for the holidays, this list has you covered.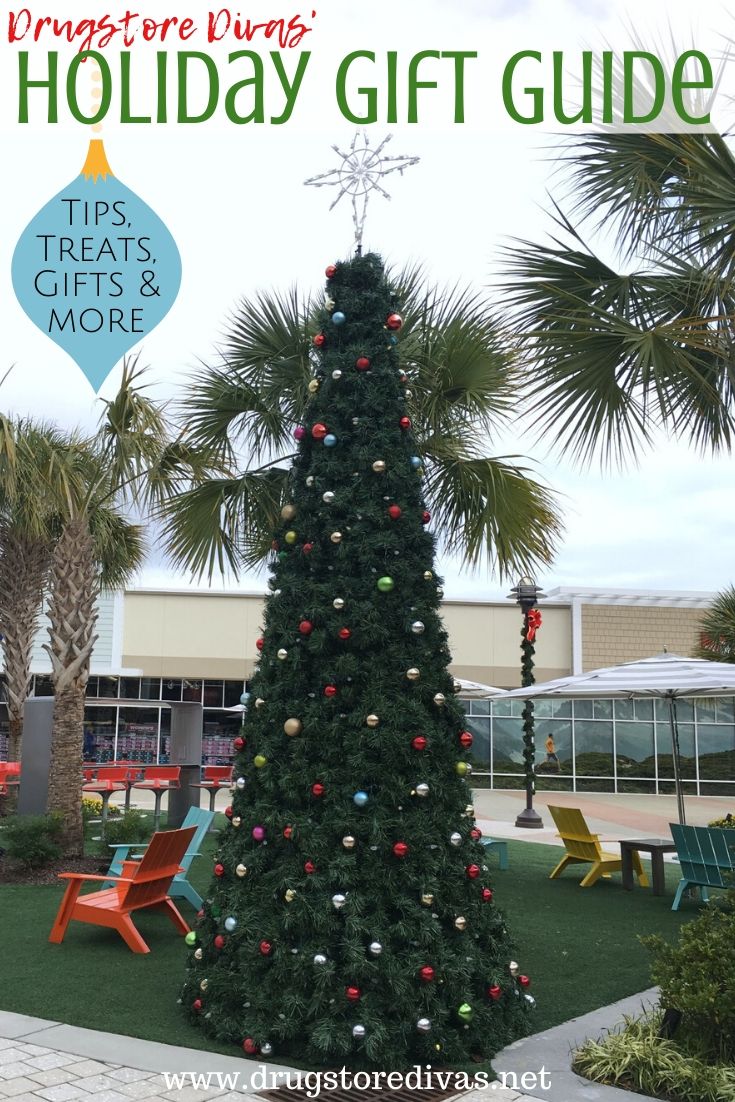 This isn't our only list to help with your shopping. For more ideas, check out Drugstore Divas' Holiday Gift Guide with all of our gift guides listed.
Top Ten Gifts For Cat Lovers
Affiliate links are included in this post and Drugstore Divas may make a small commission if you use them.
While these would make good holiday gifts for cat lovers, none of the items on this list are holiday focused. So you would be able to pick these up for holidays, birthdays, or just a Tuesday.
My Furry Friend Pet Photo Pillow
I love this My Furry Friend Pet Photo Pillow. I had it made of my grandma's cat Sox — who I affectionately called my aunt Sox, since she was basically my grandma's youngest child (when my grandma was still alive).
The photo quality on the pillow is amazing, especially considering it's a photo from my old phone with a less than stellar camera. The pillow comes with the case and pillow itself, which was a bit of a surprise since so many personalized pillow covers come without a pillow.
The pillow is so funny because it's a huge picture of Sox. I laughed when I saw it and so did Pete. I brought it to my grandma and she laughed and so did my parents. It was great, well, for everyone except Sox. She ran from it, which is funny in itself, actually.
I Could Pee On This: And Other Poems by Cats
The title of this book — I Could Pee on This: And Other Poems by Cats — is pretty gross, to be honest, but any cat owner will get it.
If a cat wants to be a jerk, well, it will be a jerk. You still love him, of course, but you curse him as you're scrubbing your carpet with cleaner and paper towels. You know what I mean. You've been there.
One of the reviews does mention "foul language." I mean, the book has the word "pee" in it, so you get what you're expecting. But the reviewer was caught off guard with the language. So keep that in mind if you're thinking of gift for cat lovers who are young.
Post-it Cat Figure Pop-up Note Dispenser
I've seen this Post-it Cat Figure Pop-up Note Dispenser a bunch of times in stores, but I never bought it — mostly because I had a novelty purse-shaped Post-it holder, and one Post-it note holder enough.
If you know a cat fan, though, this is perfect for his or her office desk. Or home office desk. Plus, none of his or her coworkers will be able to steal Post-it pads anymore either.
Cat Scarf
I was wearing scarves a couple years ago, and for a while, they were my favorite accessory. If your cat lover feels the same way, this Cat Scarf such a great idea.
From afar, you might not be able to tell what the pattern is, but up close, oh, just so perfect.
Cat Prints Dishtowel Set
If you follow me on Instagram, you know I have an obsession with kitchen towels. I change them with every season and every holiday. It's a lot of fun.
Your cat loving friend will love the fun too, once you start her off with this Cat Prints Dishtowel Set. It comes with two towels. One is "Cat Wisdom" and one is an image of a cat.
The majority of the towels are black and white, so even if you don't know your friend's kitchen colors, you'll know this towel set will match.
Made From Scratch Oven Mitt
Cats scratch. It's what they do. People cook from scratch. It's what they do.
Combine those two and you have this super funny Made From Scratch Oven Mitt. It's a really funny, and functional, cat lovers gift.
There's also a matching Made From Scratch dish towel too, so you could pick up both to make a set.
Cat Face Spoon Rest
I love cute little items with personality — but also functionality. If you're giving me a gift, I don't need another knickknack. And, to be honest, I will probably only display it when you're coming over.
But this Cat Face Spoon Rest is perfect. Everyone needs a spoon rest and with most stoves being black, this will absolutely pop.
Willow Tree Kindness Girl
Need a gift for me? This. Get me this Willow Tree Kindness Girl. For my birthday. Or Christmas. Or because I'm your favorite blogger.
Whatever the case is, buy me this. It warms my heart so much, I can't even explain it. I just love it, and so will anyone you gift it to.
Women's Cat Socks Set
I'll be honest: I have the owl version of this Women's Cat Socks Set and I wear them all the time. They're just so cute, so I have high hopes that this cat set will be just as adorable!
Plus, the socks are sold as a set but actually come as individual pairs. So you can buy one set and then give them out to a few of your friends. Sounds like easy stocking suffers if you ask me.
Cat Shaped Measuring Spoons
Measuring spoons are essential in any kitchen. Usually they're plain and boring. They get the job done, but they're nothing to look at.
Forget that. Swap your cat lovers measuring spoons for these Cat Shaped Measuring Spoons. They come in a pack of four, with alternating gray and white cats. There's a string to tie them all together, but it's a lot easier to use these if you separate them.
Alley Cat Sneaker
If your cat lover wants to twin me, pick up a pair of these Alley Cat Sneakers. Well, almost twin me. I have a very similar pair (that's not available anymore) of these shoes that my mom got me as a gift for cat-sitting her cat.
They're super comfortable and fit true to size.
Cute Cat Towel
One more kitchen towel because I absolutely love this cute cat towel. This sweet little cat is just poking his head in, looking around to see what's going on.
And then he will run into the room and knock everything off the counters.
But for a minute, on this towel, he looks cute and innocent.
Cat Lovers Pasta
And now, what you've been waiting for: Cat Lovers Pasta.
This is what you should make for your cat loving friends on every birthday. Just boil, add some sauce, and your cat-centric dinner is served!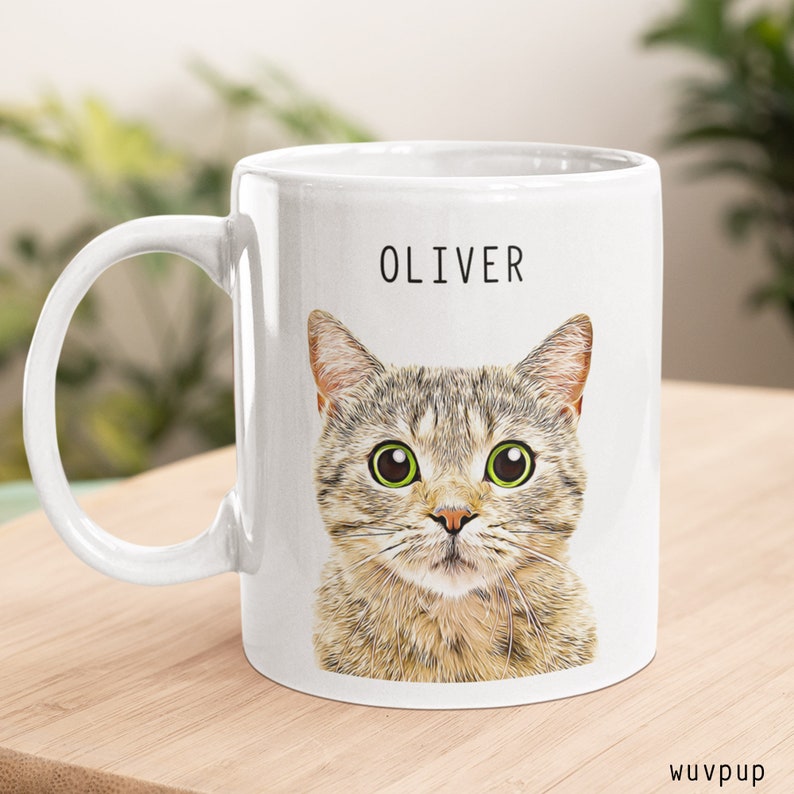 Order Gifts For Cat Lovers Online:
Of course, these aren't all the gifts for cat lovers out there. We had to leave some off, like the Custom Cat Mug above. For more ideas, check out the stores below:
Be sure to check a store's cart minimum to qualify for free shipping. Also, consider instore or curbside pickup, where possible, to avoid shipping charges.
More Gifts For Cat Lovers:
If you just want clothing ideas, try our list of Top 20 Shirts For Cat Lovers.
More Animal Gift Ideas:
Maybe you're not shopping for a dog lover. Maybe you're shopping for another animal lover. We have a few other gift guides that might help you.
Which of these gifts for cat lovers are you purchasing?