This 15+ Best Gag Gift Ideas post is sponsored.
If you've been to a white elephant party, you know the best gifts are the gag gifts, the ones that make people double over in laughter.
I like to put a couple gag gifts in my parents' and Pete's stockings too. Because honestly, life is too serious. We should all try and laugh a little more. And these gag gifts are the perfect stocking stuffers to get everyone to laugh a little.
This 15+ Best Gag Gift Ideas list is just one of the gift guides we have on Drugstore Divas in hopes of making your shopping life so much easier.
Be sure to check out Drugstore Divas' Holiday Gift Guide for all of our shopping guides.
15+ Best Gag Gift Ideas
Thanos Infinity Gauntlet Beer Bottle Opener
Marvel fans will absolutely love this Thanos Infinity Gauntlet Beer Bottle Opener. Using it may infuse your beer with the power of the Infinity Stones, but probably not.
It comes in three colors: gold, silver, and copper. But, Marvel fans will know that Thanos' Gaunlet is gold. So even if you're just buying this as a gag gift, the color matters, so you should get it right.
And, fun fact, just so you can impress people at parties: Iron Man's Gauntlet is red.
Wacky Waving Inflatable Tube Guy
It's impossible for me to love this Wacky Waving Inflatable Tube Guy any more than I actually do.
It's a tabletop inflatable guy who just sits on your desk and just waves. I'm obsessed. If I was still working an office job, I would buy this for myself (and all my coworkers) and just leave it on everyone's desks one day.
Of course, I would come in early to do this, come in later, and act just as surprised as everyone else when I see this adorable guy on everyone's desk. Kind of like booing your neighbors, but with gag gifts for your coworkers.
Bob Ross by the Numbers Painting Kit
I don't know why I'm calling these gag gifts because I legit want them all. Especially this Bob Ross by the Numbers Painting Kit.
It comes with three pre-printed mini canvases with numbered sections (two are landscapes and one is Bob Ross' face) and seven paint pots. It comes with a small easel and paint brush too.
Keep in mind, the canvases are just about 3 x 2.5 inches, so they're small. Most of the reviews mention they wish they checked the sizing because they were smaller than anticipated, but other than that, the reviews are very positive.
Realistic Animal Print Socks
These Realistic Animal Print Socks are equally horrific and hysterical, and that makes them the absolute perfect gag gift. People won't know if they'll want to throw them in the donation bin or immediately throw them on.
There are actually a ton of options of animals, so you might end up laughing so hard that a lot of these end up in your shopping cart. You get animal print socks. You get animal print socks. Everyone gets animal print socks.
And everyone needs them. Because have you seen that the bottoms of them are realistic too?
Potty Fisher Toilet Fishing Game
We've all been conditioned to bring our phones with us to the bathroom and play Candy Crush while we're doing our business (or, you know, whatever the cool kids play now. Actually, that's Among Us, but I don't think you can play that on the bowl).
Anyway. What happens if you forget your phone? You just stare at the walls while you go? Not if you have this Potty Fisher Toilet Fishing Game. It comes with a mat, some fish, a rod, a bowl, and a Do Not Disturb sign. It's a gag gift … that will probably get used more than you think.
TriceraTaco Holder
No one needs a TriceraTaco Holder. But everyone needs a TriceraTaco Holder. You feel me?
It holds two tacos, which feels like an appropriate serving size. It also feels like this triceratops will be filled up an additional two times before dinner is over.
Not a triceratops fan? Worry not. You can get a T-Rex version too.
Quick Corn Cob Cutter And Peeling Ring
This Quick Corn Cob Cutter And Peeling Ring is as confusing as it is useful. If you make corn salsa, you know you want to start with the corn on the cob and then remove the corn from the cob. This ring does just that.
If you don't make corn salsa, or some similar recipe, this ring looks … well, it looks confusing. Which makes it a good gag gift idea. Because you'll laugh as it gets passed around and people try to figure out what the heck it actually is.
I Pee in Pools Adult Trucker Cap Hat
I was talking with a friend the other day about how I know people pee in the ocean, but I think it's gross and I could never. So of course, peeing in pools is disgusting to me.
But this I Pee in Pools Adult Trucker Cap Hat is making me laugh so much. Imagine giving it as a gag gift to a lifeguard, or, better yet, someone who lives in a complex with a community pool. The stares he or she would get is worth the price of this gag gift.
It comes in eight colors so the hardest decision isn't if you should or shouldn't buy it. It's what color to buy.
Rake Back Scratcher
Imagine your gift recipient having an itch on his or her back, one that a hand can't reach. Horrible.
Not if you gift them this Rake Back Scratcher. I'm just laughing so hard because it really does look like you just sawed off the bottom of a rake and were like, "Here, use this."
And when your recipient hands this to someone else to use, it'll look exactly like that as well. So funny.
Poo-Pourri Toilet Spray
Anytime people are talking about gag gifts, Poo-Pourri Toilet Spray comes up. So this gag gift ideas list would be incomplete without it.
I actually know a few people who buy this for themselves on a regular basis. You spray it before you go, and the Poo-Pourri masks the smell of … well, you know.
There are seven scents to choose from, all which smell a lot better than … well, you know.
Punch In The Nuts Trail Mix
There are a lot of gag gifts on this list that Pete would like, but this Punch In The Nuts Trail Mix is one he would love. I mean, who wouldn't?
You can buy the Awesome Party Mix or the Spicy Bro Mix or the combo pack that comes with both.
The majority of the reviews say the trail mix was purchased because the name was hysterical, but then the buyers were actually really impressed with how tasty the trail mix was — and it sounded like everyone was ready to place another order.
So buy this as a gag, but know it's gonna be delicious.
Jar Of Nothing
You know those people who say they want "nothing" for Christmas? Now you can actually get them a Jar Of Nothing.
This is actually something you can DIY pretty easily, if you're creative. So maybe I'll end up making a tutorial for it in the future. But for now, you can pick up the label online and glue it to any jar you have.
Saint Guy Fieri Celebrity Prayer Candle
Every time we go away, we're excited to have a hotel room with cable. So we turn on Food Network and without a doubt, Diners, Drive Ins and Dives is always on a marathon. Besides that and Guys Grocery Game, I'm not sure the Food Network has any other program. Guy Fieri is the savior of Food Network's programing I think. Should we anoint him Saint Guy Fieri?
Well, someone has.
And to celebrate, you can buy this Saint Guy Fieri Celebrity Prayer Candle. There are actually a ton of other celebrity prayer handles here, from Jerry Garcia to Saint Kim Kardashian herself.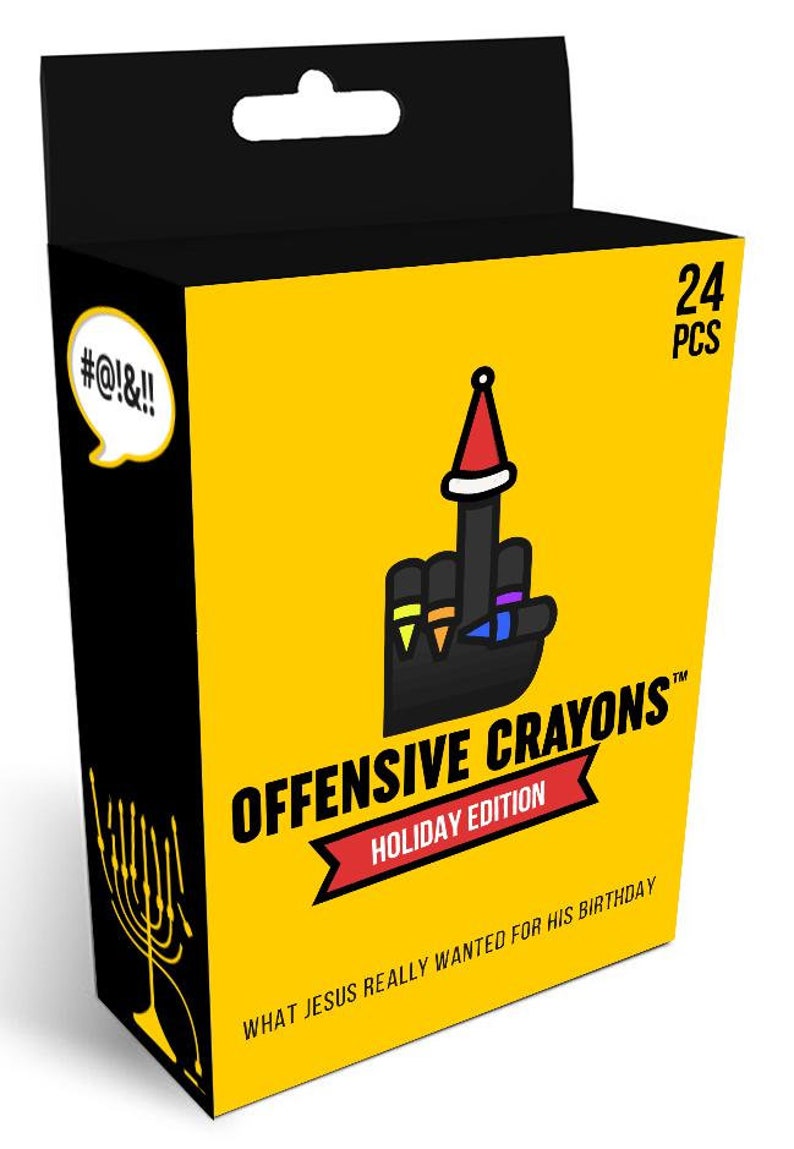 Purchase Gag Gifts Online:
Of course, these aren't the only gag gifts online. They're just our favorites. There are more out there, like the very-not safe for a work Secret Santa gift Offensive Crayons above.
Check out the gag gifts we found at the stores below:
Be sure to check each store's minimum cart total for free shipping. And consider instore or curbside pickup to avoid shipping charges.
Gag Gifts For Her:
Need some gag gifts for women instead? Check out this list of Gag Gifts For Women to shop for her.
Which of these gag gift ideas is your favorite? Be sure to let us know in the comments.