I really like giving gifts. It gives me an excuse to think of someone, what they really like, and pick out something special for them. I have an entire gift closet because I usually think of that someone way before it's a birthday or Christmas, so I pick up the gift when I see it and give it when it's time. If I'm giving a simple gift, though, like a gift card, I like to really think about the packaging, like this DIY Starbucks Coffee Cup Gift Card Holder.
This took me a handful of seconds to put together and didn't cost me anything extra because I already had the decorative shred. Plus, giving someone a gift card this way really makes it look like it's a complete gift instead of just sticking a gift card in a card. That looks like you just stopped by and grabbed a gift card on the way to a party.
Here's a simple side note: If you ever get a package with tissue paper or decorate shred, always save it. I always add this to my gifts because it makes them really feel special. But that stuff can get expensive. You can get tissue paper and decorative shred at the dollar store, but that adds up over time. A few dollars saving here and there can really help your budget.
Yes, I'm that frugal.
I also save the hard brown paper that comes in packages too. I use that as a covering when kids are visiting and using markers or for when I'm painting something like a table and I don't want it to drip all over the floor.
DIY Starbucks Coffee Cup Gift Card Holder
What You'll Need:
Starbucks iced coffee cup
Straw
What You'll Do: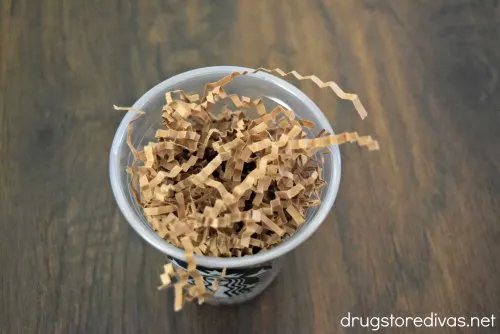 Fill the cup with the brown decorative shred.
Put the gift card into the cup, low enough that it is covered by the decorative shred.
Put the plastic top on the cup. Push the straw through in front of the gift card (to hide it just a little).
Now, I made this using a Starbucks gift card and cup because that's the gift card I purchased recently. Of course, you could do this with any coffee shop you like, so don't feel like it has to only be made with Starbucks products.