Plan to spend a day in Downtown Las Vegas. There's SO MUCH to do in "old Vegas" (which, ironically, is lots of new stuff).
For more help planning your Vegas trip, check out all of our Las Vegas posts.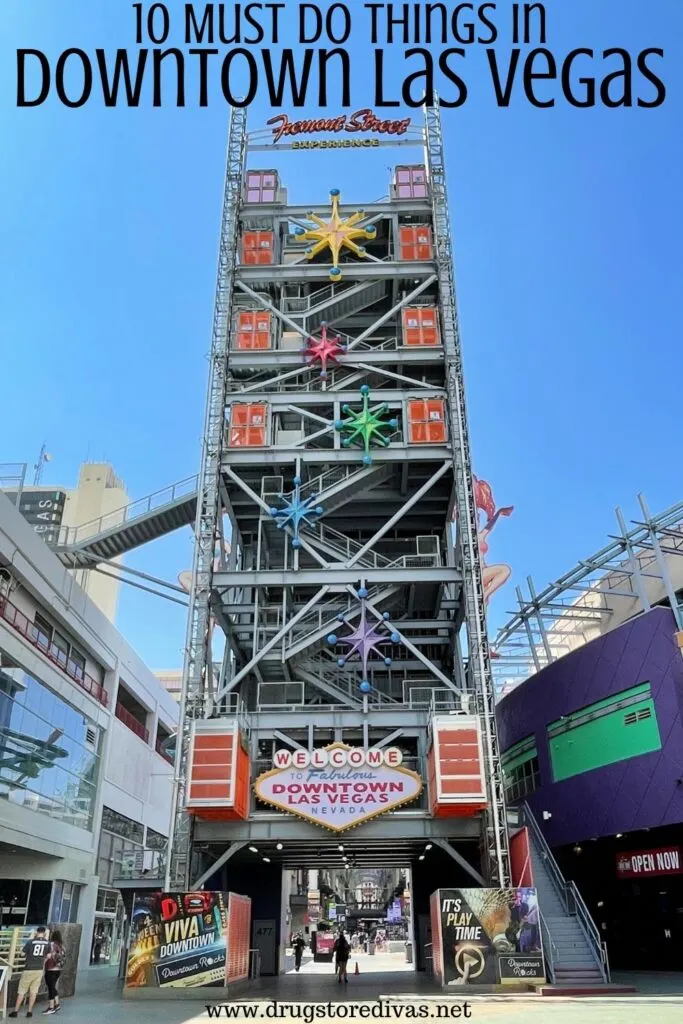 When people think of Las Vegas, they think of the glitz and glamour of the Strip. The themed hotels, the larger than life shows, they're all on the Strip. But Downtown Las Vegas is where Vegas started and there's so much down that way. We narrowed it down to the 10 Must Do Things In Downtown Las Vegas.
These are, what we consider to be, the things you can't miss in Downtown Las Vegas. They're the ones people will ask if you saw. So you definitely want to be able to say yes, yes you did.
Las Vegas can absolutely be a frugal vacation. Find out how in The Ultimate Las Vegas Budget Travel Guide.
The 10 Must Do Things In Downtown Las Vegas
Affiliate links are included in this post and Drugstore Divas may make a small commission if you use them.
Fremont Street is the main street in Downtown Las Vegas, but the area is a little larger than just one main block. So this list includes that street, but also some attractions that are in the downtown area.
Visit the Neon Museum
Frank Sinatra sang, "If I can make it there, I'll make it anywhere" about New York, but he might as well have been singing about Las Vegas. See, Vegas is a fickle beast. Not only with your money, but with stores and hotels and casinos. Many open with high hopes and then close … with high signs with nowhere to go.
Enter The Neon Museum (770 Las Vegas Blvd N). The Neon Boneyard is basically a graveyard for neon signs. There are pieces from casinos that are still in operation, like Golden Nugget, and ones that have closed, like Moulin Rouge.
When you take a guided tour, you learn the history of Vegas, the signs, and more.
It's really interesting and definitely something worth checking out. It's a few blocks from Fremont Street, and we recommend taking public transportation to get there.
See our full Neon Museum review for more.
Check out the Downtown Container Park
The Downtown Container Park (707 Fremont Street) is an open air shopping center where shops are situated in shipping containers. Then, the center of the area is used as a multiuse space. There's a stage which shows concerts, movies, and more. We actually have a very similar one here in Wilmington, NC and it's an interesting concept if you've never seen one.
There's a 44-foot tall animatronic praying mantis at the Downtown Container Park in Las Vegas, which breathes fire at night. So go for the shopping, stay for the fire.
There are restaurants and shops within the Downtown Container Park. They all offer their own charm. But you'd be remiss to not try Pinches Tacos (707 East Fremont Street). The pollo flautas (shredded chicken flautas, cut into three pieces, and served with fresh guacamole, lettuce, salsa, Oaxacan cheese, and Mexican cream) were one of the best things I ate during our entire trip to Las Vegas.
My mom's favorite bite is the gringo taco (a hard shell corn tortilla with shredded beef, cheese, onions, chipotle cream, lettuce, and tomatoes). She orders it every time she goes to Vegas.
Stop by the Gold & Silver Pawn Shop
When we went to New Orleans, we had to walk by the Real World House. And when people come visit us here in Wilmington, they have to find all the One Tree Hill and Dawson's Creek filming locations.
So of course, last time we went to Las Vegas, we had to check out the Gold & Silver Pawn Shop (713 S Las Vegas Blvd), featured on the History Channel show Pawn Stars.
The shop is mostly a glorified gift shop with shirts with Chumlee's face on them. But it is also an actual pawn shop where you can pawn your wares, if Vegas has been unkind to you, or where you can purchase items that have been pawned.
The chance of you seeing a cast member in store is slim, but it's possible.
Walk through the Fremont Street Experience
The most popular section of downtown Las Vegas is Fremont Street. It's the pedestrian mall where casinos, souvenir shops, restaurants, and street performers are at every turn.
At the Fremont Street Experience, there are free live music concerts (we just missed one of my favorite bands, The Plain White T's, by two weeks) and nightly music by local talent.
There's the Viva Vision Light Show, which happens each hour from 6 pm to 2 am. The light show illuminates the 1,375 feet long, 90 feet wide video screen that's encapsulates the top of Fremont Street.
There's also a zipline, SlotZilla, that runs two to five blocks across Fremont Street (depending on which you choose). I've never done that specific zipline, but we did zipline in Fayetteville, NC, and it was the most amazing experience. So if this is your only chance to go ziplining, take it.
If you're into the paranormal, when you're walking down Fremont Street, take a stop into the Apache Hotel at Binion's Gambling Hall. It's just one of the haunted places in Las Vegas.
Find The Hacienda Horse & Rider Sign
The Hacienda Horse & Rider Sign is a neon sign that was displayed at the Hacienda, a hotel and casino that operated on the Stirp for 40 years beginning in 1956.
That hotel was eventually demolished and Mandalay Bay was built on the site.
The Hacienda Horse & Rider Sign was saved, restored, and set up at the intersection of Fremont Street Experience and Las Vegas Boulevard. It's actually the first refurbished sign to have been given a second life in Fremont Street.
The 60-foot sign towers over visitors and is definitely worth taking a photo of.
Snap a photo of Vegas Vic
Vegas Vic is a cowboy who has been standing in downtown Las Vegas since 1951. He was originally the mascot of the The Pioneer Club, a casino that operated from 1942 to 1995.
Three years later, The Pioneer Club reopened as a souvenir shop. The 40-foot tall Vegas Vic still hangs over the shop.
Vegas Vic was featured in the James Bond film Diamonds Are Forever. So you should check him out downtown, then check him out in the movie.
Check out Golden Gate Hotel and Casino
The oldest currently operating casino in Las Vegas is the Golden Gate Hotel and Casino (1 Fremont Street). It started as the Miller Hotel, a temporary tent hotel, in 1905. A year later, it opened as a permanent structure and was renamed Hotel Nevada.
Gambling was legal then, so the hotel operated a casino. But then gambling was outlawed, so the casino was closed. While it was closed, the hotel expanded and was renamed the Sal Sagev (which is Las Vegas spelled backwards).
About two decades later, in 1955, it was renamed again, this time as the Golden Gate, with the hotel's name changing 20 years later.
Do you need to know all that info to admire the casino's sign that seems to reach the sky? Nope. But now you know it.
Admire the murals
Just south of Fremont Street lies the Las Vegas Arts District. The DTLV Arts District hosts a monthly First Friday arts and cultural fest. There are restaurants, bars, coffee shops, and art galleries contained in the Arts District.
Within the district, there are a ton of murals to admire. There are some on casinos, like Mural by D*Face atop the Plaza Hotel, and others on parking structures.
You can walk around and stumble into them, or you can check out this Downtown Las Vegas Mural Guide.
Visit the secret speakeasy, The Underground at The Mob Museum
The Mob Museum is a very cool museum that has been voted the best in Nevada and the Top 25 in the United States.
Cool. But have you been to the basement? Because there's a secret speakeasy, The Underground at The Mob Museum, that serves prohibition era cocktails (and mocktails), tasty food, and houses a working distillery that makes, among other things, moonshine.
You need a password to get in (unless you pay for museum admission), which you can find on the speakeasy's Instastory daily.
Check out our full The Underground at The Mob Museum review for more info.
Get an Instagram photo at the lights at The Plaza
The most Instagrammable spot downtown is under the lights at The Plaza Hotel and Casino (1 N Main St). It's the very northernmost casino at Fremont Street, so just walk up the Fremont Street Experience and you'll hit it.
Under the dome of Oscar's Steakhouse are hundreds of neon lights. Thousands of the same lights are all shining down on your way to walk into the Plaza. It's a great shot, if you can get it from the right angle.
Before you go, check out the #showyourneon hashtag on Instagram so you can plot your angle and get the perfect shot for the 'gram.
How to get to Downtown Las Vegas:
The easiest way to get to Downtown Las Vegas is the public RTC bus. You can buy a single ride pass, but it makes the most sense to buy a 24 hour pass so you can use the bus to return back to your hotel too.
The Deuce, one of the bus routes within the RTC bus system, has multiple pickup locations on the Strip and a couple stops in Downtown Las Vegas, including near Fremont Street and near The Neon Museum. This is how we traveled to downtown from the Excalibur Hotel and Casino on the Strip.
Ride share is also an option, but we found the bus to be more economical than ride share options when traveling from the Strip to Downtown Las Vegas.
Getting around Downtown Las Vegas:
The majority of the tourist destinations in Downtown Las Vegas are within walking distance of each other. And for the most part, it's safe to walk around. It's definitely safe around the Fremont Street Experience, and we felt safe walking to the Downtown Container Park.
I wouldn't recommend walking to The Neon Museum or Gold & Silver Pawn from Fremont Street Experience.
To frugally get around, there's the Downtown Loop. It's a free shuttle service that operates from 11 am to 6 pm on Monday through Thursday and 3 pm to 10 pm on Friday and Saturday. The Downtown Loops has stops at Bonneville Transit Center, The Arts District, Arts District South, Pawn Plaza, Fremont East Entertainment District, Mob Museum, Fremont Street Experience, Las Vegas North Premium Outlets, Symphony Park, The Strat (hotel and casino), Circa (hotel and casino), and City Hall.
You can also take the RTC bus or rideshare between downtown locations, but those are not free.
Planning a trip to Las Vegas?
If you're planning on visiting Las Vegas, we have a few other posts to help you put together your Las Vegas itinerary.
And don't forget to read our Las Vegas Packing List.
Book Your Las Vegas Stay Ahead Of Time:
If you book your hotel and show tickets before you go to Las Vegas, you'll save yourself time and money when you get there. You can book both (and more!) at Vegas.com.
Which of these 10 Must Do Things In Downtown Las Vegas are you adding to your Las Vegas trip?