There's more in Orlando than Disney, like outlet shopping, botanical gardens, murder mystery theaters, and more. Check out this list of 10 Things To Do In Orlando Besides Theme Parks for ideas.
If you're planning your next trip, check out the rest of our travel posts for inspiration.
When I was three, my grandparents moved from New York to an hour outside Orlando, Florida. My mom and I helped them move in (although, to be honest, I'm sure I wasn't very much help).
For years, we came down for school vacations to take a break from the New York snow to enjoy the Florida sunshine.
When my parents retired, they decided to move to the same community where my grandparents had a house. So, for the last few winters, instead of visiting my grandparents for a week, I've been visiting my parents.
I've been to this area more times than I can remember, and we've done all the theme parks. So, a few winters ago, I wanted to shake it up and find some things to do in Orlando that aren't theme parks.
Of course, I'm not from the area. So I stopped into the Official Orlando Visitor's Center and staffer Tiffany was a great help to suggest some of her favorite Orlando-based attractions.
There are some chains in the area, but I opted to leave those off (except for a famous wax museum because it is very Florida-centric). If you can do the activity anywhere but Orlando, it didn't make the list.
If you're wondering when to visit, we suggest spring break. Find out our Fun & Frugal Spring Break Destinations via that link.
10 Things To Do In Orlando Besides Theme Parks
Affiliate links are included in this post and Drugstore Divas may make a small commission if you use them.
The hours in this post are as up to date as possible. Be sure to double check them with the attraction before going.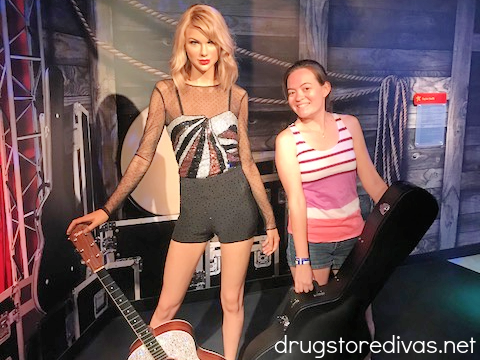 Madame Tussauds Wax Museum
The rapper Pitbull did a one million dollar campaign to promote Florida in 2018, the year I originally wrote this, so of course, the Florida-native greets you as you walk into Madame Tussauds Wax Museum (8387 International Drive).
He's not the only Floridian there, though.
Florida born Tiger Woods, adopted Floridian and former Miami Dolphins QB Dan Marino, and former Orlando Magic star Shaquille O'Neill are on display. Plus, there's Florida favorite Walt Disney.
You can also pose with Selena Gomez and Justin Bieber (although, probably separately now. The power couple was basically in the same display when we went, but now that the Biebs is happily married to Hailey Baldwin, I can imagine this has changed).
You can ride on a bike with ET, pose with former presidents Trump and Obama, and don a wig with Einstein.
What's actually so fun is that almost every wax figure is in a full display room — with props for you to use.
Ponce de Leon is looking at maps, Audrey Hepburn is having breakfast at Tiffany's, and Uncle Sam has a recruiting poster, top hat, and jacket for you to wear. This was so much better than I expected, and we loved it so much.
Madame Tussauds Orlando info:
Hours: Sunday through Thursday 11 am to 5 pm, Friday and Saturday 11 am to 6 pm
Cost: Starting at $28.99
Tickets: Purchase here
Leu Botanical Gardens
If you like flowers, you'll love the Harry P. Leu Gardens (1920 North Forest Avenue). There's just something so calming about a botanical garden.
This one is 50+ acres of flowers and plants. There's also a super famous (for the area) Historic Leu House Museum. It was closed for a while due to damage from Hurricane Irma, but it's open again. You can visit the first floor Tuesday to Sunday from 10 am to 1 pm. It's closed all July and on Christmas.
Keep in mind that the Leu Botanical Gardens are cashless, so you must purchase tickets online or using a credit card when you get there.
There are different themes during the year. Now through April 3 is Dragons: Hidden Treasure Quest. Visitors will get a special map with information on finding artifacts and clues that lead to a hidden treasure.
This garden is part of the American Horticultural Society Reciprocal Admissions Program (click that link to find out more about the program).
Leu Botanical Gardens info:
Hours: Daily from 9 am to 5 pm
Cost: $15 for adults, $10 for children 4 to 17, kids 3 and under are free
Tickets: Purchase here
Shopping Outlets
When you go on vacation, you probably need to bring home some souvenirs. There are a ton of shopping outlets in Orlando. Some of them even have Florida-centric gift shops, so you can get those expensive theme park knickknacks without paying the expensive theme park prices.
There are actually two major outlet shops on the same street in Orlando: Orlando Vineland Premium Outlets (8200 Vineland Avenue) and Orlando International Premium Outlets (4951 International Drive).
Before you head out, I would advise you to visit each ones website and then decide where to shop. They are close to each other, though, so you could shop at both if you wanted.
What's great about them is they are outdoor markets, so you're getting some Florida sunshine — and some air conditioning if you walk in the stores for a break from the heat.
Orlando Vineland Premium Outlets info:
Hours: Monday to Thursday: 11 am to 8 pm; Friday and Saturday: 10 am to 9 pm; Sunday: 11 am to 7 pm
Stores: Coach Outlet, Converse, Disney Outlet, Gap Factory, Old Navy Outlet, Timberland Outlet & more
Orlando International Premium Outlets info:
Hours: Monday to Thursday: 11 am to 8 pm; Friday and Saturday: 10 am to 9 pm; Sunday: 11 am to 7 pm
Stores: Bath & Body Works, Bose, Coach Outlet, Disney Outlet, Fanatics by Lids, H&M & more
Church Street District
If you're planning a trip to Orlando, you've probably heard of Disney Springs. It's free to go to, and it sure looks like you went to one of the theme parks. So it's super crowded.
Instead, head over to the Church Street District (Church Street). The area is filled with shopping, restaurants, clubs, and more.
It's a great area to meet up with friends and hang out without really dealing with crowds.
The Wheel at ICON Park Orlando (Formerly known as the Orlando Eye)
If you want to see Orlando, you want to see it from the top of The Wheel at ICON Park Orlando (8401 International Drive). It's formerly known as the Orlando Eye, but the name was changed in 2019. Which is actually the fourth name the Ferris wheel has had since it opened in 2015.
It was also known as the Coca-Cola Orlando Eye and then the ICON Orlando, in case you're looking for one of those.
Regardless of its name, the 400-foot tall Ferris wheel is so cool.
There's a seat in the center of each cage, but I'm sure you'll be on your feet the entire time. There is a solid floor and roof, but the walls are completely windows. As you get higher, you get a great view of downtown Orlando, the theme parks, and more.
If you're not an Orlando-native, you might not be sure what you're looking at.
But worry not.
Each passenger capsule is equipped with two touch screen maps that scroll. There are landmarks on each map, and you can push them for additional information (in case you're heard of the Everglades but don't have any fun facts about it). You can scroll the map to match up with your view to know exactly what you're looking at.
The entire loop takes just about 25 minutes, which is the perfect amount of time to absorb it all.
The Wheel at ICON Park Orlando info:
Hours: Monday to Thursday: 1 pm to 10 pm; Friday: 1 pm to 11 pm; Saturday: 12 pm to 11 pm; Sunday: 12 pm to 10 pm
Cost: Starting at $27.49
Tickets: Purchase here
Sleuth's Dinner Mystery Show
Who doesn't love dinner and a show? You can see a bunch of them in Orlando, although most are chains that you can see anywhere. But, you can only see Sleuth's Dinner Mystery Show (8267 International Drive) in Orlando.
You get a full meal (entrees, salad, rolls, and dessert), plus unlimited beer, wine, and soda. Even better, though, is you can be part of the show. There's lot of audience participation, and you spend your night trying to solve the mystery.
I heard there's a different show nightly so if you went once, you can still go again and enjoy yourself just as much.
Sleuth's Dinner Mystery Show info:
Showtimes: Tuesday through Saturday: 6:30 pm; Sunday: 5:30 pm
Cost: Adults $55.95, children ages 3 to 11 are $29.95 (through January 31, 2022; after that, tickets are $67.95 for adults)
Tickets: Call (407) 363-1985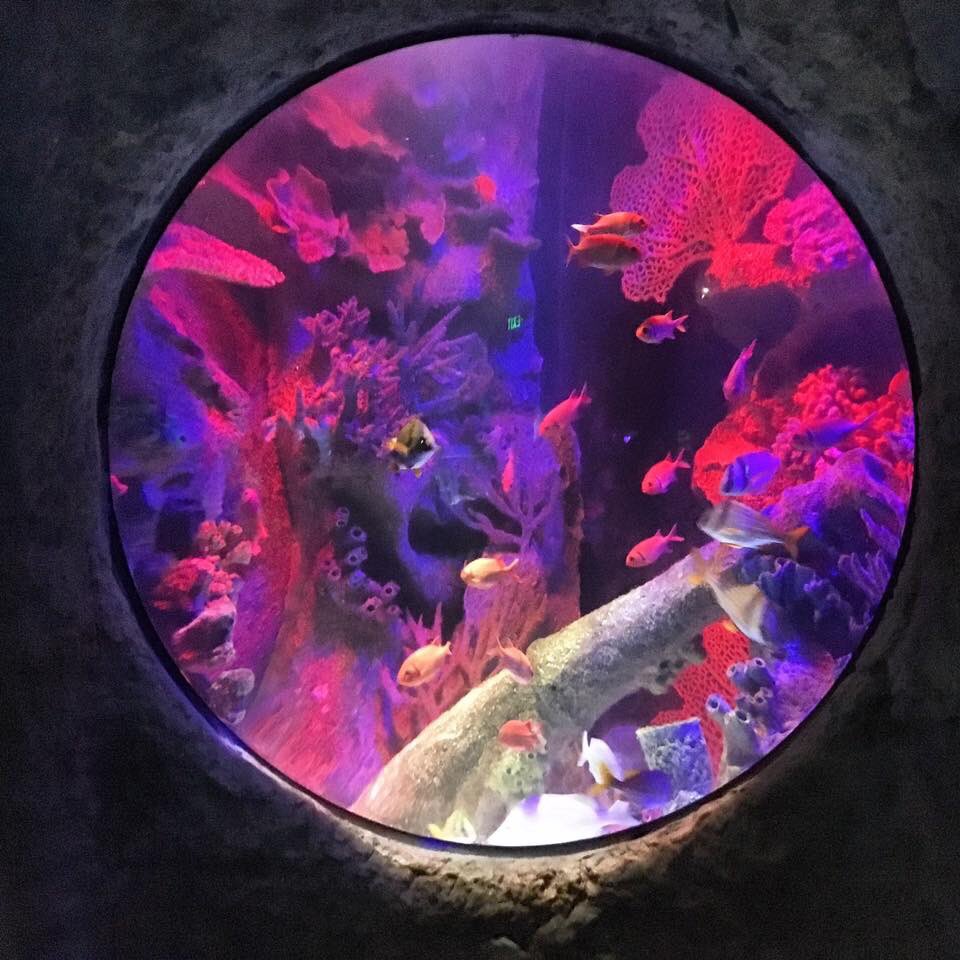 Sea Life Orlando
If you're a fan of fish, this is the perfect aquarium. Sea Life Orlando (8449 International Drive) is sectioned off into different oceans, and you'll see fish native to that area. There's also a String Ray center, turtle cove, and axiom.
The best part is there is a 360-degree water tube that you walk though as fish, sharks, turtles, and other sea life swim above your head and below your feet.
When you enter, you get a schedule of talks and feedings for the day so hopefully there are ones close to the time you enter. The aquarium is pretty big for where it is, but it'll take you less than an hour to go through the entire attraction.
What sets this apart from other aquariums is that each display has an electronic touch screen that tells you what's in the display and facts about each animal. Personally, I was missing the standard displays that you usually see at aquariums and zoos, but this seems like the way of the future.
Sea Life Orlando info:
Showtimes: Sunday through Thursday: 11 am to 6 pm, Friday and Saturday: Sunday 11 am to 7 pm
Cost: As low as $33.99
Tickets: Purchase here
Amway Center
If you're traveling with a sports or music lover, check out the schedule at Amway Center (400 W Church St #200). This is the home of the Orlando Magic, so you might be able to catch them while they're playing your favorite team.
During the off-nights and off-season, you might be able to see your favorite rock band. Check the schedule online and you can see who is in town.
I would suggest ordering tickets before you go on your trip to Orlando. I would hate for you to get there to find the event you want to go to is sold out.
World's Largest Entertainment McDonald's
If you like novelty attractions, you need to stop at the World's Largest Entertainment McDonald's (6875 Sand Lake Road), even if it's just to say you were there. Of course, the fast food restaurant sells burgers and fries, so you can have a meal. But after, it's time to play.
We went a ton of years ago, and I remember rushing through our meals to get to the game room (so pack your quarters if you're a gamer). There was also a huge PlayPlace, and that is a lot of fun for younger kids. And it's sort of a novelty in itself because not too many McDonald's have a PlayPlace anymore.
You can even see this McDonald's from the highway.
It used to be a better drive-by attraction because it had a huge box of French fries on the front, but that building was actually torn down in 2015 and was rebuilt (into something more modern and boring).
World's Largest Entertainment McDonald's info:
Hours: Open 24 hours
Orlando Slingshot
During my senior year of high school, my physics class went on a trip to Six Flags. And there was a temporary bungee launch. I remember being equally intrigued and scared.
My friend and I went on it, and I remember telling her all my last wishes in case we didn't make it. I also remember telling her to pull the string on two, rather than three, so I wasn't ready for it. It was so much fun though, and years later, I'm still glad I did it.
You can have that same memory in Orlando if you go to the Orlando Slingshot (7001 International Drive). It's actually park of Magical Midway, which has go-karts, bumper cars, the slingshot, Star Flyer, and more.
The attractions light up at night, so you can see other riders on the Slingshot and Star Flyer, even when you're far away. It's so fun to watch.
If you do want to ride the Orlando Slingshot, keep in mind that you must be 44-inches tall or taller.
Orlando Sling Shot info:
Hours: 12 pm to 1 am
Cost: $25 per person
Tickets: Purchase here
More things to do in Orlando besides Disney:
Of course, this list isn't filled with all the fun things to do in Orlando besides Disney, just the ones we think are the best ones.
A few others that you can research on your own are:
Things to do around Central Florida besides the theme parks:
If you are planning a trip to Orlando, you might be looking for some other things to do in Central Florida. If you have a car, you can take a road trip to the following attractions:
Orlando Theme Parks:
If you do want to check out those Orlando theme parks, we have a few posts that might interest you:
Which of these things to do in Orlando besides theme parks are you going to check out on your next trip to Florida?