Incorporate the red, white, and blue into your menu thanks to this list of Patriotic Recipes. There are patriotic party tips too.
For more ways to make this the best holiday, check out all of our patriotic ideas.
No food is more American than apple pie and hot dogs, right?
But, personally, I'm a big fan of themed foods that are super whimsy. Like Mardi Gras chocolate bark and ghost meringues for Halloween. So of course, when I think of patriotic recipes, I think of red, white, and blue treats.
If you're the same way, this list of patriotic recipes will give you some new ideas. All of these are patriotic red, white, and blue recipes. These are not just the best recipes for a summer BBQ. We do serve those things (hamburgers, potato salad, pasta salad, etc.) at our July 4th party, but you won't find those recipes on this list. To make the cut here, all the recipes had to have some sort of a patriotic theme.
We also have some Patriotic Party Tips at the end of the post, so definitely check those out if you're the house that's hosting this year's Independence Day party.
Patriotic Recipes
Affiliate links are included in this post and Drugstore Divas may make a small commission if you use them.
As we add more patriotic foods to Drugstore Divas, I'll update this post. So be sure to save it (pin it, bookmark it, etc.) and come back to this post before all the patriotic holidays so you can see what new festive recipes have been added.
Red, White And Blue Chocolate Covered Pretzel Rods
If you're looking to make some patriotic dessert recipes to bring to your cookout, start with our Red, White And Blue Chocolate Covered Pretzel Rods.
These sweet treats are super easy to make in under 15 minutes. You just melt vanilla almond bark, dip the pretzels, then drizzle melted red and blue candy melts on the top and bottom. That's it. They cool as you're making them. So by the time you're making the last one, the first is cool enough to eat.
Red, White & Bleu Kale Salad
This Red, White & Bleu Kale Salad is an easy way to squeeze some salad and fresh berries into to your Independence Day spread.
The base of this salad is green, thanks to the kale, but the toppings are red, white, and blue: red raspberries, white croutons and white bleu cheese dressing, and blueberries (plus, the aforementioned bleu cheese dressing is where this fun play on words comes from).
Patriotic Fruit Flag Kabobs
The entirety of this fruit flag is fruit on skewers. And sure, if you say fresh fruit on skewers, it sounds boring. But these Patriotic Fruit Flag Kabobs are anything but boring.
Fresh strawberries and bananas are cut, then skewered with fresh blueberries in a way to make an American flag. It's such a fun way to display the fruit that you might have trouble getting someone to take the first one and ruin the flag design.
Red, White & Blue Patriotic Chocolate Stars
These Red, White & Blue Patriotic Chocolate Stars are so unbelievably easy to make. People will be amazed at how incredibly adorable this festive dessert is, and you'll just sit back appreciating the simplicity.
All you do is shave red and blue candy melts into the cavities of a star-shaped ice cube tray. Then, add melted white chocolate and chill them until they harden. Like I said: simple.
The best part about this patriotic dessert is that you can make it ahead of time and then bring it out whenever you're ready to serve it. That frees you up to spend the actual morning of your party doing everything else you have to do to get yourself and your home ready for your fourth of July party.
Patriotic Pound Cake
This Patriotic Pound Cake is really fun to make. You start by making a blue edible glitter (which is a lot easier to make than it sounds) and then using it to decorate strawberries to be red, white, and blue. Plop those on some homemade or store-bought pound cake for this delicious treat.
If you find the idea of making edible glitter a little daunting, you can substitute blue sprinkles instead. And, if you're not crazy about pound cake, any sort of white cake would work as the base for this recipe.
Unlike the chocolate stars above, you can't completely make this ahead of time. You can make the berries ahead of time, but you don't actually want to assemble the pound cake until you're ready to serve. If you plate these too early, the heat from these warm summer days will make the edible glitter bleed into the whipped cream and it'll look like a mess.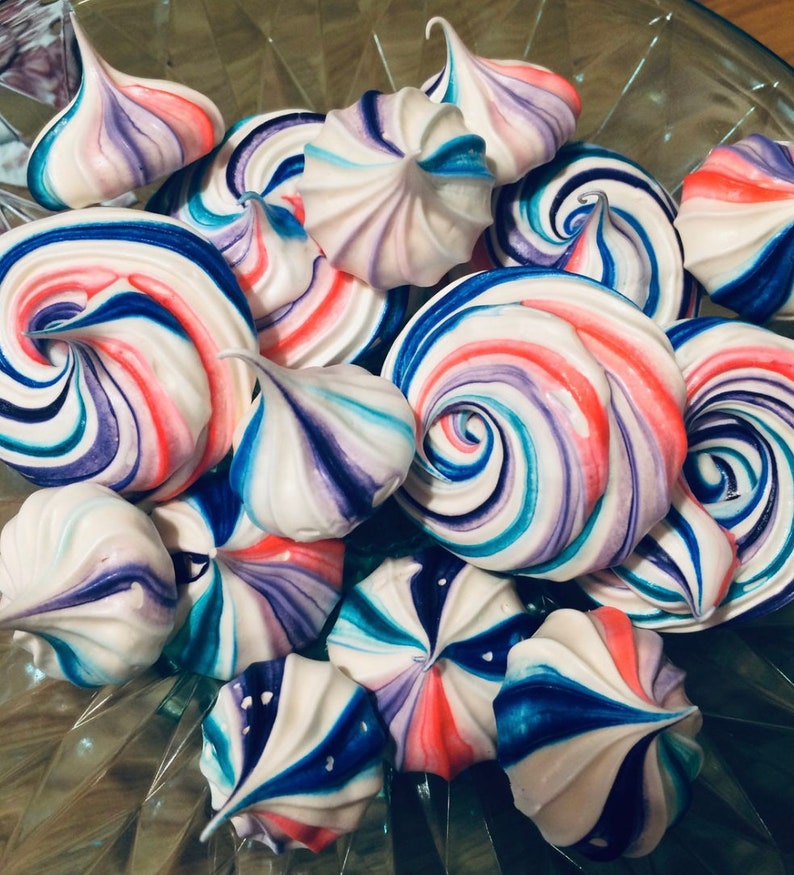 Order Patriotic Food Online:
If you don't feel like making any of these delicious recipes, but you want something festive for your fourth of July celebration, you can just order red, white, and blue foods with the following delivery services:
You could also order patriotic desserts, like the Red, White, And Blue Meringues above from Etsy. Just be mindful of delivery times. You don't want your order to arrive after your party already took place. If that happens, you'll have to keep them until Labor Day so you're back on theme.
Patriotic Party Tips
If you're throwing a patriotic party, like a 4th of July or Memorial Day BBQ, I have a few tips to help you get into the patriotic spirit.
Decorate with red, white and blue. A patriotic tablecloth should be easy to find this time of year. If you pick a nice one, you can keep it for the future (or just keep a disposable one because that's what we do).

Set out red and blue plastic cups for drinks. Paint wood to look like firecrackers. And have a lot of flags all over.
Stay hydrated. This time of year, it's really easy to have your guests congregate near the grill and then overheat. So you definitely want to set out a cooler with ice and fill it with bottles of water for your guests.

You might want to come up with some cute patriotic drinks to serve, but sugary drinks may not hydrate your guests. So even if you're making something like our Watermelon Lemonade because it's summer-y, have water available.
Set up patriotic games. My parents have a Captain America corn hole set. We bring that out for every gathering, but it totally fits when we have a patriotic party.

If you're playing something like flip cup, you can set up red, white and blue cups for your game. Giving people something to do besides just sitting around chit chatting is a way to make your patriotic party a lot more fun.
Put on patriotic movies. Your guests will most likely congregate outside, but they might stop inside for the bathroom or some air conditioning. Play some "yay America" movies on whatever TV is closest to the front door. People might stop to watch a few scenes, which is great.

If you're looking for ideas, we have a long list of Patriotic Movies to help you choose.
Do you have other patriotic recipe ideas? Be sure to leave them in the comments.