Wilmington does a great job celebrating St. Patrick's Day. Find out all about the Wilmington, NC St. Patrick's Day Festival & Parade in this post.
If you're visiting the area for the celebrations, check out all of our Wilmington, NC content.
For a town with no strong Irish ties, Wilmington, NC does a really good job celebrating St. Patrick's Day. There's the annual parade, the annual post-parade festival, and the annual hooley that are always on the calendar.
And then there was the year that Cool Wilmington threw a halfway to St. Patrick's Day party in September once.
In addition to those official events, there are so many other events around town.
Some, like the St. Patrick's Day parade, have already happened this year. But, with St. Patrick's Day this weekend, there's still so many events to partake in.
And then, maybe go to the parade next year.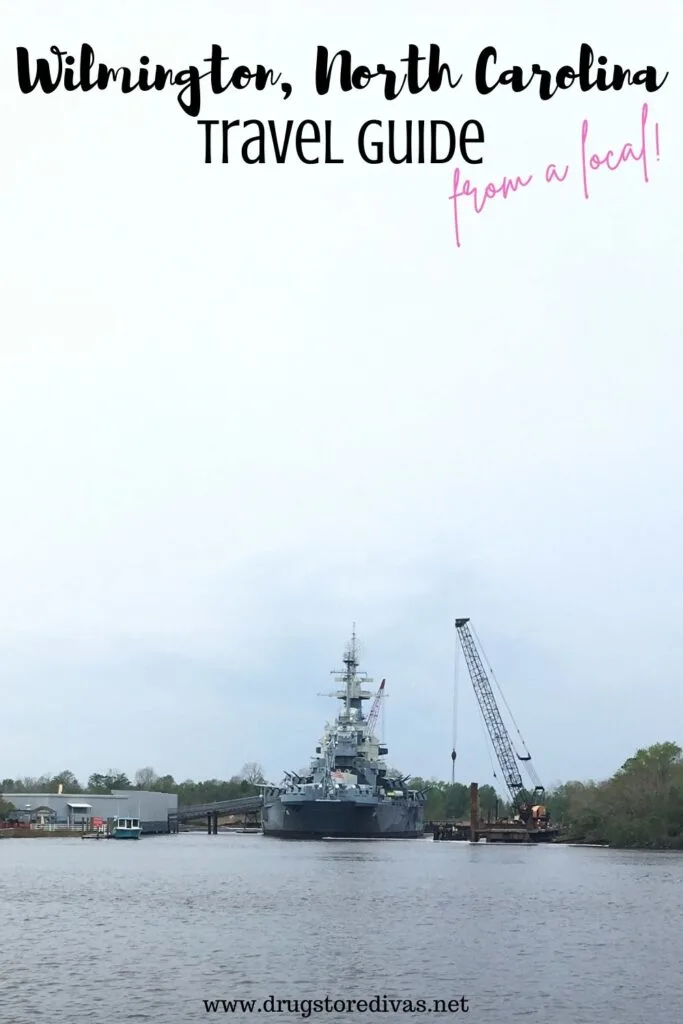 If you're planning a trip to Wilmington for the festivities, check out this Wilmington, North Carolina Travel Guide to help you plan the perfect trip.
Wilmington NC St. Patrick's Day Festival & Parade Info 2023
Affiliate links are included in this post and Drugstore Divas may make a small commission if you use them.
Cape Fear Hooley Under The Bridge
Location: Waterline Brewing (721 Surry Street)
Date: Saturday, February 11, 2023
Time: Noon til 6 pm
Details: The Cape Fear Hooley Under The Bridge is a rain or shine event that's held four weeks before the parade. It's free to attend, but donations are accepted to help sponsor the St. Patrick's Day parade in Wilmington. The event is hosted by Waterline Brewing Co. and Port City Irish productions.
Every year, there's live music from the Wilmington Pipe and Drums group (who also march in the parade). There are Irish dancers and Irish bands as well. Plus, this year opened with a traditional accordion player (who played more American traditional songs than Irish, but that's okay).
Food trucks are available at the event. The Black Sheep, the food truck for the town's resident Irish restaurant The Harp, is always in attendance selling Irish food like shepherds pie, corned beef and cabbage, and roast chicken with Irish mashed potatoes.
Most years, fairy hair vendors (which is *the* thing at Waterline events for whatever reason) and vendors selling Irish wares are on site.
The majority of the festival happens outdoors, under a huge tent, in the lot in front of Waterline (where their festivals and farmers markets happen). There are tables and chair set up there, plus picnic tables near the permanent stage at the brewery.
Downtown Wilmington St. Patrick's Day Parade
Location: The parade route is along Front St. (more details below)
Date: Saturday, March 16, 2024
Time: 11 am
Details: Yes, the date is correct. The parade committee has already scheduled next year's parade. (This year's parade was on March 11th). Check out this post or the official website for more details as the date gets closer.
The parade runs along Front St., starting at Red Cross Street and going until Dock Street.
The parade is filled will a bunch of regular participants, like the local Junior ROTC groups, the aforementioned Wilmington Pipe and Drums band (yes, the same one), the United States Coast Guard, an Irish setters group, a Jeep group, and more.
There's lots of Irish spirit at the parade, but no swag or food vendors. Because the parade route runs in front of businesses, bars, and restaurants, street vendors aren't at the parade.
We suggest you get downtown early because it does get crowded. We shoot to get downtown around 9:45 every year, park in the parking lot on Second Street (right off of Princess Street) and set up on Front Street.
You have to bring your own seats. It's not like the Azalea Festival parade where bleacher seating is set up along the streets of downtown Wilmington.
St. Patrick's Day Festival
Location: Waterline Brewing (721 Surry Street)
Date: Saturday, March 11, 2023
Time: noon to 7 pm
Details: Although the 2024 Downtown Wilmington St. Patrick's Day Parade date is officially on the books, the after party isn't. So, the date above is for the 2023 parade.
Previously the Downtown St Patrick's Day Festival was held in the empty lot on Second Street between Market Street and Dock Street. In 2023, it was moved to Waterline.
It's basically exactly the exact same festival as the hooley now, since it's in the same location with the same Irish music from the same Irish bands and the same Irish food from the same Irish food trucks. But hey, nothing wrong with that.
More St. Patrick's Day Events In Wilmington, NC:
St. Patrick's Day at The Harp
Location: The Harp (1423 S 3rd St)
Date: Friday, March 17, 2023
Time: 11 am until the "wee hours of the morning"
Details: The Harp is an Irish restaurant and pub in downtown Wilmington. Doors open at 11 am on St. Patrick's Day. Live music starts at 4 pm outside under a tent. There's also music the day before beginning at 9 pm.
The Harp sells my favorite Shepherds Pie ever — mostly because the restaurant melts cheese on top. It's so good. So, if you're going to be there during lunch or dinner, definitely order it.
St. Patrick's Day and The Day After St. Patrick's Day at Ogden Tap Room
Location: Ogden Tap Room (7324 Market St)
Date: Friday, March 17, 2023 and Saturday, March 18, 2023
Time: Friday at 3 pm and Saturday at 3:30 pm
Details: Ogden Tap Room (my dad's favorite tap room in Wilmington) has two St. Patrick's Day parties. The first is on the holiday itself, with an Irish band playing from 3 to 7 and then a '90s cover band (that we actually really like and have seen a bunch of times) playing from 7 to 10.
The next day, the "hangover" party, starts with live music at 3:30 pm.
Irish Food In Wilmington:
Celtic Monkey Irish Pub And Grill
Celtic Monkey (5607 Carolina Beach Rd #100) has a really unique Irish fusion menu, with items like Reuben egg rolls, shepherds pie spring rolls, and steak and Guinness pie.
Paddy's Hollow Restaurant & Pub
The menu at Paddy's Hollow (10 Walnut St in the Cotton Exchange) is mostly American (the fried chicken sandwich there is one of my favorite bites of food in Wilmington) although it is an Irish pub with lots of Irish items peppered through the menu, like the Guinness Braised Corned Beef Brisket Sandwich.
Also, to help you save a little bit on your meal there, you can get 16% back if you check in on the Upside app (and you thought it was only for gas).
The Harp
The Harp (1423 S 3rd St) is everyone in Wilmington's go to Irish restaurant. The menu is traditionally Irish with, as I mentioned, my favorite shepherds pie.
The Joyce Irish Pub
The Joyce (1174 Turlington Ave #101; Leland) is actually located in Leland, but that's just one town over (and it's actually probably closer to downtown Wilmington than Celtic Monkey is). The restaurant is mostly American and pub fare, but it is an Irish pub with Irish foods, like a Reuben, on the menu.
More Wilmington Festivals:
The St. Patrick's Day festival isn't the only festival in the area. For more, check out this Guide To Festivals In Wilmington, NC, with a breakdown by month.
A quick rundown of a few of our favorites:
In the spring: The North Carolina Azalea Festival (the biggest annual event in Wilmington).
For the fall, there's Wilmington Riverfest and Rims On The River.
In the winter, there's Enchanted Airlie (the light display at Airlie Gardens) and Leland in Lights (a light display in neighboring Leland, NC).
Have you been to the St. Patrick's Day Parade and Festival in Wilmington, NC? Let us know your thoughts in the comments.