Halloween Toilet Paper Rolls Crafts are such a frugal way to make Halloween décor. Learn how to make bats, pumpkins, and more.
Get tips to make this the best holiday yet with all of our Halloween posts.
I very often save our empty toilet paper rolls to use as crafts. They're such an easy craft medium for when we have kids come over … and then get bored. I'm like, "Let me grab some craft rolls and paint and we can do a project." This time of year, we make Halloween Toilet Paper Roll Crafts.
Toilet paper rolls are actually made out of pretty great cardboard, so they can hold up to heavy handed painting. Which is important when you want to upcycle toilet paper rolls with kids. They're very generous with paint.
If you've stumbled over this post, and it's not spooky season, we have other toilet paper roll crafts that you can make in the meantime.
I mean, you can make Halloween-themed crafts anytime, but just in case, check out our list of 10+ Crafts Using Toilet Paper Rolls.
Halloween Toilet Paper Roll Crafts
Affiliate links are included in this post and Drugstore Divas may make a small commission if you use them.
If you don't have toilet paper rolls, or you are just a little more concerned with how sanitary toilet paper rolls are, you can purchase craft rolls online or use empty paper towel rolls instead.
This list contains all the Halloween-themed empty toilet paper roll crafts that we currently have on Drugstore Divas. Which, actually, is quite a few if you can believe it.
As we add more crafts with toilet paper rolls to Drugstore Divas, we'll update this list. And I'm sure there will be more.
So be sure to save this post, pin it, bookmark it … whatever method you use to save links. Then, come back to it every so often (or at the very least, every fall once Halloween decorations seem to be all around) to see what crafts we've added to the list.
Toilet Paper Roll Frankenstein
Paint and construction paper go a long way to transform a toilet paper roll into an adorable Frankenstein craft.
The Toilet Paper Roll Frankenstein tutorial post has a couple variations in it so you can make it easier to make with kids. Or you can just make this craft on your own. Whatever you want to do works. Just make it and put it on display all Halloween season long.
DIY Toilet Paper Roll Ghosts
These cute DIY Toilet Paper Roll Ghosts are the easiest of the Halloween crafts for kids to make, pretty much unsupervised.
They'll need to paint the entire toilet paper roll white (this is where you consider the aforementioned heavy handedness of kids painting) and let it dry. So have a way to kill a little time because watching paint dry isn't exciting for anyone, especially kids.
If you're making this with young kids, have the kids use markers to draw the faces on the ghosts. If you're making it with older kids, they can either paint the faces or use card stock to cut out the faces.
Speaking of ghosts, be sure to check out all of our easy Halloween ghost crafts.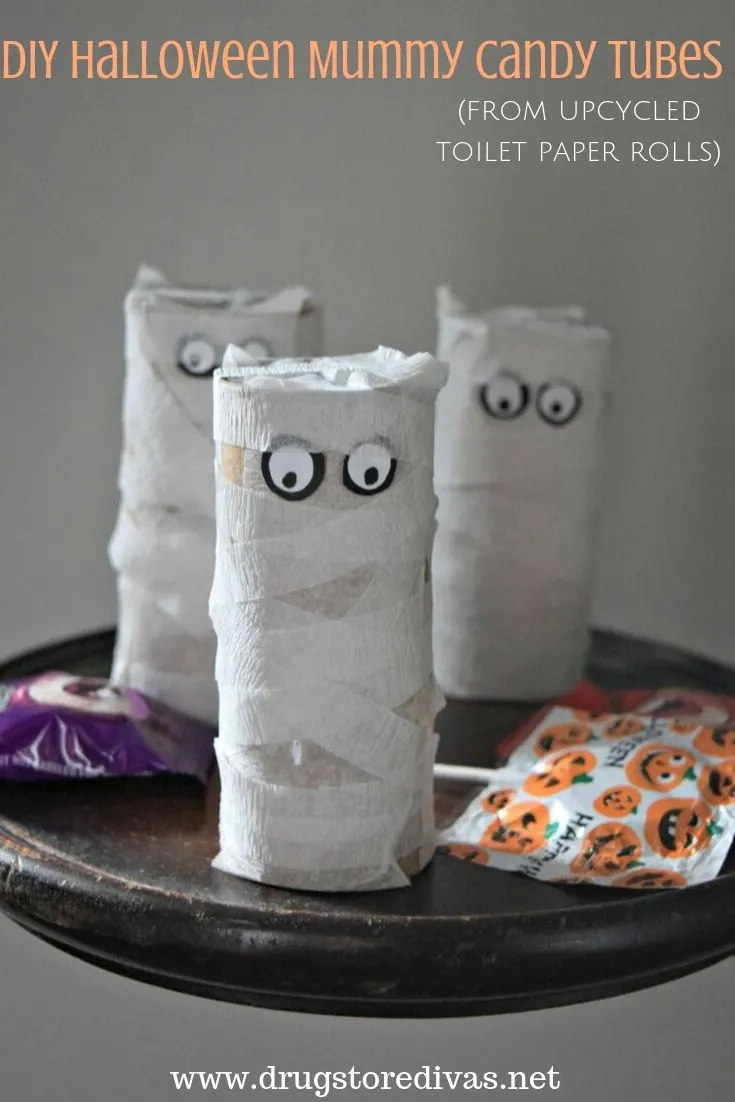 DIY Halloween Mummy Candy Tubes
These DIY Halloween Mummy Candy Tubes are sort of like a mini Halloween piñata. But, instead of bashing them open with a stick, all your recipient needs to do is unravel them and out falls some candy.
Small aside: We actually have a different Halloween piñata-like craft on Drugstore Divas too, our DIY Pull String Halloween Ghost Piñata. That one also doesn't involve hitting with a stick. Instead, you pull a string and the candy falls out.
Anyway, back to the original craft at hand.
These Mummy Candy Tubes are really simple to make by wrapping white streamer paper around an empty toilet paper roll. You will need to make sure to cover the top and bottom, so that the candy you fill these with stay inside.
You can draw the eyes on the mummy candy tubes, if you want to make this craft a little bit easier. But it's a lot cuter if you take a few minutes to cut the eyes out of card stock and glue those behind some of the mummy wrappings.
DIY Halloween Bat Candy Tubes
These DIY Halloween Bat Candy Tubes are the most popular Halloween craft on Drugstore Divas. I think because they're so cute but also functional. And pretty easy to make, all things considered.
These candy tubes are filled with Halloween candy, so they're an option to hand out candy to trick or treaters that isn't putting candy in treat bags.
They can also double as holiday décor on (or before) Halloween. They stand up pretty easily on their own, so you can stand them on a table or in a Halloween treat bowl with a "take one bat" sign for Halloween night.
And, if you want more bat craft ideas, we have a full list of Halloween Bat Craft Ideas.
DIY Toilet Paper Roll Pumpkin
This DIY Toilet Paper Roll Pumpkin is actually the only one of these toilet paper roll crafts for Halloween that is made from multiple toilet paper rolls. All the other crafts need one roll per craft. For this, you need four empty toilet paper rolls to make one complete pumpkin.
This pumpkin is a frugal version of the very popular canning jar bands pumpkin craft that goes around social media around this time every year. That version is really cute, but toilet paper rolls cost a lot less (well, nothing) than a package of canning jar bands.
For more pumpkin crafts, check out our list of Fun & Easy Halloween Pumpkin Crafts.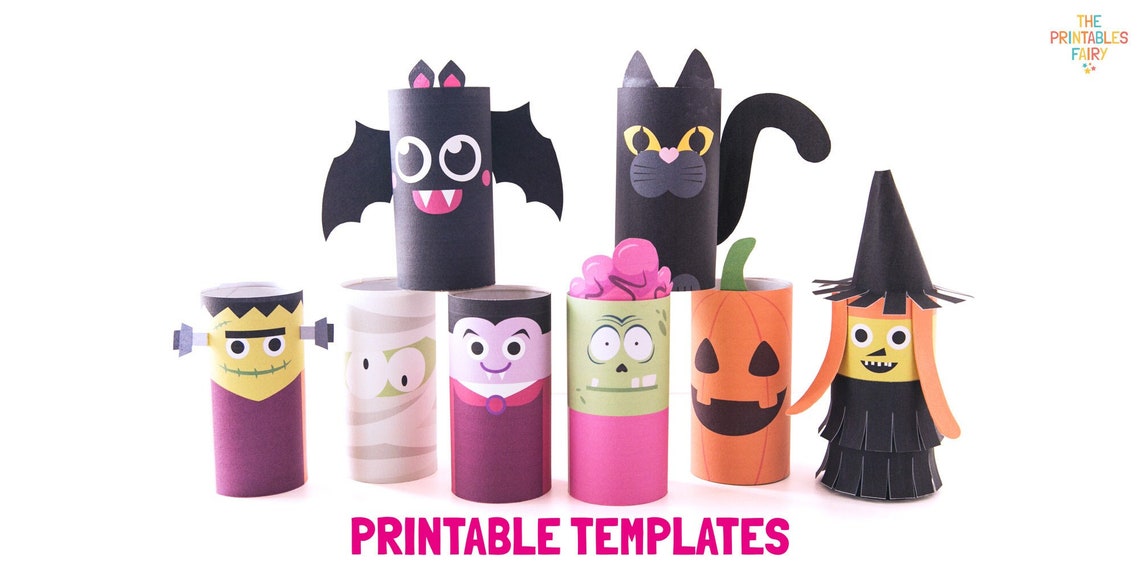 Purchase Halloween Toilet Paper Roll Crafts Templates:
If you like these Halloween Toilet Paper Roll Crafts, but you don't want to pick up all the supplies to make them, there are some Halloween Toilet Paper Roll Crafts templates you can buy online.
We found this Halloween Toilet Paper Roll Crafts Templates set. It's a digital download, so you need to have access to a printer and card stock in order to use the printables. You don't get a physical product.
The set comes with two PDF files so you can make a vampire, Frankenstein, a pumpkin, a zombie, a mummy, a witch, a bat, and a cat.
The digital downloads are intended to be printed in color. However, if you want to do a little more for this craft rather than cutting out the templates and gluing them onto craft rolls, you can print the templates in black and white. Then, color them in yourself before gluing them on to the craft rolls.
Which of these Halloween Toilet Paper Roll Crafts are you going to make first?