A great way to spend summer is swimming in the pool. If you know someone who would agree, everything on this list of Gifts For Pool Lovers is for them. You don't even have to wait for when you need a birthday gift to get them. Summer is a good excuse.
For more ideas of what to buy, check out all of our gift guides.
It's officially summer, which is the perfect time to turn off your phone and lounge poolside. It's super relaxing. We have two pools in our community, including a brand new pool that was built this year, so that's a nice way to enjoy a pool without having to worry about actually taking care of a pool.
But, I do miss when we were growing up and had a pool in our backyard (which my parents took care of and we just enjoyed the pool time).
​If you have a pool at home or you use a community pool, it doesn't matter. This list of Gifts For Pool Lovers is for you. Or for the pool lover in your life. Pick up a few (or all) of the items and be ready for all the pool parties you'll be throwing this summer.
These great gift ideas are geared more towards adults. If you're shopping for a younger person, our list of 30+ Great Pool Toys For Summer will give you some better ideas. It's filled with dive toys, pool balls, and more.
10+ Gifts For Pool Lovers
Affiliate links are included in this post and Drugstore Divas may make a small commission if you use them.
Floating Drink Holders
One of the rules in our community pool is you can't have drinks in the water. But, if you're shopping for the perfect gift for someone who owns a pool, floating drink holders are it.
You can purchase them in a variety of designs so you can fit your gift recipient's interests and style. Personally, I found the swan cup holders above in Sumter, SC, a town with a botanical garden called Swan Lake Iris Gardens, so they felt very appropriate there.
Aqua Hockey Game
I'm a big fan of any sort of outdoor game where families can play together. You get sunshine, everyone is spending time together, and no one is on a screen.
If you agree, you need to pick up this Aqua Hockey Game for your family of pool lovers. It's a really fun gift for the whole family. It's basically hockey, but on water. Everyone gets a stick and has to battle to hit the ball, which floats on the top of the pool water. Be careful of the big hole in the stick that the ball can float through.
Pool Noodle Organizer
Pool noodles are fun … until you need to store them. There really isn't a great way to do that. At least, I said that until I stumbled over this Pool Noodle Organizer.
It's specifically made to store pool noodles in the easiest way that takes up the least amount of space. If you're handy, you might be able to DIY one of these out of items you have at home, but I definitely don't know how to do that.
There are some different types of this out there (ones with storage bags under them where the noodles go on top or just this one that stores noodles) so pick the ones that make the most sense for your gift recipient.
Waterproof Bluetooth Speakers
Any time we go to the pool, we bring a Bluetooth speaker with us. If you're relaxing poolside, you need some music. But, lots of those relaxing spots are in the splash zone.
So, to keep your gift recipient from jumping up every few minutes to block the speaker from incoming water, just pick up a waterproof Bluetooth speaker instead. That way, if it gets wet, which it inevitably will, no one has to worry.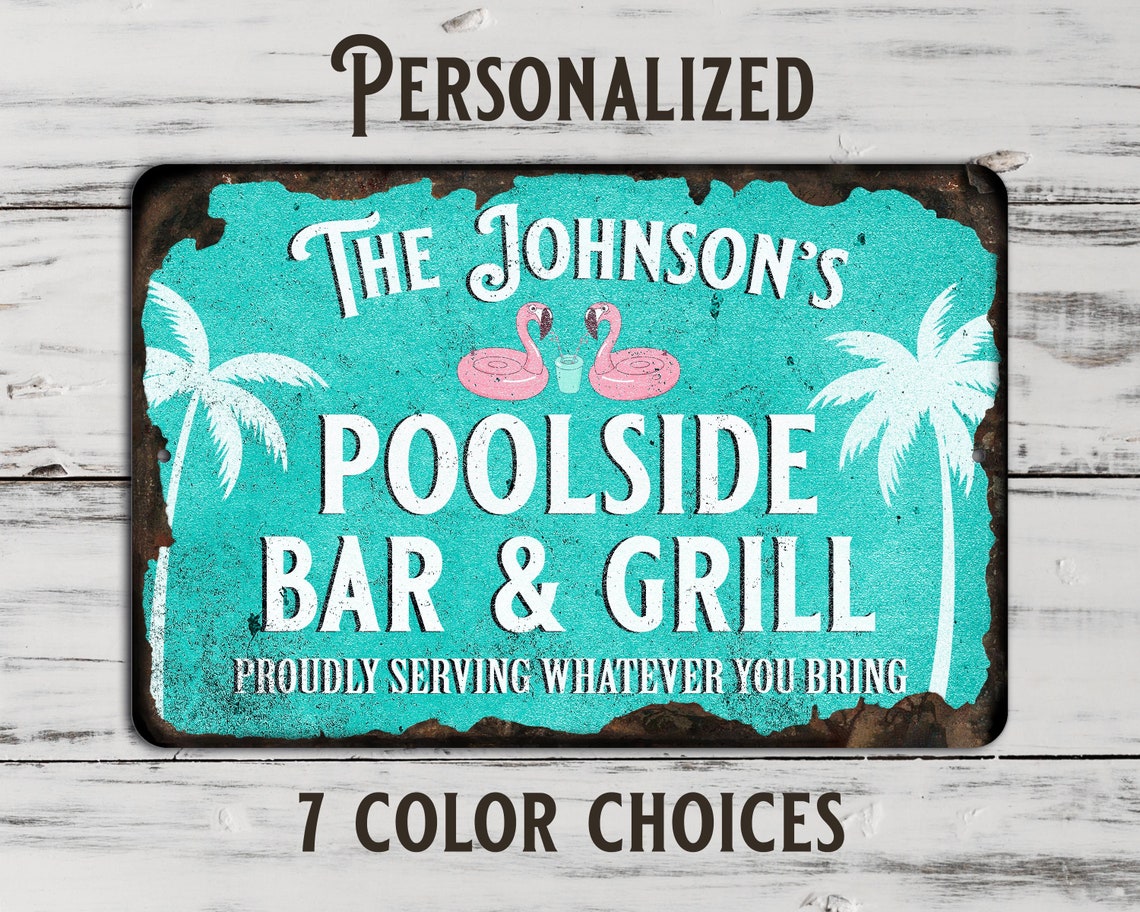 Pool Sign
If you're shopping for new pool owners, a really funny pool sign is a great idea. I still remember one my friend in elementary school had on her pool.
The link below brings you to a bunch of options. But, if you're looking for an idea, I think the Personalized Poolside Bar Sign (pictured above) is the perfect choice. It comes in seven different colors and you can add your recipient's last name to it.
Pool Volleyball Set
Floating around a pool, minding your own business is fun. But, what's more fun, if you're with a crowd, is playing pool volleyball. It's one of the best pool games (and so much better than regular volleyball, in my opinion).
Plus, it's a good way to get the entire family to play together, which is definitely a plus.
Inflatable Coolers
Hear me out: Inflatable Coolers for your next party.
Honestly, our HOA would never allow them. No food floating around the pool here. But, it's so much fun to just put some drinks on it, or maybe some fruit, and just grab a bite or a drink when it floats near you.
Okay fine. I'm offering this suggestion as someone who doesn't have to clean the pool after. But, if your pool lover loves swimming and never wants to get out for a sip of water, this is the best way to stay hydrated and to stay in the pool.
Pool Chair Towel Clips
If your pool lover spends all day swimming, they'll eventually need to get out and dry off. And if they've been in the pool for a while, there's a very good chance that the wind took their pool towel and blew it … somewhere. Pool Chair Towel Clips are the perfect way to clip a towel to a chair to assure it'll be there when your water lover needs it.
If you need to make this an even bigger gift, you can purchase a matching towel to go with it.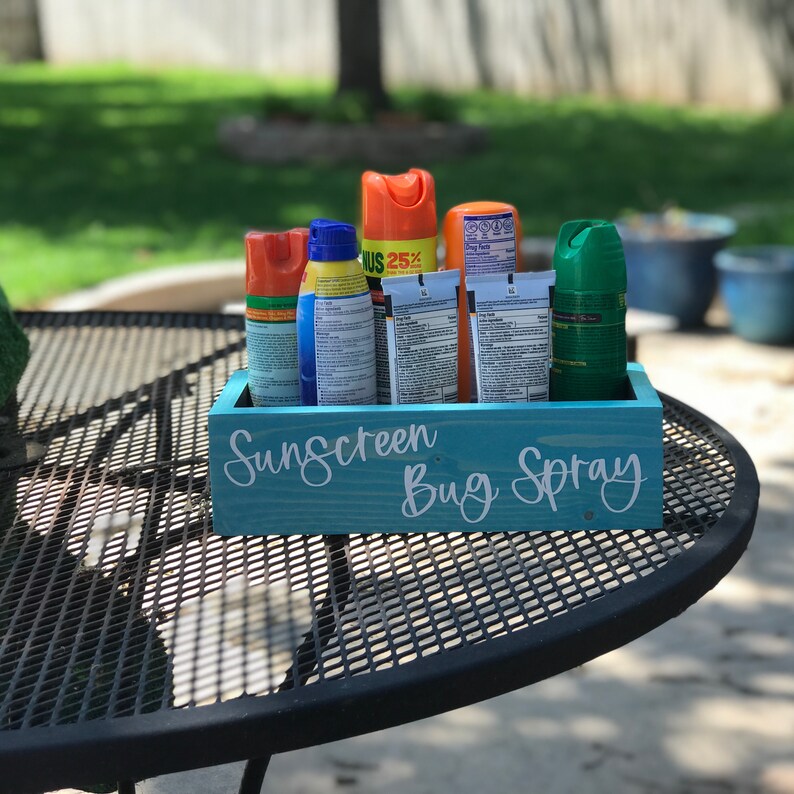 Sunscreen Box
​Pool lovers spend a lot of time outdoors, obviously. And that's a lot of time when they should be wearing sunscreen.
An easy way to assure they do this (or at least, try to assure it) is to get them a sunscreen box. It holds bottles of sunscreen and bug spray, which means they'll always be handy.
If you have the tools and time, you can make this yourself. If not, you can just order it.
Pool Towels Rack
Your swimmer is gonna have to dry off eventually, so having a towel handy is a necessity. But once they use that towel, they need somewhere to hang it so it can dry. That's when this pool towels rack comes in handy.
This one has eight hooks, which feels like a lot for towels. But, you can also use the hooks to hold other things like a robe or a sunglasses bag. Just make sure they're small items. Anything heavy could weigh down the hooks too much.
As long as it gets hung in the general outdoor pool area, it'll get used.
Pool Hair, Don't Care Hat
​Chlorine will do a number on your hair. But that doesn't mean everyone is jumping out of the pool and into the shower. Some people will just deal with pool hair. Which is why this Pool Hair, Don't Care hat is an excellent gift.
It's also one your friend can just wear when they're not in the mood to brush their hair that day.
​
I'm The Pool Boy Tank Top
There are so many innuendos with the pool boy. So, it would be so incredibly funny to get your male pool loving a shirt that says, "Why yes, I am the pool boy."
You can get it in women's sizes too because yup, women can be their own pool boys if they need to be.
​
Purchase Gifts For Pool Lovers Online:
These aren't all of the gifts for pool lovers out there, just the ones that we think are the best gifts. There are more, like the Pizza Slice Sandals above. Those are perfect to slip on and off when you're getting in and out of the pool. For more ideas, check out the following stores below:
​Be sure to check a store's minimum cart total to qualify for free shipping. Also, consider instore or curbside pickup, where available, to avoid shipping charges.
More Pool Gifts:
If you're looking for some floats instead, check out our list of 30+ Epic Pool Floats. There are animals, foods, and more on that list.
Which of these gifts for pool lovers would your family members like best? Be sure to let us know in the comments.