From car chargers to phone holders, this list has the Top Gifts For The Road Tripper. Your gift recipient will love anything from this list.
For more ideas, check out all of our gift guides.
When I was in high school, my friends and I would just get in the car and start driving. We'd get to an intersection, and the passenger would quickly pick left or right. Over and over, trying to get ourselves lost.
I guess you can't really play that now because of a GPS and the fact that gas is a zillion dollars a gallon, but it was fun back then.
Now, I just take road trips to see family. No more joy rides. If you know someone who loves a good road trip, this list of the top 10 gifts for the road tripper is for them.
This list is specifically for the travel lover who loves to drive, rather than fly or cruise. We actually have lists specifically for them: gifts for the jetsetter and gifts for the cruise lover.
If you're looking for more shopping ideas, be sure to check out Drugstore Divas' Holiday Gift Guide for all of our shopping guides.
Top 10 Gifts For The Road Tripper
Affiliate links are included in this post and Drugstore Divas may make a small commission if you use them.
The Next Exit Book
My parents road trip a lot. They have a house here in North Carolina, another in Florida, and they visit my brother in New York a lot. Plus, they have an RV and drove it cross country last summer.
So, last year, for my dad's birthday, I bought him The Next Exit book. It tells you what restaurants, gas stations, rest stops, and more are at each exit. The Next Exit book definitely helps when you're craving Royal Farms Chicken when you're driving up 95.
The book gets updated annually, so even if your recipient has an old copy, this is still a good gift idea.
I got him this (which you can see above) and a road atlas. This specific version has all the National Parks listed. It's a great gift for drivers to keep in the car. And I know, you think a paper map is unnecessary because we all have Google Maps on our phones. But when we were driving during a hurricane and there was no phone service, we all reached for the atlas.
Universal Phone Vent Clip
I'm not brand loyal to any car mount phone holder, but I am loyal to the style. Unlike other vent clips, a horizontal phone vent clip fits (nearly) every phone.
It's so easy to use. You just clip it onto the air vent in the car, then expand it to the size of your phone and stick the phone right in. So easy.
This is a great way to hold a road tripper's cell phone, which is probably being used as a GPS. They can just glance at it quickly while they're driving rather than having to look down at the phone.
Travel Pillow
The difference between sleeping when you're driving versus flying is huge. You have the ability to spread out so much in the car. So instead of a travel pillow that wraps around your neck, you can go with a travel pillow that's an actual pillow.
When we were growing up and road tripping to our annual camping trips, we all had our own travel pillows. They were super convenient. My mom sewed us all pillow cases, so we knew whose was whose.
If you're not into sewing, you can just purchase pillow cases that are specifically travel pillow sized. Get one that matches your road trip lover's personality.
Travel Mug
When you road trip, you drink a lot of coffee. It helps you stay awake on the road. Plus, nearly everywhere you stop to use the bathroom has coffee, so it's easy to grab. That's why a travel mug is perfect.
You can rinse it out when you stop, get more coffee, and save the earth a little. Plus, we have a great list of places that give discounts when you bring your own mug, so you should share that list with your gift getter.
Car Power Inverter
This Car Power Inverter doesn't look much like a gift, but it's necessary for a long road trip.
You plug it into the car's cigarette lighter and you have a charger with USB ports and AC outlets. So you can charge a laptop, multiple phones, plus your portable charger, all at once.
I love working in the car, so this is so great for people like me. Or people like Pete who have old phones with terrible batteries.
This is also clutch if you're using your phone as a GPS on a long drive. You don't have to worry about your phone dying before you get where you're going.
Car Trash Bag
I know, I know. A garbage bag isn't the most exciting gift, but sometimes, the most practical gifts are the best gifts.
This car trash bag is great because it's leakproof — and you don't want garbage spilling all over your car. What's also great is that the top opens wide enough so you can get soda cans and water bottles in, but not wide enough that anything will fall out.
An America The Beautiful Pass
If your favorite road tripper is making stops along their road trip, an America The Beautiful Pass is absolutely a necessity.
The pass, issued by the National Park Service, allows admission into national parks, national wildlife refuges, national forests and grasslands, and lands managed by the Bureau of Land Management, Bureau of Reclamation, and U.S. Army Corps of Engineers.
The annual pass, which costs $80, is valid for an entire year from the date you purchase it and can cover admission for the driver and up to three passengers in a vehicle.
Some of the parks can be super expensive. A car admission for the Grand Canyon, for example, is $35. So if your gift recipient is planning a trip to visit the parks, this is the perfect gift.
If your road tripper stays local, look for a state park pass instead. That's a whole different pass and varies by state.
Roadside Emergency Kit
We've had some disasters on road trips, everything from a flat tire to a leak in our car's cooling system to our car getting totaled on a drive to Washington, DC. So we're pretty prepared … now.
Your road tripping friend needs to be prepared for everything, and this roadside emergency kit is the perfect way to help. It comes with a with jumper cables, a first aid kit, a self-powered flashlight, and more.
Depending on where you live, you may need to add a few other items. During my time in Washington state last fall, there were so many signs about having chains in your car for snowy drives on the mountain. This emergency kit doesn't come with those, but this is a really good start.
PigOut CarGo Container
Snacks on a road trip are so important. There's no way you can take a trip without them.
But, it's so easy to hit a bump and knock your snacks all over. That's why this PigOut CarGo Container is so perfect. Not only does it keep your snacks safe on your travels, but they fit perfectly in your cup holder.
Also, this is just really cute.
State Sticker Travel Map
When we were growing up, we would drive to different states to camp every year. Then, we would purchase a state magnet and we tried to make the United States on our microwave.
This State Sticker Travel Map is a much easier way of doing this. Every sticker fits perfectly on the map. If your friends drive in an RV, you can stick this on the outside. If not, framing it and hanging it on the wall of your friends' house is perfect.
Heated Seat Cover
If I didn't already have 100 Christmas gifts for my mom, I would be buying her this. She's always so cold, especially driving up to New York in the winter, so she would absolutely love this heated seat cover.
This is a really good idea for your older family members who might get a little achy on long car rides. The heat on their back will make the road trip a little more enjoyable.
It plugs into the car's DC Volt outlet, so you don't need to purchase (or carry) any adapters for this.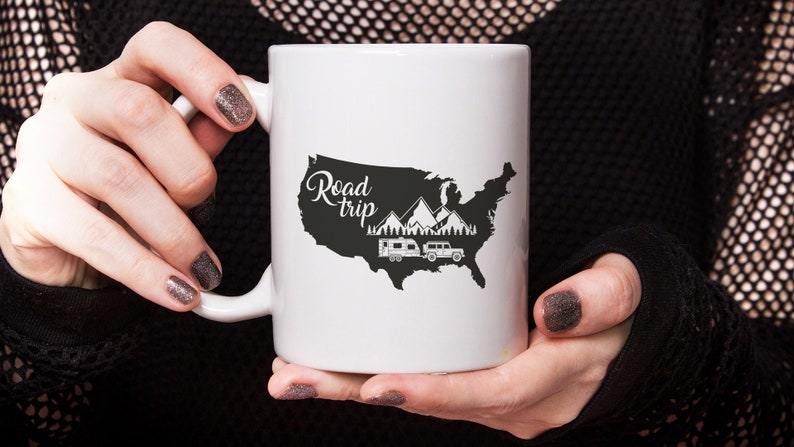 Purchase Gifts For Road Trippers Online:
Of course, these aren't all of the gifts out there, just the ones we consider to be the best road trip gift ideas. We had to skip some, like the Road Trip Mug above.
For more ideas, check out the stores below:
Remember to check a store's minimum cart total to qualify for free shipping. Also, consider curbside or instore pickup, where available, to avoid shipping charges.
Road Trip Tips:
Are you the road tripper and you're shopping for a great road trip gift for yourself? In that case, we have a bunch of other posts about road trips that we think you'll enjoy:
Don't forget about our other road trip posts to help you plan the perfect drive.
Which of these Top 10 Gifts For The Road Tripper is your favorite? Let us know in the comments.