From tag holders to Sea Bands to passport holders, this list is filled with the best gifts for cruise lovers.
For more gift ideas, check out all of our gift guides.
Have you ever been on a cruise? It's a great way to see a bunch of places at once. You just get on the ship and your floating hotel room takes you around. You don't have to worry about driving in foreign countries, missing connecting flights, even unpacking suitcases at every new country. There are a couple things you need, so to help you out, we put together this list of The 10+ Best Gifts For Cruise Lovers.
Keep in mind that, just like our gifts for the jet setter list, these are focused with cruising in mind. They're not generic travel gifts. And they're not cruise themed gift ideas. Like, none of them are just pictures of cruise boats or something like that.
They're all really great cruise gifts for friends who love cruising or as gifts for first time cruisers.
This The 10+ Best Gifts For Cruise Lovers list is just one of the gift guides we have on Drugstore Divas in hopes of making your shopping life so much easier.
Be sure to check out Drugstore Divas' Holiday Gift Guide for all of our shopping guides.
Gifts For The Cruise Lover
Affiliate links are included in this post and Drugstore Divas may make a small commission if you use them.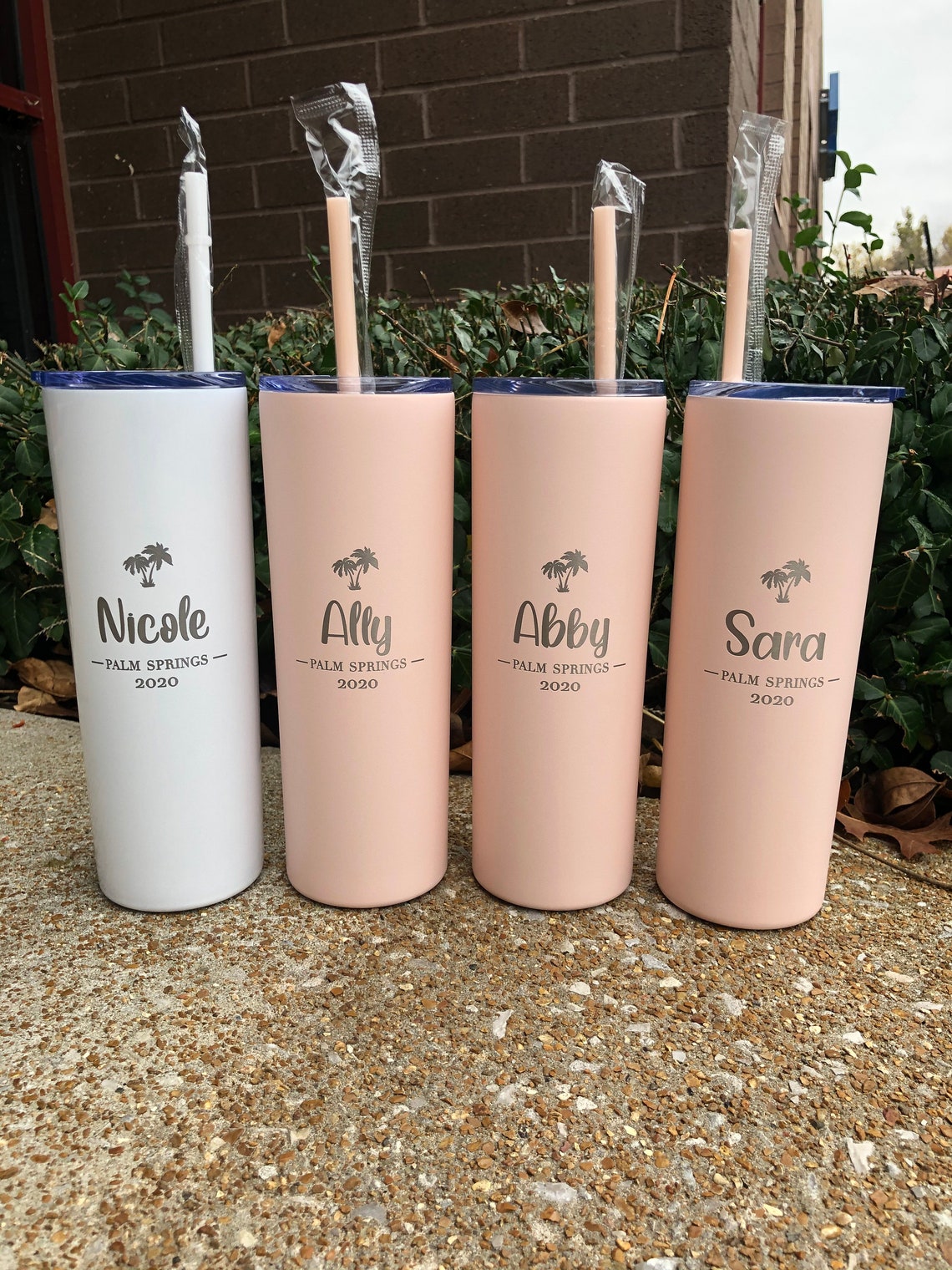 Personalized Vacation Tumbler with Straw
You should absolutely bring your own tumbler on a cruise. It just makes life so much easier. You can carry your drink around the cruise and you won't have to stop as often to grab a water.
It's also a great help when your cruise fan is leaving the ship and going to port. He or she can take a drink with him or her rather than spending time at port trying to find water.
And, if your cruiser has the bottomless bubbles package, bartenders will fill their travel mug, which helps to reduce use of disposable cups.
Sea-Band Wristband
The worst thing that can happen on a cruise is that you get seasick and you end up spending your entire trip in your cabin. No one wants that. But also, no one wants to be forced to take motion sickness pills all trip either.
So a Sea-Band Wristband can come to the rescue.
It has a ball that sits on a pressure point in your wrist to relieve/prevent nausea. Perfect for cruisers.
Waterproof Phone Pouch
Part of the fun of a cruise is hanging out on the pool deck, swimming, and relaxing. But you can't relax if it's hot and you want to take a dip in the pool but you don't want to leave your phone unguarded.
That's why a Waterproof Phone Pouch is necessary.
You put your phone, cruise ship ID card, and whatever else inside it. Then, you can swim without anything getting wet, lost, or stolen.
Beach Towel Clips
Speaking of that pool deck, if you want to actually relax, you'll need some Beach Towel Clips. If not, you'll be sitting at the pool, fighting with your towel the entire time.
The beach towel clips will keep your towel onto your chair and all you need to worry about is getting some sun.
The ones in our image are flamingos, but you can get them as everything, like watermelon slices, margarita glasses, toucans, to plain ones.
Snorkel Set
Part of the fun of cruises is the excursions. You can sightsee, take tours, and (almost always) snorkel.
You can rent snorkel equipment, but if your friend goes on cruises a lot, a Snorkel Set is a good gift idea. Plus, to me, it feels a little more sanitary too. And aren't we all worried about that right now?
Wine Bottle Tote Carrier
Most cruise ships allow patrons to carry one bottle of wine, each, on board. Trying to stick it in your luggage is risky because it could bounce around and break.
A lifesaver is a Wine Bottle Tote Carrier.
It will keep the bottle safe during travel, plus works as a great way to bring home a bottle from one of the cruise ports.
Portable Steamer
When you're cruising, you'll have a couple nights where you'll dress up for dinner or shows. So you'll want to pack some dress clothes. The staterooms don't (usually) have an iron in it, but you'll want something to get the wrinkles out. You can go with a wrinkle release spray, but that's not much of a gift idea.
A Portable Steamer is a much better gift idea.
This one is super lightweight, which is great because your cruising friend doesn't want anything heavy or bulky in their luggage, I'm sure. It lasts for 15 minutes, which is enough time to get out any wrinkles.
Anti-Theft Crossbody Bag
You can't be too safe when you're in port. But you do want to relax so you can enjoy the new country you're in.
So, the perfect way to do this is with a Anti-Theft Crossbody Bag (for a woman) or an Anti-Theft Backpack (for a man). Look for ones that are slash proof and have locking zippers.
Cruise Lanyard & Waterproof ID Key Card Holder
While you're on a cruise, you'll need to carry around your cruise ID card. And since that's basically all you're carrying, you don't need a purse (or even pockets).
You do need somewhere to carry your cruise ID card though, so that's where this Cruise Lanyard & Waterproof ID Key Card Holder comes in.
You can get it in a ton of designs, so you'll be sure to find one that matches your gift recipient's personality.
Non-Stick Flip Flops
The cruise deck can be really slippery. And if you are wearing cheap flip flops, there's a chance you can slip and get hurt.
Of course, no one wants that, so a pair of Non-Stick Flip Flops is the perfect gift idea for cruisers.
On Board Credit
Cruises are all inclusive as far as the room and food go, but alcohol and excursions are additional.
So, if you know your gift recipients are heading on a cruise — and you know the cruise line — purchase some on board credit for them. They'll be sure to put it to good use.
Cruise Luggage Tag
Luggage tags just aren't pretty when they're all over your luggage. And they run the risk of getting damaged or lost if they're hanging loose.
So a Cruise Luggage Tag is really handy.
Your cruise lover can fold up their tag and stick it in these plastic pouches, then attach them to their luggage. It'll look nicer and make their lives that much easier.
RFID Blocking Travel Passport Wallet
If your cruise loving friend really does love cruises, they'll end up on international ones (not just domestic or daily cruises). Every time he or she embarks or disembarks in a foreign country, she or he will need a passport.
This RFID Blocking Travel Passport Wallet is a great way for your traveler to pack a passport, cards, travel documents, and more.
There are similar products out there, but the RFID part of this one is so important. There are sketchy ways that people can steal credit card informaiton from travelers if they don't have an RFID blocker on their cards. So this is functional but also a safety measure for your friends.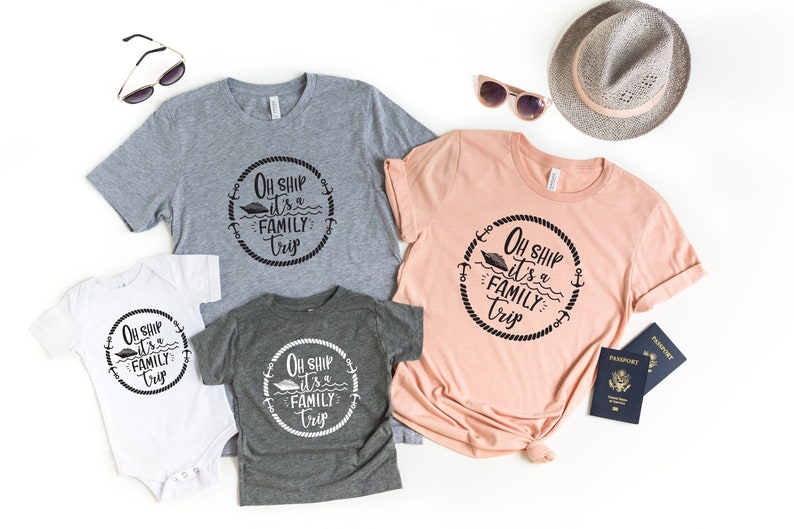 Purchase Cruise Gifts Online:
Of course, this list isn't all the cruise gifts out there, just the ones we consider to be the best. But there are tons more online, like the Matching Ship Trip Shirts above.
The online stores below have really fun cruise gift options:
Be sure to double check a store's minimum cart total for free shipping. Also, consider instore or curbside pickup to save on shipping costs.
Tips For Cruising:
If you're heading on a cruise, and you came to this list because you're looking for items to bring or pack on a cruise, you're in luck. We collected a few tips for cruising that can help you.
What other gifts for cruise lovers can you think of? Be sure to leave us a comment with them below.