This 5 Ways To Celebrate Earth Day At Home post is sponsored.
Since last year, it seems like every holiday, every celebration, is happening at home. No big Thanksgiving gatherings, no summer vacations, no monumental birthday celebrations with a ton of your closest friends.
But Earth Day? That's one you actually should celebrate at home. Take a look at things you're doing at home and figure out what you can do to be a little more eco-conscious and Earth friendly.
Don't worry. We have five ways to celebrate Earth Day at home to get you started.
5 Ways To Celebrate Earth Day At Home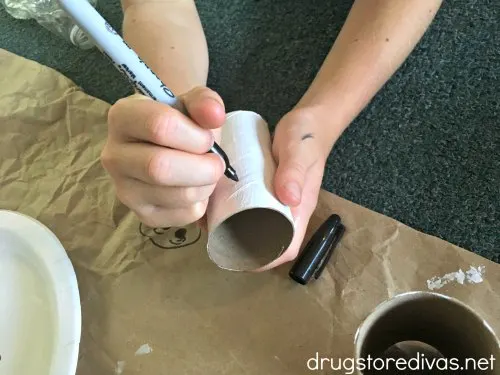 1. Save your toilet paper rolls for crafts
We've been saving our toilet paper rolls for years so that I can use them for crafts. Then, when we have little kids over and they get bored, I pull out some paints and toilet paper rolls and do crafts with them.
That's a great way to keep kids entertained and a way to keep toilet paper rolls out of the garbage.
You can save paper towel rolls and wrapping paper rolls for this same reason too.
If you want to be inspired, you can check out our list of 10+ Crafts Using Toilet Paper Rolls and see some of the crafts that we've done in the past.
You can also save cans from soups to make crafts as well. We've used those to make crafts like our upcycled tin can pumpkins.
And, I actually save the plastic containers button mushrooms come in to turn into Easter baskets for my parents every year.
I'm a huge fan of upcycle crafts, so honestly, anything that I can upcycle instead of throwing away is going to get saved.
2. Use Planterra bottles instead of disposable cups
I hate disposable cups. If we're having a party, we'll break out a pack of disposable cups because it just makes for an easier cleanup. But, for every day home use, I refuse to buy disposable cups.
Instead, I carry a reusable water bottle around with me and refill that whenever I'm thirsty.
So, if you and your family are in the habit of using disposable cups and tossing them after every drink, pick up a Planterra bottle for every member. They come in a variety of colors, so everyone can have their own color. That way, no one will be mixing and matching drinks.
What's great about Zak's new Planterra bottle is that it is designed to breakdown toxin-free in a landfill within 3 to 5 years (under traditional conditions). The material in the Planterra bottles is completely reusable, so they're very environmentally responsible — which is exactly how you're trying to be this Earth Day.
3. Plant some seeds
Earth Day isn't completely about recycling. It's also a good time to sit down with your family and talk about the Earth, how things grow, sustainability, and how what we do today can affect things that happen tomorrow.
And that's not always a doom and gloom conversation.
Start with seeds.
Plantable seed paper are a really fun way to teach kids about how they can have a positive impact on the future.
Grab a pot and some soil and plant a seed card. Use that as a great way to explain how the seeds, and the seed card look like nothing now, but when you keep watering it and caring for it, it'll bloom.
Tie that to the Earth and how if we keep nurturing it and doing our part now, that will affect the Earth in the future.
It's a good lesson, plus this is a good way to grow some flowers for your home.
4. Start a garden
If you've been meaning to start a garden, but haven't had the time to sit down and do it, Earth Day is a fantastic day to start.
The third week in April may be a little late to start planting outdoors depending on what growing zone you live in, but It's always a good time to start a windowsill garden.
I actually bought Pete a trio of hydroponic herbs to start when we first moved into our house. They started as mason jars on our kitchen windowsill and we eventually planted them in our backyard garden.
Right now, we have a windowsill tomato garden going. The brand that makes our windowsill tomato garden actually makes a ton of kits, mostly geared towards kids (in my opinion). In the kit, you have everything you need, except water. The kits come with seeds, soil, fertilizer, plus the container to grow in.
The windowsill tomato garden is great because it will grow for a full season and if you take care of it, you can actually keep it going for quite a while. The other kits are basically "one and done." Once you've grown the mushrooms or microgreens, they won't regrow.
5. Regrow your food scraps
I have a habit of "experimenting" in the kitchen. I just want to put every scrap in water and see if it will grow. Sometimes that flops (like when I tried to regrow asparagus) and sometimes that works (like when I tried to regrow green onions and haven't had to buy those for years).
So while you're making dinner on Earth Day, be conscious of what you're making and find a way to turn kitchen scraps into a windowsill garden.
The easiest food to regrow from scraps is green onions. Cut them for dinner and have your kids set them into water. By the time bedtime rolls around, these will have already started growing. It's crazy and happens every time, but I'm always shocked when it happens.
If you buy romaine lettuce, you can cut the bottom and regrow lettuce from scraps although that does take a while and won't be any instant gratification. And you can sprout an avocado tree from the pit too, but that takes a while and isn't always successful.
So if you want a lesson from tonight's dinner, go with the green onions.
Want more information about getting kids involved on Earth Day?
Zak Designs, the makers of the aforementioned Planterra bottles, has partnered with Leave No Trace Center for Outdoor Ethics. LNT put together this video that you can watch with your kids about what kids can do to make a difference and become better environmental stewards.
Do you have more Ways To Celebrate Earth Day At Home? Be sure to leave them in the comments to inspire others.