If it's up to me, I would pick a road trip over a flight every single time. I grew up driving from New York to Florida non-stop, so being in a car for 21 hours was just the norm. If Pete and I travel, I would rather drive than fly. To me, it just makes so much more sense. Why? Oh, let me give you five advantages of driving instead of flying.
And, for what it's worth, we flew up to New Jersey this weekend, and while we were sitting on the tarmac, waiting to go home, we confirmed these reasons.
10 Advantages Of Driving Instead Of Flying
The timing is often the same.
We flew up to New York one of the first times we came home from North Carolina. Pete and I didn't know anyone in North Carolina, so we called a cab to take us to the airport.
We flew to Atlanta, had a layover, then took a second flight to New York.
The good part about flying into New York was that we met Ashy Larry in the airport. The bad part was we hit so much traffic on the way from the airport to my parents' house that it ended up taking us 13 hours from start to finish.
Driving only takes 11 hours, and that's with stops. So really, sometimes it's quicker to drive.
The trip is more flexible with driving.
When you're driving, you're on your own schedule. You can leave whenever you are ready, not when the airline decides to schedule a flight.
When you have to go to the bathroom, you can find the closest exit and pull off. On a plane, you have to wait until that tiny bathroom is unoccupied, and make sure that nature calls when the captain has turned off the seatbelt sign.
And, if you don't have to be somewhere at a specific time, you can make random stops. On a drive back from Florida, Pete and I pulled off at South of the Border and got ice cream. Was that built into our original plan? No. But all those road signs — and the fact that Pete had never stopped there before — lured us to the road side attraction.
The ice cream was awful, but the detour was worth it.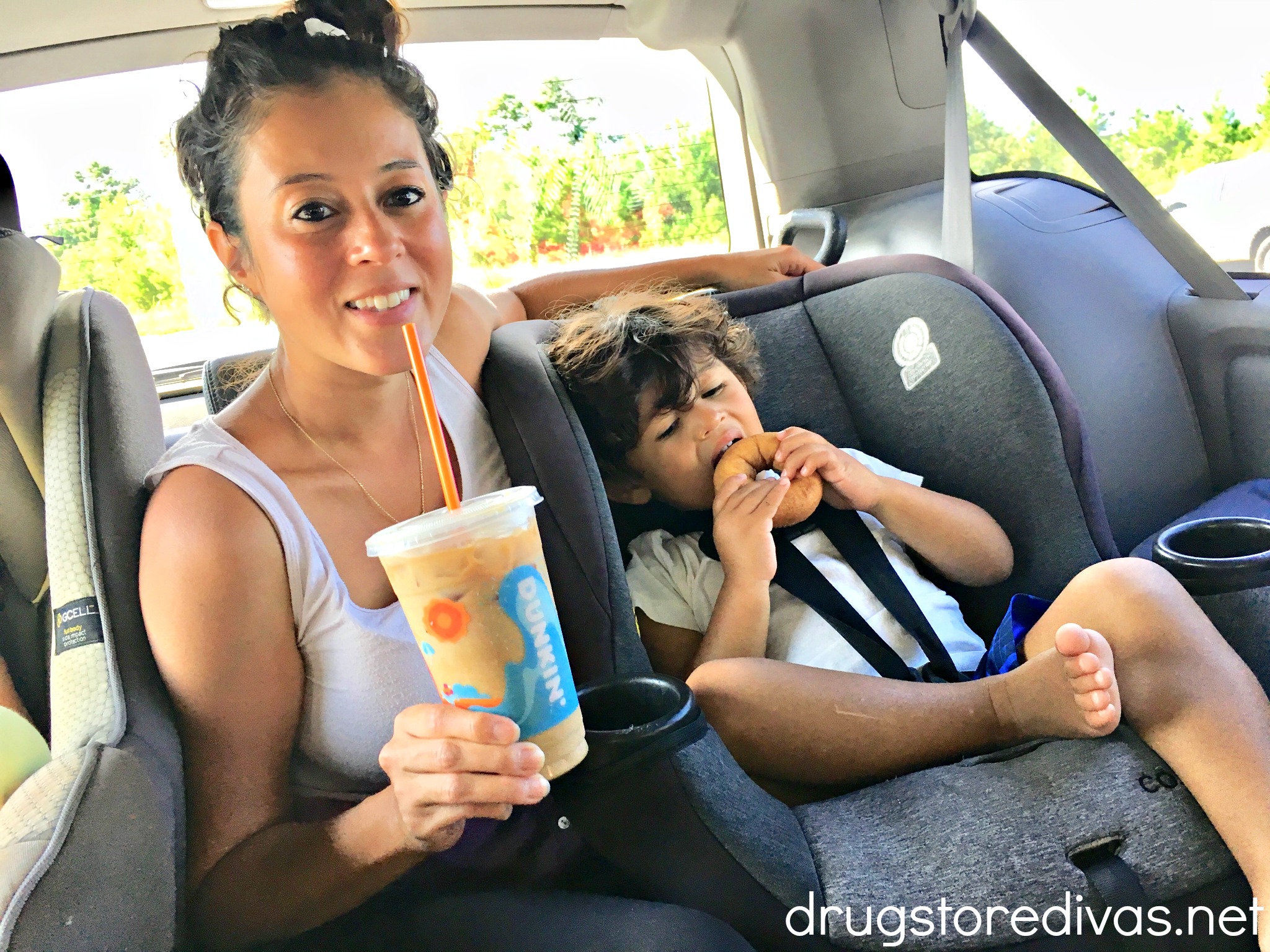 You can bring drinks.
I hate buying overpriced snacks at the airport. So instead of buying water, I usually pack an empty water bottle in my carry on, then fill it up when I get to my gate.
It's fine, but what if you want something else to drink? You can't bring a soda through security (at least, not in a US-based airport).
If you're driving instead of flying, you can pack a cooler with all your favorite drinks and snacks. And you can have them whenever you want too, not just when the snack cart rolls by.
But you can also bring them home too. We tried packing beer in our checked luggage on a trip home once, and one of them exploded. Thank goodness we had it wrapped in a plastic bag. But, instead of bringing back a six pack, we brought home a five pack.
If we drove, we could have thrown the six pack in the back, and not worried about one exploded because of time spent in the pressurized plane.
No useless small talk.
I'm the kind of person who works a hundred hours a day. I'm usually typing as everyone on my street is sound asleep. It's just me and the laptop burning the midnight oil.
And that's how I want to be when I travel too. If I'm stuck for an extended period of time, I'll have my iPad out so I can get work done.
Pete and my family are used to that, so if I'm working in the car as they drive, no one pays me any mind. If I'm on a plane next to a stranger, they usually are filled with questions.
What are you working on? (A blog post.) What do you do for a living? (I run two websites.) How fast can you type? (I was tested once and they told me 70 words a minute, but a temp agency told me it was higher than that.) Do you like your iPad? (Love it, especially because it means I can get some work done.)
Driving is usually cheaper than airfare.
This is the big one. We've found cheap tickets up north. By cheap, I mean this weekend we paid $112 each for a flight from Myrtle Beach to Philly. But that's just a ticket on an airline that charges $40 for a carry on. So even if we could squeeze everything we both need into one carry on, that's still $300.
And then, we had to drive 90 minutes to the airport (and back) and pay for parking while we were gone. And when we landed, my dad had to drive 90 minutes to the airport to get us, then 90 minutes back. Plus he drove us back a few days later.
If we're flying on a vacation just us, not to see family, we have to rent a car and pay for gas while we're on vacation. Or we have to pay for Uber to get us everywhere. That adds up. If we just take our car to our destination, we have to pay for gas and that's it.
And that's savings when it's just two of us. If we had a family of four, the flight costs would double but the road trip costs would stay the same.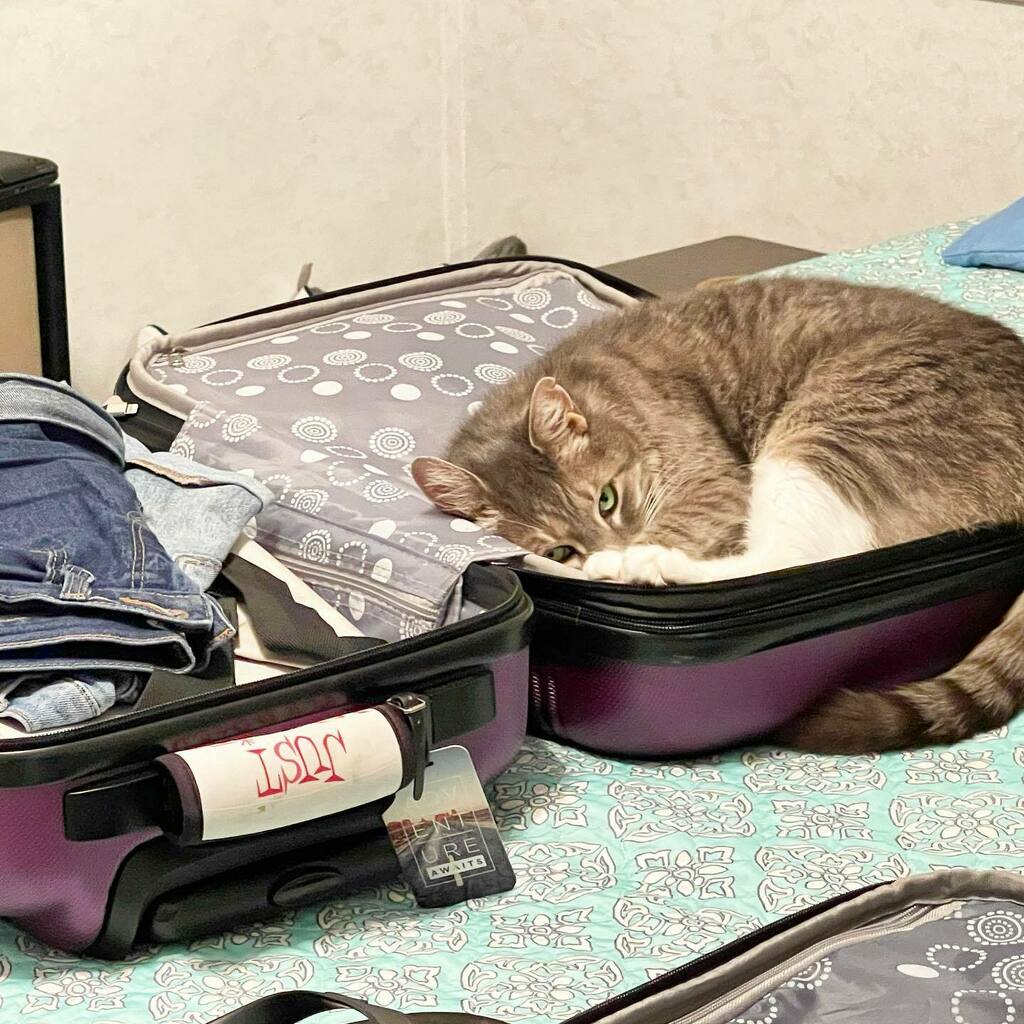 You can bring your pets on a road trip.
My parents have a cat that they take back and forth between houses. And sure, it's easy enough to take that cat on a plane because she's small and timid. And she'll hold her bladder the entire drive.
But imagine you want to travel with a dog that's larger than your purse. And now you have to wait two hours in the airport with that dog. And now he has to go to the bathroom.
I've actually seen "dog bathroom" sections of an airport — completely with artificial turf and a fire hydrant — for dogs to do their business, but honestly, that's gross. Don't use those. Just drive with your pets. It's so much easier.
And if you are planning a road trip with your pets, check out our Tips For Road Trips With Cats and Tips For Road Trips With Dogs posts.
Cancelation is easy.
If you're planning on driving instead of flying, and you need to cancel or delay your trip, it's so easy. Just don't get in the car that day. Done.
If you need to cancel a flight, it's a bigger headache. Plus, so many airlines charge you now to cancel a flight even if you have a good reason. And if you get a cheap flight, it'll cost you more than 50% of the flight's cost to cancel.
Even if you have travel insurance, you need a very good, legitimate, approved reason to cancel your flight. You can't just cancel or change your itinerary because something came up. But you can when you're driving.
There's no waiting at the gate.
Flying used to be a little easier than it is now. Now, you have to show up to the airport two hours before your flight.
You either wait a long time to go through security or you wait for a long time at your gate. We had both happen this trip, and honestly, neither one is better than the other. They both feel like a waste of time.
We have a whole post about how to kill time at the airport, written as I was killing time at the airport.
Delays are easier to deal with.
No one likes delays. But I just feel like delays are easier to deal with when you're in the car. You can use an app to avoid traffic, find an alternate route, find a restaurant so you can stop and eat, or find a park to play at with the kids.
When you're delayed on a flight, you're just delayed. You either have to sit at the gate and just wait, or sit on the flight and just wait. You don't know why you're delayed, and there's nothing you can do to deal with it.
On a flight home from Florida once, we got delayed in the Philadelphia airport. Delayed nine times … and then the flight got canceled. My dad ended up driving from New York to Philly to pick us up. If we had just driven, we could have drove home ourselves.
What do you think are the most persuasive advantages of driving instead of flying? Let us know what you prefer in the comments.