I can't believe it's back-to-school time already. And it's looking like a normal, regular, back-to-school time here in North Carolina. Honestly, it's a nice change from last year. And it means you only need this DIY Back-To-School Command Center in your home, not an entire schoolhouse in your home.
A DIY command center will really help to keep your family focused and organized. And I think we all need that at the start of the new school year, regardless of if we have kids in school or not.
DIY Back-To-School Command Center
Creating a home command center is a simple way to keep your family organized. You want to set it up in a central location where all your family members have access to it.
And your DIY Back-To-School Command Center needs to be a living space, too. It won't work if it's in a guest room. It needs to be where your family is.
And finally, you can't just set up a back-to-school command center but not add anything to it. You really need to use your home's command center to make it beneficial for your family. If you make this, but don't ever write any notes on the calendar, it won't help.
DIY Back-To-School Command Center Supplies:
Writing utensils
Scissors
Small cardboard box
Mason jar (or similar jar)
How To Make A DIY Back-To-School Command Center:
Measure the wall where you want to set up your command station.
The worst thing that can happen is you order a board that doesn't fit in your space.
Once you know the size you need, purchase a pin board or a cork board. Personally, I love pin boards because, depending on where you buy yours from, you can actually create a custom pin board with your own artwork or images.
So cute, right?
Plus, pin boards look a little nicer because they're fabric, so you don't see all the holes in them like you do once you use a cork board for a while. But, as long as you can stick things into it, either a pin board or a cork board command center will work.
A plain cork board is fine, or go with a printed cork board. If it fits your space, I love this tropical leaf printed cork board.
Hang the pin board on your wall, a bit above eye level. You want it high enough that you don't have to squat to use it, but low enough that you're kids can still see it easily.
Then, pick up a calendar that's smaller than your pin board since you will be affixing the calendar to the pin board.
When you're measuring to figure out the size you want the calendar, keep in mind that you don't want it to take up all the space of the pin board. You want room to affix notes, appointment cards, etc.
You can get a personalized calendar online, a plain one with just the months on it, or a dry-erase calendar. Any of them will work as long as you commit to using it.
Stick the calendar to the pin board with a push pin. Stick some other push pins into the pin board so that anyone can tack something up in the space around the calendar.
Attach the pin board to a wall in your kitchen where your entire family will notice it.
Measure the pin board. Purchase a small shelf that is the width of the pin board.
Affix that to the wall according to the directions that come with it.
Fill a mason jar with writing utensils, scissors, and a letter opener. Place that on the shelf.
Decorate your small cardboard box with wrapping paper or washi tape. Fill it with small paper for notes, stamps, stickers, envelopes … anything your family might need.
Your command center must haves may be different than someone else's, so go with what you think is best. Place the box on the shelf as well.
Set this up before school starts. Then, make sure everyone knows that things like permission slips will be stuck to the pin board, field trips will be written on the calendar, and any big assignments will be noted as well. If everyone sticks to using the command center, it will make the school year a lot easier.
5 Command Center Must Haves
Everyone's needs for their command center are different, but we wanted to give you a few examples of things you probably will need at your command center.
You can set it up with these items first, then, once you've been using it a while, you may realize you don't need something. Maybe you're not opening mail near this, so you don't need a letter opener. You can always change things.
Monthly calendar
This is the most important command center must have. Without one, you won't be able to stay on top of field trips and appointments.
Pens/Pencils
The calendar is the most important, but pens and pencils are a close number two. Having a calendar is great, but if you don't have anything to write on it with, it's not really going to be used. Keep in mind that if you got a dry erase calendar instead, you'll want to have dry erase markers in your command station.
A good way to keep things organized is if each person in your household has their own color. That way, your family can easily identify who each appointment or assignment is for.
Pencil holder
If you have an empty glass jar (even from something like store bought marinara sauce), you can use that as a pencil holder. If you want to get creative, you can paint it like our No. 2 Pencil Mason Jar Pencil Holder. You can also just use a small container, a vase your kid made in art class, anything of the sort.
Push pins
Honestly, I don't know why I'm calling them push pins all through this post when I call them thumbtacks in everyday life. Regardless of what you call them, you need to have some near your command center so you can affix cards and notes to the board.
Paper
You want to keep paper near your command center so that when you have notes to write, you have somewhere to jot them down. Then, affix them to the board using push pins. You can buy nice paper for this or just use a paper trimmer to cut scrap paper into pieces. Whatever is easiest (and cheapest) for you.
Purchase a Command Center:
If you don't have the time to make a DIY home command center, don't worry. You can just purchase one. Our favorite options are carried at the stores below: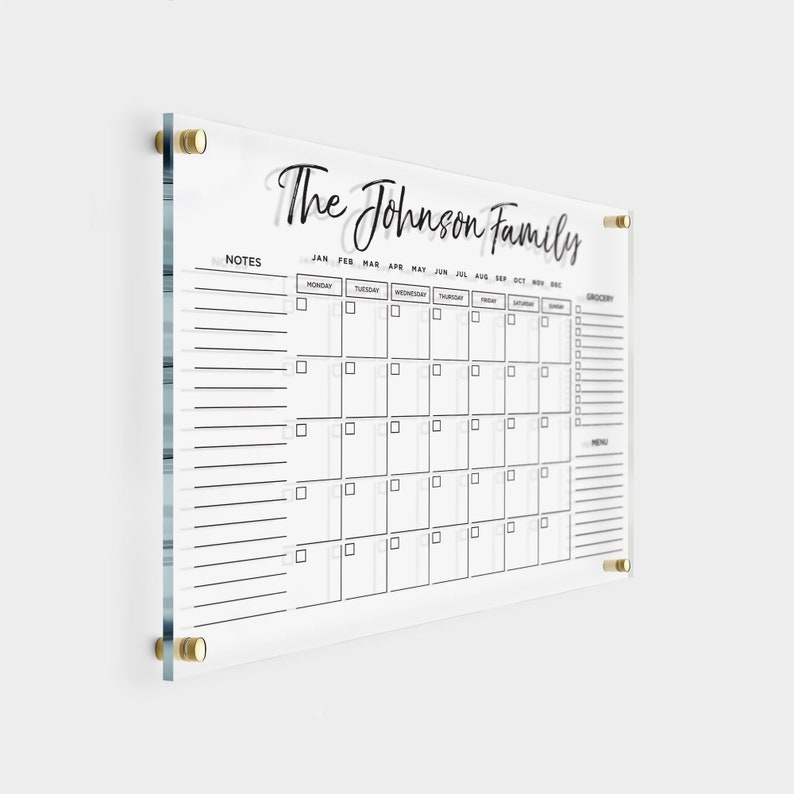 And, you can get the cutest personalized reusable calendars at Etsy.
Don't forget. Hit the store's minimum free shipping purchase price or choose instore or curbside pick up to avoid shipping charges.
Have you made a DIY Back-To-School Command Center? What did you add to yours?