We host Football Sundays in our garage-turned-home theater every week. Or did, but had to stop #because2020. But, anyway … under usual circumstances, we set up some fun football décor (by way of these fun football crafts for game day) and project the game.
And this year, it seems like maybe we can do that again … for our small social pod, anyway.
One wall in our garage is completely blank and that's where we project the games. So each player is basically life sized. We open the garage and all our neighbors come down to hang out.
We have a ton of snacks ready and chairs out, but some of our neighbors actually leave folding chairs in our garage all season long. If you don't have a similar setup, but want to get in on the fun, these football crafts for adults are the way to go.
Heck, even if you do have a football-friendly garage, basement, or man cave in your house, you still might want to make a few crafts to go with the theme.
We're here to help.
We put together a great list of 10+ Football Crafts For Game Day. You can find a DIY Game Day Banner, coasters, a party picks, and more. These tiny accents really add up to a great display for your football watch party.
All you need to add is a big screen TV.
10+ Football Crafts For Game Day
Homemade Football Flatware Holder
This Homemade Football Flatware Holder is cute way to display your forks, knives, and spoons on game day.
It's made from an upcycled soup can, but works with an old vegetable can too. So if you're opening a can of tomatoes to make queso dip for game day, rinse it out and turn it into a way to old your utensils.
Then, when the game is over, you can either save it for next Sunday or just toss it.
DIY Football-Shaped Utensil Holders
Start your buffet table with these DIY Football-Shaped Utensil Holders to give your guests everything they need to eat.
You can either make them from upcycled toilet paper rolls (which yes, are sanitary), upcycled paper towel rolls, or you can actually purchase craft tubes if you're not like me who saves every piece of trash for a potential future craft.
Homemade Football Flags Party Picks
These football flag toothpicks are the perfect way to one, dress up your party appetizers and two, keep those appetizers sanitary.
You can print of the flags — completely for free — in the post. There are two sets of flags. One has five football field themed flags and the other has three referee uniform flags and three football flags.
You can download both sets and mix and match your flags, or you can choose just one or the other.
Fantasy Football Candy Bark
Root on your favorite football team by making this Fantasy Football Candy Bark in your team's favorite colors.
It's really simple to make, and you can pair any colors to make sure this football bark matches your home team.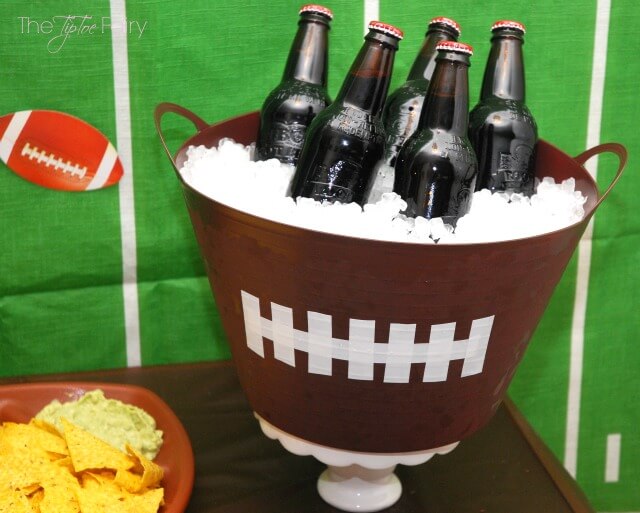 DIY Football Beverage Tub
Keep your drinks cold — and your guests happy — with this super creative DIY Football Beverage Tub.
If you have an old plastic tub lying around, you can upcycle it with some spray paint to make this craft. If not, just pick up a new tub and dress it up minimal effort and maximum reward.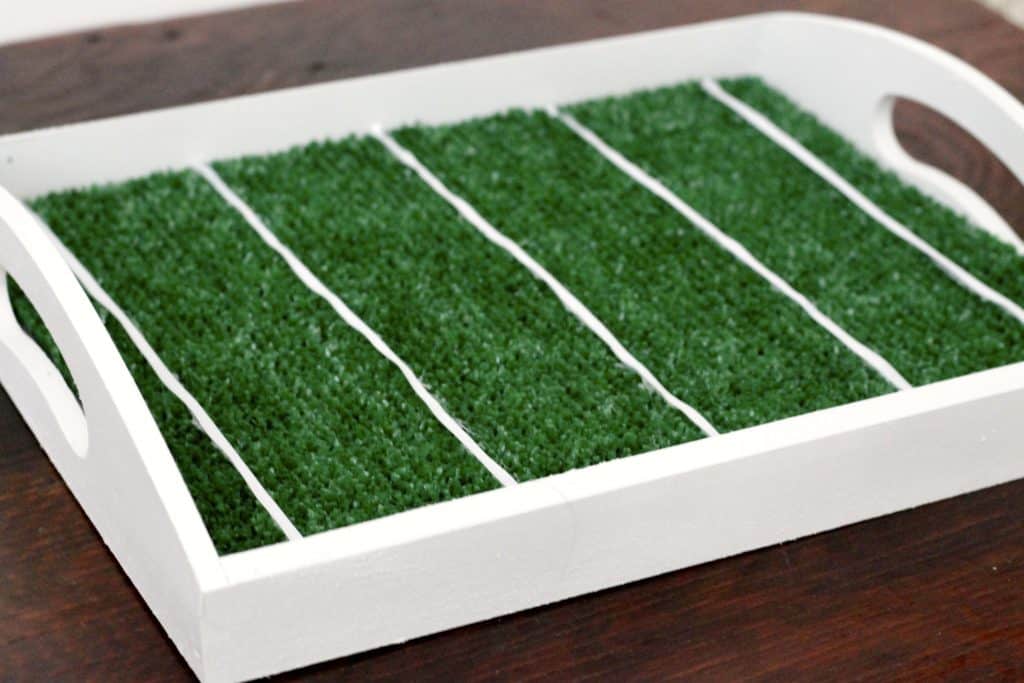 DIY Football Field Serving Tray
Bring out all your snacks during halftime on this awesome DIY Football Field Serving Tray. It's really easy to make and definitely something you'll use all season long.
If you do make it, I would suggest only using it for wrapped or packaged snacks. I'm not sure how easy it would be to clean crumbs or grease out of AstroTurf.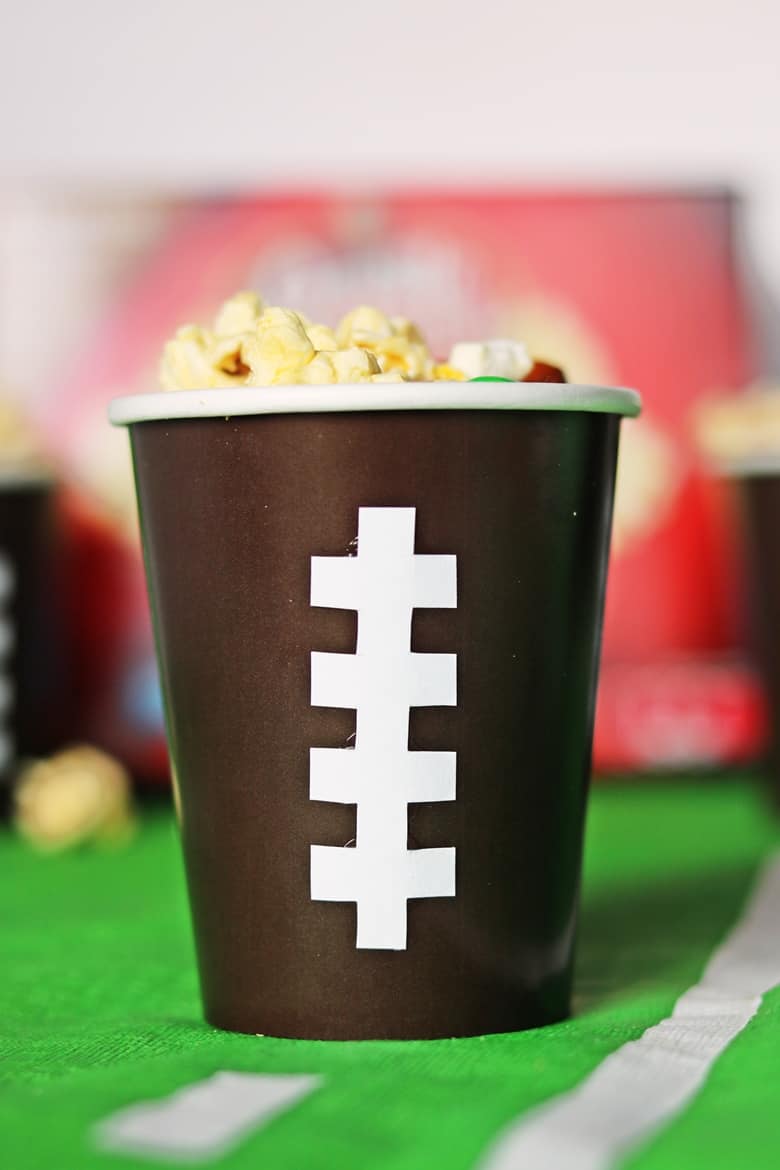 DIY Football Cups
These easy DIY Football Cups are perfect for serving drinks or your favorite game day snacks. If you make a homemade snack mix for game day, like our Peanut Butter Chocolate Cheerios Chex Muddy Buddies, these cups are a great way to serve it.
What makes these so easy is that you can actually get a free printable for the laces in the post itself. So all you have to do is print them, cut them out, and stick them to your cups.
DIY Football Field Table Runner
Dress up your buffet table with this fantastic DIY Football Field Table Runner. It's really easy to make and can be stored and reused every game day.
Just keep in mind that it's best to let the paint on this table runner completely dry before setting it out, so you'll want to make it at least one day before the first time you use it. Allow the paint to dry for 24 hours (or longer, if your paint is thicker) to assure it won't ruin when you use this table runner.
DIY Football Coasters
I can't get over how adorable these DIY Football Coasters are. They're cork tiles and paint, and they look so fancy.
There's a drink recipe included in the post, but keep in mind that since it's alcoholic, it's only for adults who are 21+.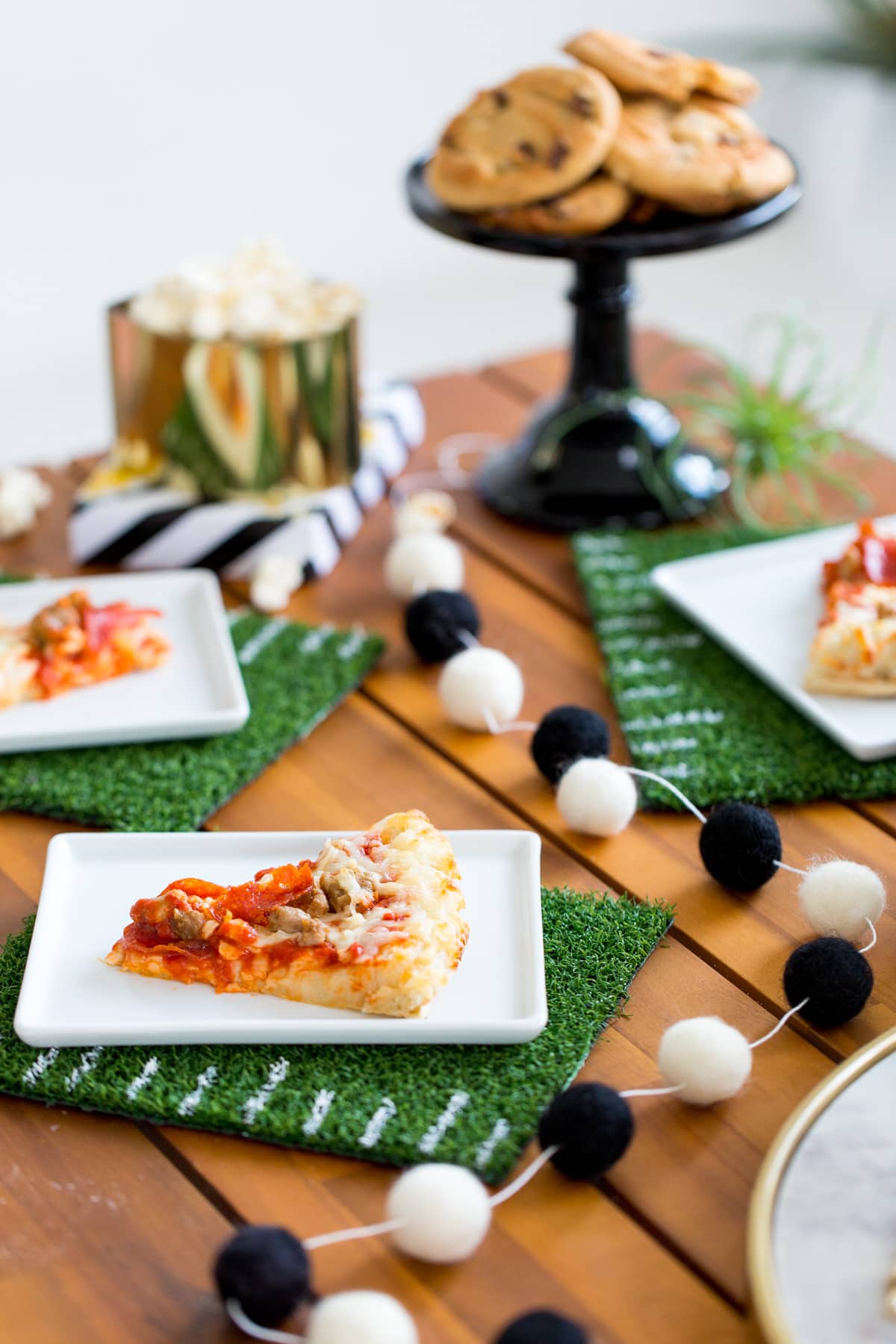 DIY Turf Football Placemats
A little time goes a long way when you make these DIY Turf Football Placemats to impress your guests. And, if you have a little AstroTurf leftover from making the serving tray project from earlier, you can easily use those scraps to make these.
DIY Football Wreath
Show your neighbors your love for the sport with this DIY Football Wreath. Or, you can just hang it in your garage if you watch football in there like we do.
The wreath form is a Styrofoam wreath. All you have to do is decorate it with some football flare.
Planning a football party?
If you're having a football party, and these football crafts are part of it, check out our Tips For Throwing A Football Party post to give you some ideas.
And, if you're looking for food, we have a 50+ Recipes For Game Day post that will give you plenty of ideas, including our Fantasy Football Candy Bark.
Which of these football crafts is your favorite? Be sure to let us know in the comments.