If you love zucchini, but you're tired of making it the same way all the time, you're in luck. This list of Budget-Friendly Zucchini Recipes has some really fun options for cooking zucchini.
For more ideas on what to cook tonight, check out all our recipes.
Zucchini is a really great ingredient. You can make it the star of a dish, part of a side dish, part of a main, turn it into bread, or even make it into noodles.
And we have recipes for all of those ways to use zucchini on our list of Budget-Friendly Zucchini Recipes.
And, of course, these are all budget-friendly recipes because right now, everyone is looking for a way to stretch the grocery budget.
But just because you're on a budget doesn't mean that you can't have delicious food. All these recipes really taste great. If not, we wouldn't have included them on this list.
If you're eating at home to save a little cash, check out our The Ultimate Guide To Saving Money By Cooking At Home.
Budget-Friendly Zucchini Recipes
Affiliate links are included in this post and Drugstore Divas may make a small commission if you use them.
Hawaiian Chicken Kabobs
The zucchini in these grilled Hawaiian Chicken Kabobs is such a necessary component. It's a cool taste that really cleanses the palate, which is great because the other flavors in these kabobs are really bold.
Two zucchini are split over all the skewers in this recipe, but you could add more if you want.
Grilled Zucchini And Feta Rolls
If you're looking for a way to enjoy some zucchini while you're already grilling your main course, this Grilled Zucchini And Feta Rolls recipe is perfect.
Cubed feta cheese is wrapped in zucchini, then cooked on the grill in a bread pan. You don't cook them directly on the grill, so you don't get grill marks, but you do get a really incredible flavor.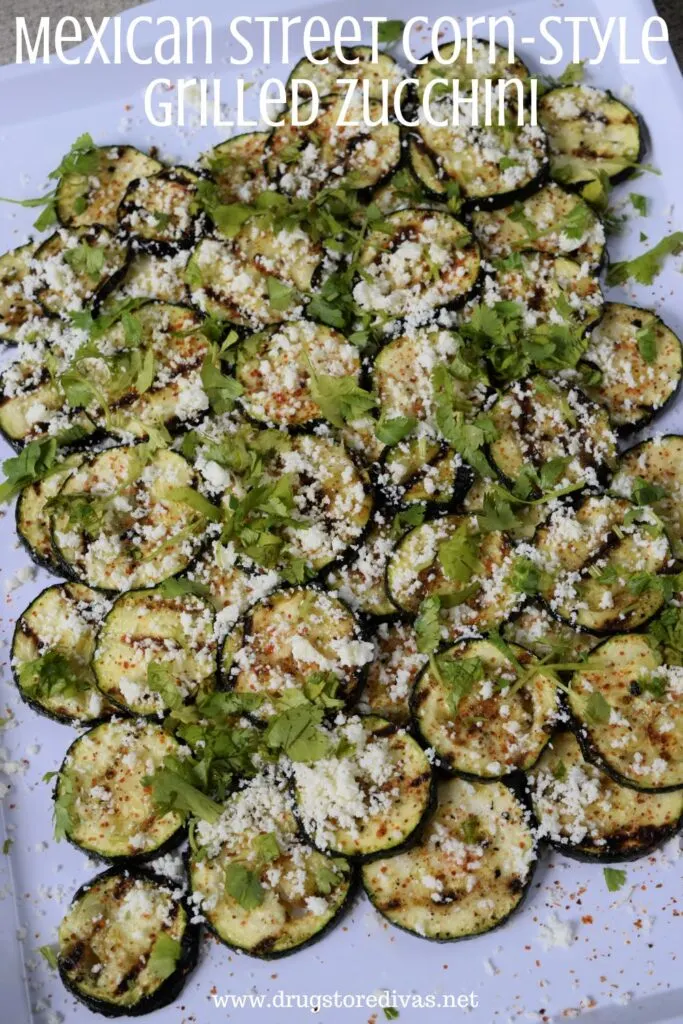 Mexican Street Corn-Style Grilled Zucchini
Zucchini is the star of this Mexican Street Corn-Style Grilled Zucchini recipe. It has the flavors of Mexican street corn, but with zucchini as the base instead of corn. And, since it's not individual servings, this is much easier to bring to a pot luck than street corn.
A full pound of zucchini (which is basically two large zucchinis) makes up this dish. Which makes a lot. But don't expect to have leftovers. People will love it.
Cheesy Zucchini Cornbread Casserole
A large zucchini (about a half pound) is packed into this Cheesy Zucchini Cornbread Casserole. And this recipe wouldn't be complete without it. It adds a lot of flavor and texture to the cornbread casserole.
Just make sure you salt the zucchini to pull out excess moisture before adding it to the recipe. If not, there will be too much liquid in the recipe and it'll come out really wet and … not great.
Sausage Stuffed Zucchini Boats
The zucchini is the star of these Sausage Stuffed Zucchini Boats. The zucchini is the boat itself. Then, the zucchini that's removed to make a well is combined with some other ingredients and then stuffed back into the zucchini.
It's sort of like zucchini cannibalism. It tastes so good, but I do think of the term "zucchini cannibalism" every time I make this recipe.
This is a low-carb zucchini recipe, in case you're in need of one of those.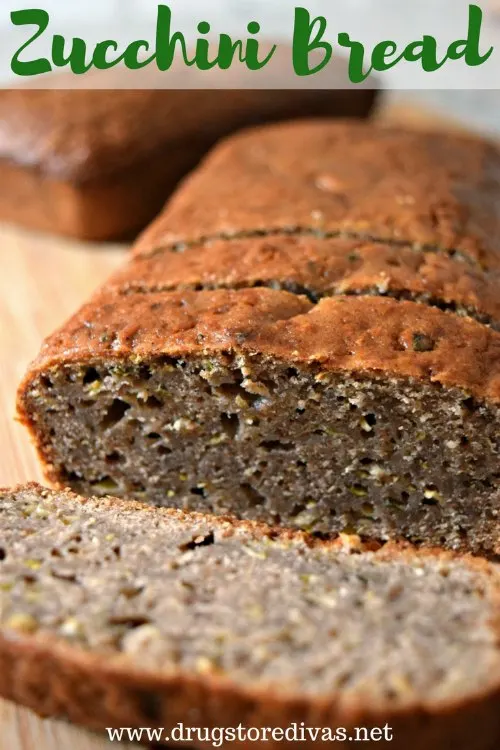 Zucchini Bread
Three large zucchini go into the batter for this Zucchini Bread recipe. This is a quick bread recipe, which means that there isn't any yeast in it. So you don't have to wait for it to rise or proof. You can just mix together the ingredients and bake it right away.
This bread does have sugar and vanilla added to it to give it a little sweetness, so it's perfect for breakfast or for a late night snack rather than a dinner bread.
Vegetarian Couscous with Zucchini, Chickpeas, and Tomatoes
Zucchini is just one of the ingredients in this Vegetarian Couscous with Zucchini, Chickpeas, and Tomatoes recipe, but it's definitely an important one.
The zucchini is a great texture that contrasts the soft couscous and tomatoes that are in the dish. It also adds a really nice pop of color, which is necessary. The majority of this dish is bland looking, so the green is really welcoming.
And, as everyone says, you eat with your eyes before your stomach.
Grilled Vegetables In Foil Packets
If you're already grilling a main dish, I always suggest grilling your side dish too. It just makes so much sense. That way, you don't have to keep running between the food outside on the grill and inside in the oven.
So these Grilled Vegetables In Foil Packets are perfect for when you're grilling.
The sliced zucchini and yellow squash are cooked in a foil packet, which makes for easy clean up and makes it easy to keep the side dish out of the way of the protein.
Zoodles With Pesto
Zoodles were really popular a couple years ago, right in between kale and cauliflower as the hot veggie trend. If you haven't ever heard of them, zoodles are when you take a zucchini and use a spiralizer to turn it into a pasta-like shape.
We top ours with kale and walnut pesto because the more veggies the better, but you can top them with any type of pasta sauce that you like.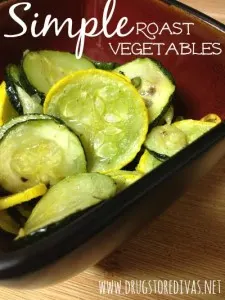 Simple Roast Vegetables
If you're looking for a great side dish for dinner tonight, these Simple Roast Vegetables are perfect. They're zucchini and yellow squash, sliced thin, and then (you guessed it) roasted.
The recipe itself is really simple, but simple means the zucchini gets to shine.
Zucchini: Frequently Asked Questions
Should zucchini be peeled to cook?
You don't need to peel zucchini before you cook it. You can cook zucchini with the skin on it.

What you do want to do, though, is wash the zucchini first. It may feel a little bit waxy when you're ready to use it, so just scrub zucchini under cold water (with or without a produce brush) before you cook with it.
Do you have to wash zucchini?
You should definitely wash zucchini before cooking with it.

However, you do not want to wash zucchini as soon as your bring it home from the store. That moisture will diminish its shelf life. So, keep it stored in the fridge until you're ready for it, then wash the zucchini under cold water.
Should zucchini be refrigerated?
Yes. Store zucchini in the refrigerator. Unwashed and uncut zucchini can last for up to two weeks in the fridge, depending on how fresh it was when you purchased it.

You can store uncut zucchini in the crisper portion of the fridge in the produce bag from the grocery store. That's if you purchase loose zucchini. If you purchase a package of zucchini that's wrapped in plastic wrap, you can just leave it in that package in the crisper portion of the fridge. You don't need to unwrap it and move it into a plastic bag.

Store cut zucchini in an airtight container for about three to four days.

If you're not going to use zucchini within that time frame, you can freeze zucchini. So we hear. We've never done that before, but this link from Glad says its possible and tells you how to do it. If you try to freeze zucchini, leave us a comment below and let us know how it worked out.
Which of these Budget-Friendly Zucchini Recipes will you try first? Comment below and let us know.