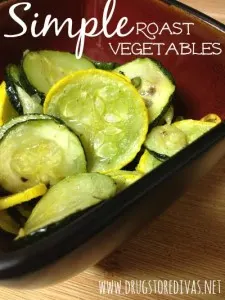 I can't even tell you how simple this recipe is. I mean, it's so simple that it shouldn't even count. I made it all the time because it's really that easy.
So, how did it come about?
I wanted vegetables. And I wanted to bake them because I just thought that would be so much easier. Set it and forget it, as they say. So I called my mom to ask her if that was possible. She said yes and to generously season them beforehand.
Awesome.
I made this the night I called her and have been making it all the time ever since. It's so easy, so healthy, and really pretty foolproof. This will definitely be a favorite in your house.
Simple Roast Vegetables
What You Need:
yellow squash*
zucchini* (*I use one squash and one zucchini per person)
salt
pepper
olive oil
What You'll Do:
Preheat the oven to 375.
Chop the veggies. I try to make them the thickness of about two nickles. The more uniform you can chop, the more evenly they'll bake.
Pour olive oil on top and generously season with salt and pepper (be a little more generous with the salt than the pepper. I hardly cook with salt but you can't skip it with these or they'll be really bland).
Spread out the veggies in a single layer on a cookie sheet. Bake 25 minutes on a light sheet and 20 minutes on a dark sheet (they will burn on a dark sheet if it's in there 25 minutes, which is actually how I like them but most people don't like burnt food).
Serve and enjoy.
More Oven-Roasted Vegetable Recipes:
Once you roast veggies, you'll realize it's such a great way to prepare them. You save space on your countertop and they always come out better than boiling or steaming them.
For some other ideas, check out our favorites: