Playing games, going out to eat, and using the hotel's gym are just some of the Things To Do If It Rains On Your Beach Vacation. You do have to get creative, but this list can help.
If you're planning a vacation, be sure to check out our other travel posts to help you plan.
Pete and I were on vacation in Hilton Head Island a few years back, and I kept thinking two things: one, I can't wait to sleep in every day and two, I can't wait to relax at the beach.
Neither of those things happened.
I ended up waking up early (like before my normal time) every day, but I woke up refreshed so that was okay. I also didn't sit out on the beach for more than ten minutes because it rained every day.
But, the vacation wasn't a let down. There are still so many things to do if it rains on your beach vacation. Yes, sure, it stinks, but at least there are alternatives.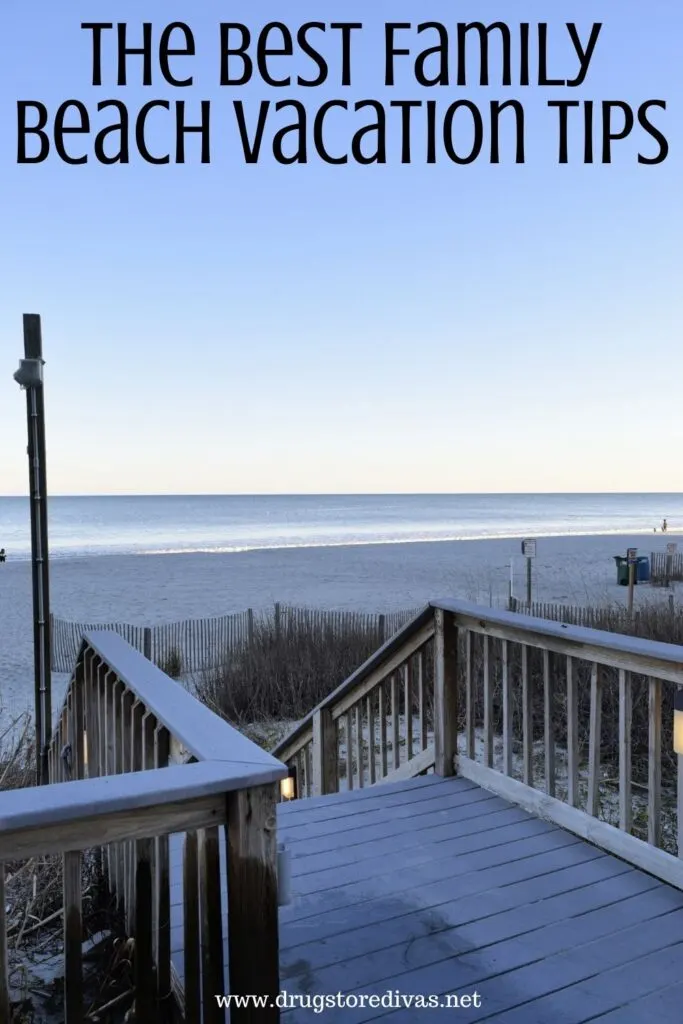 And, if you're planning a beach trip, be sure to check out our list of The Best Family Beach Vacation Tips.
11 Things To Do If It Rains On Your Beach Vacation
These tips aren't in any order. We did try to relate these activities to your beach trip as much as possible, rather than just making them rainy day activities.
Play games
I brought travel tic tac toe with us to Hilton Head Island, just in case we felt like playing at the resort. Growing up, we brought a pack of cards with us on every vacation and we would spend every night playing games.
When you're packing for your trip, throw some waterproof cards into your suitcase. You'll be able to bring them with you to the beach without worrying about wet hands ruining them. Then, if it does rain on your beach vacation, you'll have a deck of cards to play with in your hotel room.
If you're staying at a resort, you may want to ask the concierge if the hotel has any games available. The one we stayed at had a kid zone. I didn't go in there, but I imagine there were activities for kids. You might be able to borrow one if the weather is bad.
For help on deciding on games, check out our list of 20 Board Games For Families To Play Together.
Go to the movies
Growing up, we went camping every year, and it would rain at least once each trip. It was always something we could deal with. We hung out under tarps and were still able to grill. Until the one year we couldn't.
It was raining so hard that all 30 or so of us went out to a Chinese buffet and then to a movie.
I don't remember what the movie was, but I do remember my dad's fortune cookie's fortune was, "Be prepared. An old love will be returning soon." He laughed, then passed the fortune to the right (my mom was on his left). The person on his right laughed, then passed it to his right. The fortune went all around the table of 30 before finally getting to my mom.
I don't remember much else from that camping trip, but I remember that moment — which would have never happened if it didn't rain.
If there aren't any theaters close, see if you can rent a movie on demand on a streaming service. And honestly, if you're sunburned, this might be a good excuse to just stay out of the sun and off the beach for a few hours.
If you do plan to go to the movies, check out our 7 Ways To Save Money At The Movie Theater post.
Have a spa day
Part of what we did on our rainy Hilton Head vacation was get a couples' massage. We had it scheduled before we went on vacation, and it was good to have something to do that wasn't contingent on the weather.
If you can't take a full spa day, you can always go to the local salon (if your hotel doesn't have one) and get a pedicure. Sitting in that chair will stop you from thinking about the weather completely.
Plus, your pedicure will look so good in your flip flops when you're finally able to get back onto the beach. So that's a win.
Go out to eat
We have the funniest photo (the one above) from us trying to sit on the deck of Wreck of the Salty Dog even though there's a storm around us.
It was pretty romantic, in a way. But it also meant our big smiles were hiding the fact that the umbrella was dripping water down our backs.
The rain was a little too much, so we ended up moving to a different one of the restaurant's decks. We were still outside, but under an awning instead of an umbrella with holes.
If you were planning on eating out anyway, go out on the days it's raining and then cook in the hotel or campsite the days it's sunny.
And, you can actually plan it well. If you go out for a sandwich, and only eat half, you take the other half to go. Then, pack it for a snack on the beach for the next day.
Go souvenir shopping
If the weather is really bad, go souvenir shopping. Chances are, you're going to go souvenir shopping anyway, so you might as well do it while it's raining.
I wouldn't recommend any outdoor markets, but those beach shops (like Eagles and Wings) are a good idea. You can go window shopping, just to get out of the rain, or you pick up souvenirs for the folks back home who are watering your plants and taking care of your mail.
If you can't find one of those beach shops, a mall might be a good idea.
Our local mall has a play area, so if you have kids, there's something to do. It also has glow mini golf, so that can kill an afternoon.
My local mall in New York has four floors with an ice rink, a movie theater, a huge rope climb course, an escape room for kids, a carousel, and a Ferris wheel. Plus, it has stores. You can spend the entire day there and absolutely forget that it's raining.
Speaking of souvenirs, when you're shopping, just buy it. Get inspired by our Buy The Souvenir post.
Walk on the beach
If you're already at the beach, you might as well soak it in. If it's thundering and lightning, stay indoors, but if it's a light drizzle, go ahead and walk on the sand. Take an umbrella if it's bad out, or go with a hoodie if it's a light rain.
If the weather is bad, don't go swimming. That's so dangerous. And the lifeguards will definitely call you to shore if there's any sign of thunder or lightning in the area.
But if there's only a drizzle of rain, what the heck. You're gonna get wet anyway.
Go to a local museum
Every time we were on vacation, my parents would make sure one day was educational. Yes, we were going away to relax and swim and make memories with our cousins. But they also wanted us to learn something about the places we were visitng.
That's how I learned Lewes, Delaware was the first town in the first state. We went to Delaware over two decades ago and I still remember that town's motto.
If you're planning something educational on your beach trip, like checking our a local museum, do it on the day that it's raining. It'll be a good excuse to get out of the rain, and your kids won't really be complaining that they'd rather be swimming.
If it's really bad out and you can't find a museum, you can check out one of these 20+ Free Virtual Museum Tours to enjoy from your hotel room.
Go for ice cream
Beach vacations are usually in a town with a boardwalk, and boardwalk ice cream is something special. There's usually a shop on the boardwalk, with more flavors than necessary, that scoops out the biggest scoops you've ever seen.
I can actually remember a shop in Ocean City, Maryland that sold corn ice cream. Not ice cream made of corn; ice cream that was corn flavored. None of us were brave enough to try it (or maybe we just didn't want to spend money on a dud).
These shops usually have seating. It's not always indoor seating, but it's often covered by an awning as protection from the sun on non-rainy days. So you can sit and watch the rain. And then, if it stops raining, take your ice cream to go and walk on the boardwalk.
Find an arcade
In Atlantic City, there's an arcade on the boardwalk. When we were young, my parents would take us to meet all my cousins on the beach there. And all us kids would always want to go to the arcade. We were allowed to go in a group as long as the older kids watched out for the younger kids.
I think our parents would have preferred us getting some sunshine on the beach, but arcade games are so much fun.
If it's raining on your beach vacation, this is the perfect time to go to the arcade. Your kids (or hey, you) will be happy to have an excuse to stay indoors and play games. Plus, if the rain stops, you're only a few feet from the beach.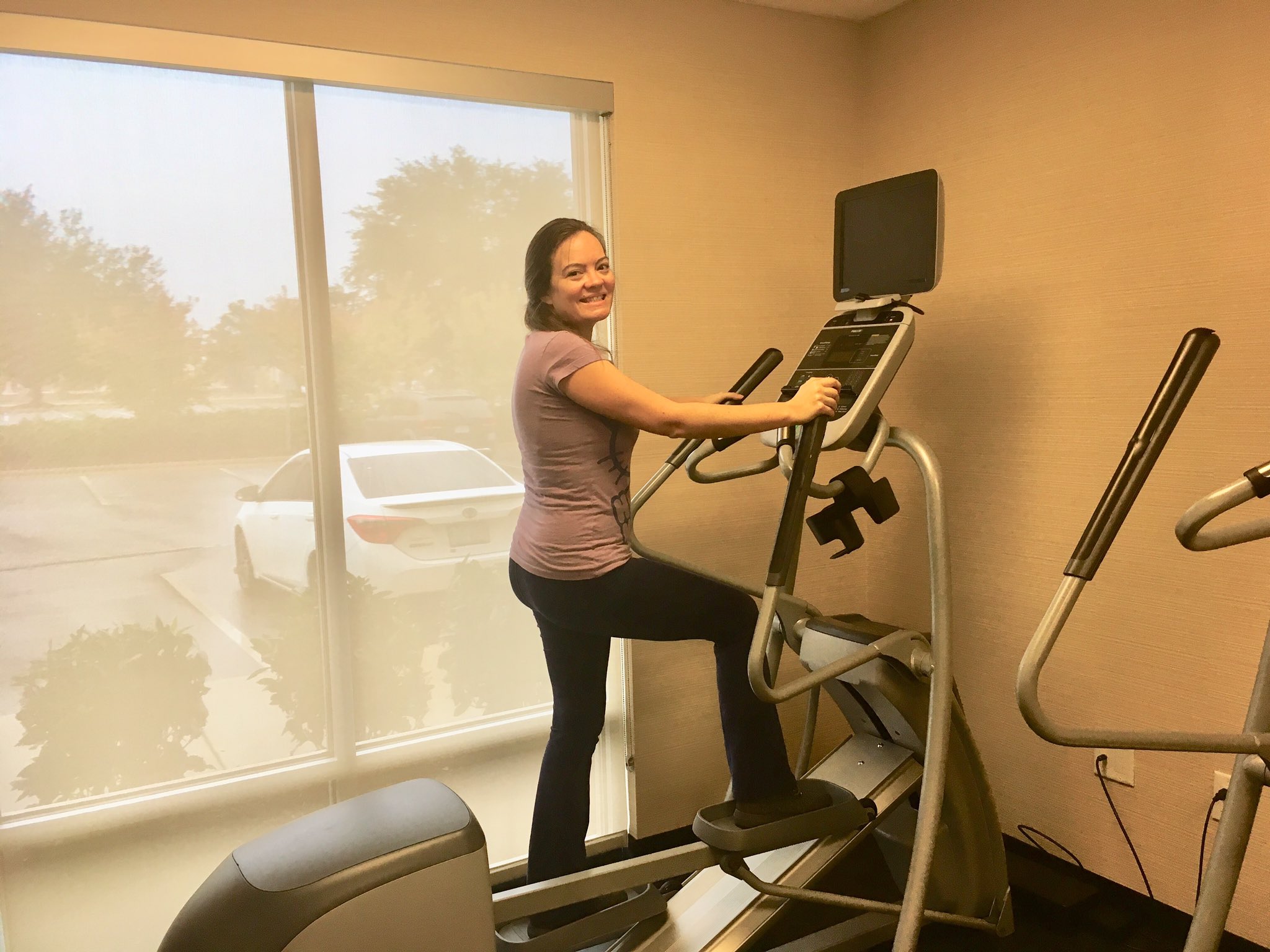 Work out
Pete is so healthy. If I'm on vacation, I just want to relax and forget about routine. He sticks to his routine, especially his workout routine if we're at a hotel with a gym. And sometimes, reluctantly, I'll head to the gym with him and do some miles on the elliptical.
If you're staying at a hotel with an exercise room, and it starts raining on your beach vacation, you might as well go get your sweat on. You won't feel like you're missing out on the sunshine because, well, there isn't any.
And, speaking of exercising, get some more ideas from our 10 Ways To Exercise On Vacation post.
Swim at the hotel's pool
If you're really wishing you were swimming, but the rain is stopping that, check out the hotel's pool. Sure, it's not the same as swimming in the ocean, but it's better than not swimming at all.
Plus, swimming at the hotel's pool versus swimming at the beach means you don't have to worry about cleaning off an extraordinary amount of sand when you're done.
Beach Vacation Ideas:
If you're looking for some inspiration about where to take your beach vacation — and a city that's fun even in the rain — we have a few suggestions for you below:
What other activities would you suggest if it rains on your beach vacation? Let us know in the comments.