If you can't make it to New Orleans for Mardi Gras, you can celebrate Mardi Gras At Home with masks, King cakes, and more.
To make this the best holiday, check out the rest of our Mardi Gras posts.
Our community used to throw a big Mardi Gras party every year at our clubhouse. It was always a lot of fun. But last year, we had to figure out how to celebrate Mardi Gras at home because the world was still sort of closed.
It was just the latest on a long list of holidays that had to change.
Plus, Mardi Gras always falls on a Tuesday and not everyone celebrates Thirsty Tuesday. So most people do actually celebrate Mardi Gras at home.
How To Celebrate Mardi Gras At Home
To best celebrate Mardi Gras, you need to know a little bit about the holiday. So let's start there.
Mardi Gras: Frequently Asked Questions
When is Mardi Gras?
Mardi Gras is always the Tuesday before Ash Wednesday. And Ash Wednesday is 40(-ish) days before Easter.

Since Easter changes every year, and so does Ash Wednesday, Mardi Gras changes every year as well. But Mardi Gras is always 40(-ish) plus one days before Easter.

Mardi Gras signifies the end of Carnival season in New Orleans.'

Mardi Gras 2022 falls on March 1.
When is Carnival season in New Orleans?
Little Christmas, also known as Epiphany, is January 6. That's the official end of Christmas and, side note, the day I feel like it's okay to start taking down Christmas decorations.

So Christmas season ends on January 6 and Carnival season starts right after.

Many tourists will say they're going to New Orleans for Mardi Gras, but they actually mean Carnival. Carnival is everything that happens from the day after Little Christmas until Fat Tuesday; Mardi Gras happens on Fat Tuesday.
Is there another name for Mardi Gras?
Fat Tuesday is the English translation of the French "Mardi Gras." It's also known as Shrove Tuesday or Pancake Tuesday.
What does Shrove Tuesday mean?
To shrive is hear a confession and implore penance. So, when Christians go to confession, they confess and the priest shrives.

On the day before Lent begins, which is always a Tuesday, Catholics go to confession to obtain absolution for their sins. So the Tuesday before Lent is known as Shrove Tuesday.
What does Pancake Tuesday mean?
These days, Christians abstain from meat on certain days during the Lenten season: Ash Wednesday and Fridays. And Christians use this time to better themselves, often by sacrifice (giving up something enjoyable).

Back in the day, Christians required a lot more willpower during Lent. Instead of just giving up one thing they enjoy, they'd pretty much give up anything delicious. What would follow was 40 days of bland, boring food. No eggs. No butter. Nothing good.

What do you do with eggs and butter? You make pancakes. And so, Pancake Day was born.
Why are Mardi Gras color gold, green, and purple?
Let's have story time for a minute. New Orleans used to be a French settlement. In 1699, settlers threw their first party where they landed in Point du Mardi Gras, near where New Orleans is currently.

Street parties, dinners, and balls were then held annually there. But when the Spanish came in and took over the city, they put the kibosh on those celebrations.

Fast forward to 1812. Louisiana becomes a state and the United States is all, "Do you. Have your party."

So they do. Fifteen years later, in 1827, some students visited Paris and were all, "Yo, Paris' Mardi Gras is way cooler." So they decided to emulate that and danced in the streets with colorful costumes.
Ten years later, now we're in at 1837, people upped the ante and instead of just dancing in the streets, there was a parade.

Twenty years later, a group of businessmen said, "Hold my beer."

These guys started a secret society called the Mistick Krewe of Comus and threw an entire parade — with marching bands and rolling floats — by torch light.

So cool.

So now, Mardi Gras parade and event organizers are known as a krewe.

One of these krewes, the mononymous Rex, which has been participating in the festivities since 1872, introduced the colors of gold, green, and purple.

See. I was getting there.

It's said that the Krewe of Rex established these colors in 1892 at the "Symbolism of Colors" parade.

Gold signifies power, green is faith, and purple is justice.

Over 125 years later, these colors and Rex are still a part of Mardi Gras in New Orleans.
Is Mardi Gras 2022 happening?
Mardi Gras 2022 is back.
The famous parades are back, and you can see the full parade schedule here.
At Home Mardi Gras Ideas
Affiliate links are included in this post and Drugstore Divas may make a small commission if you use them.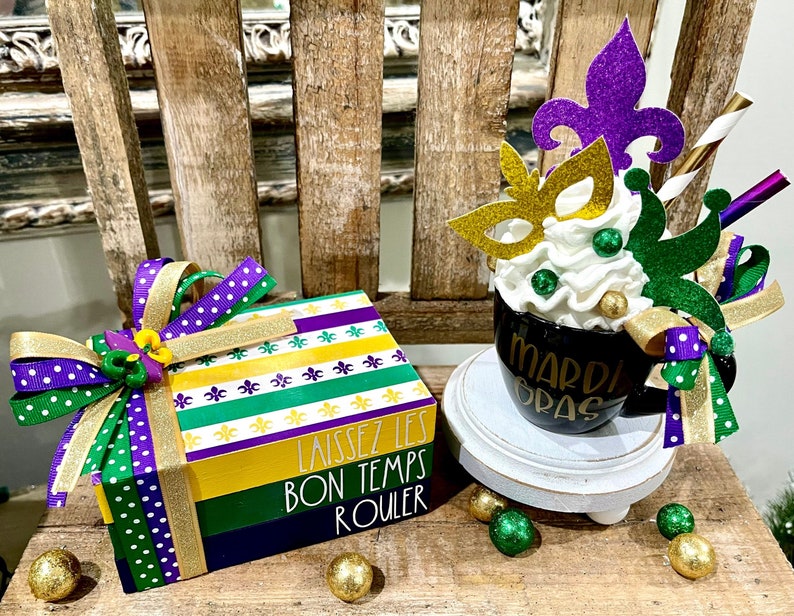 Set Up Mardi Gras Decorations
What's a party without great decorations? That really sets the mood.
Set out purple, yellow, and green tablecloths over your tables. You can do one color on each table or layer them all on one table, if you're only using a buffet table for food.
Then, set up some cute Mardi Gras themed décor, like the Mardi Gras Mini Mug and Book stack above. You can purchase decorations like that or you can DIY your own if you have a little more time. Just be sure to incorporate the Mardi Gras colors, beads, and a fleur-de-lis into your creations.
If you do plan on buying Mardi Gras decorations online, you can find some at the following stores:
Don't forget to look at a store's cart minimum to qualify for free shipping. Also consider instore or curbside pickup to avoid shipping charges.
Throw Mardi Gras Beads
A Mardi Gras party isn't complete without beads. Mardi Gras throws, which they're traditionally called, don't have too much significance in Mardi Gras folklore. Really, it's just done to get partygoers excited. There's not much more to it than that.
But you should throw some at your party to get your party guests excited.
Open a window and have your guests stand under it. This could be a second story window, if you're being safe, or just a first floor window. Throw Mardi Gras beads, coins, or whatever you like to your party guests.
Make DIY Mardi Gras masks
Masks are a huge part of Mardi Gras. But, you might be wondering, "Why do people wear masks for Mardi Gras?"
It's pretty simple, actually.
Mardi Gras masks were a way for people to party with less inhibitions. Their faces were covered, in theory, and no one would recognize them.
That sounds pretty ridiculous until you think of how many people you didn't recognize when you were in the grocery store and everyone was wearing masks covering their noses and mouths. But I digress.
Wearing masks meant people weren't worried about who they were, what their lineage was, what their status was, or how much money they had.
Nowadays we're in a society that doesn't really care about any of that, but back in the day, when Mardi Gras started in New Orleans, it was a different world.
It's still fun now to make masks and wear them on Mardi Gras. And if you're celebrating Mardi Gras at home, we definitely suggest checking out our DIY Mardi Gras masks tutorial to find out how to make your own masks.
Serve Mardi Gras Food
There are a lot of classic Mardi Gras foods, so it's really easy to plan your Mardi Gras menu. Our current favorite is Mardi Gras Pasta.
Of course, you don't have to serve everything at your party. Just pick a couple items that your guests (or your family) will like.
A few really classic options are:
If you don't feel like cooking, don't forget to check Goldbelly to see what national restaurants will deliver to you. And of course, you can use DoorDash, Instacart, and Grubhub to have local items delivered to you.
Make Mardi Gras Desserts
A really fun way to incorporate the Mardi Gras colors — gold, green, and purple — into your meal is with Mardi Gras dessert.
Our Mardi Gras Candy Bark recipe uses three different colors of candy melts to make it, so if you're unfamiliar with candy melts, I suggest you check out our Tips For Using Candy Melts post first.
If candy melts aren't your thing, you can still incorporate gold, green, and purple into your Mardi Gras menu when you make our Mardi Gras Meringues instead.
They come out really pretty and each one is unique in how it comes out, so these meringue cookies look really pretty on a platter.
And if you want cookies, but you don't want to go through all the work to make meringues, our Mardi Gras Oreo Cookies are really easy and really pretty.
Buy A King Cake
So that's not my photo of a King Cake because I've never made one. Yet.
A King Cake is brioche cake, and I have the perfect brioche recipe for it. But, it wasn't until last year that I got a King Cake baby. Which is what you hide in a King Cake.
One of my friends went to New Orleans during Carnival and picked one up for me (which was actually a lot harder than we expected). So this is the first year I'll actually be making a King Cake.
If you want, you can buy a King Cake baby online and then use this Mardi Gras King Cake recipe to make one for your at home Mardi Gras celebration.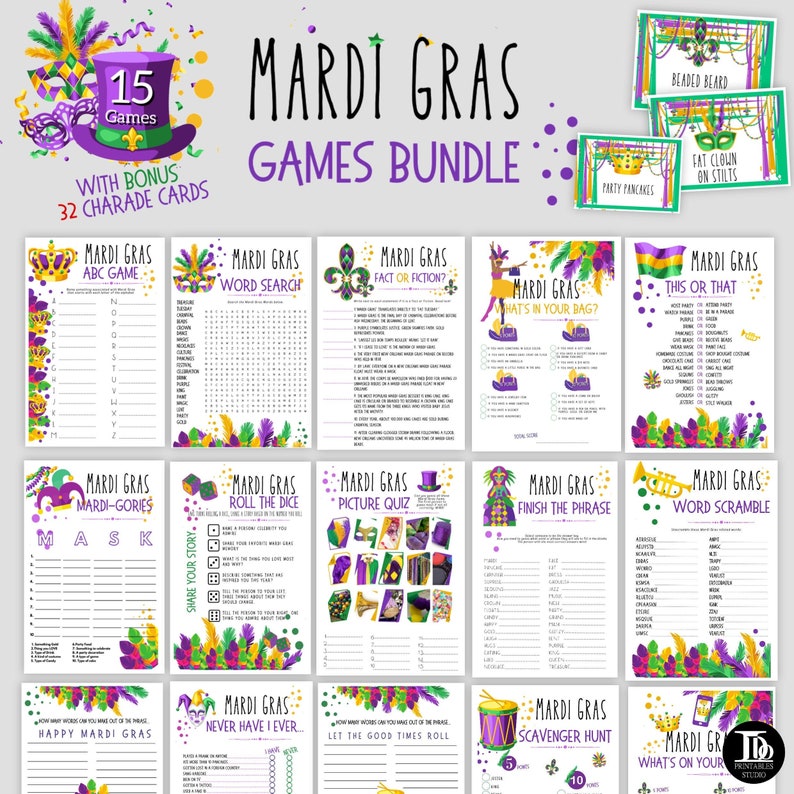 Play some games
If you want to play some games, the Mardi Gras Games Bundle is absolutely perfect. It comes with 15 games, like Mardi Gras ABC Game and Mardi Gras Word Search, plus 32 bonus charades cards.
You can purchase that Mardi Gras Games Bundle and it's an instant digital download. So you can print whichever you want and however many you need for your guests.
Make Pancakes
If you really want to celebrate the pancake part of Pancake Tuesday, check out our list of Pancake Recipes or just make our favorites:
Having a whole pancake party, with a variety of pancakes, sounds like a really fun Mardi Gras party alternative.
In the comments, let us know how you are planning on celebrating Mardi Gras at home.