A quesadilla is a really easy dinner. Just stick some veggies and protein between two tortillas, and dinner is done. These Easy Quesadilla Recipes will give you some great ideas for either dinner or dessert quesadillas.
For more ideas of what to cook, check out all of our recipes.
I say this all the time, but I love Mexican food. I always joke and say I should have been born Mexican or Italian because I love all their food. Being Japanese is cool and all, but I'm not a fan of sushi. Give me a taco or arancini instead.
So, as often as possible, I'll make Mexican food for dinner.
One of my favorite easy Mexican dinners is quesadillas. Quesadillas, which are a popular Mexican dish, are a fun way to eat a bunch of veggies and protein because they're all packed into a cute little tortilla shell. Serve them with sour cream, your favorite salsa, and some hot sauce and everyone's happy.
And, the best part, if you have leftovers, you can easily heat them up for a quick lunch the next day.
If you're hungry for some new quesadilla ideas, you're in luck. Our best quesadilla recipes are below. As always, as we add more quesadilla recipes to Drugstore Divas, we'll be adding them to this list. So be sure to bookmark it, save it, or pin it so you can come back to it later.
Easy Quesadilla Recipes
Affiliate links are included in this post and Drugstore Divas may make a small commission if you use them.
Fiesta Chicken Quesadillas
Chicken quesadillas are a classic recipe. So if you're making quesadillas for the first time, this is an easy recipe to start with.
Our Fiesta Chicken Quesadillas are little more fun than a traditional chicken and cheese quesadillas because we add bell peppers to brighten up the recipe.
Adobo seasoning gives the chicken breasts and vegetables some good flavor without adding anything too spicy, so it's a recipe the delicious whole family will enjoy.
Sausage And Egg Breakfast Quesadillas
Quesadillas aren't only for dinner, as evidenced by this Sausage And Egg Breakfast Quesadillas recipe.
Sausage is cut and crumbled, then cooked before adding it to the quesadilla. Some very typical breakfast items — egg and cheese — round out this tasty meal.
You can use a breakfast sausage for this recipe to give it more of a breakfast flavor. Or, you can use beef or pork sausage to make it heartier and more filling. It's up to you.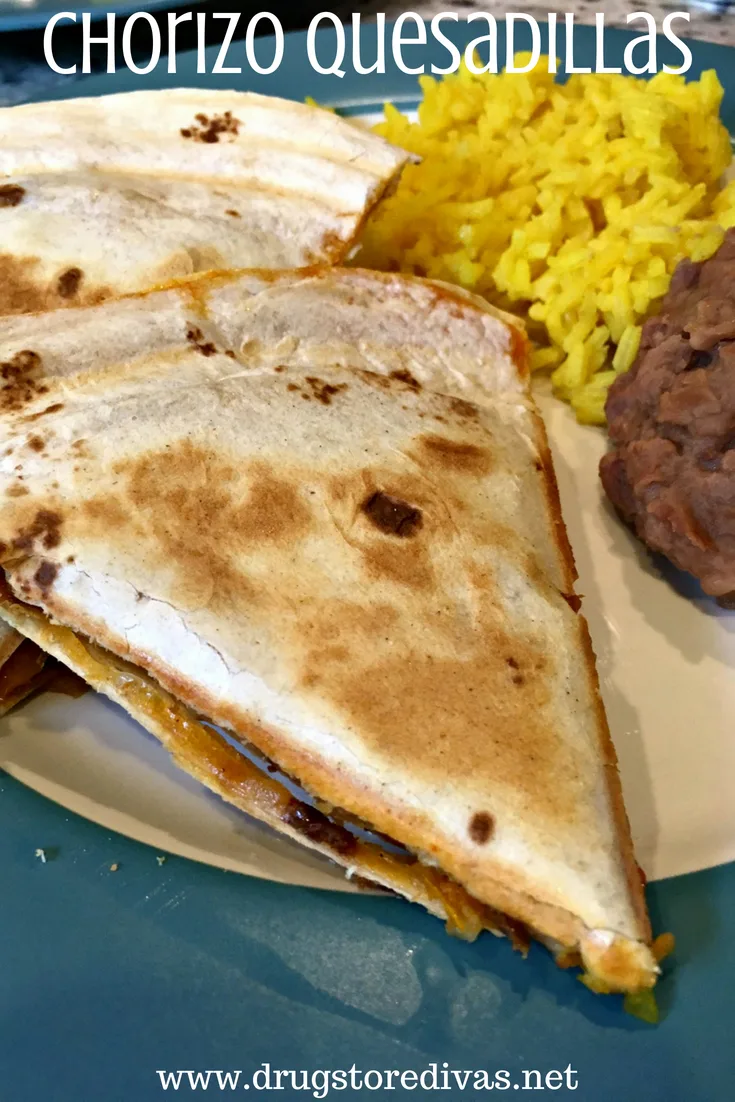 Chorizo Quesadillas
Any time I'm at a Mexican restaurant, I always order chorizo because I never make it at home. Or, never made it until our closest grocery store started selling it. You better believe I purchased some the minute I saw it so I could make this Chorizo Quesadillas recipe.
Chorizo, if you've never had it, is a spicy pork sausage. You can purchase it in casing or in a ground log, just like the sausage you're used to. That sausage doesn't have the same flavorings as chorizo, so we don't recommend substituting that in this recipe.
Spicy Chicken Quesadillas
These Spicy Chicken Quesadillas have a nice kick to them thanks to the addition of the Cajun seasoning, chipotle sea salt, and a pepper jack cheese blend.
If you're not into spice, this recipe probably isn't for you. I mean, you can change the spices but that would change the recipe. Instead, I suggest you try the Fiesta Chicken Quesadillas above instead. That is a delicious recipe too, but it doesn't have the punch of spice that these ones do.
S'mores Quesadillas
Quesadillas don't have to be savory. In fact, they can be sweet, like these S'mores Quesadillas.
Chocolate and marshmallows are the filling in these dessert quesadillas. The crunchy tortilla fills the roll of the graham cracker.
If you're serving quesadillas for dinner, it'll be really fun to bring these out for dessert.
Quesadillas: Frequently Asked Questions
How do you make quesadillas without a quesadilla maker?
My mom has a quesadilla maker and uses it every time to make quesadillas. It's so easy to use. You just spray with cooking spray, add a tortilla, add your fillings, add another tortilla and close.

You don't have to worry about flipping your quesadillas and fillings falling out and getting all over the place. It's also great because you get indented lines to divide your quesadilla into six pieces, so it's easy to cut.

If you don't have one, you'll just want to put a tortilla in a frying pan, add the toppings, and put a second tortilla on top. Then, eventually (and carefully) flip it to cook the other side.
What kind of cheese is best for quesadillas?
The best cheese for quesadillas is any cheese that will melt well and have some stretch and pull, although we do generally choose cheddar cheese.

Whatever cheese you decide on, definitely use a block and shred your own cheese rather than purchasing a bag of pre-shredded cheese. The bagged cheese has preservatives in it that prevent the cheese from clumping together. Those same preservatives stop the cheese from really melting well.

Blocks of cheese don't have those same preservatives, so you'll get a nice melty cheese in your quesadillas.
Do you use butter or oil for quesadillas?
Oil is definitely a lot better when you're making quesadillas. You can use avocado oil, olive oil, or really, any type of cooking spray.

With butter, the tortilla gets really saturated and the moisture in the butter causes the tortilla to get really soggy. Golden brown, crispy tortillas are key to a good quesadilla, and oil will crisp the tortilla in a way that butter won't.

You only want to use a tiny bit of oil on each side of the tortilla when you're making quesadillas. Using too much will give you a soggy bottom, just like butter would, and you'll never get crisp tortillas.
Are flour or corn tortillas better for quesadillas?
Flour tortillas are better for quesadillas than corn tortillas are.

While corn tortillas are delicious, they aren't sturdy enough to hold all your quesadilla fillings. They'll fall apart and make a big mess. Flour tortillas are more durable, so you won't have that problem.
How do you store leftover quesadillas?
If you make a big batch of quesadillas and have leftovers, you'll need to let them cool to room temperature.

Then, store any leftover quesadillas in an airtight container in the fridge. The time they're good for will vary based on the filling options you used, but three days is a good rule of thumb.
How do you reheat quesadillas?
There are a couple ways to reheat quesadillas.

You can heat them in a large skillet, with a tiny bit of oil, over medium heat. You'll want to flip them often so they heat evenly. You can spray them with a tiny bit of cooking oil and heat them in the air fryer until they're warmed through. And finally, you can put them on a baking sheet in the oven. The cook time will vary based on the method you use.
Which easy quesadilla recipe will you try first? Let us know in the comments.