If you want the best BBQ in Charleston, SC, head to Rodney Scott's BBQ. You won't find better ribs anywhere.
If you're heading to the area, get help planning your trip with our other travel posts.
Go to Rodney Scott's BBQ in Charleston, South Carolina. Order the ribs.
That's it. That's the post.
No, seriously. I could end this post right there and you would have all the information you need. Rodney Scott's BBQ has, hands down, the best BBQ ribs I have ever had in my life. I don't even like ribs really, and I am obsessed with these.
It has been weeks since we've been in Charleston, and I haven't stopped thinking about them.
I used to joke and say when I go to Charleston, it's only for the benne wafers. But now, it's for the benne wafers and Rodney Scott's ribs.
If you're planning a trip to the area to visit Rodney Scott's, create the rest of your itinerary with help from our Things To Do In Charleston, SC post.
Rodney Scott's BBQ: Whole Hog BBQ Perfection In Charleston, South Carolina
Affiliate links are included in this post and Drugstore Divas may make a small commission if you use them.
When we were planning our trip to Charleston, my dad asked if we were going to Rodney Scott's BBQ (1011 King St). He went a couple years ago and is a big fan of the restaurant.
The way my dad tells the story, when Anthony Bourdain was in Charleston with the owner of Husk Restaurant, a Charleston BBQ haunt, the owner said, "When I want BBQ, I go to Scott's BBQ in Hemmingway, South Carolina." So off Bourdain and this guy went to Scott's.
Rodney Scott was part of that BBQ joint then, but he wanted to do his own thing. So he left his family's establishment to come up to Charleston to start Rodney Scott's BBQ. He also now owns Rodney Scott's Birmingham and is opening Rodney Scott's Atlanta in Summer 2021.
The name is apropos because he's saying, yes, I'm part of the Scott family. But I'm Rodney. This is Rodney Scott's. This is mine.
And, man, has he made a name for himself.
The restaurant is only a few blocks from downtown Charleston, SC but in a residential area that might as well be miles away from the buzz of the city. If you're driving this way, you're either lost, in real need of something from the CVS in the parking lot next door, or you're coming to Rodney Scott's BBQ.
This isn't the place that you stumble upon when you're bar hopping, casually walking into because the lights are on. This is somewhere you decide you're going to and you drive there.
When we were there, Rodney Scott's BBQ was packed, but there was always a table available when anyone walked in.
And I mean a table indoors.
There's indoor seating and outdoor seating, but it's hot in Charleston. Most people are sitting inside. I don't know why I kept noticing that any time someone walked in, there was a spot open inside for them. But I did and there was.
When you get there, it's pretty casual. You go up to the counter to order, just like a typical fast food restaurant, then sit at your table and wait for them to serve your food to you.
I ordered a pulled pork sandwich with coleslaw on the side. That's my go to at BBQ restaurants. Pete ordered a chicken sandwich and collard greens.
Both were delicious. My pulled pork was tasty, and Pete's chicken sandwich had so much flavor. It's hard to do that with an all white meat sandwich, but Rodney Scott's BBQ accomplished that.
We were enjoying our food when the table next to us was brought an order of ribs.
"I should have gotten ribs," Pete said.
"So get them," I said. "And if you don't finish, we can always bring them back to the hotel for dinner."
When my dad went, they had ordered their food and later ordered a chicken and ribs to go. I had no intention of following in their footsteps, and yet, that's exactly what we were doing.
After Pete ordered, he came back to the table and pointed out a shirt for sale with the words "Every Day Is A Good Day" across the front. "I almost bought that for your dad when I ordered the ribs," he said.
I laughed and replied, "I actually thought about getting him that shirt too."
My dad always says, "Life is good." Like all the time. And if you talk about getting old, he'll say something along the lines of, "Any day I wake up is a good day." So this shirt was made for him. And the fact that he told us about Rodney Scott's BBQ before we went sealed the deal.
So I went back up to the counter (this, now, the third time we've been up to the register) to buy it for him as a souvenir.
I put the shirt in my purse and the ribs (along with our two sides: hush puppies and macaroni and cheese) arrived.
Pete picked up the first rib and it completely falls off the bone. I glance at it, and the bark looked perfect.
So I turned into the girlfriend in all the memes, you know, the one who says she doesn't want food and then grubs some food. Because, yes, I grubbed some bark from Pete.
It. Was. Amazing.
So then he shared some more with me.
We took four of the five ribs back to the hotel's refrigerator, but actually never got a chance to eat them that night. So we drove them back with us to Wilmington, NC and reheated them on our charcoal BBQ grill.
They were just as incredible as when they were fresh.
So, trust me when I give you this advice. If you find yourself in Charleston (or Birmingham or Atlanta), find yourself at Rodney Scott's BBQ.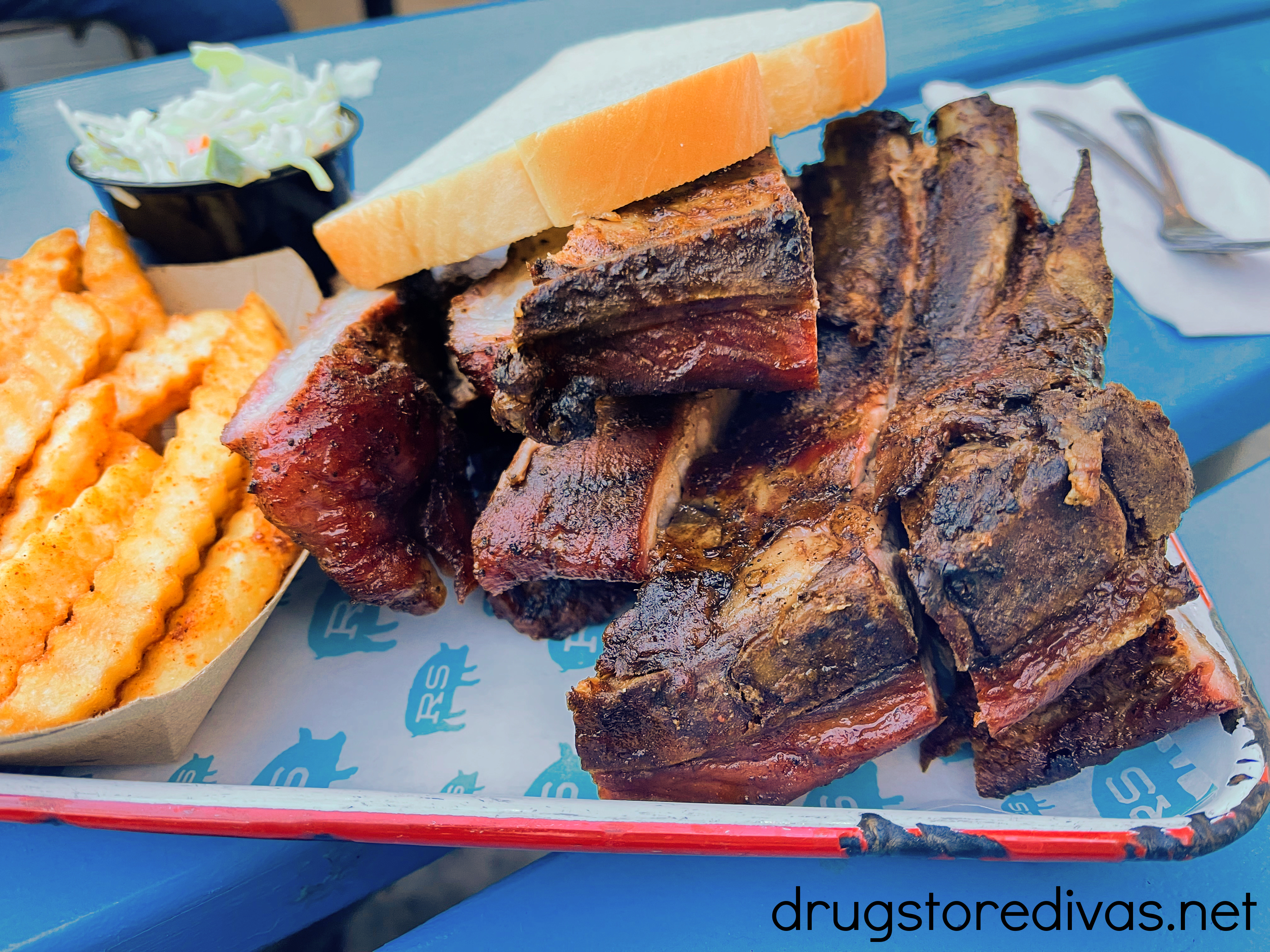 Rodney Scott's BBQ – Charleston Frequently Asked Questions
Where is Rodney Scott's BBQ – Charleston?
Rodney Scott's BBQ – Charleston is at 1011 King St.
What days are Rodney Scott's BBQ – Charleston open?
Rodney Scott's BBQ – Charleston is open daily from 11 am to 9 pm.
Does Rodney Scott's BBQ – Charleston have outdoor seating?
Yes, Rodney Scott's BBQ – Charleston has outdoor seating. There are picnic tables and patio seating outdoors, available for customers.
Is Rodney Scott's BBQ – Charleston currently offering delivery or takeout?
Yes. Rodney Scott's BBQ is currently offering deliver and takeout.

For takeout, you can order Rodney Scott's BBQ online. Click that link, then make sure you are choosing the Charleston location. You can also call your order in at 843-990-9535.

For delivery, you can order via Uber Eats.
Does Rodney Scott's BBQ – Charleston offer catering?
Yes. Rodney Scott's BBQ can do catered, boxed lunches. Call the restaurant to talk to the catering team to arrange it.
What is whole hog BBQ?
Rodney Scott's BBQ is whole hog BBQ, which is something very regional to the South. When cooking whole hog barbecue, the entire hog is splayed and put on a wood-fired barbecue pit and cooked, for anywhere between 12 and 24 hours.
During that time, the shoulder, the neck, and the belly of the hog must cook evenly. So it's definitely laborious and time consuming. But so, so worth it.
If you want to learn about whole hog BBQ, click that link for a really informative article (that actually featured Rodney Scott).
Purchase Rodney Scott's Cookbook:
If you can't make it to Charleston, SC to try Rodney Scott's BBQ, you can cook like him when you pick up the Rodney Scott's World of BBQ: Every Day Is a Good Day: A Cookbook.
Planning a trip to Charleston?
If you're planning a trip to Charleston for Rodney Scott's BBQ, you'll want to check out a few of Charleston's attractions too. Our favorites are below:
Have you tried Rodney Scott's BBQ? Let us know your thoughts in the comments.