These Wearable Father's Day Gift Ideas are sure to be something dad will enjoy. There are shirts, tool belts, aprons, and more.
For more ideas of what to buy dad, check out all of our gift guides.
Father's Day is right around the corner, so there's a good chance you're scrambling to find the perfect gift for dad.
Maybe you've just been waiting for this post.
In it, we have a ton of wearable gifts Father's Day, so you're bound to find something fun for dear old dad (or dear young dad, or grandpa, or your stepdad, or the man who stepped in as dad, or … you get the idea).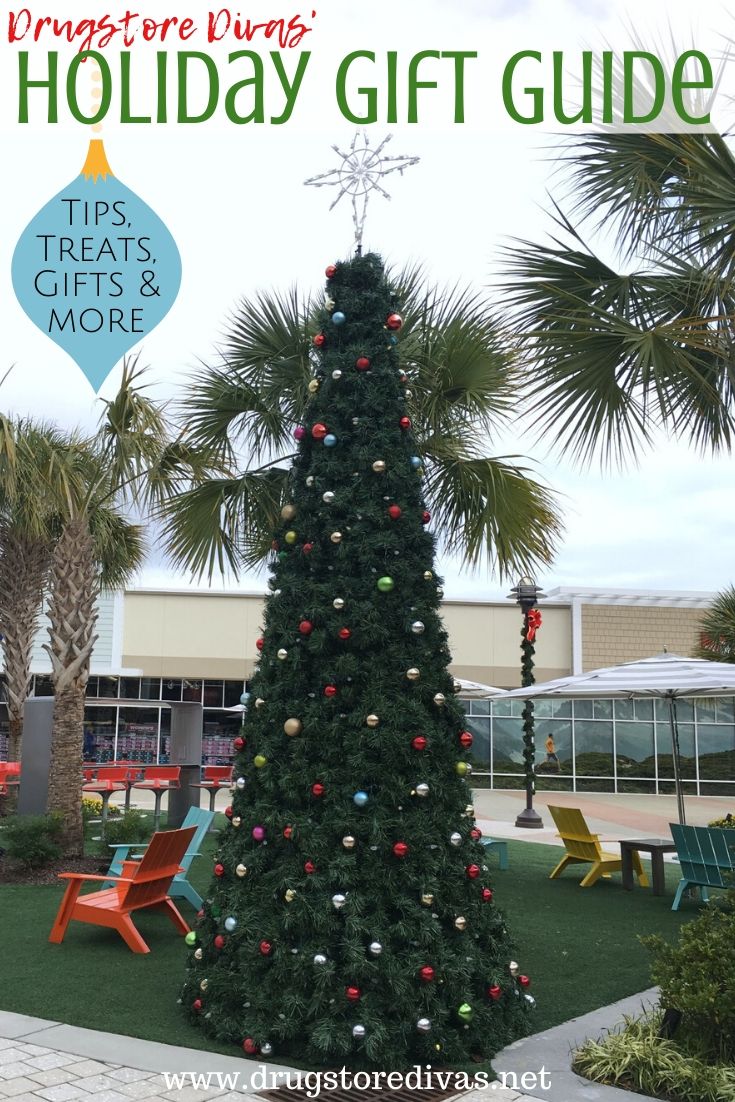 If you can't find something for dad on this list, don't worry. Check out the rest of our Holiday Gift Guides.
Wearable Father's Day Gift Ideas
Affiliate links are included in this sponsored post and Drugstore Divas may make a small commission if you use them.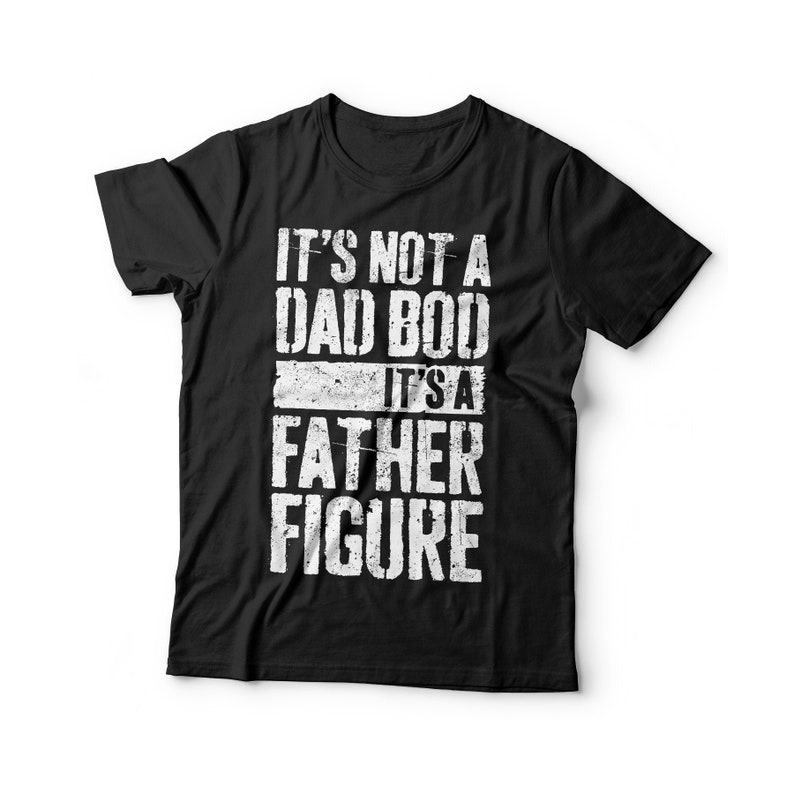 Dad Bod Shirt
My sister-in-law, Pete, and I are all very obsessed with puns. So of course, this "It's not a dad bod, it's a father figure" shirt is perfect for me and Pete to give my brother (we actually gave him a similar one last year). And perfect for you to give your pun loving dad.
He'll laugh so hard, I promise.
The shirt comes 12 colors. You can get it in sizes small to 3XL (so no matter what size dad's father figure is, this will be able to fit him).
Kyte BABY Joggers
We call these Kyte BABY Joggers our "soft pants" because they're so soft and incredibly comfortable.
The material is (nearly all) rayon from bamboo with (a tiny bit of) spandex. The spandex makes them a little stretchy, but not totally form fitting like you often get from spandex.
That combination makes these Kyte BABY joggers really cooling. By some sort of magic, it helps to pull heat away from your body, leaving you really cool.
Also cool … the pants have pockets. We (yes, Pete and I both have a pair, so this is a great wearable gift for dad and mom) wear these to bed mostly, and one of Pete's requests of pajama pants is that they have pockets. Women's pajama pants generally don't have pockets, so the fact that these ones do is life changing. I'm not even kidding. To be able to change into these cozy clothes at night, put my phone in my pocket so it's with me but I don't have to carry it in my hand, it's a joy.
And jogger set for men (which comes with a top and pants) comes in seven colors and six sizes. These are form fitting, so if that's not okay with dad, order a size up.
Best Dad Ever Magnetic Tool Belt Wristband
This is the smartest gift ever for the best dad ever.
This Magnetic Tool Belt Wristband is basically a tool belt for your wrist. There's a super magnet inside, so drill bits, screws, nuts and bolts, and more will stick to it. Dad can just flick his wrist to get what he needs rather than fishing around in his tool belt.
If your dad is anything like mine (who is currently building a table as I type this) or my husband (who works in carpentry), this brilliant gift idea is a no brainer.
It's currently the number one new release in tool belts on Amazon, so I think a lot of people agree with me.
Sunglasses
Dads are always outside. They're either manning the grill, mowing the lawn, or throwing around a baseball in the backyard. So a pair of sunglasses are the perfect Father's Day gift idea.
Pete's newest pair, if you want your dad to twin him, are these Polarized Marshals from Ella Bing (we ordered them through Groovy Guy Gifts). They came in the coolest packaging: a cigar box. Pete actually thought I was giving him really nice cigars but joke's on him (also, prize's on him?) because he opened it to reveal a sunglasses case.
Groovy Guy Gifts actually sell a ton of different sunglasses, so if you don't think dad wants to match Pete, there are a bunch of others to choose from. Some of them even give you the option to engrave the arm with your own text, so that's cool.
Personalized Leather Bracelet
What's the best day of dad's life? The day he became a dad, of course. You can have that date engraved on this personalized leather bracelet.
You can personalize the bar on the bracelet a few other ways too. You can add a name, coordinates, a date, symbols, and more.
You can get either a gold finish or a silver finish on the bar, so you can get similar but different ones if you have a couple dad you need to shop for.
Khullu Beanie by Oliver Charles
I know what you're thinking. Father's Day is in June. It's hot. It's sunny. Dad does not need a beanie right now.
But. He. Does.
The times you have to get dad a designated gift are really Father's Day and his birthday. And if his birthday is also during a warm weather month, you're left with Christmas. Which is deep in the heart of winter and he will already have a go to warm hat by then. So get one now. Specifically, get a Khullu Beanie by Oliver Charles now.
Pete has this hat in maroon and loves it (although, his love of it has come from wearing it briefly indoors because it is 90+ here daily). It fits his head really well, which many knit hats don't because of how much hair he has. The hat contours to his head rather than other knit hats, which flop down in the back because of excess material.
It fits well, will cover dad's ears, and (as one reviewer mentioned) doesn't itch on bald heads. In case dad's bald (because of you … r siblings).
Whatever Happens We're Eating It Apron
I can't stop laughing at this apron. I'm almost crying laughing because it just hit me so hard in the funny bone.
An apron is great for the dad who loves grilling. But you know, sometimes those grilled masterpieces come out … less than stellar. But when that's dinner, you have to eat it.
So this "Whatever Happens We're Eating It" apron is so so funny. Because sometimes, even if dad thinks he's the king of the grill, this happens.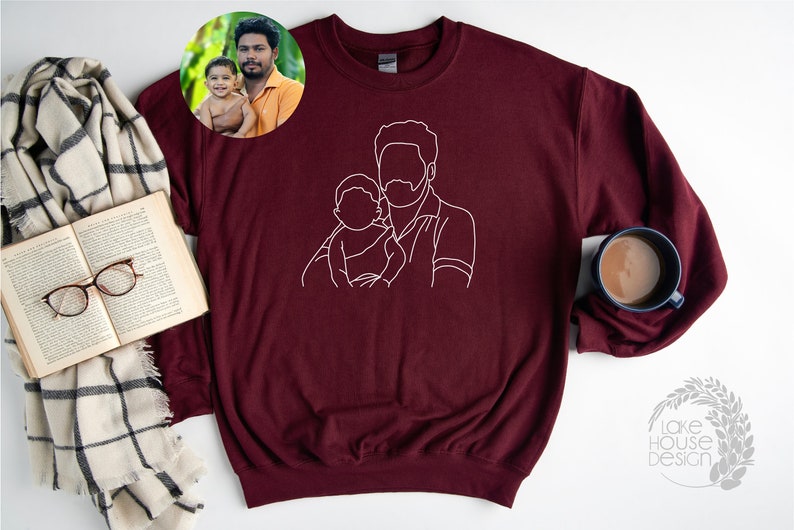 Purchase Wearable Father's Day Gifts Online:
These are our favorite Wearable Father's Day gifts, but they're not the only ones out there. There are more online, like the Father's Day Custom portrait sweatshirt above.
For more ideas, check out the stores below:
Don't forget to check a store's minimum cart total to qualify for free shipping. Also, consider instore or curbside pickup to avoid shipping costs.
Want more Father's Day Gift Ideas?
If you're looking for more Father's Day gift ideas to go with the ones above, we have a few other posts that might interest you. Check them out below.
Which of these Wearable Father's Day Gift Ideas is your favorite? Let us know in the comments.