This iRestore Anti-Hair Loss Serum review post is sponsored and written by Pete. All thoughts and opinions belong to Drugstore Divas.
If you've been following along, you have heard me talk about the four parts of the iRestore system: the iRestore Laser Hair Growth System (the "helmet"), the Hair Growth Shampoo, the 3-in-1 Hair Growth Formula, and the Hair Growth Serum.
I did a iRestore Hair Growth Shampoo review last month, so I thought this month I would talk about the Hair Growth Serum.
You can purchase a 1-month, 3-month, or 6-month pack via the iRestore website. Each bottle is 2oz. and comes with a plastic dropper. Twice a day, I apply the serum onto my head using the dropper, then massage it in.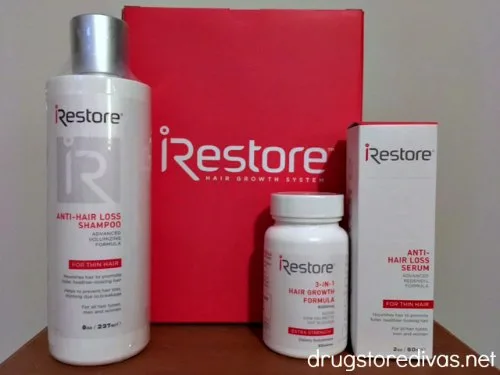 During the beginning of the month, this is very easy because the bottle is full and it's easy to fill the dropper. When you get to the bottom of the bottle, it's very hard to get the last drops out of the bottle.
The serum is a very thick odorless liquid, formulated with patented molecules, Redensyl®, to energize and nourish hair follicles to assist in increasing hair fullness and thickness. I'm not sure what is in redensyl exactly, but you can learn more about it here.
What I do with it is fill the dropper with the serum, then apply it to my scalp where my balding spot is (about two inches above my neck). I then rub the serum around the entire balding area. I try to drop it in the middle of the spot, but since I rub it around the entire area, it doesn't exactly have to be in the middle.
My hair does seem fuller, so I think it is helping. This is my third month (12 weeks) into the iRestore system. The site states that you should start seeing results within 12 to 24 weeks. So I am at the very beginning of that range.
As with what I saw last month, I still think the hair from the sides look fuller, meaning that there is more hair growth filling in the sides of the area that was a bald spot. The sides are "filling in," if you will. It looks like the bald spot is getting larger from the top and bottom, though. I did read on the site that during Month 1 and 2, you may see shedding of weak hairs. That's what it seems to be. During Month 3 and 4, tiny baby hairs are supposed to emerge and may not be visible yet, so I am hoping that's what is happening. Month 5 is when hair shedding should stop and visible hair growth can be expected. So I have two months until then.
Of course, individual results may vary, so I am not getting discouraged at all. I am going to continue to use the system and posting my results. I know restoring my hair is a long process. So, if you start, be sure to give it time before you expect results. It's not going to happen overnight.
If you have started using the iRestore Laser Hair Growth System since we have, leave us a comment about your experience. If you want join me on my hair growth journey, make sure to take advantage of this amazing offer: Use our special code DSD150 to get $150 off your iRestore Laser System purchase HERE.
And, with the money back guarantee, there's really no reason to not try the iRestore for yourself. For the Hair Care Line products, if you don't see results, return the empty bottles within the first 90 days for a full refund. For the helmet, there is a 6-month money back guarantee. If your results aren't visible or satisfactory, you can return it. For more, check out the iRestore return policy.