Celebrate your child's upcoming birthday with a fun fireman birthday party. It's a great theme! Get party tips, décor ideas, and more here.
For more ideas, check out all of our birthday party posts.
Little kids love firemen. They get excited when they see the firetrucks drive by. If your kid is the same way, it makes sense that you should throw a fireman birthday party.
But don't worry.
You don't have to come up with all the ideas on your own. We're here to help you come up the best ideas for your fun fireman birthday party. Just take our tips below.
How To Throw A Fun Fireman Birthday Party
Affiliate links are included in this post and Drugstore Divas may make a small commission if you use them.
Invitations
Start with firefighter birthday party invitations. That way, you set the theme of the party out from the very start.
You can add something in the invitation like, "Bring your favorite firetruck to the party." That way, everyone will get excited about the party right from when the invitation arrives.
Decorations
When your guests arrive at your fireman birthday party, you definitely want them to feel like they just walked into a firehouse.
Decorate with fireman-themed decorations, like backdrops, a fire truck birthday banner, cardboard standups, and wall decals. Use red, orange, and yellow streamers and balloons on the walls and railings.
Use construction paper to make red and yellow flames to hang in your windows.
If your child has a bunch of fireman toys (stuffed Dalmatians, fire trucks, etc.), those can double as decor. Put them around the main party areas and on the food table as extras. If you can use what you already have, you can save a little money in your party budget and splurge on some other extras.
Food
Set the table with a Fire Truck Party Pack. It comes with everything you need, as far as paper goods go. There are dinner plates, dessert plates, cups and napkins. Just pick up a red tablecloth and you're done.
And what to serve as food and drink for your fireman party? That's easy.
Create a fruit and veggie plate with orange, yellow, and red food items, such as bell peppers, carrots, strawberries, oranges, and cherries.
Don't forget cinnamon candies and Twizzlers "fire hoses." Put wrapped candies in red metal buckets, paint the word "FIRE" on them, and you have cute table décor.
And maybe add some spicy chips to red bowls to finish your menu. Just be sure to warn the party guests that the chips are spicy. Younger partygoers might not be a fan of anything with a kick.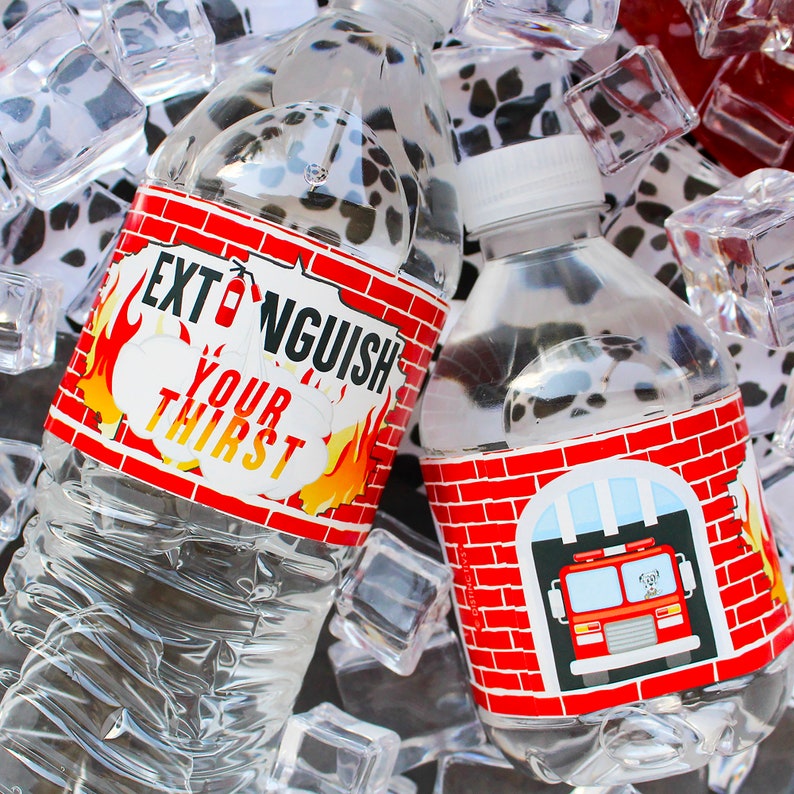 Water is the obvious choice for a drink, especially if you wrap them in these adorable Firefighter Birthday Party Water Bottle Labels. Blue juice, like a blue sports drink, works too.
And, if you're feeling clever, you can design juice boxes to look like burning buildings. Wrap them in gray card stock, then glue black squares for windows. Cut flames from red and yellow paper and tape those up at the top. Add a couple flames into some of the windows too.
Photo booth
For fun for everyone, make or purchase a fire truck card board standup. Everyone can stand in the cut out and get a photo taken. If you have a photo printer at home, you can print the photos instantly and give them to each partygoer on the way out.
Or, you can just DIY that. Get a large piece of poster board and draw the front of a fire truck on it. Cut out the window portion so your guests can stick their heads through it.
If that's too much, just pick up or make some fireman-themed photo props, like a fire hydrant, fire hat, hose, etc. Put those in a basket near a blank wall or one that's adorned with streamers. Let your guests take their photos there.
Games
You can definitely put together some fireman-themed games for the party.
If you have a little time and skills, you can make a bean bag toss game. Get a large box (from one of your Amazon packages) and cut the flaps off. Paint it red or wrap it in red paper, whatever is easier.
Take a large piece of poster board and cut out a flame from it. Make sure the flame is larger than the box you started with. Cut three holes from the flame. Glue the flame to the box.
Use some blue fabric to sew beanbags in a raindrop shape.
Set them out together and have your guests throw the bags at the holes in the flame. So cute.
You can also make your own version of pin the tail on the donkey with a pin the hat on the Dalmatian. Draw a Dalmation on a piece of poster board. Then, draw fire hats on paper (or just purchase some here). Play like pin the tail on the donkey, but have the guests try and get the hat on the Dalmatian's head.
If you want much easier games, you can do firetruck races. Bring the kids into the driveway and have them push a firetruck from the start line. Use chalk to mark where the truck stops. Whoever gets the truck the furtherest wins.
And, if all else fails, just go with hot potato. You can say it fits with the fireman theme because its hot.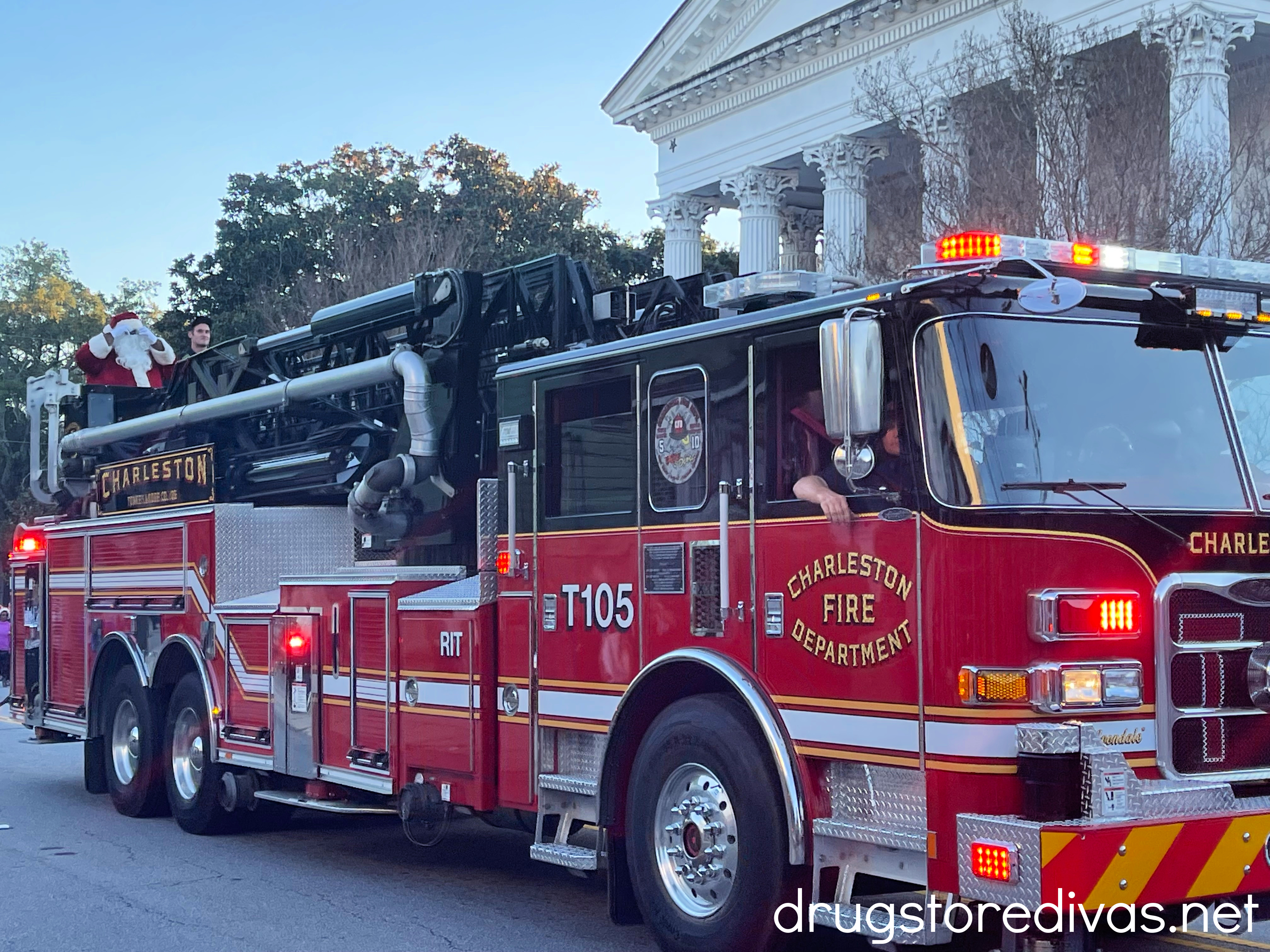 Drive by parade
I'm not sure if your town does it, but ours is still doing drive by parades.
If you call the local fire department, it may send an off duty firetruck by your house during the time of the party. Your birthday party child will absolutely love it.
Favors
Fire Trucks Favor Boxes can also work double-duty as matching decor and as a goodie box for guests.
It doesn't matter what you fill them with because you won't be able to see them anyway. But small fireman coloring books and small boxes of crayons are a good idea.
If you want something a little less bulky, these fireman birthday party favor bags work.
Extras
To make the birthday child feel special, pick him or her up a fire chief hat. So fun.
You can actually pick up a pack of a dozen fireman hats for birthday party decor/favors. I really love using items as decorations then giving them away at the end of the party. Because really, do you need 12 fireman hats laying around your house after the party? Nope.
If you'd rather DIY some hats, you can buy red party hats then use some extra red, orange, and yellow streamers to affix to the top of the hat.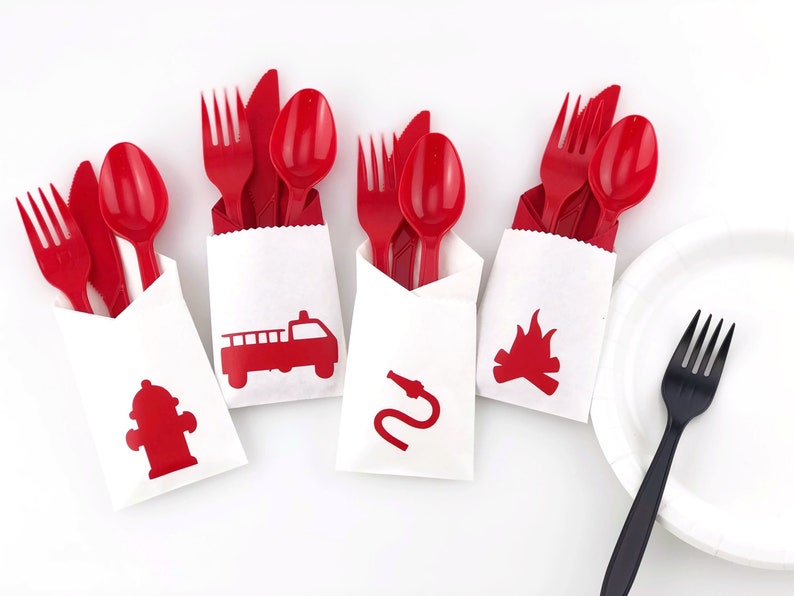 Purchase Fireman Birthday Party Supplies Online:
Of course, there are more ideas out there, like the Firetruck Birthday Cutlery above. You can find more ideas for your fireman birthday party at the online stores below:
Be mindful of a store's minimum cart total to qualify for free shipping. Also, consider instore or curbside pickup to avoid shipping costs.
More Birthday Party Ideas:
If you're inspired to throw a themed birthday party, but a fireman party isn't for you, we have some other birthday party ideas you might enjoy:
What else would you add to make this fireman birthday party great? Let us know in the comments.