It's still really hot here in North Carolina. Like, I wore a tank top and shorts last week. But, the calendar says fall, and that means fall weather is on the horizon. And your hair can be in for a shock when that happens. Good thing I have seven fall hair care tips in my pocket.
7 Fall Hair Care Tips
As with the majority of our list posts, this one is in no particular order.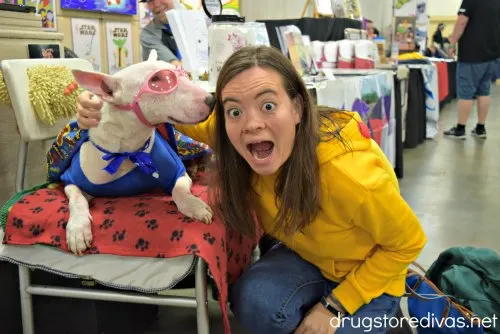 Ditch your ponytail
During the summer, you want to pull your hair back into a ponytail and get it off of your neck so your neck is not as hot. And then your entire body ends up cooling down. It makes sense.
But, honestly, ponytails are not great for your hair overall. Ponytails can actually cause a lot of breakage.
And pulling your hair back in a ponytail too often can actually cause traction alopecia. Women who wear tight ponytails have been found to have traction alopecia and hair loss around the hairline.
Traction alopecia is also caused by tight buns, braids, and similar hairstyles, and unfortunately, is irreversible.
It does take about six months before traction alopecia is permanent, though. So, during the fall, keep your hair down instead of pulling it back. It'll give your hair a break from the breakage caused by ponytails and a chance to rest.
And, if you can't not keep your hair in a bun (like maybe it's a job requirement or something similar), make sure you at least sleep with your hair loose to combat potential traction alopecia at night.
Use volumizing products
I have a volumizing spray that I love to use during the fall. During the warmer months, the humidity works in your favor to give your hair an extra lift. You don't get that from the dry weather that comes in the fall. So you have to help yourself out.
Flip your hair upside down, then use a volumizing spray on the hair near the nape of your neck. Flip your hair back over and tease it with your fingers to give it a boost.
Keep your hair hydrated
In the fall, your hair can get really dry. Dry hair is generally the result of two things. Either your scalp isn't making enough natural oil or your hair is letting that moisture escape.
If you're dealing with that, you want to use hair care products that will keep your hair hydrated. Because dry hair can lead to other hair problems, like breakage. Plus, hair that lacks moisture and hydration looks dull and can be frizzy. So all sorts of issues.
To start, brush your hair. Brushing will help the natural oils in your hair to get from your scalp to the ends of your hair. And if you can spread that natural oil down your locks, it'll help to keep the entire strand hydrated. Dry hair can cause split ends, so you'll be able to avoid these as well if your hair is hydrated.
Only brush your hair when it's dry; wet brushing causes breakage.
Then, use hair masks and deep conditioning treatments to help your hair's hydration. A leave-in conditioner is another great product to use if your hair really needs an extra boost of hydration.
Keep dandruff shampoos on hand, just in case
Sometimes, your hair has a mind of its own. And if you can't hydrate your hair, or if your scalp just doesn't want to cooperate, you end up with a dry scalp no matter how many hydrating products you use. No worries.
Even if you don't have dandruff issues right now, my suggestion is to keep a bottle of dandruff shampoo in your shower during the fall anyway. Once a week, wash your hair with it.
Your hair gets used to the same products if you use them over and over, and eventually, they lose their benefits. Washing with a different shampoo one once a week gives your hair the break that it needs.
So, weekly during the fall, use that dandruff shampoo. You hair will get a break from its traditional shampoo. Plus, using dandruff shampoo, even when you don't have dandruff, can actually prevent dandruff-related damage.
Go darker
Summer is a time to find out if blondes have more fun. Fall is the time to try out that darker 'do.
If you're on the fence about the color, go with something just slightly darker for your autumn hair color. You can always pick a non-permanent dye so you'll go back to your normal look in no time.
If you want to ease into a darker hair color (literally), go with balayage over ombré. Basically balayage uses vertical sections for the highlights while ombré goes horizontally, so balayage is more subdued. Plus, balayage doesn't start at your roots, so you can redo it less often and still maintain your look.
Trim your ends
I actually trim Pete's hair every three to four weeks, but I trim mine far less often. I'll take an inch off about every four months and then I'll go into the salon for a drastic cut every three or so years.
I really only trim my own hair when the seasons change. So fall is a great time to remember to snip off any dead ends that have been hanging around.
Not only will it make your hair feel lighter and healthier, but it will give it a little more of a bounce too.
Trimming your own hair is a lot easier when you have to have pretty long hair. When it's wet, flip it over your head in front of your face. Use a large-tooth comb to brush it and stop wherever you want to trim. Then, just use hair cutting scissors to cut below the brush, using the brush to help you get a straight edge.
If you want to be like me and skip the brush, you can just grab your hair into a ponytail in front of your face, then cut across.
Flip your hair back behind you and look in the mirror. Part your hair down the middle and pull equal pieces in front of your face. Measure and see if they're even. Keep gathering hair and checking to see if it's all even. If not, trim a little more from the uneven side. But, I have faith that you'll be fine.
If you lack that faith though, go to a salon to get a trim.
Skip The Heat Styling Tools
Curling irons, straighteners, and blow dryers are not great for your hair. They can cause damage to your hair, causing breakage by drying it out. So as much as you love your curling iron, put it down.
Instead, loosely braid your hair when it's slightly wet. When your hair dries, take out the braids and you'll have really soft waves. If you wash your hair at night, you can sleep in the braids and have waves in the morning. That's a lot better than using your curling iron, which is eventually going to end up giving you frizzy hair.
And as far as drying your hair, just let it air dry. That's a lot better than using a blow dryer on it daily.
Looking for some fun fall hairstyles?
If you want some new styles for fall, we have a couple hair tutorials that you might like below.
Which of these 7 Fall Hair Care Tips is most important to your fall hair care routine?