If you're shopping for a music lover, look no further than this 10+ Gifts For Music Lovers list with Bluetooth speakers, music tea, and more.
For more shopping help, check out our other gift guides.
Pete has played guitar for as long as I've known him. I've owned a guitar for as long as I've known him. When we first started dating, I asked if he would teach me how to play. We're over a decade into this, and I still can't play. But I still love music, and so does he, and so do a few people on your holiday shopping list, I'm sure. So we put together this list of 10+ Gifts For Music Lovers.
I skipped any sort of musical instrument or sheet music for this post. Those items are cool, but they appeal more to musicians than just music lovers.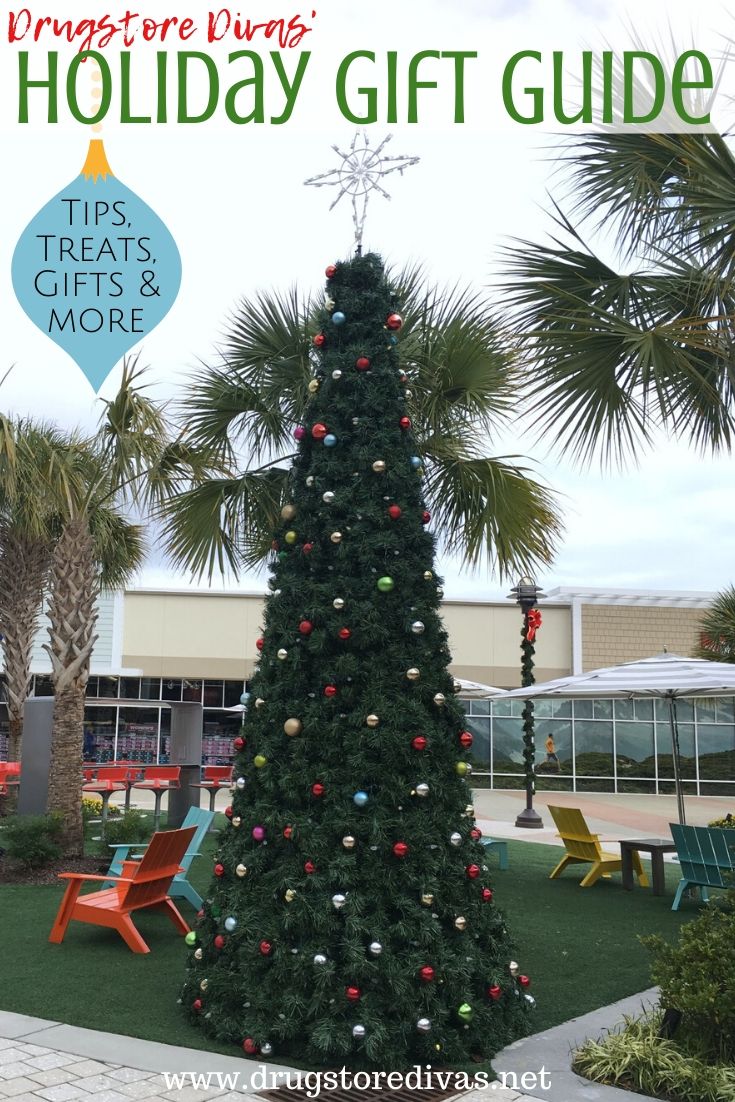 If you need more help with your shopping this season, check out Drugstore Divas' Holiday Gift Guide filled with all of our shopping guides.
10+ Gifts For Music Lovers
Affiliate links are included in this sponsored post and Drugstore Divas may make a small commission if you use them.
Guitar-Shaped Decorative Hooks
These Guitar-Shaped Decorative Hooks are so cool. They're shaped like vintage guitars and can be affixed to the wall to use as a coat (purse, mask, whatever) hanger.
There's a round ball at the end of each of them, so you don't have to worry about something sharp puncturing your jacket or hoodie.
The back has a metal fastener, similar to how you would hang a picture, so they're easy to hang.
Guitar Tie Clip
Pete doesn't have a tie clip. I've been looking for a cool one for him for a couple years and just didn't find one. If you know Pete, you know he's not someone who would go with a plain, straight tie rod. He needs one with a little more flare.
So I was so excited when I found the Guitar Tie Clip. It's perfect for Pete. The one I picked for him is black (although it's more of a pewter), which is currently out of stock. You can purchase it from Trendhim in either rose gold, gold, or silver right now, though. Those are all in stock.
Also, a quick side note. This is a tie clip, not a tie bar. A tie bar slides over the tie and shirt, a tie clip (like this) has a spring that helps it open and close.
Musical Necktie
Did you like the tie that the guitar tie clip was on? It's also from Trendhim, the same place where the guitar tie clip is from. So naturally, I decided it made sense to put them together.
You can, however, buy them separately. The Musical Necktie features music notes and a treble clef all over it. You can get it in either blue or black.
But, here's what's cool. If you really like the pattern, you can get a matching pocket square of it too. And if you're not into long neckties, the pattern comes in bowtie form.
Bluetooth Tumbler
We have a lot of tumblers and travel bottles. So the last thing we need is one more drinking vessel.
Except we need this Bluetooth Tumbler. Because we don't have a drinking vessel that also plays music. The music plays out of the bottom and is actually pretty clear considering it's on the bottom of a tumbler. The Bluetooth speaker twists off too. If you remove it, you'll get a LED light show while your music plays.
You can get this in either teal, gray, or red, so you'll be able to please any music lover on your list.
Clear Backpack
Festivals and concerts are starting to come back, and I couldn't be more excited. We go to see live music all the time, and it has been such a bummer to not be able to see bands.
A lot of stadiums and sporting arenas require you to have a clear bag so all items can be seen at once. If you have to use one, you definitely want a cute one.
Peace Of Stage Peace Pendant
You guys. This is so freaking cool. But we need to have story time for a minute. Everybody who could attended Woodstock in 1969. Too many people, according to every documentary I've seen on the festival. Cars were just stuck on the road. But no one was stressed out. It really was peace, love, and music.
And that music happened on a stage. Which was still there after everyone went home. Steve Gold was a teenager then, and his then girlfriend's father asked him to help unload plywood panels — ones that made up the actual Woodstock stage — so they could be turned into a paddleball court.
About 50 years later, Gold wondered about these panels. He located them, bought them, and started Peace Of Stage. The company uses pieces of the actual Woodstock stage to make necklaces, keychains, and more.
So this Peace Pendant is actually a piece of the actual Woodstock stage that you can wear around your neck. That's amazing, and something I would have never thought would have been possible 50 years after the legendary concert.
Marshall Bluetooth Speaker
Marshall amps are the amps. If you play music, you either want or have one. And if you watch live music, you've seen one.
So, it's super cool that Marshall has a whole line of Bluetooth speakers that look like Marshall amps. Or, well, as close to Marshall amps are you can get a speaker to look. The music fan on your shopping list will definitely appreciate this Marshall Bluetooth Speaker.
There are actually a bunch of different versions, all at different price points, so you can find that suits your needs.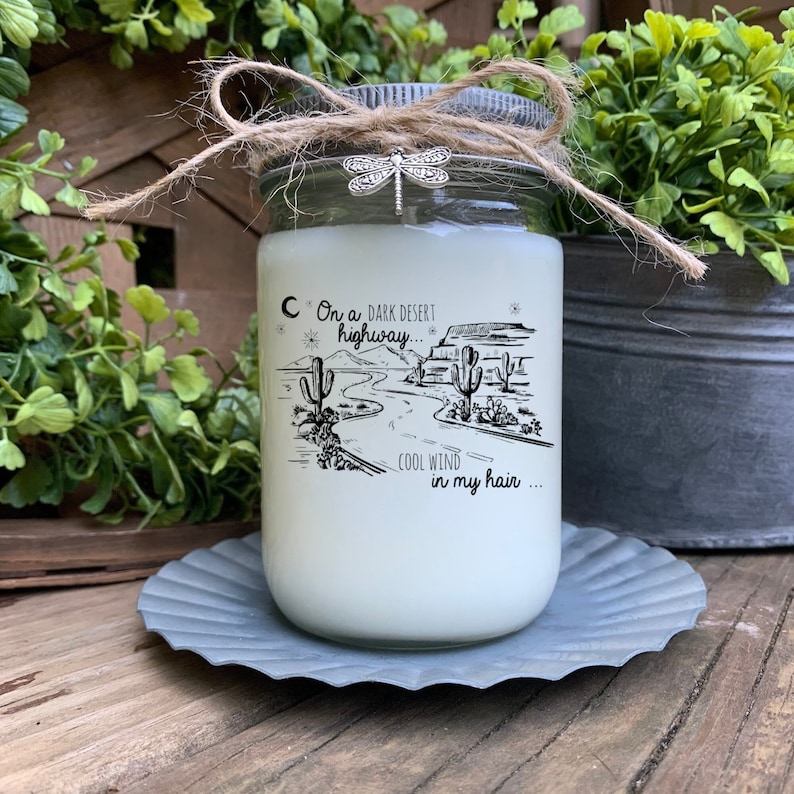 Music Inspired Candle
I'm obsessed with how pretty this Music Inspired Candle. I would display it on a shelf and never burn it ever. Which would then make it a gift that lasts forever. Perfect.
The candle is specifically based on the Eagles, but if you didn't know that was the intention, it could just pass as a candle for a desert lover.
Guitar Wall Art
How absolutely soothing is that image above? Trees, a city … they're a world apart, separated by island and mountains. Looking at it, there's so much depth to it.
And then you look at the actual depth, the water. And you realize that the reflection forms a guitar. That's amazing. And, so, this Guitar Wall Art is definitely a gift for music lovers that will actually be hung and appreciated.
Guitar Neck Shaped Cooking Utensils
Someone bought Pete a similarly-shaped set of Guitar Neck Shaped Cooking Utensils and he absolutely loved those. I can't find those online anywhere, but I found this similar set.
It comes with four utensils: Spoon, Spatulas, and Salad Fork. When you store them in your bamboo utensil holder, they look so cool. And that's worth it even if your music fan doesn't ever use them.
Musical ArTEAists VarieTEA Sampler
If you know me in real life, you know I'm the biggest fan of puns. Puns, when they're done right, make me laugh so hard. So I just think this Musical ArTEAists VarieTEA Sampler from The TeaBook is amazing.
It comes with four teas: Amy TEAhouse, CHAI-kovsky, Harry CHAI-pin, and (my fave) FredTEA Mercury. What kind of tea is FredTEA? Oh, I'm glad you asked. It's a Bohemian Raspberry. Guys. I can't. This is amazing. You can buy each artist individually, but I really like the sampler pack because you get four musicians in one package.
You can get stickers, magnets, and prints of the tea bags too. So we currently have FredTEA on our fridge, greeting us and silently judging us every time we look for a snack.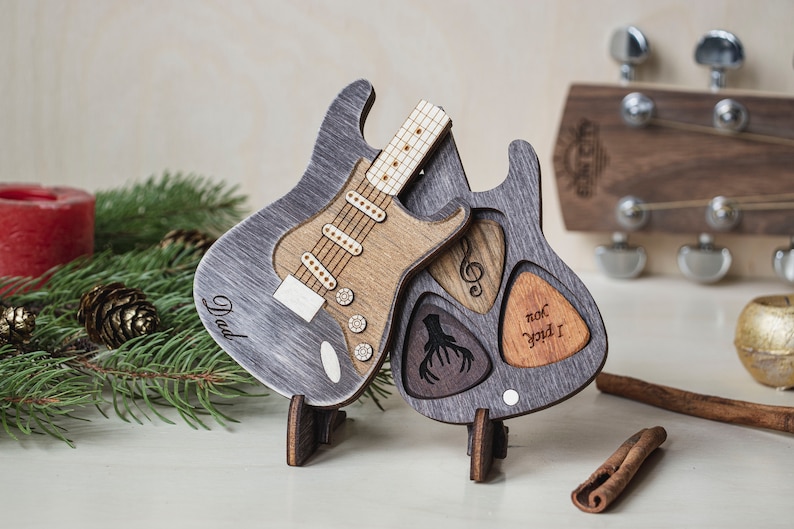 Purchase Gifts For Music Lovers Online:
Of course, these aren't the only gifts for music lovers out there. Just our favorites. For more ideas, like the personalized guitar pick with case above, check out the following stores:
Don't forget to check a store's minimum cart total to qualify for free shipping. Also, consider instore or curbside pickup, where available, to avoid shipping charges.
More Music Gifts:
If you're looking for something more specific, check out our list of Great Gifts For Drummers.
Which of these gifts for music lovers is your favorite? Be sure to let us know in the comments.