If you're looking for gifts for a drummer, besides items that say "Let's Bang" (although that's on the list too), you're in luck. We put together a fun list of Great Gifts For Drummers.
For more ideas, check out all of our gift guides.
Shopping for someone with a hobby can seem really easy. Oh, my friend drums. I'll get him a gift that has to do with drumming. And then you realize you have no idea about drumming and can't figure out what to get as a gift.
I bet that's how you ended up here.
Good news for you, we did the legwork. We put together this list of great gift ideas for drummers. There are some practical gifts on this list and some whimsy ones. If you really know the drummer, you can get either. But, if you don't know much about drums or drum accessories, we suggest sticking with the whimsy gifts. You don't want to get a practical gift your drummer friend won't use (because of brand, weight, etc.).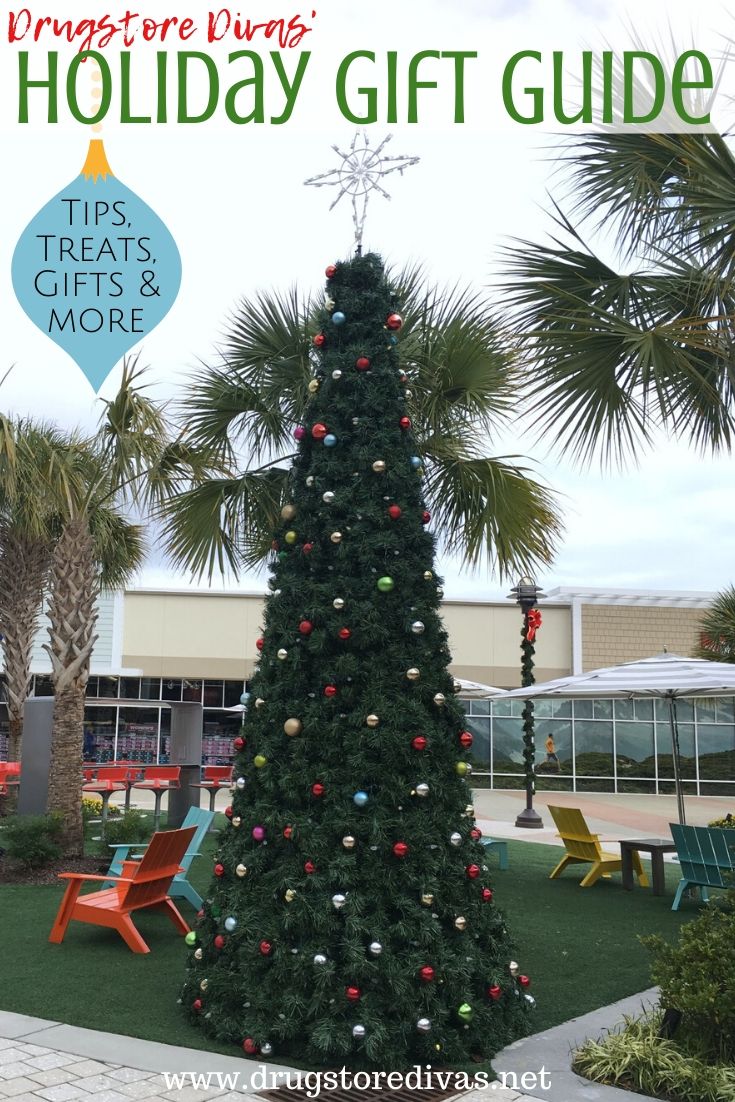 This isn't our only shopping guide on Drugstore Divas. For more, check out our Holiday Gift Guide filled with tons of gift guides for every occasion.
10+ Great Gifts For Drummers
Affiliate links are included in this post and Drugstore Divas may make a small commission if you use them.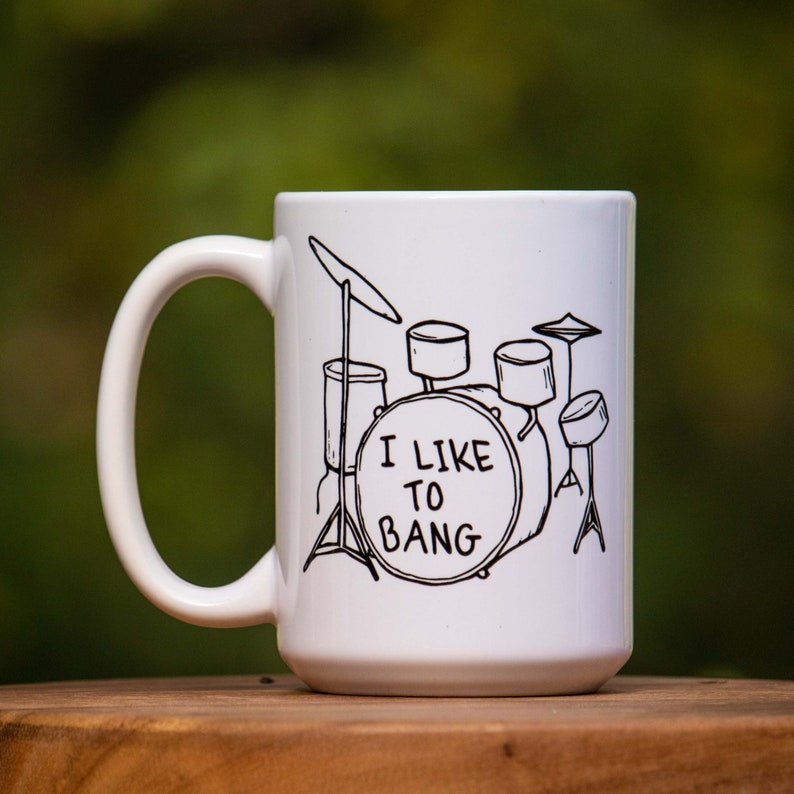 I Like To Bang Mug
Let's kick this list off with a "bang" with this I Like To Bang mug. It's a really funny play on words and definitely one your drummer will appreciate.
I love that the illustration on the mug is hand drawn and intentionally looks a little lo-fi. It's a nice departure from everything being so pretty and polished lately, which I'm sure your drummer will appreciate.
ProMark Drum Stick Bag
If your drummer gigs, there's a very good chance he has a bag for his equipment. But he doesn't have this ProMark Drum Stick Bag. And he should because it's awesome.
This bag holds his drum sticks, pens and pencils (which most don't carry, if you can believe that), business cards, plus his phone. There's also a zipper section for cash, coins, groupie's numbers, whatever.
It loops onto a Tom drum, which is really helpful too. That way, your drummer won't leave home without it. And, it's made from waterproof nylon. Which feels unnecessary, but it's a nice extra.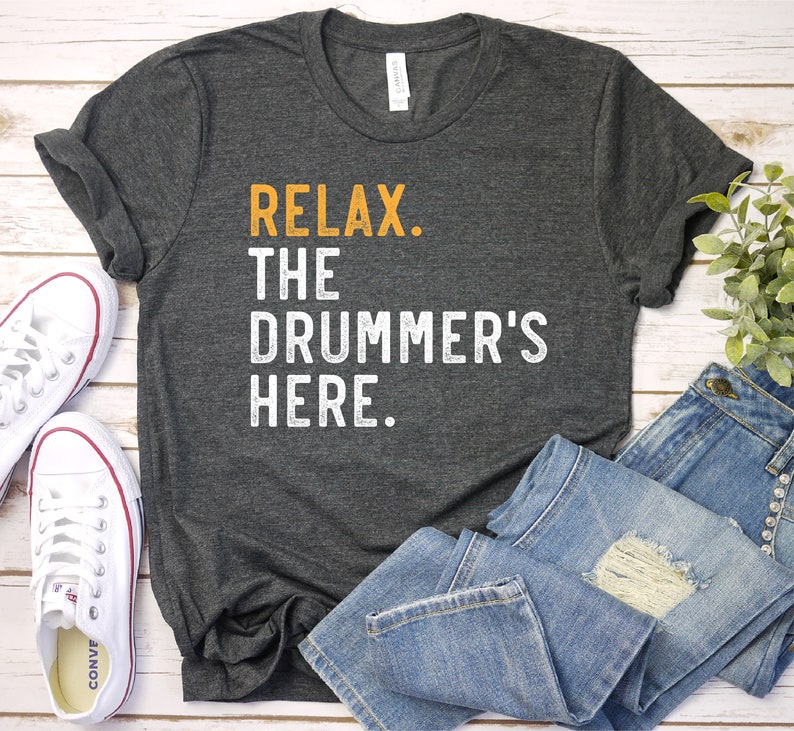 Relax, The Drummer's Here Shirt
Practice can't start until the drummer's there. The guitarists and bassist can try, but until there's someone to keep tempo, it's not the same. So this Relax, the drummer's here shirt is really funny for the drummer to wear when he shows up to practice or live performances … late. Because the drummer's always late.
It's a unisex shirt that runs a little small, according to the comments. So a good idea is to order a size larger than what your drummer usually wears to make sure it fits.
Drum Books
I'm gonna be very honest here and tell you that I don't really understand drum tabs. Sheet music for the violin? Cool. I'm in. Those little dots that fly up the screen for Guitar Hero? Got it. But drum tabs? Nope.
But what matters is that your drummer gets it. And if you're drummer is writing a beat, one of the best ways to do that is with blank music staff pages. So picking up one of these drum books filled with blank pages is very useful.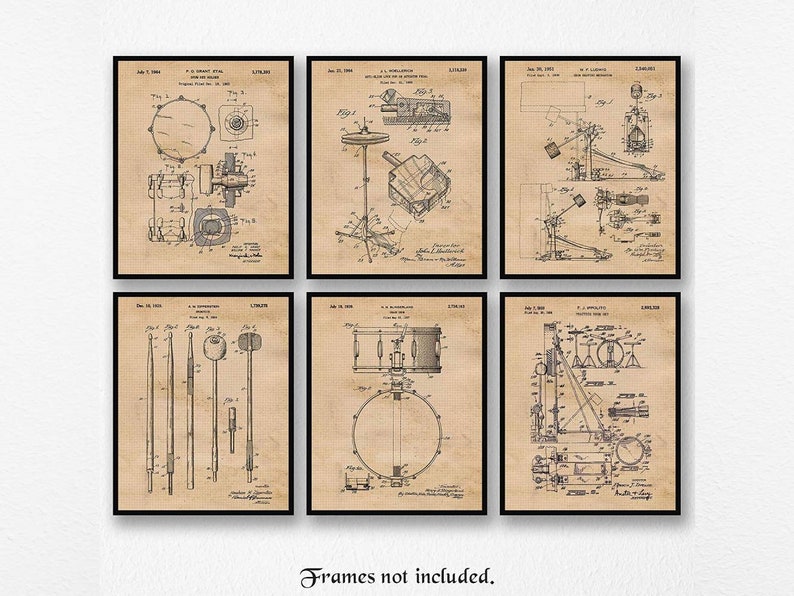 Vintage Style Drums Patent Prints
I'm not sure where your drummer has his drums set up, but they're set up in some sort of rehearsal room. Because drums aren't the type of musical instrument that you can put it in a bag and store in the closet. They're out somewhere with easy access for the drummer.
So, a very fun way to make that section of the home a little more complete and a little less like "the spot where the drums are" is to pick up this set of Vintage Style Drums Patent Prints. It's a set of six art prints made from the actual patent for drums, showing all the parts and explaining the percussion instrument. It's an awesome gift.
Frames are not included in this, so don't forget to pick some of those up as well.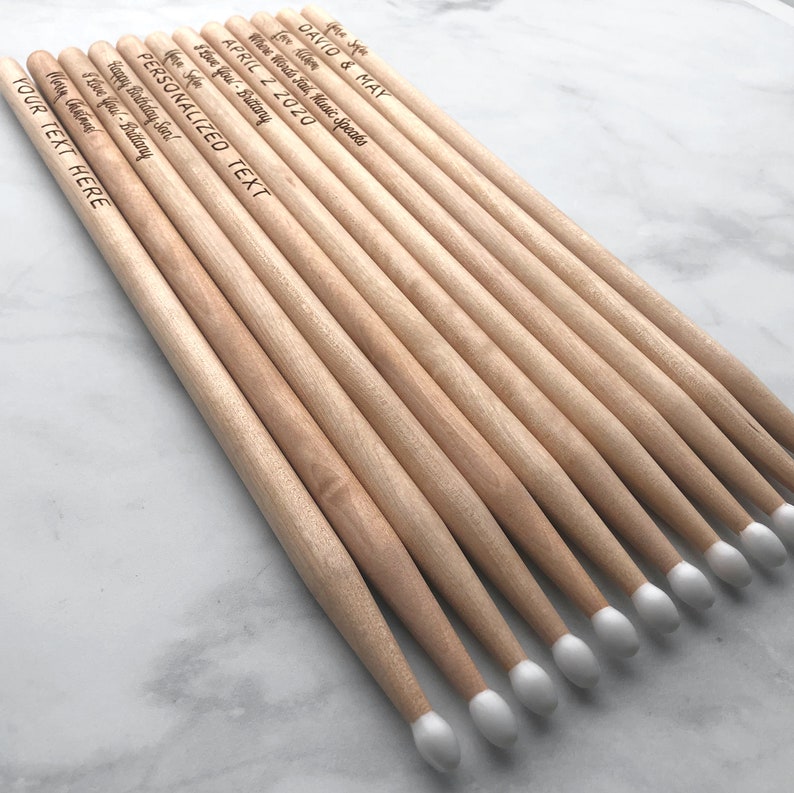 Personalized Pair Of Drumsticks
Your drummer probably has a lot of drumsticks. Which makes sense. They get lost, they break, they get thrown into a crowd at the end of the night. So drumsticks are a great idea for a gift. But, you know, also a very boring gift.
But this personalized pair of drumsticks is so very cool. You could put the drummer's name, a date, a song lyrics, a band name (this is especially good if you're buying them for a gigging drummer), or more.
You can order the pair with the same engraving or have something different engraved on each.
Personalized Drummer Caricature
If you're at a complete loss of what to get for your drummer, go with this Personalized Drummer Caricature. I actually got one for Pete years ago (but a guitarist, not a drummer) and it's one of the most unique gifts I've given him.
You send in a photos of your drummer's face and an artist draws this. I was able to customize things on the one I got Pete (the color of his guitar, the logo on his shirt, etc.), so you might be able to as well.
It comes just as a digital download, so you do have to have it printed, and you'll need to buy a frame for it. Then, all that's left is finding the right place to hang it.
Zildjian Drummer's Survival Kit
So, this Zildjian Drummer's Survival Kit is one of those "I'm not really sure what the heck this gift is but I'm also pretty sure it's the perfect gift for a drummer" ideas.
This drummer's kit comes with a repair patch for drum heads, snare strings, cymbal felts, stand sleeves, and washers. It has really good reviews, but it's not something I can personally vouch for.
Drum Practice Pad
Drumming can get really loud. Which means a drummer can't practice on a full drum set all the time, whenever you want. A family member might be sleeping, it might be quiet time in the community, whatever the reason. That's why a drum practice pad is so important. It's a great option for a drummer to practice on without waking up the neighborhood.
There are a ton of options (single sided vs. double sized, 6 vs. 12 inch, different shapes, etc.), so you might have to consult with the drummer to see which works best for him or her.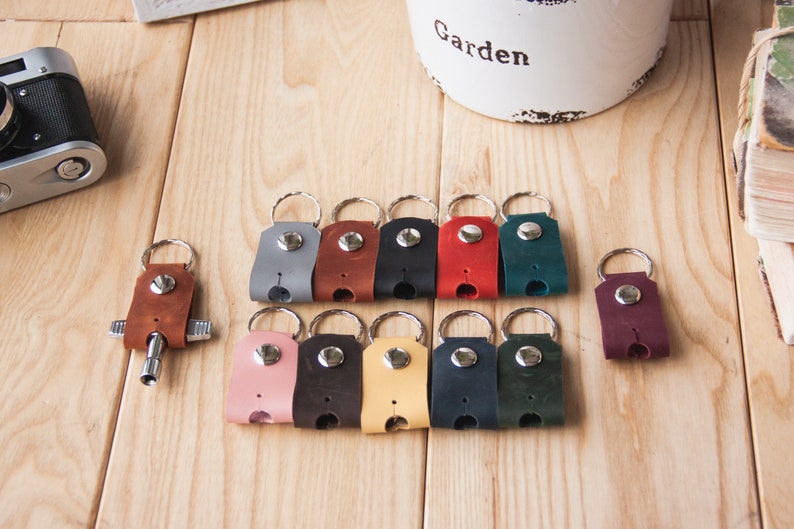 Drum Key Keychain
A drum key is really important if you're a drummer. They're used to tighten or loosen the tension rods that cause the pitch of the drum to go up or down, basically so the drums make different sounds. They can also be used to adjust some of the drum's hardware. A drum key usually comes with a drum tuner, so your drummer probably has one.
The trouble with them is they're small and can easily be misplaced. That's why this Drum Key Keychain is one of the best gifts on this list. It fits a drum key, then clips onto your drummer's keys, kit, or drum bags. You can choose to have it personalized as well.
There's also an option to purchase a matching drum stick holder too, in case you need a little bit of a bigger gift.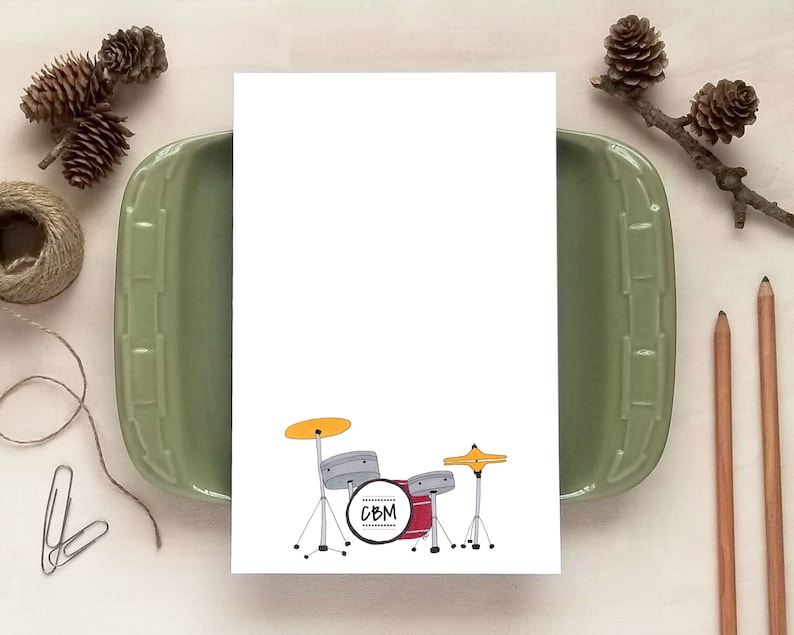 Personalized Drum Set Notepad
I love this Personalized Drum Set Notepad because it's the least "in your face" drumming gift on this list. Like, it's acknowledging your friend drums, but it isn't a gift that has anything to do with actually drumming. There's just a drum set on the notepad. And it has your drummers initials on it.
It's a great way to be like "I know you drum, but I know it's not your whole personality."
Purchase Drummer Gifts Online:
These aren't the only gifts for your favorite drummer online. There are more out there like the Zildjian Drummer's Towel, pictured above.
For more ideas, check out the following stores online:
Be sure to check a store's minimum cart total to qualify for free shipping. Also, consider instore or curbside pickup, where available, to avoid paying for shipping.
More Gifts For Music Lovers:
If none of these gift ideas are what you're looking for, we have a great list of Gifts For Music Lovers with more generic gift ideas that may work better for you.
Which of these gifts for drummers did you like best? Let us know in the comments.