As the song says, "Peaches come from a can." And they can. But none of the recipes in our list of Peach Recipes use canned peaches. Only fresh peach recipes found their way onto this list.
After all the recipes, you'll find tips on picking the perfect peach.
But, if you can't find fresh peaches, you can substitute frozen peaches in most of these recipes. There are a few more details about that a little further down.
I broke this list into four categories, just to make it a little bit easier to handle.
There are drink recipes with peaches, sauces and spreads with peaches, savory recipes with peaches, and sweet recipes with peaches.
I tried really hard to not duplicate recipes with this peach recipes list. If I wasn't careful, I could have put 100 peach cobblers on this. There are only two: one full size and one individual.
The Ultimate List Of Fresh Peach Recipes
Peach season peaks in the summer, and usually spans from May until September. So these recipes will be best around that time.
But you can still get peaches at the grocery store year round, so you really can make these recipes anytime.
If you do want to use frozen peaches, if that's all you can find, frozen peaches work fine in drinks and smoothies. Frozen peaches work in recipes you're going to bake too. That might actually make your pies easier because frozen peaches are already pealed and pitted.
So if need be, go with frozen.
But, stay away from canned peaches. Canned peaches are poached, which is a way of cooking. So since canned peaches are already cooked, that could change the recipes and cooking time. Frozen peaches are frozen raw, so you don't have to worry about them being cooked already.
Drink Recipes With Peaches
Most of these are alcohol-free drink recipes. But, keep in mind, any drinks that are alcoholic are only for people who are of legal drinking age.
1. Rooibos Iced Tea with Fresh Peach Juice
5. Grilled Peach Ginger Bourbon Cocktail
6. Sparkling Bourbon Peach Punch
8. Fresh Georgia Peach Vodka Cocktail
9. Farm Fresh Peach Pie Smoothie
Sauces & Spreads With Peaches
All but one of these peach sauces and peach spreads don't require canning.
12. Roasted Peach Tomatillo Salsa
16. Roasted Tomato Peach Salsa Canning Recipe
18. Fresh and Easy Peach Salsa
20. Easy Peach Syrup
Savory Recipes With Peaches
Peaches work as dinner or appetizer recipes.
21. Peach Salsa with Black Beans
23. Sweet Cream Roasted Peach Crostini
25. One Pan Balsamic Chicken with Peaches and Basil
26. Grilled Halloumi Salad with Peaches and Figs
27. Balsamic Peach Bruschetta Recipe
28. Summer Slaw with Corn, Peaches, Tomatoes
29. Peach and Radish Salad with Crispy Prosciutto
30. Grilled Naan Chicken and Peach Salad Wraps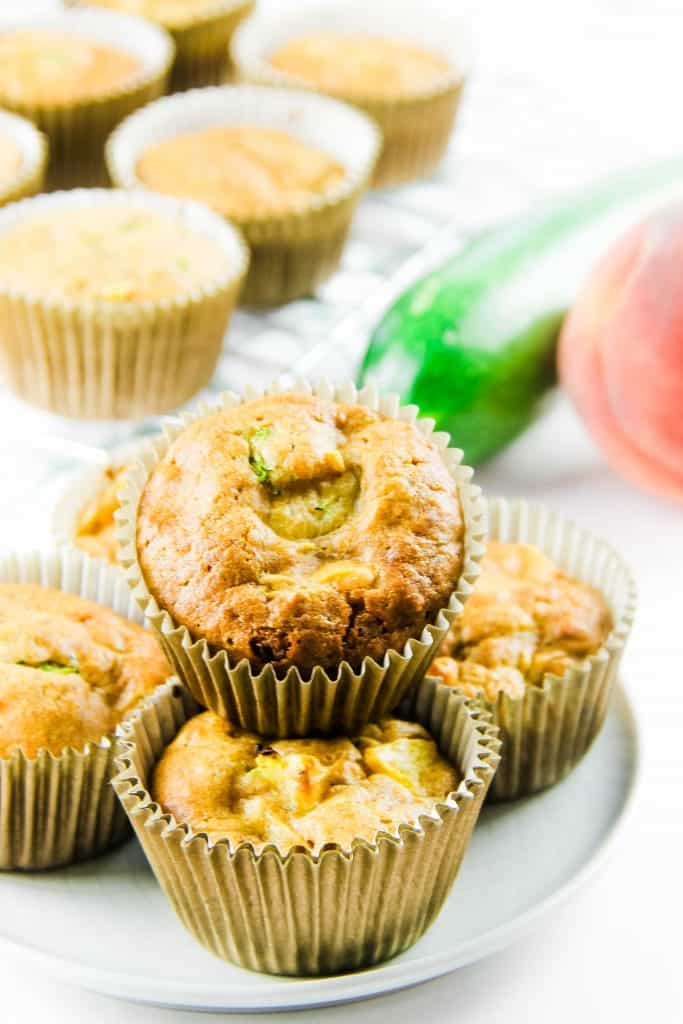 31. Peach Zucchini Oatmeal Muffins
32. Baked Brie with Fresh Peach and Blueberry Compote
34. Rosemary Pork Chops with Peach Salsa
Sweet Recipes With Peaches
Peaches are most commonly found in desserts. But there's more than just peach pie and peach cobbler.
36. Delicious Streusel Cake Topped with Peaches
37. Peach Sorbet
39. Peach Buckle
40. Fresh Peach Tart with Vanilla-Cardamom Cream
43. Peach Muffin
44. Blackberry Peach Turnovers (Hand Pies)
45. Peach Crostata (Easy Italian Dessert)
46. Grilled Peaches with Mascarpone
47. Healthy Blueberry Peach Cobbler
48. Easy Peach Galette with Almonds
49. White Peach Frangipane Tart
53. Pressure Cooker Fresh Peach Crisp Compote
54. Mini Pavlova Cakes with Strawberries, Peaches, and Cream
55. Summer Fruit Salad with Rosewater Dressing
56. Peach and Blueberry Breakfast Pizza
57. Peach Slab Pie
58. Roasted Peaches with Yogurt and Streusel
59. Roasted Peach and Oatmeal Cookie No Churn Ice Cream
61. Peach Cake With Vanilla Frosting
62. Roasted Peach Crostini with Brown Sugar and Ginger
63. Grilled Peaches with Mascarpone Whip and Fresh Raspberry Sauce
64. Old-Fashioned Fresh Peach Ice Cream
66. Chocolate Peach Galette with Almond Cream Filling
67. Simple Peach Crumble Recipe with Fresh Peaches and Oat Topping
69. 4 Ingredient Vegan Peach Ice Cream
71. Peaches and Brown Sugar Sheet Cake
73. Heavenly Coconut Crumble Custard Peach Pie
74. Individual Mini Peach Cobbler
75. Dairy Free Peach Turmeric Smoothie Bowl
77. Peach, Raspberry and White Chocolate Muffins
78. Peach Bread
79. Easy Crescent Roll Peach Dumplings
80. Fresh Georgia Peach Ice Cream
81. Ciasto Brzoskwiniowe (Peach Cake)
Which of these fresh peach recipes will you try first?
Tips For Picking The Perfect Peach
If you're buying frozen peaches, you get what you get. But if you're picking fresh peaches at the store, you have to pay a little more attention to pick the right one.
So, to make it easier, I put together a few tips for picking the perfect peach.
Look for firm peaches
You want peaches that aren't soft and have a lot of integrity. So be sure to give the peaches a squeeze and make sure they're firm. That's what you're looking for. If you find peaches that are soft, leave them at the store.
Peaches that are firm still need a little more time to ripen. So that means you can buy the peach at the store and not feel pressured to use it that day or even the next day. You'll have a little more time before it ripens completely. If you choose a peach that is already soft, you'll have to use the peach right away.
Avoid peaches with bruises
When peaches bruise, they start decaying at that spot. And they decay quickly. Which is as gross as they sound. If you bruise the peach at home, you'll realize when you did it and you'll be able to eat it right away. But when a peach bruises in the store, you have no concept of when that happened. So the entire peach could be rotten inside.