Have your kids been buzzing since the new Lightyear movie came out? Or maybe you're just excited about his return. Either way, you'll find something great on this Buzz Lightyear Gift Ideas list.
For more help shopping, check out all of our gift guides.
In the original Toy Story movie, Andy gets a Buzz Lightyear toy because he's obsessed with the new movie that Buzz Lightyear is in. That toy bumps Woody, his favorite toy, to second tier and them going from rivals to friends is basically the whole plot of the movie.
Toy Story came out in 1995 and now, almost three decades later, the movie from that movie, Lightyear, is out in theaters.
That's meta.
Lightyear came out in theaters earlier this month, and, while critics are mixed on it, kids love it and really, that's all that matters.
If your kids love it, or if you loved Buzz Lightyear back 30 years ago when you were a kid, you're in luck. We put together a great list of Buzz Lightyear gift ideas so you can take your gift giving "to infinity and beyond."
If you're doing more shopping, you're in luck. Our Holiday Gift Guide is filled with shopping guides broken down by topics. You're sure to find something for everyone there.
Buzz Lightyear Gift Ideas
Affiliate links are included in this post and Drugstore Divas may make a small commission if you use them.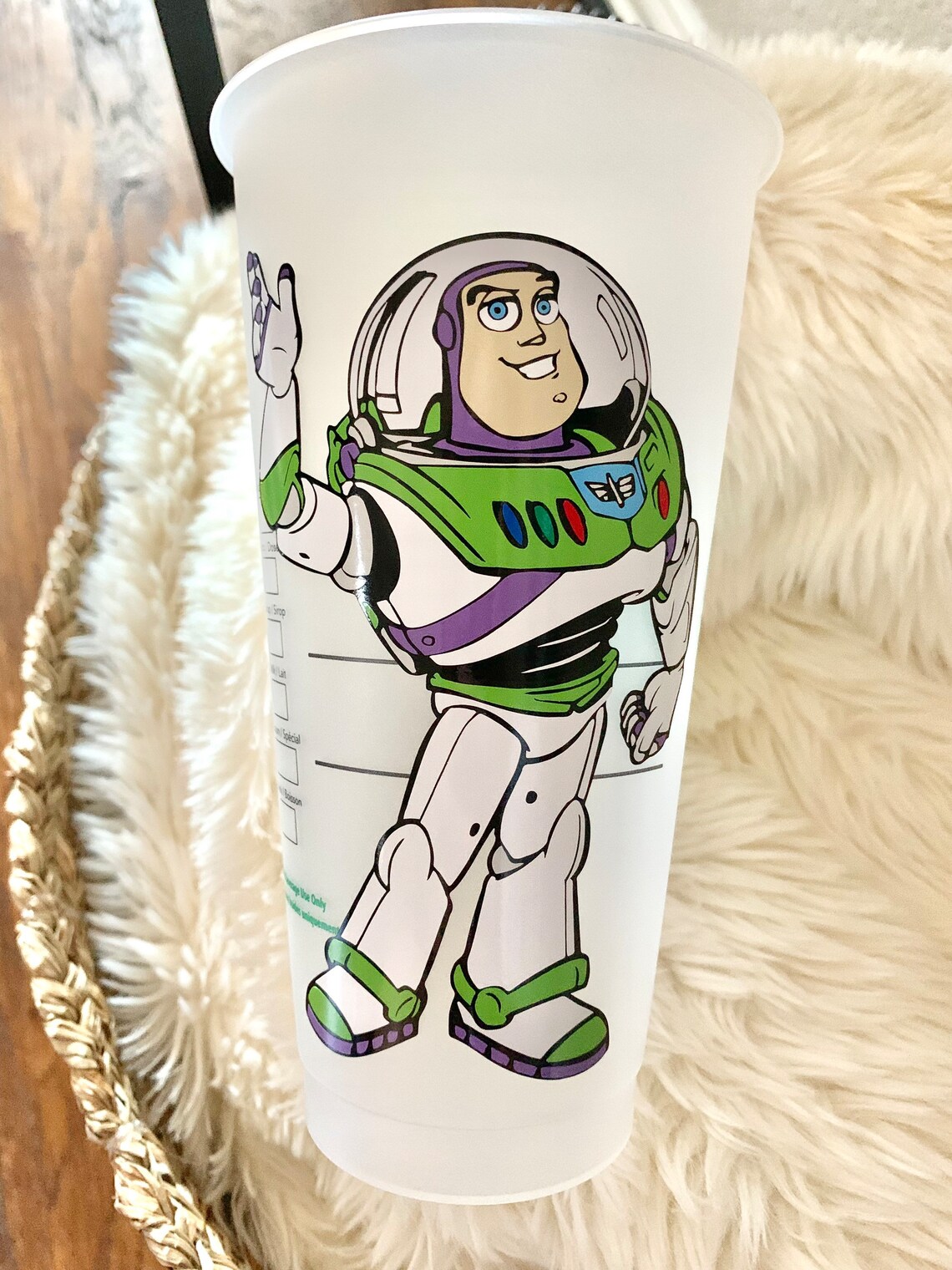 Buzz Lightyear Starbucks Cup
The cutest Buzz Lightyear sticker adorns this 24 oz. Starbucks cup (for cold drinks only). The cup comes with a lid and a straw too, according to the description, even though they're not in the photo.
What's nice too is that you can add your name to the cup for free. You can choose from a bunch of vinyl colors and fonts to really personalize it to your taste.
Buzz Lightyear Cap
Unfortunately, this Buzz Lightyear Cap only comes in children's sizes because it's so cool, even adults would rock it.
Buzz's face sits on the main part of the cap with his body overflowing on to the brim. There's something really unique about the placement of the design that makes this cap stand out.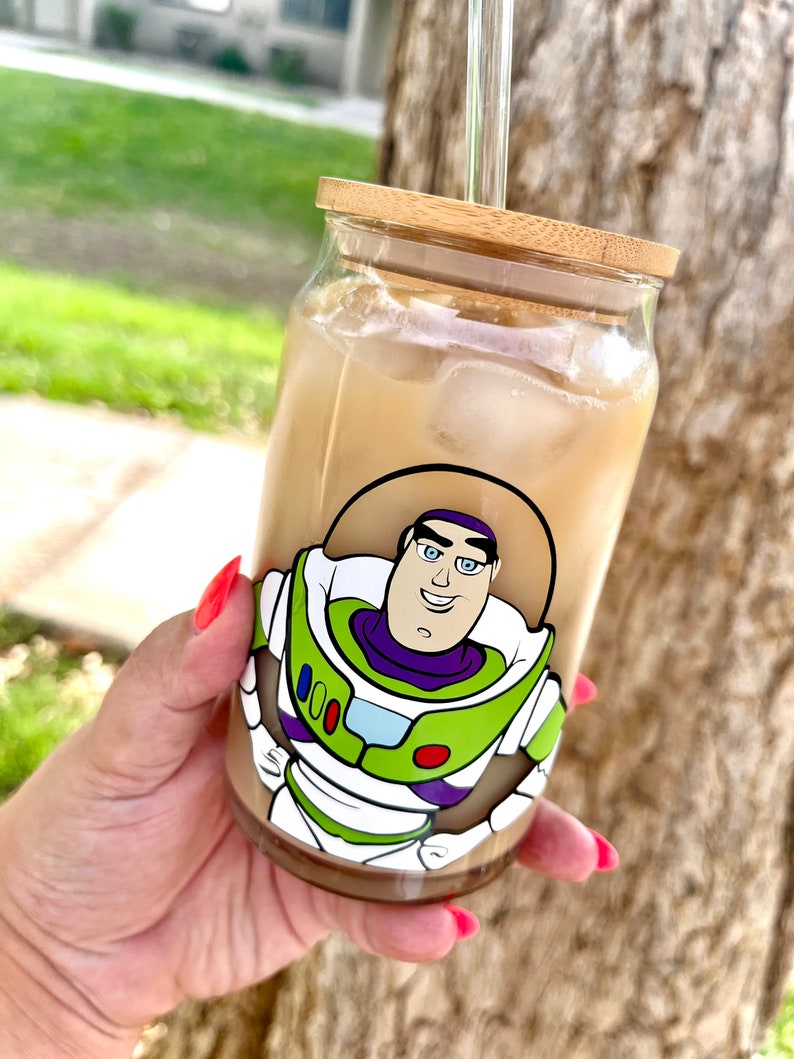 Buzz Lightyear Glass Can
Mason jars were very trendy a few years ago and everyone was drinking out of them. So companies started making glasses that looked like mason jars.
That's what this Buzz Lightyear Glass Can is, but with a cool decal of Buzz on it.
The glass does come with the bamboo lid and straw that are shown in the photo.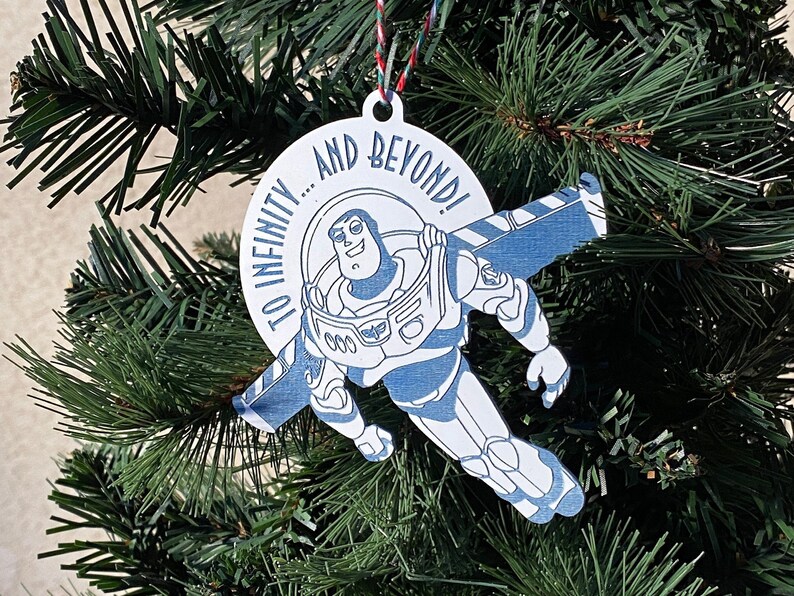 Buzz Lightyear Christmas Ornament
It's not Christmastime right now, but I had to add this Buzz Lightyear Christmas Ornament to the list because it's just adorable.
If you don't want "To Infinity … And Beyond" printed on it, you're able to change the text to make it more personalized. I would add the year for sure because our ornament tradition is so get a new one every year and I make sure the year is on it so I don't forget when it's from.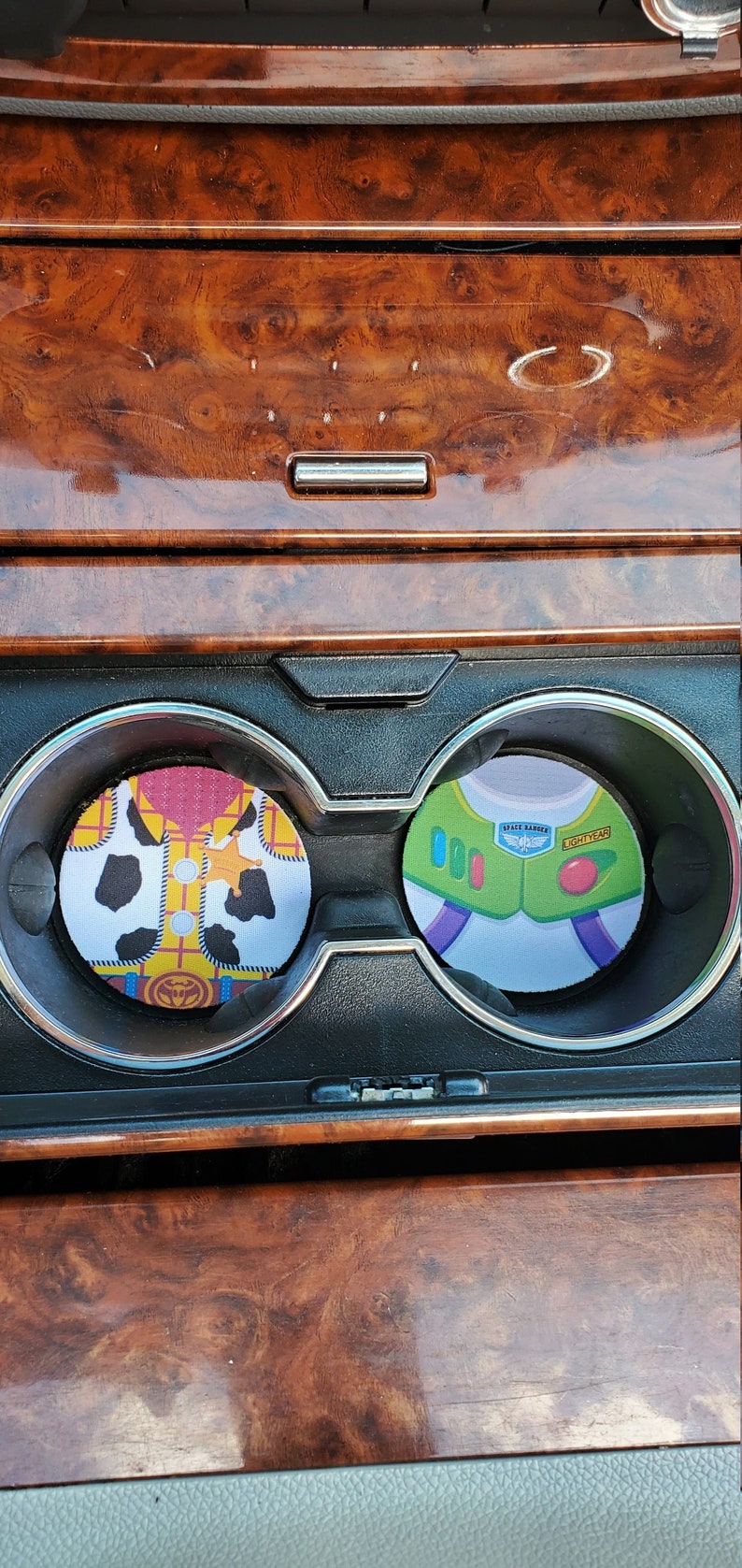 Buzz Lightyear Car Coasters
If you live somewhere warm, you're probably always carrying a drink in your car when you go out. But because of that warmth, the condensation gets all over your cup holders and makes a mess.
Not if you have these Buzz Lightyear Car Coasters in your car.
You can order two of Buzz, if you want, or you can get a set of Buzz and Woody, Buzz and Jessy, or Buzz and the Martian from the claw game.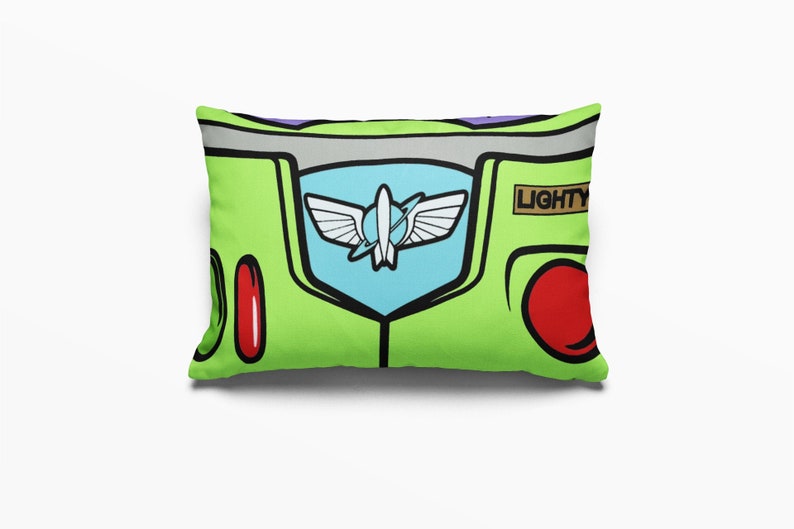 Buzz Lightyear Pillowcase
If you want a way to jazz up your Buzz Lightyear fan's bed, this Buzz Lightyear Pillowcase is it. Keep in mind this is just the pillowcase. You need to add a pillow yourself.
You can order it in three sizes: toddler, standard, or square, so it'll fit whatever pillow your Toy Story fan has on his or her bed.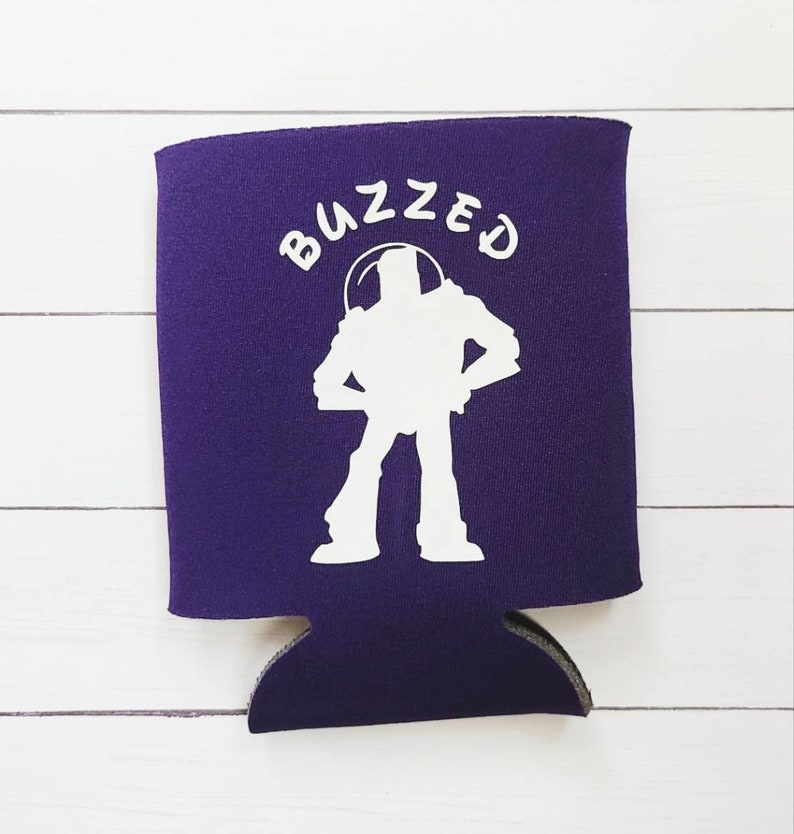 Buzzed Can Coozie
This Buzzed Can Coozie is my absolute favorite gift idea on this entire list because when you're holding it, you're (most likely going to be) buzzed.
It's such a punny play on words that will have your gift recipient cracking up — especially when they're buzzed.
Buzz Lightyear Socks
A pair of socks always ends up on our gift guides because I really do think they're such a fun idea. So of course, these Buzz Lightyear Socks had to make the list.
There's a full image of Buzz on them, making them perfect to wear with shorts and sandals (for shame! But also, for best showing!).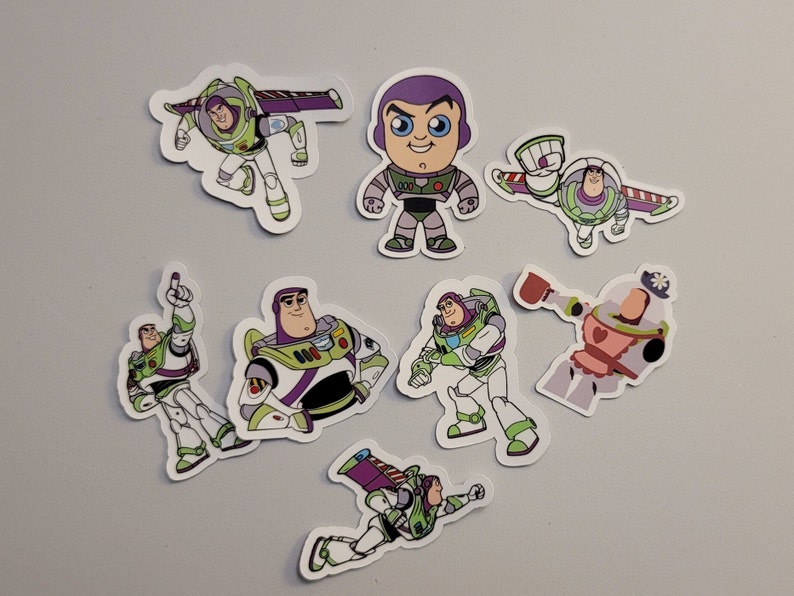 Buzz Lightyear Stickers
Everyone loves to decorate water bottles with stickers, and these Buzz Lightyear Stickers are a great addition to water bottles.
Each sticker pack comes with all eight stickers shown, so your gift recipient will definitely have extras for sticking to their laptops, notebooks, wherever.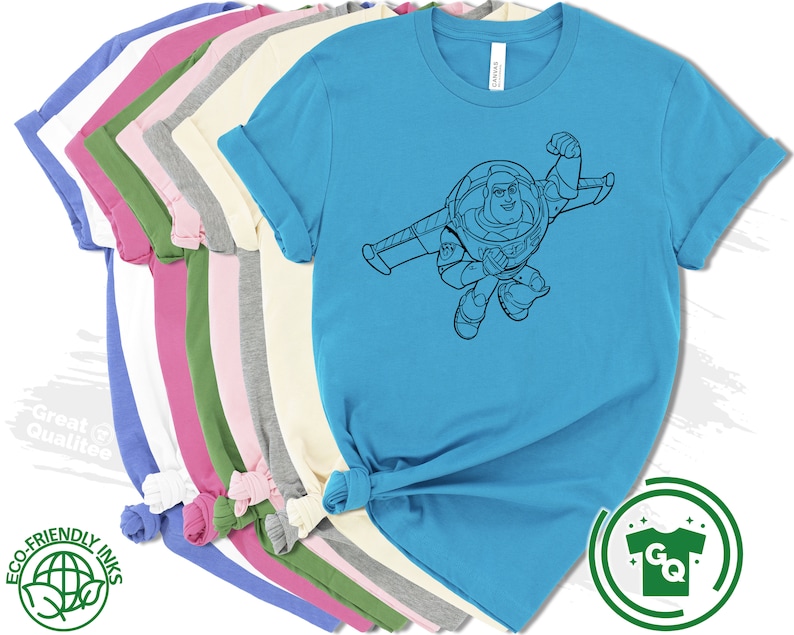 Buzz Lightyear Shirt
How cute is this Buzz Lightyear Toy Story Shirt? I love it.
You can get it in pretty much every size (from 3 to 6 month onesies up to 2XL) so it will fit nearly anyone you're buying this for.
You have eight colors to choose from for the adult shirts and five colors to choose from for kids sizes, so you're definitely going to be able to get exactly what you want with this shirt.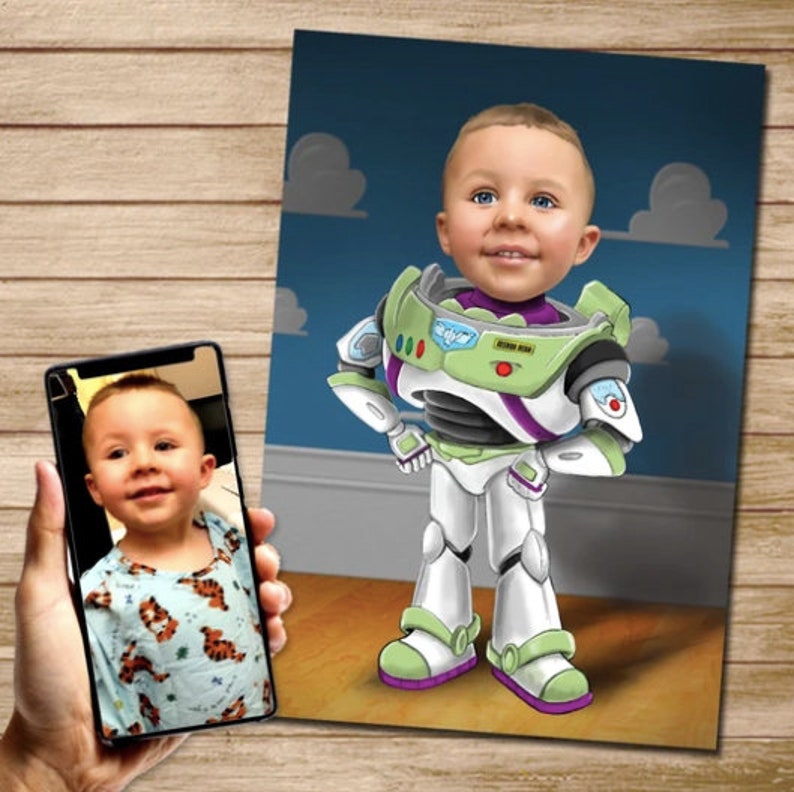 Purchase Buzz Lightyear gifts online:
These are our favorite Buzz Lightyear gifts, but of course, not all of them. We had to leave some out, like the Custom Buzz Lightyear Canvas above. For more ideas, check out the following stores online:
Don't forget to check a store's minimum cart total to qualify for free shipping. Also, consider curbside or instore pickup to avoid shipping charges.
More Disney Gift Guides:
If you're shopping for a Disney fan, we have a few other Disney gift guides you might want to check out:
Which of these Buzz Lightyear Gift Ideas is your favorite? Let us know in the comments.