If you're shopping for a Disney princess lover, this list of the Best Gifts For Disney Princess Fans is perfect for you. There are wine glasses, shirts, wall hangings, and more.
If you need help shopping for other presents, our huge list of gift guides will help.
Almost every little girl grew up on fairytales and Disney princesses. And that imaginary would was such a nice space.
Some little girls grow up to be women who still love Disney princesses, even if they don't identify with the whole damsel in distress part of the fantasy.
And actually, props to Disney because a lot of the modern princesses don't identify with that either. They're tough and independent, even if they want to find love. Just like modern women, amirite?
So these gifts for Disney princess lovers are perfect for either little girls or little girls who grew up to be strong women, but still love that blue dress from Cinderella.
This list is just one of our gift guides. Check out Drugstore Divas' Holiday Gift Guide for all them.
The 20+ Best Gifts For Disney Princess Fans
Affiliate links are included in this post and Drugstore Divas may make a small commission if you use them.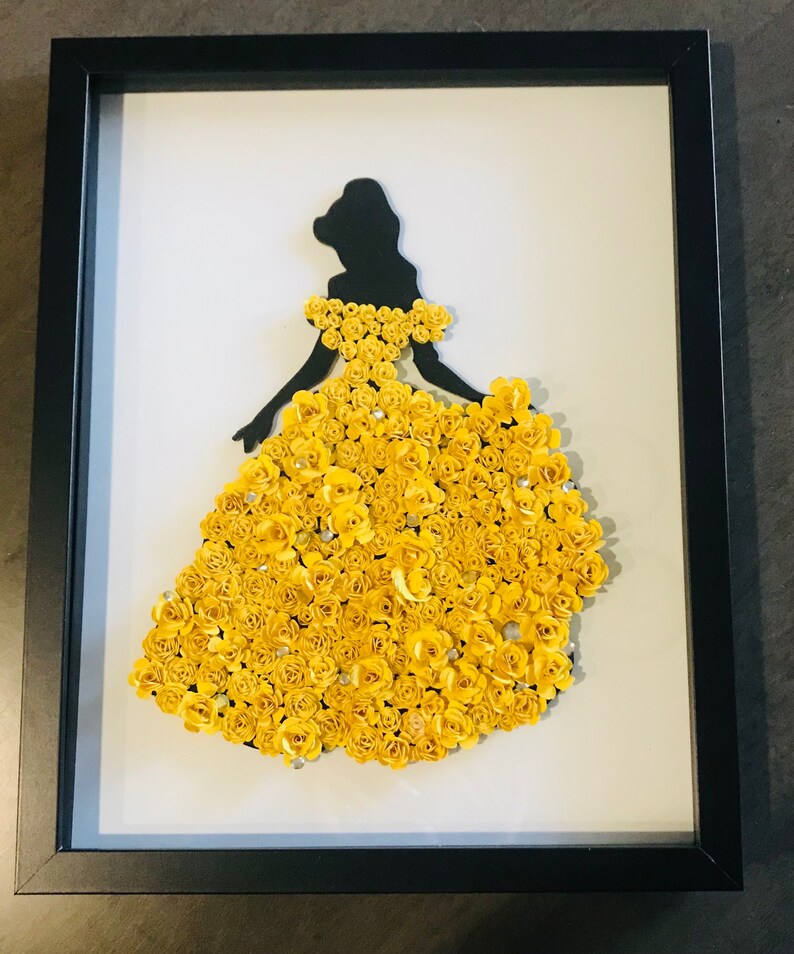 Belle from Beauty and the Beast Shadow Box Silhouette
This Belle from Beauty and the Beast Shadow Box Silhouette would look stunning on your Disney Princess fan's wall.
Each flower is handmade adorned with jewels, then carefully placed on the Belle silhouette to make the most gorgeous shadowbox.
The link below brings you directly to Belle, but you can get this as Tinker Bell too.
Disney Princess Mini-Backpack
Mini-Backpacks are such a Disney fan object. I don't know why, honestly, but Disney fans and mini-backpacks go hand in hand.
And this Disney Princess Mini-Backpack is perfect for a Disney Princess fan. It has Jasmine, Pocahontas, Mulan, Cinderella, Belle, Tiana, Merida, Ariel, and Rapunzel in repeating rows across the bag. It's super cute, even if it doesn't carry that much. It would be perfect to pack for a day at Disney, though.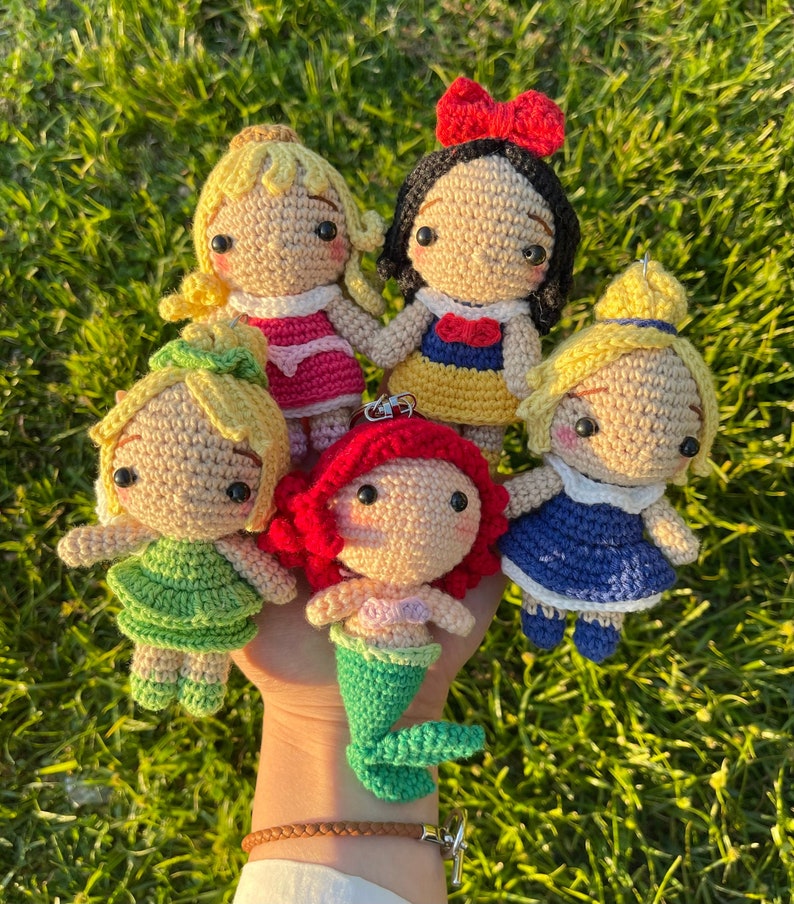 Disney Princess Crochet Keychains
All I can crochet is a headband, a shawl, a blanket, a scarf … you get the idea. So I'm amazed whenever people can make adorable amigurumi (which is a fancy way of saying crocheted miniatures), like these Disney Princess Crochet Keychains.
They're all handmade.
You can get Snow White, Tinker Bell, Ariel, Aurora (Sleeping Beauty), and Cinderella.
Cinderella Makeup Bag
This Cinderella Makeup Bag is so cute. An image of Cinderella is printed on the canvas bag with the words "Be kind have courage and always believe in a little magic" printed next to her. That's a line Cinderella says in the movie. You might not know it, but your Disney Princess fan sure does.
The bag itself is 9 inches on the top (about 7 on the bottom) and about 6.5 inches tall, so it's the perfect size to be used as a travel make up bag.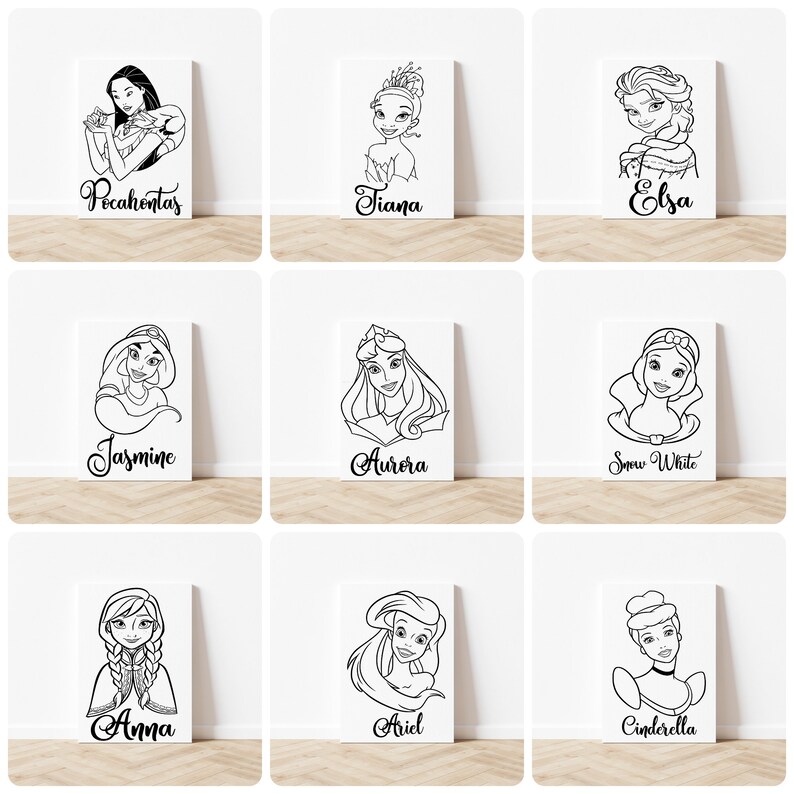 Paint Your Own Disney Princess Craft Kit
If your Disney Princess fan loves to paint but doesn't love to draw, this Paint Your Own Disney Princess Craft Kit is a great gift idea. It's sort of like Wine & Design, where the image is already drawn on the canvas for you … except that your gift recipient will paint it at home and provide her own wine.
You can choose from all the Disney Princesses (and some non-princesses, like Hei Hei from Moana). You can order the canvas as a 4×6, 5×7, or an 8×10.
The kit comes with one paint and one paint brush, which is really convenient.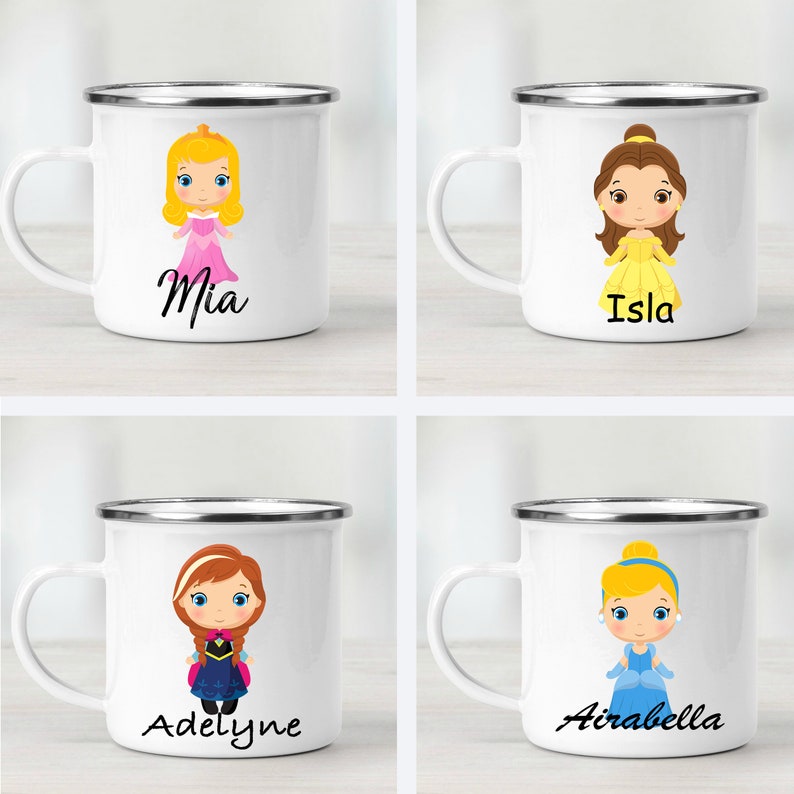 Disney Princess Mug
We have so many mugs in our house because they really make great gift ideas, and people love gifting them. Just like you'll love giving your Disney Princess fan a Disney Princess Mug.
You can choose from most of the princesses, plus two versions of Anna and Elsa from Frozen. You can then get it personalized with your gift recipient's name on it, printed in one of six font designs.
Disney It's A Magical Day Disney Princess Perpetual Calendar
Perpetual calendars are a really great gift idea because they're something your recipient will use an appreciate every day. So this Disney It's A Magical Day Disney Princess Perpetual Calendar is a really useful gift.
It has a block for the month and two more for the date. Around it is Rapunzel, Jasmine, and Ariel, all in the sweet Precious Moments style.
The Princess and the Frog Print Tote Bag
A lot of grocery stores are requiring that you bring your own bag. Of course, cute bags are absolutely necessary. So your Disney Princess fan will love this The Princess and the Frog Print Tote Bag.
It's 16×16 and has a nice long handle that makes it easy to carry, plus sturdy when it's filled with groceries.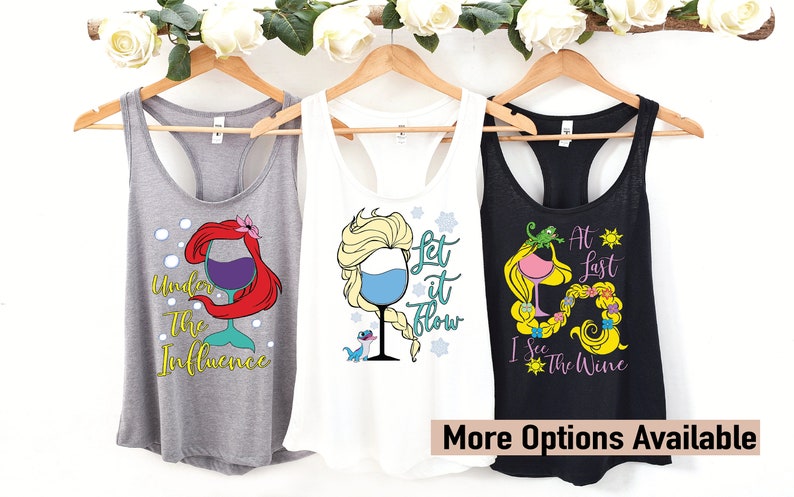 Wine Princess Themed Shirts
These Wine Princess Themed Shirts are so incredibly fun. They combine Disney Princesses and drunken sayings. Love that.
You can buy (inhale, because there's a lot): Bibbidi Bobbidi Boozed (Cinderella), Beauty and the Bottle (Beauty And The Beast), Cause I'm Almost Buzzed (Princess and the Frog), At Last I See The Wine (Rapunzel), A Whole New Buzz (Jasmine), Drinking Beauty (Aurora), Drinker Bell (Tinker Bell), The Wine It Calls Me (Moana), Do You Wanna Have A Cocktail (Anna), Let It Flow (Elsa), A Drink Worth Fighting For (Mulan), Chase The Wine And Touch The Sky (Merida).
And then there are some villain and generic Disney options too.
You can get them as tanks or tees and in men's and women's sizes.
Bibbidi Bobbidi Boozed Stemless Wine Glass
Instead of getting Bibbidi Bobbidi Boozed on a shirt, which was the gift idea before this, you can just pick up a Bibbidi Bobbidi Boozed Stemless Wine Glass for your friend. Honestly, it makes a lot more sense.
Drinkerbell Stemless Wine Glass
Does your friend like Tinker Bell more? Then this Drinkerbell Stemless Wine Glass is the way to go.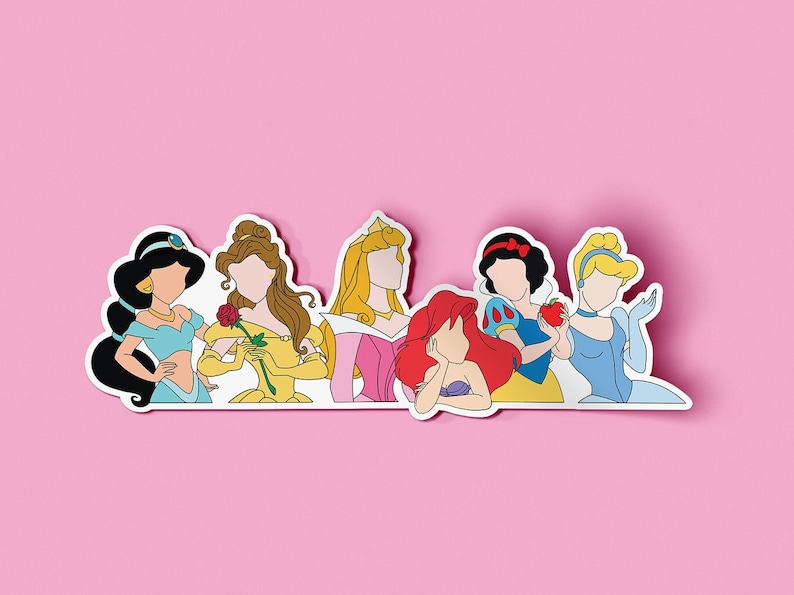 Disney Princess Laptop Sticker
If your friend has a laptop or even a water bottle that needs a sticker, this Disney Princess Laptop Sticker will add the perfect touch to that blank space.
You can choose to order it in either 3 inches or 4 inches. Either way, the image of the princesses is exactly the same, just a little smaller (or larger).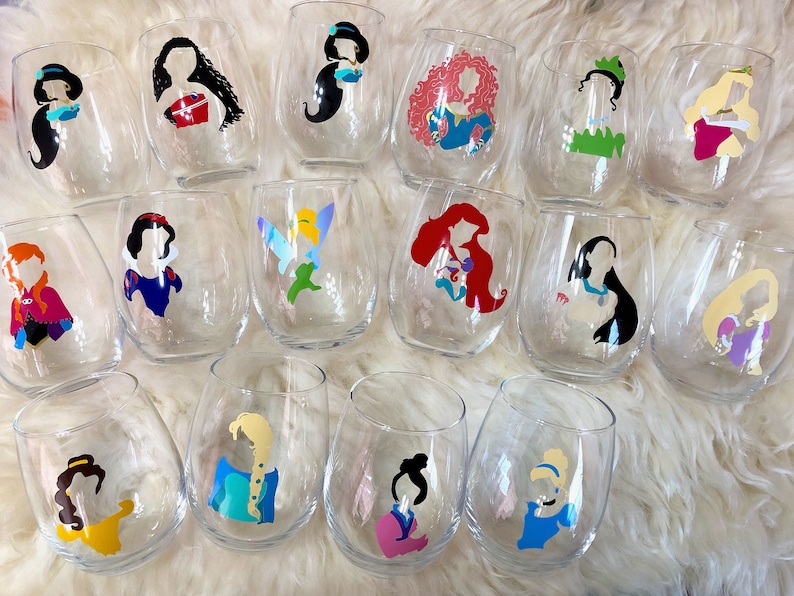 Disney Princess Wine Glasses
If your Disney Princess fan loves wine, and loves one particular princess, one of these Disney Princess Wine Glasses is perfect.
Each glass is handmade and has a decal affixed to the front of a wine glass. They look hand painted in the image, but you realize they're not once you enlarge it.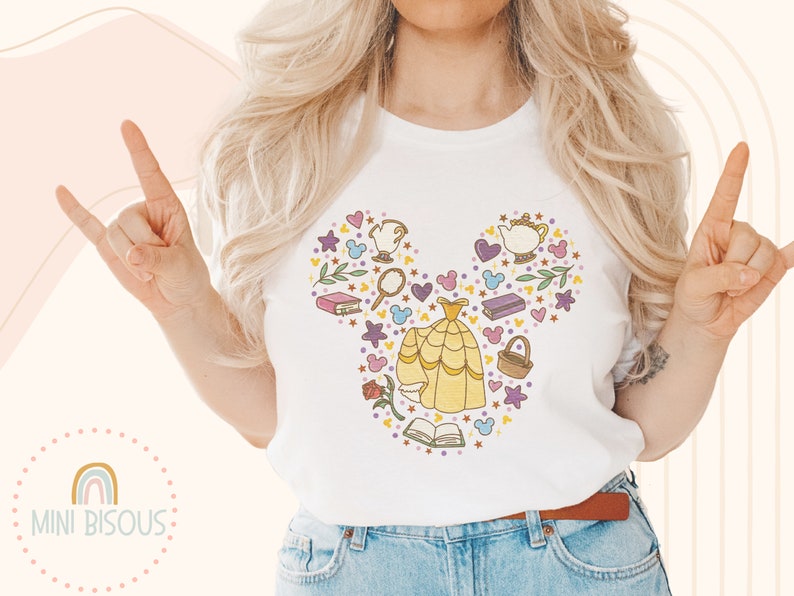 Belle Collage T-shirt
This Belle Collage T-shirt is incredibly adorable. It takes all the really significant parts of Beauty and the Beast (books, Belle's yellow dress, Chip, a rose) and meshes them with traditional Disney emellishments.
Cute, right? But if you take a step back, you realize that it makes a hidden Mickey Mouse head.
The button below takes you to the Belle shirt, but you can also get a ton of others like Cinderella and Snow White if you scroll down on the listing.
Disney Princess Shot Glasses
If you liked the wine glasses up above, but your Disney Princess lover is more into shots (shots shots shots everybody!), these Disney Princess Shot Glasses are so cute.
They come as the set of four that's pictured above, so you don't have to choose just one.
Snow White Funko Pop
Funko Pop collectible figurines are still so, so popular. There's basically one for everyone at this point, including Disney Princesses.
Snow White is pictured above, but if you click the button below, you'll find a ton of other Disney Princess Funko Pop characters.
Colourpop "Colors of the Wind" Eyeshadow
Colourpop is known for dropping make up collections really quickly and really beautifully. So it was only a matter of time before the brand dropped the Disney Princess collection.
Above is the Pocahontas-themed Colourpop "Colors of the Wind" Eyeshadow, but there are so many other options too. The button below will bring you to a bunch of them.
Beauty and the Beast Chip Mug
I know Chip isn't a princess. But, he's the cutest part of a princess movie, so I'm okay with this Beauty and the Beast Chip Mug being on this list.
And your Disney Princess lover will be okay with him on her shelf.
Disney Cinderella LED Light Up Musical Figurine
I just love this Disney Cinderella LED Light Up Musical Figurine. It's a Precious Moments figurine, so she has that soft look and large eyes and is just, well, precious.
If you click that button below and scroll down, you'll find some other LED princesses, like Ariel and Rapunzel.
Disney Quotes Posters
If your gift recipient has some blank wall space, these Disney Quotes Posters are perfect.
They come with Rapunzel, Cinderella, Snow White, Ariel, Belle and Disney World Fan and are 8×10. They're not framed, and not canvas, so you will want to purchase some 8×10 frames in order to give these as a complete gift.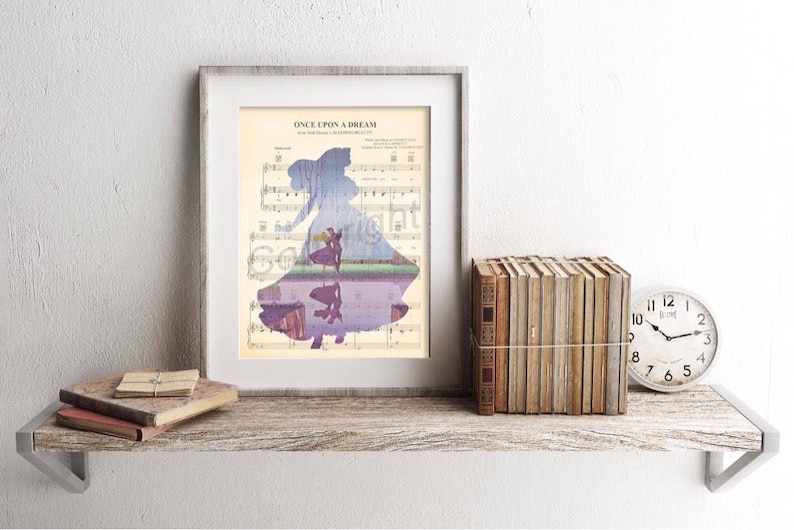 Purchase Disney Princess Gift Ideas Online:
Of course, these aren't all the Disney Princess Gifts out there. They're just our favorites. There are more, like the Sleeping Beauty Aurora Silhouette Once Upon A Dream Sheet Music Art Print above, that you can purchase online at the stores below:
Be sure to double check a store's cart minimum to qualify for free shipping. Consider instore or curbside pickup to avoid shipping charges as well.
More Disney Gift Ideas:
This best gifts for Disney Princess Fans list isn't our only Disney shopping guide. We have a few others that might help you out.
Which of these 20+ Best Gifts For Disney Princess Fans is your favorite? Let us know in the comments.