If you're driving from North to South Carolina, you need to stop at the gigantic sombrero calling you to South of the Border, one of America's favorite road side attractions.
For more help planning your trip, check out all of our travel posts.
I didn't conduct an official poll to find out America's favorite road side attraction. I polled myself and my answer was South of the Border. And that's that. The poll closed and this post was born.
But honestly, South of the Border is one of those "you need to see it in person" type of places. If you've ever driven down I-95, it's immediately after you cross the border from North Carolina into South Carolina.
But you can see it from miles away … if you're looking on the side of the road, anyway. South of the Border has hundreds of road signs, counting down to Exit 1 in South Carolina.
My favorite is 10 miles away heading south, 2 miles away heading north. It's has a big sausage on it and says, "You never sausage a place. You're always a weiner at Pedro's."
Pedro, by the way, is the name of the attraction's mascot … and pretty much everyone who works there.
South Of The Border: America's Favorite Road Side Attraction (Possibly, anyway)
History Of South Of The Border
South of the Border started as a tiny beer stand in 1949. At the time, the North Carolina counties to its north were dry counties, so residents would drive south of the border to buy their beer. Hence its original name: South of the Border Beer Depot.
Well, business (as you can imagine) boomed.
So owner Alan Schafer added a 10 seat grill to his beer stand and renamed it South of the Border Drive-In.
As we all learned in Field of Dreams: "If you build it, they will come." And come they did. So Schafer decided to expand again. This time, he added 20 motel rooms. Materials for the rooms were addressed to "Schafer Project South of the (North Carolina) Border". So he shortened the name for the entire site to South of the Border, and that's the name it carries today.
An (unlucky) 13 years after the beer depot's debut, South of the Border got into the fireworks business since those are illegal to sell in (you guessed it) South of the Border's northern neighbor. Gotta love the Tarheel State and its restrictions. That's good for business. That law still holds today and South of the Border still sells fireworks. And honestly, if you've ever stopped there, you've bought fireworks. It has an incredibly huge fireworks shop on premises.
Two years later, Schafer was blessed with more than just restrictive alcohol and fireworks laws in North Carolina. He was blessed by the development of I-95, which would run right in front of his shop.
Who is Pedro at South of the Border?
After the motel opened, Schafer embraced the whole "South of the Border" name, allowing it to reflect a colloquial term for Mexico (because, ya know, that's South of the US Border).
He made trips to Mexico to pick up some kitschy items to sell at the shop. On one of those trips, he hired two men from Mexico to work as bellboys. Now, keep in mind the times, and, well, guests "affectionately" (hopefully) started calling the men Pedro and Pancho. Which evolved into them both being addressed as Pedro.
The name Pedro stuck with the attraction and now, there's a 97-foot tall Pedro that you can see from I-95, tons of merch with Pedro on it, and every employee (regardless of race) is referred to as Pedro.
Pedro is a caricature of a bandito, but, if you look at him long enough (not the 97-foot tall one, but the one on all the merch), he starts to look … Jewish. That's not your eyes playing tricks on you. The mascot is, perhaps, also a caricature of Schafer, who was Jewish.
Schafer always said Pedro was meant to be a joke with no malicious intent, as some critics have said. Pedro has cleaned up his language a little over the years (some of the signs with "Mexican-Speak" have been removed). At the time, Schafer was quoted as saying, "We have to communicate with the present generation — these baby boomers do not have a sense of humor."
Is it worth to stop at South of Border?
You absolutely should stop at South of the Border at least once in your life. It's over the top and corny, a little controversial and a little sketchy if you go too late in the day, but if you're looking for somewhere to get gas, cheap souvenirs, and some fireworks, this is the spot.
Just don't get the ice cream. We got that on one trip from Florida to North Carolina and it was terrible.
What's there to do at South of the Border?
Dining:
Pedro's Hot Tamale
Head to Pedro's Hot Tamale for a quick bite before getting back on the road.
Pedro's Ice Cream Fiesta
This place exists, so I'm adding it here for the sake of completion, but don't go here. It was the worst ice cream we've had in our lives.
Polanco's Bar
Tequila, liquor, wine, beer, and appetizers are what you'll find at Polanco's Bar. Just please, only visit this location if you're not the driver of the road trip.
The Peddler Steak House
If you want a large, sit down meal, The Peddler Steak House, which serves steak and prime rib (among other entrees), is the place to go.
The Sombrero Room Restaurant
The Sombrero Room Restaurant is a full service sit down restaurant (where my family has actually had breakfast on one of our road trips)
Attractions:
Reptile Lagoon
Reptile Lagoon is the largest indoor reptile display in the United States. For a small fee, you can check out crocodiles and other animals.
Sombrero Observation Tower
This 200 foot tower is what you see from the highway. It's an observation tower and for a nominal fee, you can ride it to the top and see out all over South of the Border (and the highway).
Games:
El Toro Arcade
A video game arcade, with Skee Ball and more, is a great way to get out of the car for a while.
Pedroland Park
Pedroland Park is filled with kids rides, like a carousel and mini golf. The area is currently closed for maintenance, though, so if you're visiting with kids, try to avoid this area.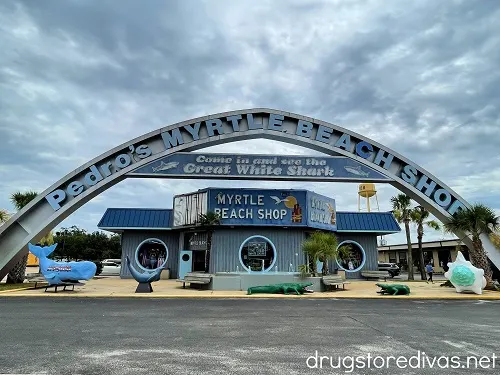 Shopping:
Fort Pedro Fireworks
Find all your fireworks needs, and more, at Fort Pedro Fireworks. The shop usually has a pre-July 4th sale you can check out.
Mexico Shop East
The biggest shop in South of the Border, Mexico Shop West is where you'll find anything and everything South of the Border-branded, plus other small trinkets like Guatemalan worry dolls (which I bought here as a child) and Mexican jumping beans (which I also bought here as a child).
Mexico Shop West
It's basically the same shop as the one above, just on the other side of the street.
Pedro's Myrtle Beach Shop
Myrtle Beach is about a 90 minute drive from South of the Border, and you don't pass one when you're headed to the other, but that doesn't stop Pedro's Myrtle Beach Shop from selling Myrtle Beach-branded souvenirs.
It also has a huge, plaster great white shark in the back of the store. I don't know why. I don't think they know why. Besides maybe to add a little allure to the tourist trap.
Pedro's Pantry East and West
Small shops located near the gas stations, Pedro's Pantry East and West sells mostly food and drink items, but it also sells fireworks (of course) and sombreros.
Pedro's Truck Stop
Pedro's Truck Stop caters to professional drivers, selling diesel and items that truckers might need. It might not be for you if you're taking a casual road trip, but you can check it out if you want.
Pedro's T-Shirt Shop
It sells t-shirts, beachwear, souvenirs and more. This is honestly the one shop at South of the Border that I've never been in.
Pedro's Pura Vida
A motocross track found its home at South of the Border, and Pedro's Pura Vida is an extension of that, selling all your necessary motocross accessories.
Can you stay at South of the Border?
In addition to the aforementioned motel, which is still in operation, there's Camp Pedro RV Park, which can accommodate nearly 100 RV's.
Campers are allowed to use both the indoor and outdoor pool, plus the sauna, at the Motor Inn East motel. Discounts are available for AARP and Good Sams members, plus Camp Pedro offers a Military discount. And, I don't know why you would, but if you stay six days, the seventh is free.
South of the Border Virtual Tour:
You can take a virtual tour of South of the Border. Just click that link to tour the area. If that's not enough for you, you can watch the full documentary, S.O.B. and the Legend of Alan Schafer, on YouTube.
South Of The Border: Frequently Asked Questions
Address:
Interstate 95-U.S. 301-501; Hamer, SC

It's at Exit 1 on I-95 as soon as you cross the border from North Carolina into South Carolina. You can't miss it (unless you're sleeping).
Hours:
South of the Border is open 24/7, but the stores, restaurants, and gas station hours may vary.
Phone:
843-774-2417 (local) or 800-845-6011 (toll free)
Is South of the Border free?
Yes. It's free to enter South of the Border and look around. Some of the attractions, like the sombrero observation tower and the Reptile Lagoon have fees.
Is Alan Schafer still alive?
Unfortunately, Alan Schafer, the creator of South of the Border, passed away from a long illness in 2001.
Why are they tearing down South of the Border SC?
South of the Border isn't being closed. But, some of the attractions are undergoing renovations and upgrades and some buildings are being torn down to create room for new projects.
How much does South of the Border spend on billboards?
From what I've found, South of the Border spends $40 million annually on billboards calling travelers to its road side attraction.

The billboards once spanned as far north as New Jersey. They don't go that far north anymore, but there are over 200 billboards across I-95 as of present day.
What's the difference between South of the Border and Buc-ee's?
A Buc-ee's was recently built in Florence, South Carolina, about 30 miles south of South of the Border. They seem similar because they both have road signs that count down to the attraction, but they're so different.
Staying there:
Buc-ee's is a gas station. You can't overstay your welcome there. It sells a lot of food, but there isn't any seating, so it's really encouraged that you take your food and get back on the road. South of the Border has a campground and motels, so you can stay. And there are multiple restaurants with seating.
Gas:
Buc-ee's is a gas station; South of the Border has a gas station.
Restrooms:
Both offer public restrooms. Buc-ee's has some of the nicest gas station bathrooms out there and it's completely safe for a solo traveler to stop at Buc-ee's just for a restroom. I wouldn't encourage a solo traveler to stop at South of the Border solely for the bathroom. I've stopped here alone to sightsee, but I didn't feel comfortable near the restrooms. The shops were fine solo.
Food:
Both offer food options. Buc-ee's is grab and go while South of the Border mainly has sit down options.
Have you been to South of the Border before? Let us know about your experience in the comments.