2 Ingredient Dough Rainbow Bagels (1.5 Weight Watchers Freestyle Points)
There was a time in my life when I was really trendy. I had swooping emo bangs, took mirror selfies for MySpace, spelled my name uniquely because I wanted to, and I owned more accessories than any normal person should. And then, a gazillion years later, the most trendy thing I do is turn 2 ingredient dough into rainbow bagels. You guys. I made 2 Ingredient Dough Rainbow Bagels.
Can you say trend setter?
Seriously though, rainbow bagels are the hottest thing on Instagram thanks to The Bagel Shop in Brooklyn. They're beautiful and New York bagels are amazing, but I'm in North Carolina. I'm not driving a dozen hours just for a pretty bagel to post on my feed.
So instead, I did what any normal person with a handful of free hours on a Sunday should do. I made rainbow bagels.
But the whole dealing with yeast ting doesn't appeal to me, especially since I discovered two ingredient dough. Because seriously, why worry about waking the yeast and maybe killing it when you could just stir two ingredients together?
Also, 2 ingredient dough is the hottest thing in the Weight Watchers world. A full batch of two ingredient dough is only 12 Freestyle Points, which is great. And everyone (including me) is obsessed with making 2 ingredient dough bagels.
So trendy dough plus trendy bagels plus free time equals my new favorite food creation: a 2 Ingredient Dough Rainbow Bagels recipe.
You're welcome.
2 Ingredient Dough Rainbow Bagels
What You'll Need:
9 drops each of the following:
Salt (optional)
Egg (optional)
What You'll Do:
Pre-heat the oven to 350.
Make the dough using our 2 ingredient dough recipe (click the link for the recipe). I add two pinches of salt before I kneed the dough, especially when I'm making bagels. It removes a little of the sourdough taste that the yogurt gives it.
Split the dough into quarters and put the quarters into separate bowls.
Add nine drops of food neon blue food coloring to the dough in one of the bowls. Add nine drops of pink food coloring to the dough in the second bowl. Put the neon green food coloring on the dough in a third bowl. And finally add the purple food coloring to the dough in the last bowl.
Put on a plastic glove. Trust me on this part.
Using a gloved hand, mix the blue food coloring into the dough until it is combined.
The dough may get sticky from working it so much. If it does, just sprinkle some flour on top of it.
Wash your glove and mix the second food coloring into the dough. Wash and repeat until you have finished all four.
Generously flour a piece of parchment paper and put the ball of purple dough down on it. Put another piece of parchment on top and roll it into a rectangle using a rolling pin.
Sprinkle some flour on to the purple dough, then layer the blue on top.
Now, you have two options to do this. You can flatten it the same way you did the purple, with a piece of parchment and a rolling pin, or you can just flatten it with your fingers. It's up to you.
Layer the green next, then finish with the pink.
Cut the dough lengthwise to make four slices. Then, cut each of those in half.
Flour the dough, then roll it into a long tube. Make sure it is even all around, then connect the two ends together to form a circle.
Now, a small note: If you twist the dough just a little bit while you are rolling it, you'll get more of a swirl of color on the outside of the bagel. If you just roll back and forth evenly, you'll see most of the bottom layer (in our case, purple) on the outside.
Continue until you make eight bagels.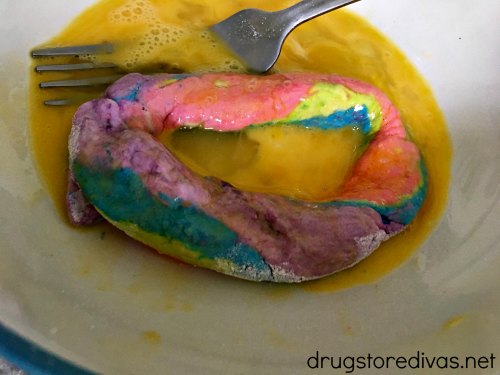 If you want a shine on your bagel, scramble an egg (to make an egg wash), then dip the bagel in, coasting both sides.
Put the bagels on a foil-lined cookie sheet and bake for 28 minutes. Start checking your bagels around 25 minutes as ovens can vary.
Let them cool completely before removing them from the cookie sheet.
These bagels are beautiful on the outside, but they become incredible when you cut them open. They look like unicorn bagels. Or tie dyed bagels. Or just something sort of magical, out of the most colorful magazine pages ever. I was in awe of them.
I'll be honest: These take a lot of time and patience to make, especially if your dough is sticky. But man, as soon as you slice one open, every second of time you put into it will have been worth it.
Keep in mind that these are plain bagels. Pete looked at them and thought the rainbow bagel taste would be berry. Nope, just plain.
The entire recipe is 12 Weight Watchers Freestyle points. Since this makes eight bagels, that's only 1.5 points each. You can top them with cream cheese, butter, or an egg. Just remember that adding anything to them can change the points value.
Would you make these 2 Ingredient Dough Rainbow Bagels?
Want more 2 Ingredient Dough recipes?
2 Ingredient Dough Pita Chips

2 Ingredient Dough Flax Seed Bagels

Follow Lisa Sokolowski @ Drugstore Divas's board My Recipes on Pinterest.