Fidget spinners burst onto the scene a couple years ago. Since then, they've evolved into more than just spinners. Get ideas of what to get in this list of 10+ Fun Fidget Toys For Kids.
For more shopping help, check out all of our gift guides.
​I remember listening to a comedian years ago who was saying that his daughter will play on their phones, every chance they get. Even when they're driving. At red lights, they'll pick up their phones and start scrolling.
He said, with no comedy or punchline, that it's because no one likes sitting with themselves, their thoughts, their feelings. So, even at that brief moment at a red light, we need a distraction.
Kids, even kids who don't drive, are that way too. They're used to screens and distractions too. So when they're in school, it's hard for them to focus.
That's where fidget spinners came in. They help a child focus, better tolerate being bored, are a great stress reliever, help with gross motor and fine motor skills, and more. If the benefits of fidget toys are new to you, you can read more about that here.
Fidget toys expanded past just spinners. There are different shapes, different types of fidgets, and way too many options. Don't get overwhelmed. We put together this list of the best fidget toys for kids. Pick one or some of them for your children (or yourself — fidget tools are great for adults too).
Fidget toys make really good stocking stuffers because they're small and inexpensive, all the best qualities of a gift that goes in a stocking rather than under the tree.
If you're looking for some more ideas, check out our list of Top 10+ Stocking Stuffers For Kids.
10+ Fun Fidget Toys For Kids
Affiliate links are included in this post and Drugstore Divas may make a small commission if you use them.
Fidgy Building Blocks
These Fidgy Building Blocks are great because they're two toys in one.
First, you can use them as a basic popper. Add a couple more, and you can just play with them. Or, use six at once to build a block, which you can use to build a tower (although a little shaky unless you remember to pop the small parts into each cube so they'll sit flat.
You get 10 pieces per pack, so you'll want to buy a few packs in case you do want to use them as a building toy.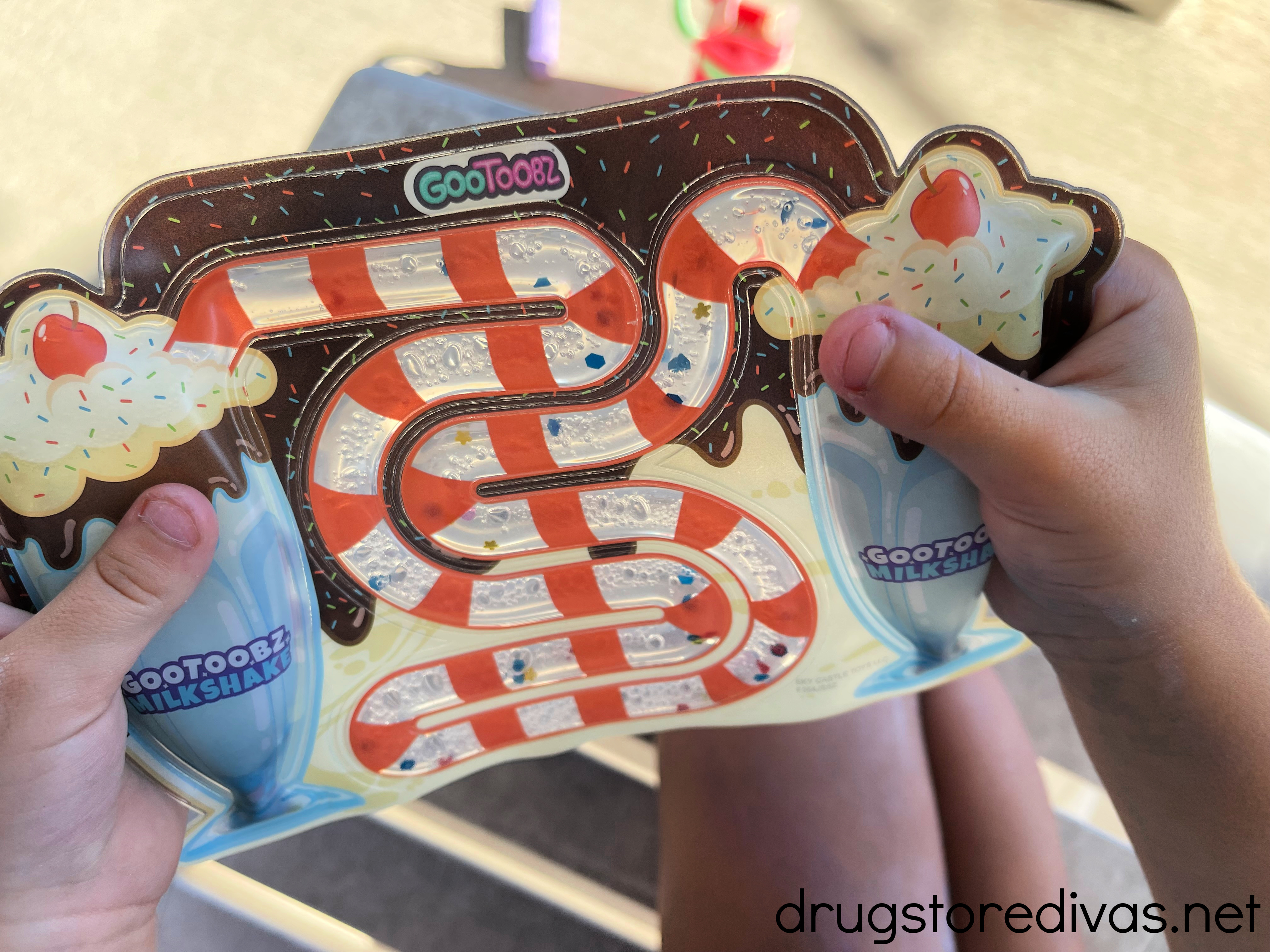 GooTubez
GooTubez is, as the name implies, tubes that are filled with a goo-like substance, plus glitter or beads. You squeeze from side to side to send the goo and glitter flying back and forth.They're a sensory toy, so the designs are rated on a scale of 1 to 5 in the categories of touch, vision, and sound. So depending on what sensory needs your child has, you'd pick a design based on that.
Good news: There are a ton of squishy toys in the line, all with different designs, so you can definitely find a design for your kid.
Classic Fidget Spinners
Of course, we couldn't have a list of fidget toy without the most popular fidget: the classic fidget spinner.
There are a few different ways to play with these. You can hold it in your hand and spin it, balance it balance it on your fingers and spin, on and on for your heart's content. It's such a simple toy, but one that launched a whole host of other sensory toys.
They're pretty silent fidgets (unless you bump them into parts of your hand), which is why they're ideal for a school setting or a classroom setting (and part of how they got so popular in the first place).
BIZYBOO – Hide 'n' Seek Busy Bag Characters
I absolutely love these hide and seek busy bags. They come in a varsity of designs, from unicorns with rainbows to a personal pizza. Within each is a clear piece of plastic where you can see charms and letter beads hidden in white beads. There's a tag attached to each one with a list of items to find.
Your kids will squish the bags to reveal the hidden items. That can take a long time since there are a bunch of hidden items, giving parents enough time to do a couple chores.
The bags are soft to the touch, besides the clear window. The different textures are really interesting for play.
LiKee Suction Cup Spinnerz Toy
These simple spinner toys are the perfect fidget for young kids. They work really well for kids who are under one.
There's a suction cup on them to hold them in place (a little water helps it stick, FYI). The toy spins, which kids can do on their own, which makes them great for hand-eye coordination. Then, each of the three toys has a different number of dimples that your kids can push in and out.
Most of the reviews talk about parents setting them on a baby's hair chair tray for a great way to keep kids entertained while parents get dinner ready.
Arggh Mini Stress Balls
A stress ball is absolutely a fidget toy. So, if you're looking for a fidget toy for your child or a way to find some stress relief for yourself, this pack of mini stress balls is perfect.
The set comes with three plastic-ish squishy balls with three different colors and resistances. So you can really vary sensory play with these.
What's really fun about them is that as you play with them, they change color, so that's just a little extra stimulation. They have a gel inside that holds the shape or divot you make in the ball, for a little while at least, It does, eventually, deflate to its original shape.
Magnetic Rings Fidget Toy Set
These magnetic rings are a really quiet way to fidget. You can spin just one around like a hand fidget or you can wear it like a finger fidget and spin it that way. You can also play with multiple rings at once. Then, when you're done, just wear them like rings.
Of course, wearing them isn't a good option if you're buying them for someone with sensory issues, but those kids can just put the rings away until later.
Liquid Motion Bubbler
These liquid motion bubbler toys are basically hands off sensory fidget tubes. Your kid will flip them and the colored water beads drip down to the bottom. When they're all there, flip the tube again.
​It's actually really soothing to just watch. There's something mesmerizing about these.
And that's probably part of their staying power, right? These have been around for forever, only now being marketed as sensory items rather than just "prizes you win at the arcade."
Dog Pop Tubes
These dog pop tubes are so much fun. There are two halves of a dog body separated by a fidget tube. The tube can be stretched and compressed, making the dog longer and shorter.
Your kid can make them all different sizes. hey'll vary from about six inches to over 10 inches, depending on how compressed the tube is.
Push Pop Bubble Fidget Toy
This bubble fidget toy is another classic. It's good for sensory stimulation, but you can use it for learning too. It's great for working on counting and colors too.
The best thing about this is that it's waterproof, so if anything gets spilled on it, it's so easy to wipe and clean, if need be.
Purchase Fidget Toys Online:
These aren't all the fidget toys out there, just the ones we consider to be the best fidgets. There are more online, like the fidget cube above. You can find more great fidget toys at the stores below:
Be sure to check a store's minimum cart total to qualify for free shipping. Also, consider instore or curbside pickup, where available, to avoid shipping charges.
Make Your Own Fidget Toys
While we haven't actually made any of our own fidget toys on Drugstore Divas, we found this great list of DIY Fidget Toys online, which is a great option while you're waiting for your ordered items to arrive. There are tutorials for fidget putty, fidget sticks (using a pipe cleaner and beads), a paper infinity cube, and more.
Which of these fidget toys for kids are you picking up? Be sure to let us know in the comments.