When you go on vacation, there's a good chance that you've researched your destination. You might know attractions you want to check out, local restaurants you want to dine at, and sights you want to see. But you still might need some help when you get there. That's what a hotel's concierge is for. There are actually a lot of things a hotel concierge can help you with.
But what kind of help though? If you've never utilized a hotel concierge before, you might not know exactly what a concierge can help with.
Don't worry. We got you.
7 Things A Hotel Concierge Can Help You With
1. Restaurant recommendations
If you don't know any local restaurants in the area, a concierge can help. The hotel concierge is very familiar with the area and may actually have a list of restaurants already printed and ready to go for anyone who asks.
If there's no list, just pick his or her brain. Let the concierge know what type of cuisine you're in the mood for — and what your price range is — and he will be able to recommend a great place for you to eat, one you might not have even found if you googled.
2. Finding discounts
A concierge, and the hotel you're staying at, may have connections with local establishments.
If you know where you're going out to eat, stop by the hotel concierge and ask if the concierge has a coupon for that restaurant. We've been given coupons for free appetizers or a discount on the check's total at the front desk upon check in, sort of nudging us towards those restaurants.
Sometimes you need a paper coupon and other times, if you show your hotel key at certain attractions or restaurants, you may be able to get a discount. That's a way for the attraction or restaurant to thank the hotel for sending customers. That thank you is passed along to you in the form of a discount.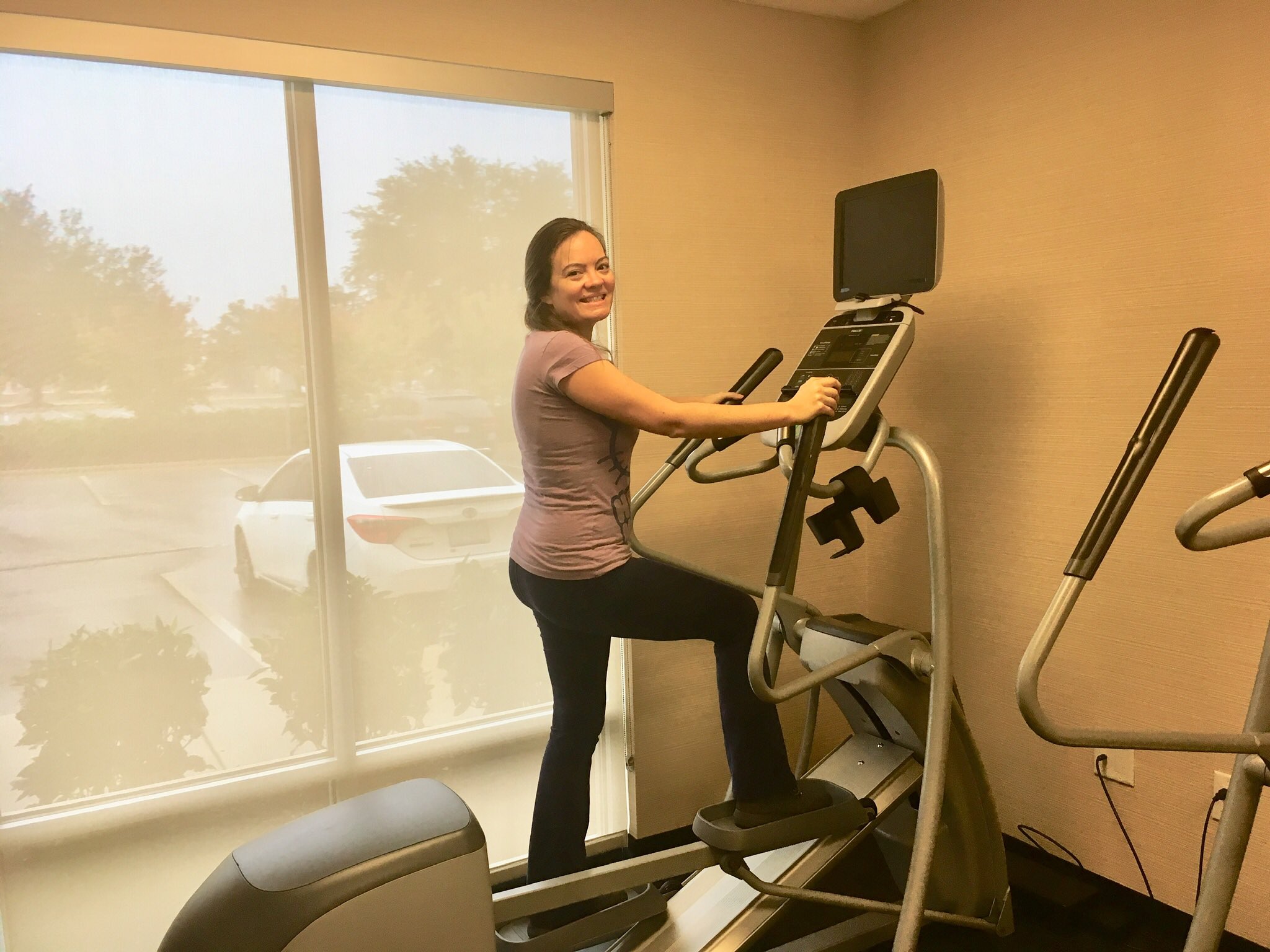 3. Getting gym passes
Discounts that a hotel concierge can get aren't limited to restaurants and attractions. A concierge may be able to let you know about a local gym that has a reciprocal relationship with the hotel.
Not every hotel has its own fitness center and some have limited hours. But, oftentimes hotels that lack a gym or have gyms with limited hours have a program where you can work out at a neighboring gym or fitness center for free, just because you're a hotel guest.
You may need to show your room key or a printed pass from the hotel in order to use the gym, so definitely check with the hotel concierge before you go.
4. Most hotel problems
When we were in Hilton Head Island a few summers ago, it was a work trip. I needed to be able to get online and on Instagram. So when I tried to log on and wasn't able to, I was worried. I called the front desk and the woman who answered was unable to help. So Pete and I went down to the concierge. He was great and was able to help solve our Internet situation.
The concierge may not be able to help with some situations (you may be better off asking housekeeping if you need extra shampoo), but if the concierge can't help, he or she will definitely figure out who can help. And that in itself is very helpful.
5. Giving you directions
A good concierge will have a map of the area behind his or her desk. If you ask for directions, he or she will be able to take out a map, circle where the hotel is, circle your destination, and give you the best path between the two.
Your phone's GPS can do that too, but the GPS may not know things like road closures, what roads are unlit at night and may give you issues, and any pockets of traffic you may run into. A concierge travels those roads daily, so he or she will know.
A really good concierge will also highlight points of interest along the way. So if you're walking, you'll have interesting pit stops to walk into and check out.
6. Setting up special moments for you
If you're on vacation for a special occasion, like a birthday or an anniversary, and you want something special set up in the hotel room, let the concierge know.
Actually, we went to Washington, DC for Pete's dad's 70th birthday a few years ago, and I had told the hotel about the reason for our trip when I booked the hotel. The staff was so sweet and actually set up a bottle of wine, water, snacks, and a card for his dad to see when he checked in.
Pete's dad actually got to the hotel before we did, so he knew we didn't sneak into the room before him to set it up. He knew it was something we did ahead of time, and he was really appreciative of the thought.
7. Set up airport transportation
In the age of ride share, it's pretty easy to set up rides to and from the airport. In fact, when we stayed in San Antonio, we were able to book our rides via the app days in advance. That's something that we're not able to do here in Wilmington … yet.
Some cities don't have great ride share, though, and you're better off asking the concierge for help. The concierge will know if the hotel offers complimentary shuttle service from the hotel to the airport. If not, the concierge will know which taxi services are reliable to take you to the airport when you need to leave. So that's super helpful to get set up ahead of time so you're not scrambling at the last minute.
Planning a hotel stay?
If you're planning a vacation with a hotel stay, check out a few of our other posts that will help you easily set up that trip.
Comment and let us know what a hotel concierge has helped you with on your vacation.