This Watermelon Lemonade post is sponsored by Hallmark.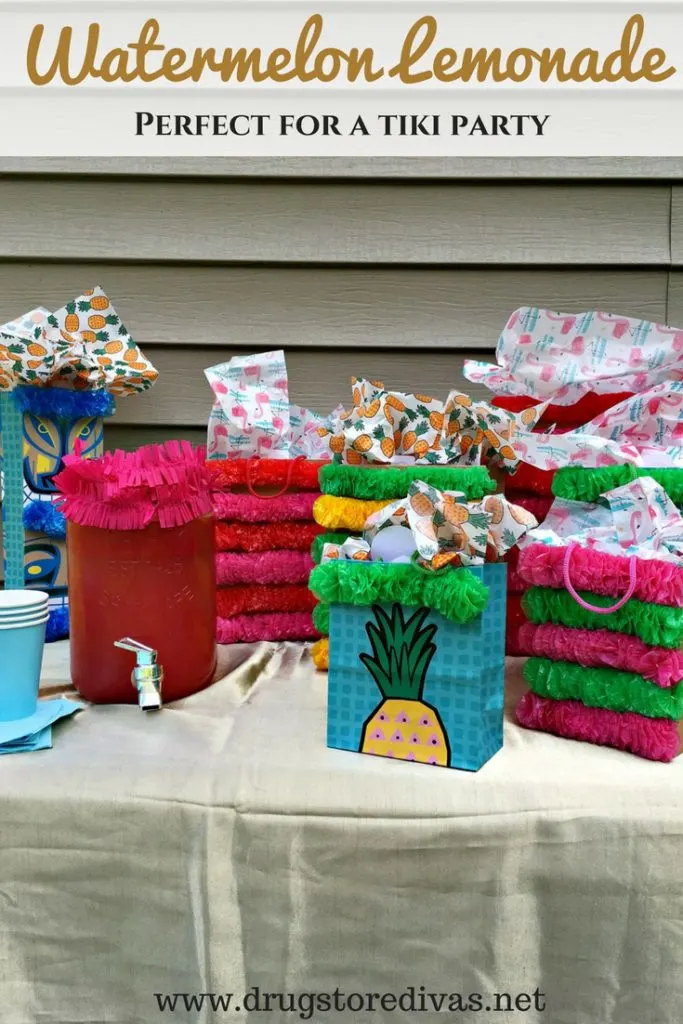 I wish I lived somewhere where I could get watermelon all the time. I'll seriously buy a huge one just for myself. Not a personal one. A normal, family-sized, I can't carry this to my car, watermelon. For myself.
I found out recently that I could juice watermelon. And not just that, but I read that it's good for muscle cramps. I'm not a doctor, so you might wanna look up a little about that on your own. But I walk a lot and my calves are always sore even if I don't move around, so being able to drink watermelon to help is super exciting.
Pete has juiced a full watermelon for me before, but I wanted to create a twist on this, so I came up with an amazing Watermelon Lemonade recipe. It's so good. It's great just for me to enjoy alone, but it's also a perfect drink if you're planning a tiki party. For someone like me who doesn't drink alcohol, this is a fun party drink alternative.
Watermelon Lemonade
What You'll Need:
1 whole seedless watermelon
10 whole lemons
1 cup sugar
What You'll Do:
Chop the lemons into four slices, then remove the rind. Don't worry about removing the seeds.
Slice the watermelon in half, then cut off the rind and cut the watermelon into slices.
Use a juicer to start juicing the fruit.
When you have a bit, take one cup of juice and mix it with the sugar. Put that in the microwave for about 30 seconds. Stir. This will create a simple syrup. If you put the sugar directly into the juice, it won't melt so creating a simple sugar will melt the sugar and get it incorporated.
Pour your simple syrup into the rest of the juice.
We served ours in a glass drink dispenser with a spigot because it just makes it look more fun for a party.
Speaking of parties, if you're having a tiki party, you want to check out the new Hallmark Tropical Lei packaging. There is the Hallmark Flamingos And Palm Leaves Wrapping Paper Rolls and ribbon, Tiki Luau Party Gift Bag Bundle with pineapple tissue paper (paper which I am obsessed with, by the way), and Luau Party Leis Gift Bag Bundle with flamingo tissue paper.
You can wrap gifts in these, which is perfect, or you can pin them up and use them as decorations. Whatever you choose, they will add so much to your party, just like the watermelon lemonade will.
Would you make this watermelon lemonade?