Add a little pizzazz to your breakfast with these heart-shaped hard boiled eggs for Valentine's Day. You do need to make them the night before, so they require a little pre-planning.
To make this the best holiday ever, get inspired by the rest of our Valentine's Day posts.
Valentine's Day is one of my favorite holidays. Everyone complains that it's basically a commercial holiday, a hoax put together by the greeting card and chocolate industries.
But I'm over here, drawing hearts, living my best life, making heart-shaped hard boiled eggs.
If you're wondering how to shape hard boiled eggs into hearts without a heart-shaped egg mold, you've come to the right place.
Shockingly, these hard-boiled eggs do come out in heart shapes. It'll surprise you and whoever you're serving breakfast to.
Make them for Valentine's Day, or for Sunday Brunch, or for Tuesday because you're one of those "Every day is Valentine's" people.
Because you know what? I'm one of those people too.
Sorry not sorry for being happy all the time.
This isn't the only craft for Valentine's Day that we have on Drugstore Divas. For more, check out our post of Easy To Make Valentine's Day Crafts & Treats.
Heart-Shaped Hard-Boiled Eggs
Affiliate links are included in this post and Drugstore Divas may make a small commission if you use them.
Heart-Shaped Hard-Boiled Eggs Supplies:
How To Make Heart-Shaped Hard-Boiled Eggs:
Fold your piece of cardboard in half, then cut it down the middle.
Fold it in half again, then stick an egg in the middle. If the sides are higher than the egg, trim it down a little. Put two rubber bands around it and set it aside.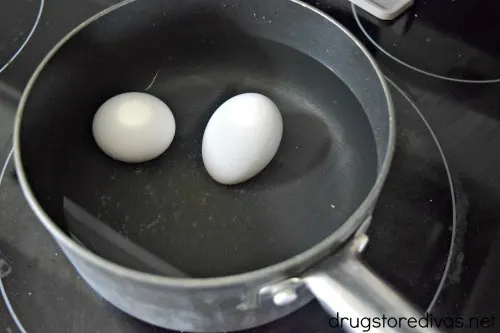 Hard boil the eggs.
Remove the shells.
While the egg is still warm, place it in the cardboard.
Stick a chopstick above the egg and push it down to form an indent in the egg. Put the rubber bands as close to the egg as possible to keep the chopstick secure and in place. Put the eggs in the fridge for at least 45 minutes before serving. You can leave them overnight and they will be great.
Keep in mind that they will basically instantly stop cooking when you put them in the fridge. Usually they cook internally a little bit more. So, your heart shaped egg yolk may have an extra heart in it if you're used to your eggs cooking a little bit longer outside the water.
Cut them down the middle with a knife or use an egg slicer.
If you're using an egg slicer (or honestly, if you're cutting it), make sure you're slicing your hard boiled egg in the right direction.
You need to set the indent up and make the slices through the indents. Don't slice it longways.
Put it on toast, top a salad, or just eat it as is.
And, for those of you who want to make life easier, you actually can buy shaped egg molds online. I actually have that bunny one from our last trip to Japan although I have used it exactly zero times since I bought it.
Have you tried to make Heart-Shaped Hard-Boiled Eggs? Let us know in the comments.