It's fresh corn season. How could you not get excited? I mean, it's corn! For fun ways to corn on the cob the season (and all year round, if you can find it), check out this list of Fresh Corn Recipes.
For more ideas of what to make, check out all of our recipes.
It's the start of corn season and we all get super excited around this time. We start figuring out tons of ways to make it for dinner.
Sure, you can get picked and packed corn during the winter, but nothing beats fresh sweet corn from the farmers market during the summer months. If you're looking for some new ways to enjoy corn on the cob, you're in luck. We put together this list of Budget-Friendly Fresh Corn Recipes.
It's filled with our favorite ways to cook fresh corn all summer long.
Of course, you could make these recipe with the packaged corn you get at the grocery store instead of fresh summer corn. These will still be delicious corn recipes no matter what corn you use.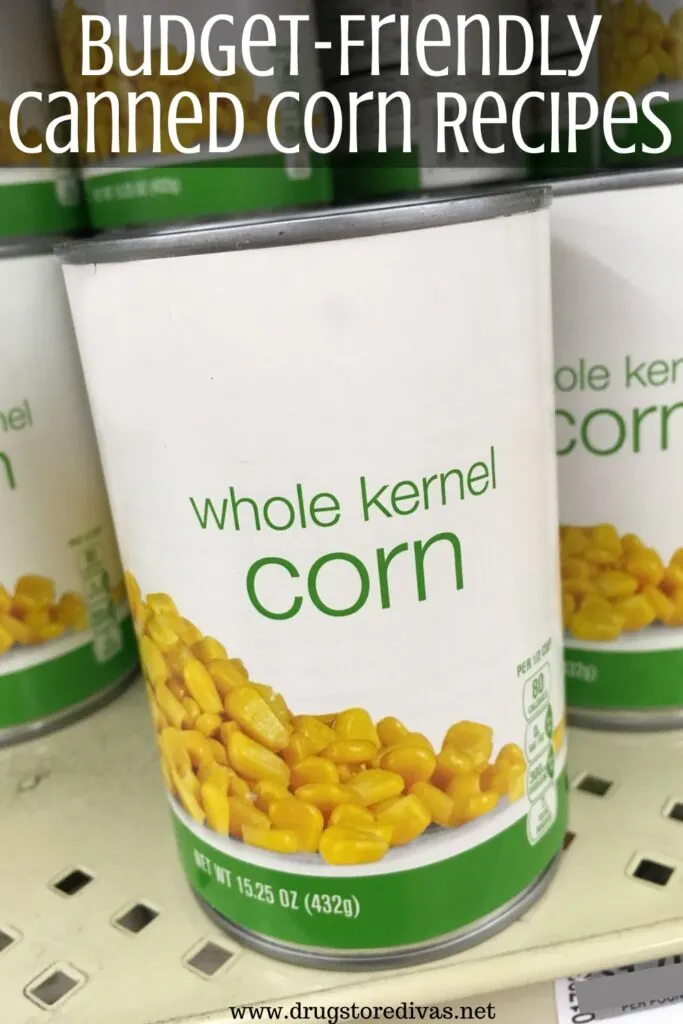 All of these recipe use fresh produce. If you landed here because you're looking for new recipes using a can of corn, check out our list of Budget-Friendly Canned Corn recipes instead.
Budget-Friendly Fresh Corn Recipes
This list is filled with all of our corn on the cob recipes on Drugstore Divas. As we add more of our favorite recipes to the blog, we'll update this list of sweet corn recipes. So be sure to save it, bookmark it, pin it (whatever the cool kids do nowadays), so you can come back to it later to see what's new.
Oven-Roasted Corn With Husks
Just because it's summer doesn't mean you have to make corn on the grill. If you ask Pete, the perfect way to make corn is by oven-roasting corn in its husk.
Take fresh ears of corn and don't shuck them. Simply, trim them and put them straight into a pre-heated oven. Cook them and you get so much flavor, which you don't get if you boil corn in a large pot of salted water, which, please, don't do. My mom makes corn this way and it's fine. It's an easy way to get a vegetable on your dinner table. But boiled doesn't let corn live up to its full potential.
Grilled Mexican Street Corn Salad
Our favorite corn-filled side dish is our Grilled Mexican Street Corn Salad, also known as Esquites. Quick side note: Mexican Street Corn, served on the cob, is know as elote. When it's served off the cob, as Mexican corn salad, it's esquites.
So, this easy corn salad recipe is all the flavors of Mexican street corn (cotija cheese, Tajin seasoning, creamy sauce, and lime juice) … without having to deal with the cob.
This version is a lot better for a backyard barbecue because you can just put it in a large bowl. That way, you don't have a finite version of servings, like you do with cobs. You can just serve smaller scoops if you need to feed more guests. You can serve it at room temperature, which is ideal if you need to make it ahead of time and then transport it to a pot luck. Don't forget to bring a bag of tortilla chips to eat these with.
Also, if you like this recipe, you'll love our Mexican Street Corn-Style Grilled Zucchini. It's one of our favorite zucchini recipes.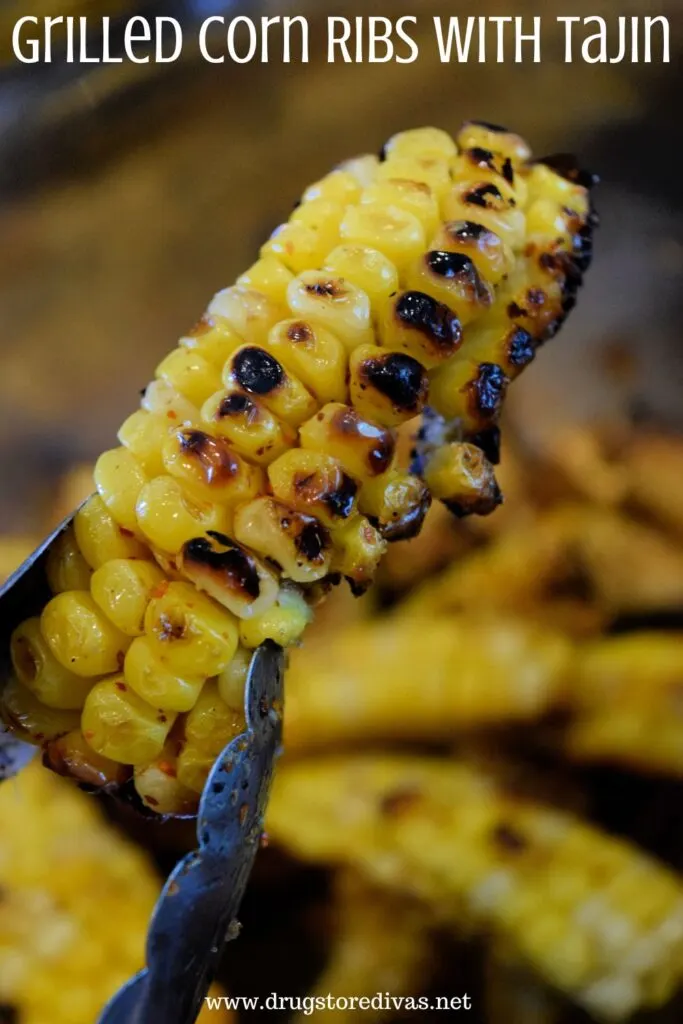 Grilled Corn Ribs With Tajin
We can't take credit for Grilled Corn Ribs With Tajin as an original recipe. Corn ribs went viral on TikTok and once you make them, you'll understand why. We got the idea from there, but seasoned them to our tastebuds.
It's a little difficult to cut the corn, but once you get the hang of it, the rest of this corn recipe is smooth sailing. You drizzle the corn ribs with olive oil, sprinkle with salt, and grill them. Remove them, add butter and seasoning, and that's that.
The juicy corn kernels pop in your mouth and mix with the seasoning, giving you your new favorite bite of food. What's great is there are so much easier to eat if you're at a party because they're easier to hold and only take a couple bites to finish. So they're much easier to converse over than, say, eating a whole ear of corn.
Grilled Corn On The Cob
If I'm making corn for a barbecue, this Grilled Corn On The Cob recipe is the only way I do it. It's my dad's recipe, and he's been grilling corn like this for my entire life. It's a really simple method and it'll be your go to corn recipe from now on.
If you're only making a few, you can grill them as whole ears. If you're serving a crowd, it's easier to cut them in half (so you can feed more people).
What To Serve With Fresh Corn Recipes:
Corn is delicious, but it isn't exactly a main course. It's a really good side, though.
If you're grilling the corn, you'll want to grill your main dish. It's easier that way. If you're feeing a crowd and want something easy, go with our Grilled Shrimp Kabobs or Grilled Sausage Kabobs. If you have a little more time, our Grilled Sausage Burgers are perfect. And of course, don't forget hot dogs. That's everyone's summer favorite.
​For recipes that don't require the grill, our Oven-Roasted Chicken has a really delicious flavor that compliments the sweet corn really well.
Which of these Budget-Friendly Fresh Corn recipes are you going to make first? Let us know in the comments.