Chorizo Quesadillas are a great easy weeknight dinner. Plus it makes a lot of leftovers, so it's an easy dinner for two nights.
Not into chorizo? Check out our Chicken Quesadillas instead.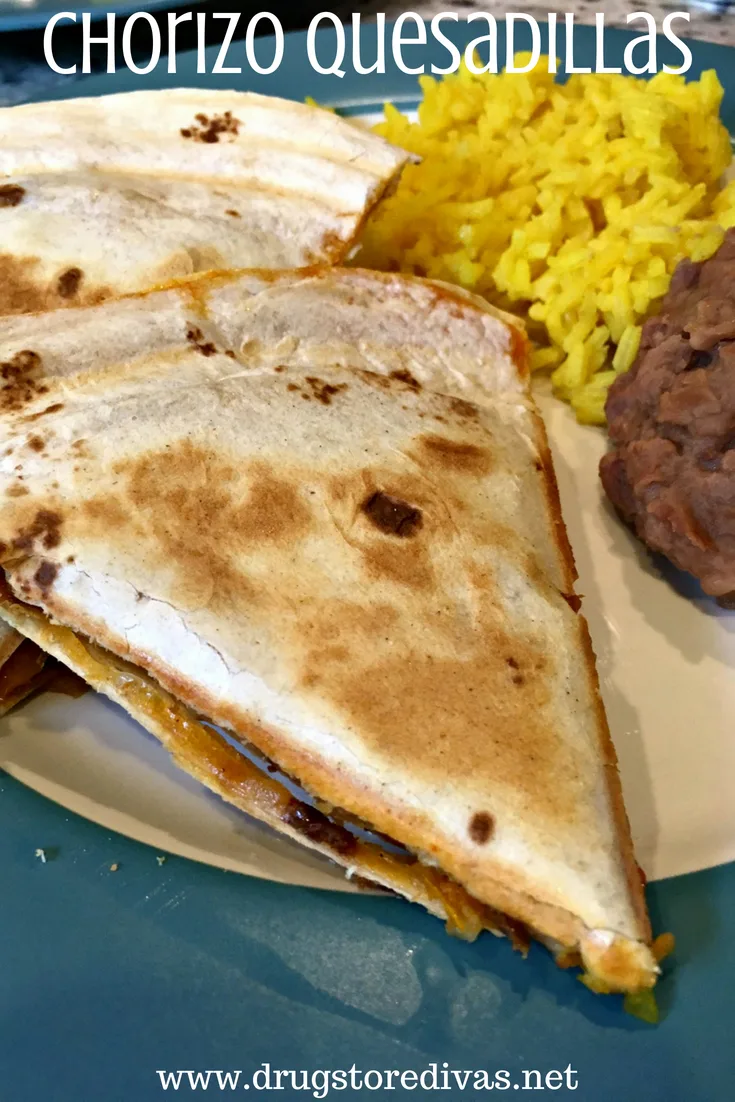 We go out for Mexican once a month and every time, I get something with chorizo. There are a lot of things on the menu, but I always restrict myself to an item with chorizo because, I say, "I can't make it at home." I can make beef tacos, and I can make chicken tamales, but I can't make chorizo. None of the stores around here carried it. Until last month. Food Lion started carrying chorizo sausage and I jumped at the chance to make Chorizo Quesaillas.
They were amazing. I'm going to start picking up chorizo often now, which means I may stop needing to go to Mexican monthly.
If you can't find chorizo in your stores, you can still make something similar with hot sausage. Just add a lot of seasoning and hot pepper to it.
I borrowed my mom's for this. It's such a great kitchen gadget. I used to make quesadillas in a pan, but the quesadilla maker really makes these the best chorizo quesadillas. Also the easiest.
Chorizo Quesadillas
What You'll Need:
1 package chorizo sausage
2 medium onions
12 flour tortillas
1.5 cups shredded Mexican cheese
10 small assorted peppers (or three regular sized peppers)
What You'l Do:
Cut the casing off of the chorizo sausage and pull the meat out into a pan. While it's cooking, break it apart into crumbles.
While it's cooking, slice the onions and peppers.
After ten minutes, add the onions and peppers to the pan.
Cook them until the onions are translucent and start to caramelize. Add in any seasonings you want (at the very minimum, I suggest a pinch of salt and garlic powder; you might want to add red pepper flakes as well).
Pre-heat your quesadilla maker.
Put down one tortilla and a handful of cheese.
Top with some of the chorizo and veggie mixture.
Add just a little more cheese on top, and finish with a second tortilla.
Close the quesadilla maker tight and let the quesadilla cook, about five minutes, until the tortilla gets crisp.
Remove, cut into six slices, and serve with rice and beans, plus any garnishes (salsa, guacamole, or sour cream).
Now, if you are making these without a quesadilla maker, when the filling is done, put a little olive oil in a pan. When it's heated, put down a tortilla, then cheese, then the filling, a bit more cheese, and a second tortilla. Cook until the tortilla is browned, then flip it and cook on the other side until it is browned.
This recipe will give you enough to make six quesadillas, so you can put some in the fridge for lunch the next day. And oh my gosh, they're so good reheated.