I love picking out gifts. It's so much fun to me. You really get to think about the person, channel their likes and dislikes, and come up with something they will love. Sometimes, though, you get invited to a party where you have to bring a gift for a random exchange. Or maybe you picked someone for Secret Santa who you don't know very well. In those cases, a gift card is a great idea. But you don't want to just hand a gift card over or put it in an envelope. Instead, you'll want to make this DIY Felt Santa Gift Card Holder.
This Santa Gift Card Holder is really easy to make and will make the recipient feel like you spent time on them. Which you did.
What's really great about this DIY Santa Suit Gift Card Holder is it's a no sew Christmas craft, so you don't have to break out the sewing machine to make it.
DIY Felt Santa Gift Card Holder
What You'll Need:
What You'll Do:
Cut out a piece of red felt. You can use the gift card as a way to measure, leaving about a quarter inch on each side. If it's easier for you, my piece was 9-inches by 3.5-inches.
Cut a black piece of felt for the belt. Make sure it is the width of your red felt. In my case, it was 3.5-inches by 1.25-inches.
Cut a piece of yellow felt for the belt buckle. Mine was a 2-inch square.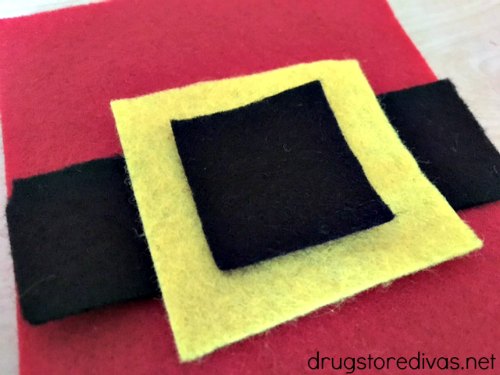 Cut another piece of black felt, this time a square that is the same size as the height of your first piece. Mine was 1.5-inches by 1.5-inches.
Now start gluing. Fold the red piece of felt in half. Use the glue gun to glue down the belt in the center of the red felt. Then glue down the buckle in the center, follower by the black square on the buckle. Let it dry completely.
Open the red felt with the belt side down.
Glue a line up both sides of the red felt, then fold it in half, making sure to press the sides down.
After it has dried completely, you can slip the gift card inside. If you feel compelled, you can attach a small piece of Velcro in the opening so that you won't worry about the gift card falling out. Personally, I think this is large enough that the gift card will stay tucked down.
This will fit either hard gift cards or paper gift cards, so this DIY Felt Santa Gift Card Holder is perfect for either. You can also go ahead and make a couple of these at once to have them ready for any last minute gifts you might need. Because without fail, no matter how hard you try, there's always that one last minute person that pops up that you need a gift for. This helps you pretend you didn't forget them.
Want more DIY Christmas gift holders?
DIY Reindeer Gift Bag

DIY Snowman Candy Holder