If you're thinking about Halloween decorations, check out this list of 10+ Halloween Skeleton Decorations.
Get tips to make this the best holiday yet with all of our Halloween posts.
I haven't started decorating for Halloween yet. I mean, we're a third of the way through October already, but also, isn't it still March? This year is confusing. If you're like me and still trying to sort out your Halloween decorations, I get it. And I'm here to help. I have a list of 10+ Halloween Decorations For Skeleton Lovers.
All but the last skeleton decoration ideas are ones you can purchase online, making your life insanely easy. The last is a skeleton decoration I made a couple years back.
10+ Halloween Decorations For Skeleton Lovers
Affiliate links are included in this post and Drugstore Divas may make a small commission if you use them.
3D Metal Skeleton
I really love the look of this 3D Metal Skeleton. He's pretty adorable and super happy, which is not how skeletons are usually portrayed. The skeleton is made of metal and coated so that you can put him outside without worrying that he'll get ruined by the elements.
There's a heavy duty spring in his neck, so his head can rock back and forth, which will be really cute when the wind blows.
Skeleton Dish Towels
If you follow Drugstore Divas on Instagram, you know I love to change our kitchen towels with every holiday and season. So you know my skeleton decorations list wouldn't be complete without Skeleton Dish Towels.
You get all three of those dish towels when you order the set, which is great. You can put two in the kitchen and one in the bathroom, or just rotate them in the kitchen. They're machine washable too, so you can just throw them in the wash with the rest of your towels.
Yoga Pose Skeleton Halloween Decorations
I saw someone on Facebook share a craft where they added these Yoga Pose Skeleton Halloween Decorations and I couldn't stop laughing. Not at her craft, but at the fact that these are so funny.
I don't know why skeletons are doing yoga. But yoga is good for your bones, so I guess it does make sense. If three skeletons doing yoga isn't enough for you, there's a set of four yoga skeletons as well.
See Hear Speak No Evil Skeletons
If those yoga skeletons made you think of see no evil, hear no evil, speak no evil, you're exactly like me. That's what they made me think of. So it makes sense that I would post this See Hear Speak No Evil Skeletons next.
This is a really fun take on the famous saying. And, they're even funnier if you set them up in the bathroom, on the back of the toilet.
LED Skeleton Candle Holder Stand
If you want a cool tabletop decoration, you'll like this LED Skeleton Candle Holder Stand. The LED candles are much safer than an open flame at your at-home haunted house.
There's something about this one that's so creepy. I don't know if it's the skull on the bottom or the ones in the skeleton's hands, but this one really creeps me out. So much so that I almost didn't add it to this list.
Pose-N-Stay Puppy Skeleton
This Pose-N-Stay Puppy Skeleton is the perfect lawn decoration. It's weatherproof, so you can actually put it outside without worrying that the sun or rain will damage it.
The tail, head, and jaw of the puppy skeleton all move so you could pose it however you like. You can stick a Halloween bucket's handle in its mouth and have it double as a way to give out Halloween treats.
Mermaid Skeleton Decoration
I never thought about what a mermaid's skeletons looks like. So that's what I was so surprised to see these Mermaid Skeleton Decorations and see bones throughout the tail.
Makes sense. And it especially makes sense as a decoration. If it was just a skeleton torso, well, that would look weird on a shelf.
This set comes with two posable mermaid skeletons, so you can turn them into a fun scene.
Posable Bird Skeletons
These Posable Bird Skeletons come in a set of two, which makes them fun. You can mirror them or put them in different poses. They have movable joints in the wings, head, and beak.
They're 7.5-inches tall, so they're better as indoor than outdoor decorations.
Inflatable Unicorn Skeleton
If you have enough room on your front lawn for an Inflatable Unicorn Skeleton, you need to get one. This one gives me My Little Pony vibes too, so I just love it.
This inflatable unicorn skeleton is 6-feet wide, which means that you'll definitely have neighbors walking by and taking photos as they pass it.
Life-Sized Blow Up Skeleton
This Life-Sized Blow Up Skeleton will be the life of your party for years to come. This blow up skeleton is made from reusable material, so you can deflate him and blow him back up again next year.
The skeleton is flexible too, so if you wanted, you could sit him in a chair as a prop that way.
DIY Card Stock Skeleton
This DIY Card Stock Skeleton, as you can guess, is the one I made. It actually held up really well and I've been decorating with it every year since.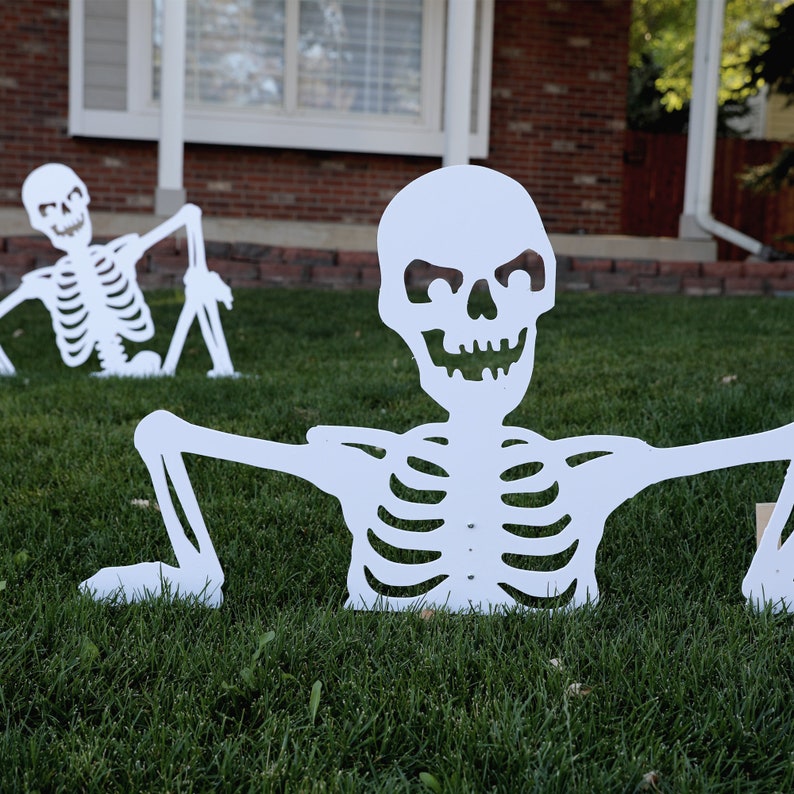 Purchase Halloween Skeleton Decorations Online:
Of course, this list isn't all the Halloween skeleton decorations out there. There are more, like the Halloween Skeleton Yard Art Set above.
For more, check out the stores below:
Don't forget about checking a store's minimum cart total to qualify for free shipping. Also consider instore or curbside pickup, where available, to avoid shipping charges.
More Halloween Decorations:
If you'd rather make your own Halloween decorations, we have a few posts that you might like. Check out our Fun & Easy Halloween Pumpkin Crafts, Easy Halloween Ghost Crafts, and our Halloween Bat Craft Ideas for more ideas.
Which of these Halloween Skeleton Decorations is your favorite? Let us know in the comments.