If you and a friend are going camping, or you know a couple that goes together, our list of 10+ Useful Camper Gifts (for couples) is sure to help you find a gift for them. These gifts aren't geared to solo campers or families.
For more shopping help, check out all of our gift guides.
My parents bought an RV a few years ago and spend a few weeks every year traversing the country in it. They'll also take it on weekend trips when they're free. It's such a nice way for them to see the country and spend some good, quality time together.
What's convenient about using a camper (which is known as car camping) as opposed to tent campers (which my family was growing up) is the storage space. You can keep a lot in the RV, so you don't have to find room in your home for all your camping gear. Just leave your stuff inside the RV and it's all ready for your next camping trip. Super easy.
Every since my parents got their camper, we've been on the hunt for the best gifts for their RV. We collected them in this list.
This isn't the only gift list we have on Drugstore Divas. For all of those, definitely check out our full Holiday Gift Guide.
Those gifts are broken down into categories and feature more than just Christmas gifts, despite what the name of the guide implies.
10+ Useful Camper Gifts For Couples
Affiliate links are included in this post and Drugstore Divas may make a small commission if you use them.
Keep in mind that these gifts are geared towards couples who camp together. We didn't pick gifts that are good for solo campers or family campers. These are all, in some way, best suited for two people. Also, these are camper (with an -er) gift ideas, not camping (with an -ing). So, they're not just generic gifts for a camping lover. They're specific to RV, camper, and campervan owners.
National Park Pass
If a couple has an RV, there's a good chance that they're exploring the great outdoors by visiting as many National Parks as possible. The thing about that, though, is that most than 100 of the National Parks require an entrance fee (and that can be as high as $35).
What most people do, instead, is purchase an America the Beautiful National Park Pass. It's an annual pass and if you go to at least three parks, it pays for itself. What's great is that the pass allows the passholder, plus up to three adults (under 16) into the park.
So, since you're shopping for a traveling couple, you can purchase one pass and its valid for the both of them.
Double Hammock
Two people, one hammock. That's the beauty of a double hammock. A hammock is a really fun way to relax at a campsite. Just tie it up between two trees and kick back.
​If you're traveling as a pair, that means you need two pairs of trees to tie up two hammocks. And there just might not be that many trees on the site. That's why a double hammock is the perfect gift for a camping couple. This way, they'll just need to look for two trees and they can snuggle in the hammock.
Matching Enamel Camping Mugs
I don't know how enamel mugs became synonymous with camping, but they did. So many local and big box stores sell them in their camping sections. You could buy those. That's fine. I actually bought a pair for my parents there.
But, if you want a less generic gift, personalized matching enamel camping mugs are the way to go. You could get them with the couple's name, wedding date, date they're setting off on one of their road trips, or anything you can really think of.
Portable Solar Charger
Spending some time off the grid is great … until you need to charge your electronic devices (phones, tablets, a Bluetooth speaker … all those necessary evils).
What we have, which works great for us, is a portable solar charger. It has two USB ports, which means both people can get their phones to a full charge at once. You open the charger and the sun charges it via the solar panel, so you don't need to be near any outlets to get power. What's even better is it has an LED light on it too, so if you do get into trouble, you can signal for help (because yes, the light can signal SOS in morse code).
Personalized Door Mat
With campers, there's a set of stairs that lead up to the actual inside of the camper. The ground at the campsite is often dirt, and you don't want to track that into the camper itself. The perfect way to keep the camper dirt free is by having a door mat at the bottom of the steps.
What I have sitting in my cart right now is a personalized door mat. You can get a caricature of the couple on it, which is really nice. It sort of looks funny if you start trying to squeeze an entire family onto the door mat. So this definitely a fantastic gift for couples (and maybe not so great for a family).
Tandem Kayak
My mom loves kayaking, but only tandem kayaking. She likes it when she can sit back and relax and my dad is in charge of the rowing. So, if you're shopping for a couple, a tandem kayak is a really nice and practical gift idea for outdoorsy couples.
If your couple really doesn't have that much space in their camper, you could look into getting an inflatable kayak because that should take up less space than hardshell kayaks. Most also have a lightweight design, which makes it easier to carry from the campsite to the water.
Emergency Paracord Bracelets
If your couple goes on long hikes when they're camping, they probably have things like hiking sticks and sneakers. But, what they might not have is Emergency Paracord Bracelets. They're packed with small tools, lights, a whistle, and fire starter. Plus a few other gadgets, like a compass.
You never know what could happen. And I've watched enough episodes of "I Shouldn't Be Alive" to know that the most innocent people find themselves in the most unpredictable situations. If something happens to your couple, and they get separated, they're on their own. So making sure they're saft with one of these on their wrists is really important.
You can get them in different colors too, so your favorite camping couple doesn't have to match.
Propane Coffee Maker
If you're camping as a couple, you have more tasks to do at the campsite than if you had more helping hands. So coffee to help you through it is essential.
A Propane Coffee Maker is a one of the more unique camping gifts because people think you would just pack a coffee machine from at home and plug it in the camper. But, a propane version is much easier. It works pretty similar to your standard home coffee maker, as far as ease of use, but it runs off propane rather than electricity (which your camping friends probably have already if they have a propane camping stove like my parents have).
This coffee maker is an excellent gift if you're camping somewhere that doesn't have a great electric hook up and you need coffee to get you through those early mornings.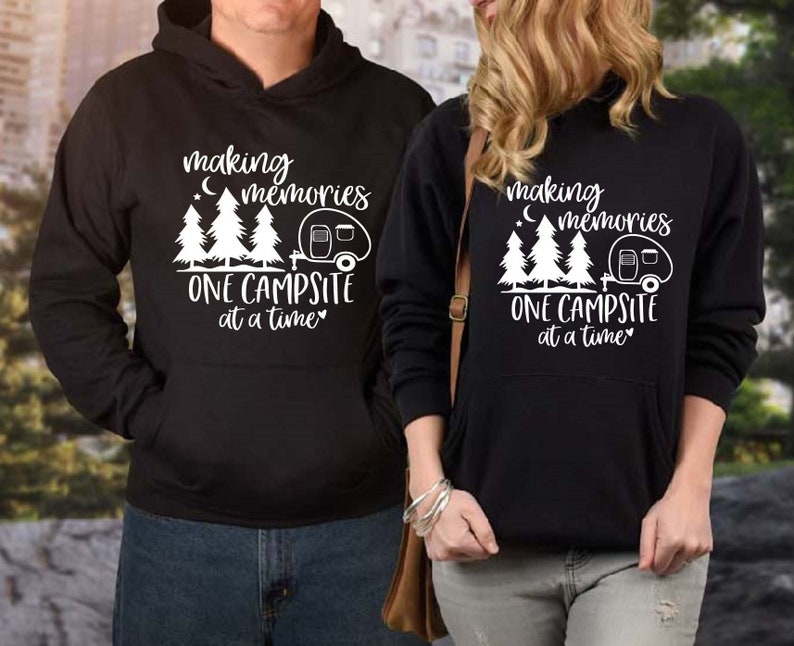 Camping Couples Shirts
I'm not into matching shirts, but this list isn't made for me. It's for people who like camping together. And those people might like fun camping couples shirts.
You can find a wide variety of them online, so definitely shop around before picking your gift.
T-shirts are great for those summer trips but sweatshirts get my vote. I always need to pack those when I'm camping because I need the extra warmth, even if I'm sitting outside next to the campfire.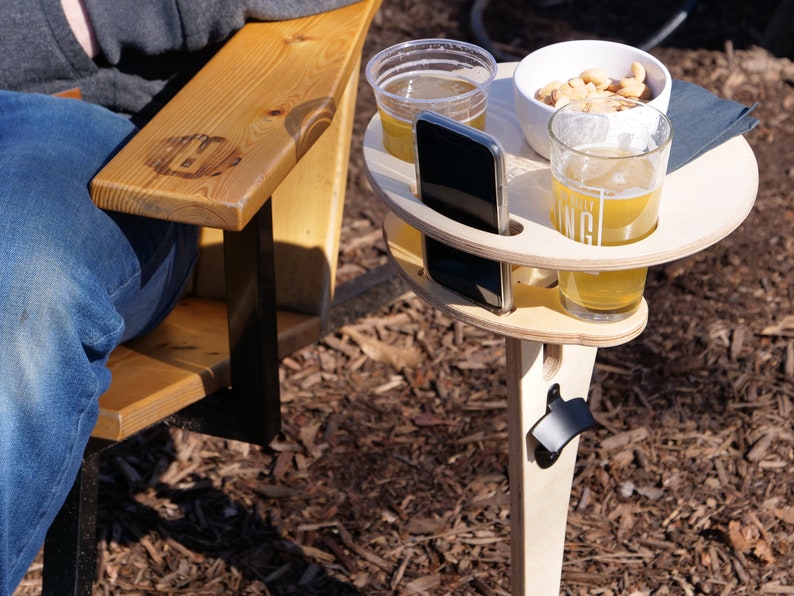 Portable Beer Table
If you're going camping, you're going to relax. And if you're over 21, a great way to relax might involve drinking a beer. Sure. You can put the beer in the chair's cupholder. But what's the fun of that? Instead, go with this Portable Beer Table.
It's on this list for couples because the beer table has two holes that are the right size for beer cans (or a water bottle, if you're like me and don't drink beer). One for each half of the camping couple. If there were more people on the trip, you'd need to buy more beer tables. And that's just getting ridiculous.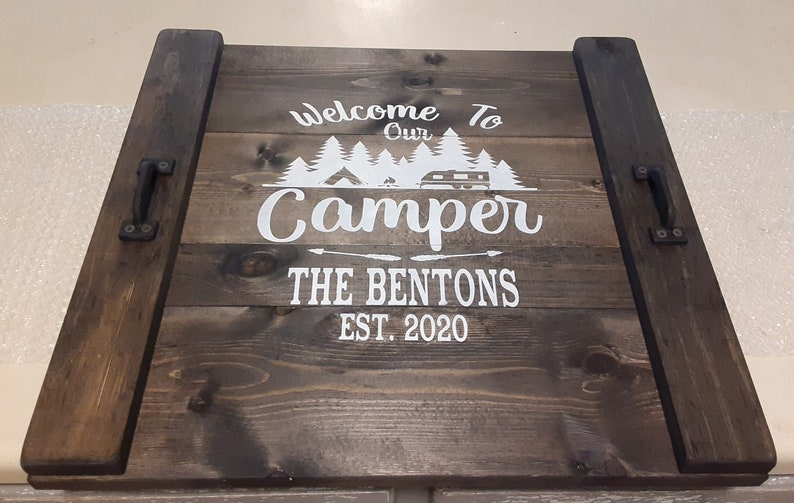 Camper Stovetop Cover
The thing about camping in an RV is you need to maximize your space. An easy way to do that is to out a Camper Stovetop Cover (also known as a noodle board) over the stovetop. That way, you can use the board as counter space or to rest a chopping board. Then, you just move it when you need to cook. Plus, it hides the burners and makes the camper more homey.
My dad built one for my mom, which is super sweet. If you don't want to make your own, you can purchase one instead. You can get it personalized with the couple's names, which is really nice.
Purchase Camper Gifts For Couples Online:
These aren't all of the gifts out these, just the ones we consider to be the best camping gifts. For more ideas, like the portable campfire above, check out the following stores below:
Be mindful of a store's minimum cart total to qualify for free shipping. Also, consider instore or curbside pickup, when available, to avoid shipping charges.
More RV Ideas:
If you came to this list because you just bought a camper and you're trying to figure out what to purchase for yourself, you'd probably also like our post 5 Tips For RVing With Kids.
Which of these Useful Camper Gifts for couples do you like best? Let us know in the comments.