From personalized LEGO mini figures to shirts to coffee mugs, this list of LEGO gift ideas will help you shop for your LEGO fan.
If you're doing a bunch of shopping, our other gift guides will be a ton of help.
If you're shopping for a LEGO lover, there's a good chance he or she has all the LEGO sets they want or need. So if you try buying a LEGO set, you'll probably get a double.
So instead of going through toy store aisles, trying to find some obscure kit, you should pick up something LEGO themed for your LEGO fan instead.
We put together this list of LEGO gift ideas with that in mind. You can get items like personalized mini figures, coffee mugs, and more.
This is just one of our gift guides. Check out Drugstore Divas' Holiday Gift Guide for all of them.
10+ LEGO Gift Ideas
Affiliate links are included in this post and Drugstore Divas may make a small commission if you use them.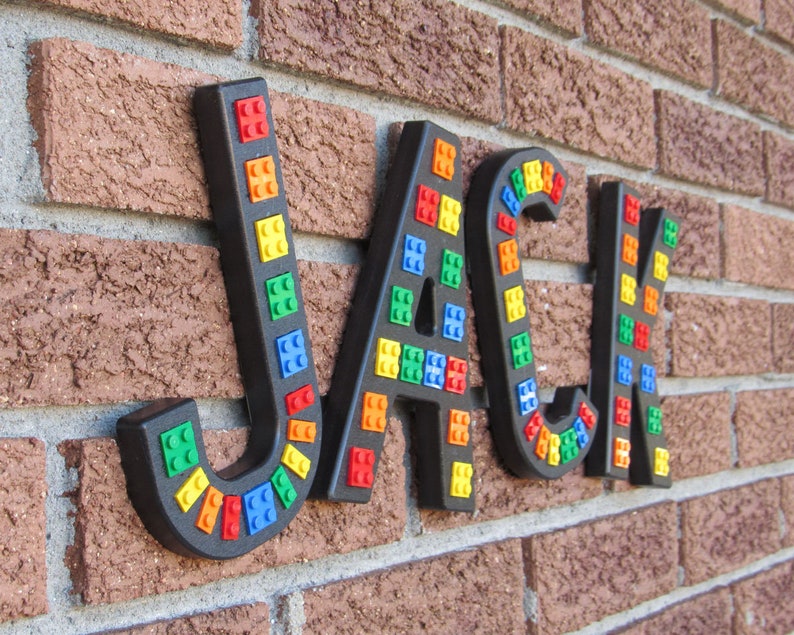 Black "Brick Script" Wall Letters
If you have a space for your LEGO lover to play with his or her LEGO sets, or you're just looking for some cute wall décor, these Black "Brick Script" Wall Letters are perfect.
LEGO bricks are actually embedded into the letters themselves, which looks cool. But they're functional too. You can affix other LEGO bricks or LEGO mini figs onto the letters.
And don't think you only have to buy someone's name. You can order words like BUILD or PLAY instead.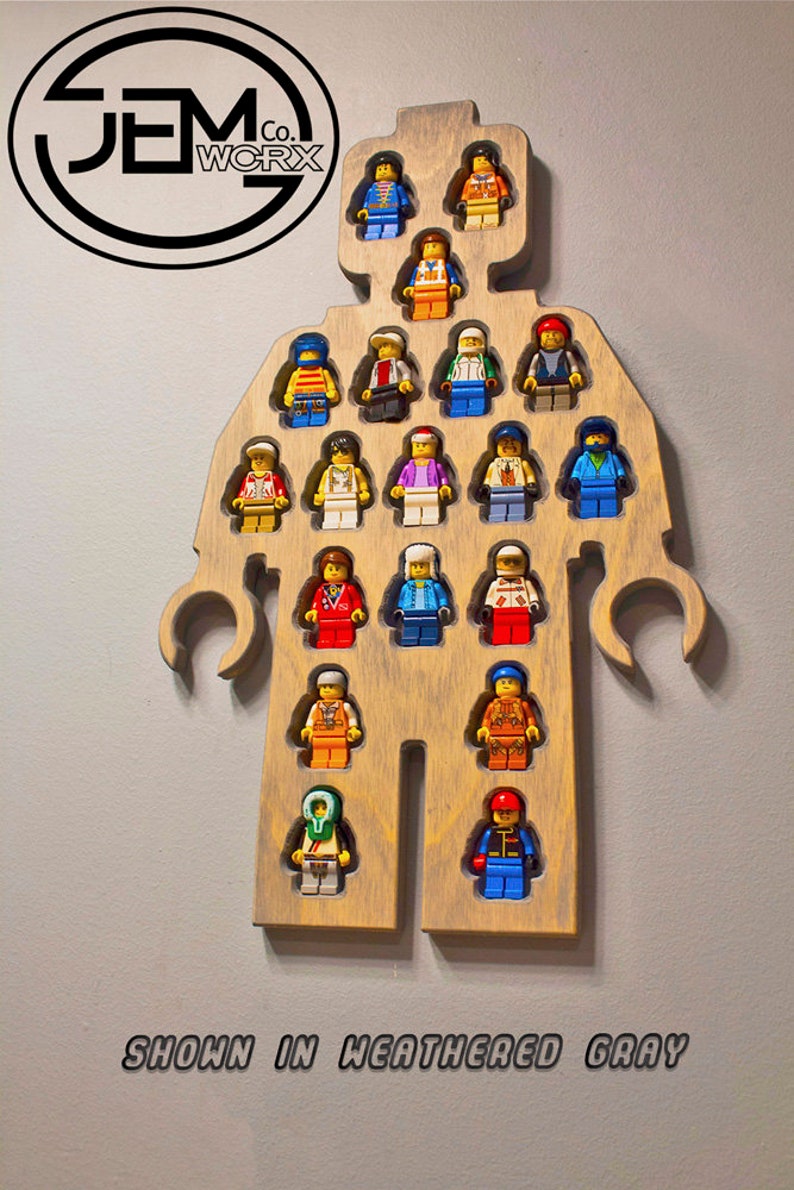 Display Shelf for LEGO Minifigures
If your LEGO fan has a ton of LEGO Minifigures that he or she wants to display at all times.
If they're on a shelf and that shelf gets bumped, the minifigs fly all over the place. Which is a bit of a pain.
That's why this Display Shelf for LEGO Minifigures is so handy. It's shaped like a minifig, which is adorable. Then, it has spots to hold 19 minifigures. All you need to add is some self-adhesive brick tape to stick to it so the LEGO minifig's feet can get attached to the board.
Building Block Coffee Mug
They say don't play with your food, but no one said anything about drinks. And this Building Block Coffee Mug makes it so fun to play with your cup.
You can purchase the mug in either black, blue, green, or red. Each one comes with a tiny pack of bricks and a figure to stick onto the front side of the drink, so your LEGO fan can start playing right away.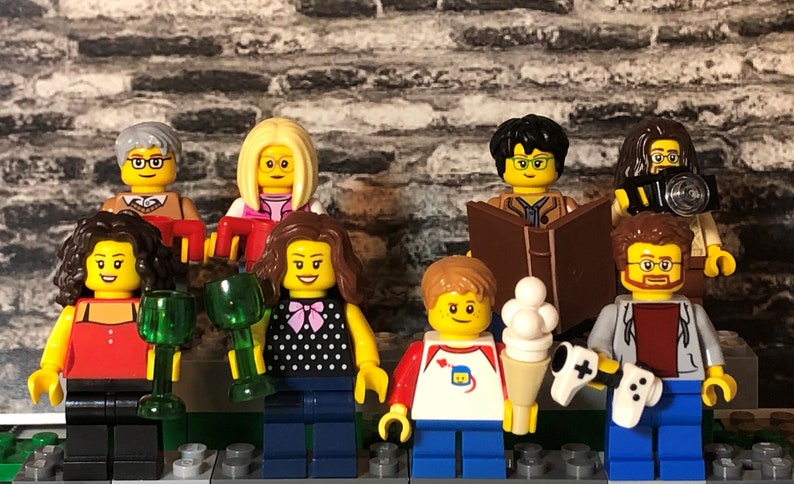 Personalized Mini Figure
This Personalized Mini Figure is the best LEGO gift idea on this whole list. Hands down. Or hands up. Position your personalized minifig however you want.
What's so cool about this personalized LEGO figure is you can really make it look like your gift recipient. You choose the hair color and style, any facial features (like glasses, a beard, etc.), the shirt color and design, the color of the pants, and any accessories.
There are so many options, so it will take a while for you to design the minifig, but when you do, the resemblance to your LEGO fan will be uncanny.
LEGO and Figures Patent Prints Set
If you're looking for something cool to decorate a LEGO lover's room, this LEGO and Figures Patent Prints Set is it. It's a colored rendition of the actual patent on the LEGO bricks and mini figures.
Each print is an 8×10, and it comes just as the print. You'll have to purchase the frame separately.
Street Lamp made using LEGO Bricks
This Street Lamp made using LEGO Bricks might be the coolest LEGO gift idea on this entire list.
It's an actual, functioning desk lamp. However, the base of it is a street made of LEGO bricks. And there are spots where you can attach four LEGO cars, so they look like they're driving on the street.
It's really phenomenal.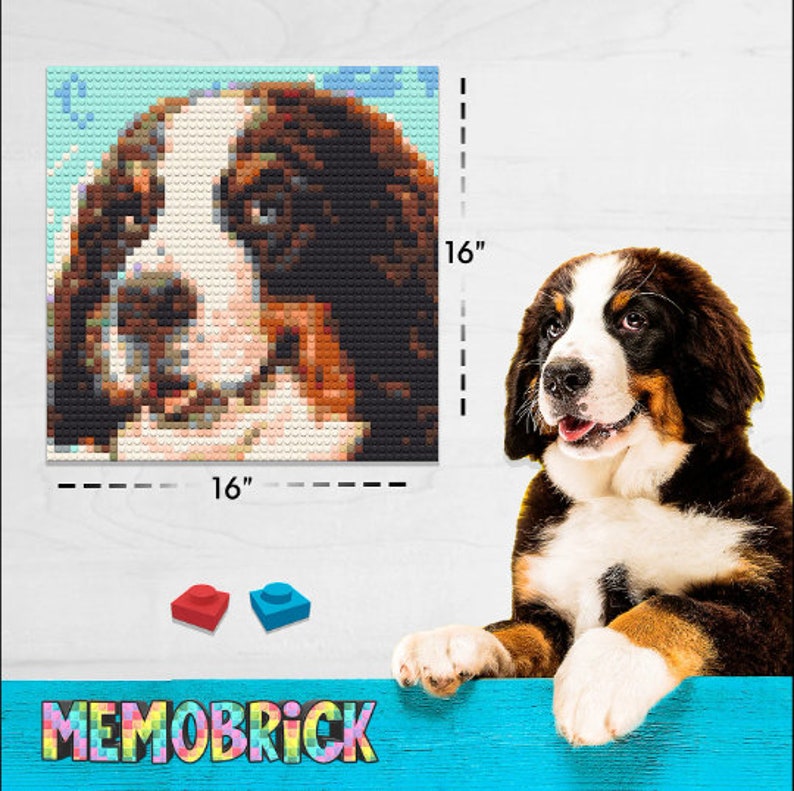 Custom Brick Portrait
I said no LEGO sets were on this list. And this isn't a LEGO set, it's a Custom Brick Portrait. Unless you want it to be a LEGO set.
So, for this gift, you upload an image. It'll be rendered into 1×1 LEGO bricks. Then, you can receive a set of bricks, plus instructions, on how to assemble your 16- x 16-inch custom brick portrait.
You can fit one face on the portrait, so choose wisely.
If you really don't want to put it together, you can purchase it assembled. But part of the fun for your LEGO lover will be assembling it.
LEGO Wall Hanger Set
This LEGO Wall Hanger Set is so much fun. It comes with three hangers in three different colors and sizes.
The set in our image above is red, blue, and yellow (obviously), but you can get them in a more subtle black, grey, and white set. Or you can get a light blue, light purple, and white set.
They're perfect for hanging jackets, bookbags, and more.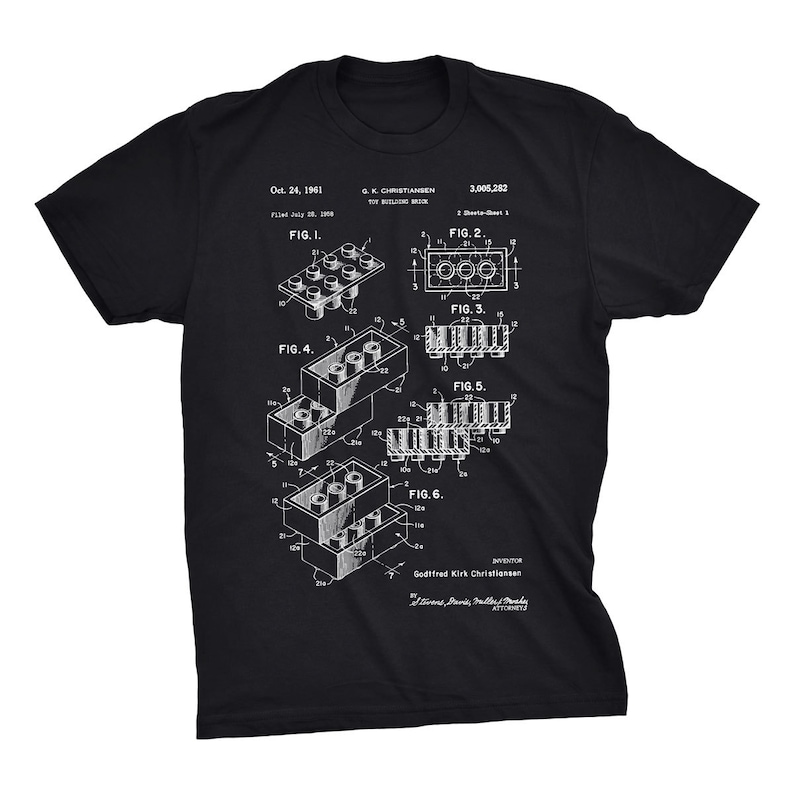 LEGO Brick Patent T-Shirt
Remember that LEGO brick patent print from above? If you like it, but your LEGO fanatic doesn't have anywhere for it, this LEGO Brick Patent T-Shirt is a great alternative. It's the same image, just all in white and printed on a shirt.
You can actually purchase it in sizes S to 3X and it's available in black, white, red, or gray. The latter three colors have the image printed in black.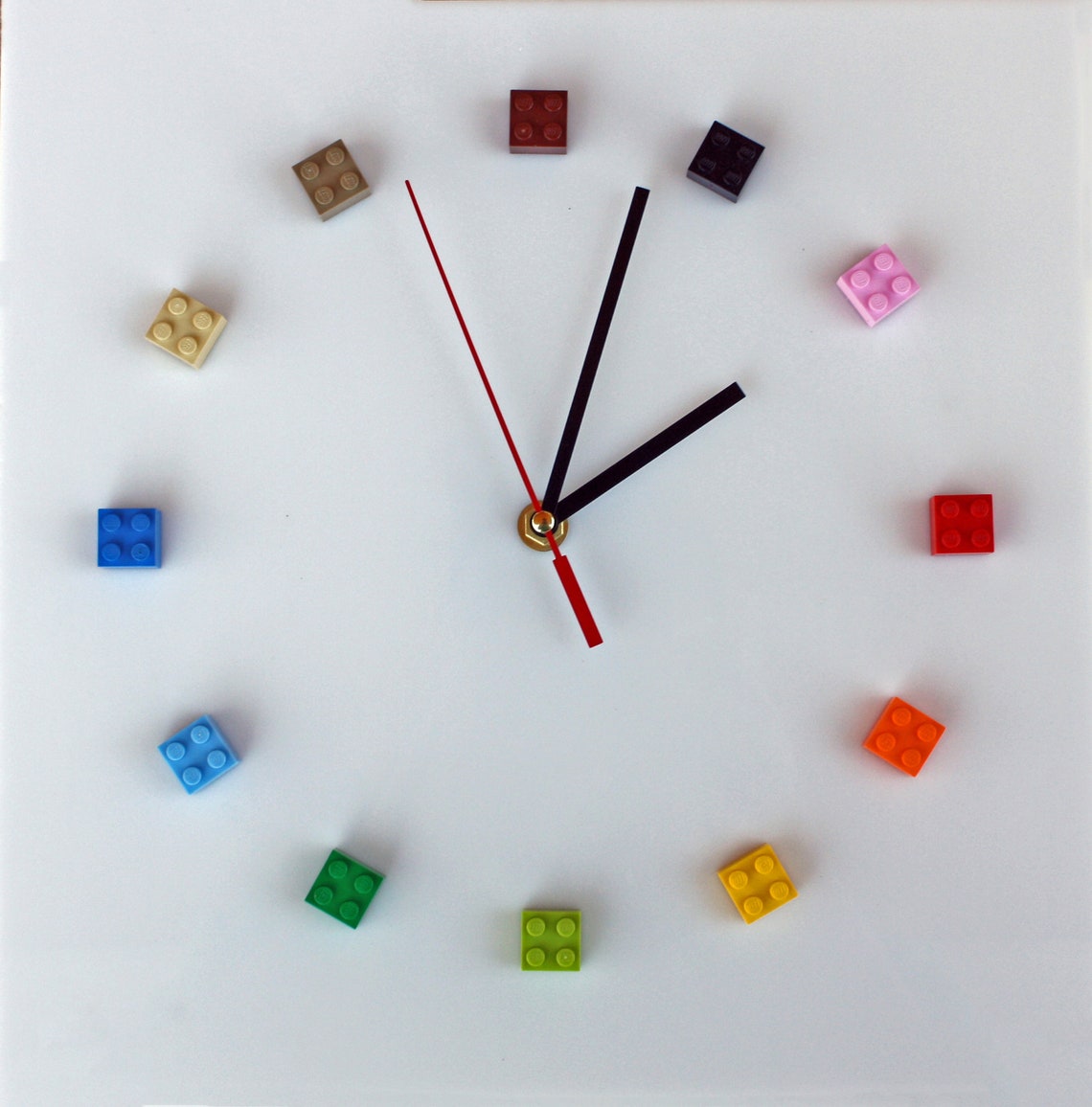 LEGO Wall Clock
How incredibly fun is this LEGO Wall Clock?
It's kind of hard to tell from the photo, but the entire image above it the actual clock. It's a white square with 2×2 LEGO Bricks as the numbers. It's not just LEGO bricks that you need to put on a wall.
The clock is completely functioning, so it's a very cool way for your LEGO lover to tell time.
The LEGO Movie Silicone Brick Night Light
If your LEGO fan is also a fan of The LEGO Movie, he or she will love this The LEGO Movie Silicone Brick Night Light.
Each side of the LEGO brick-shaped lamp has a different character from the movie on it, including LEGO Batman.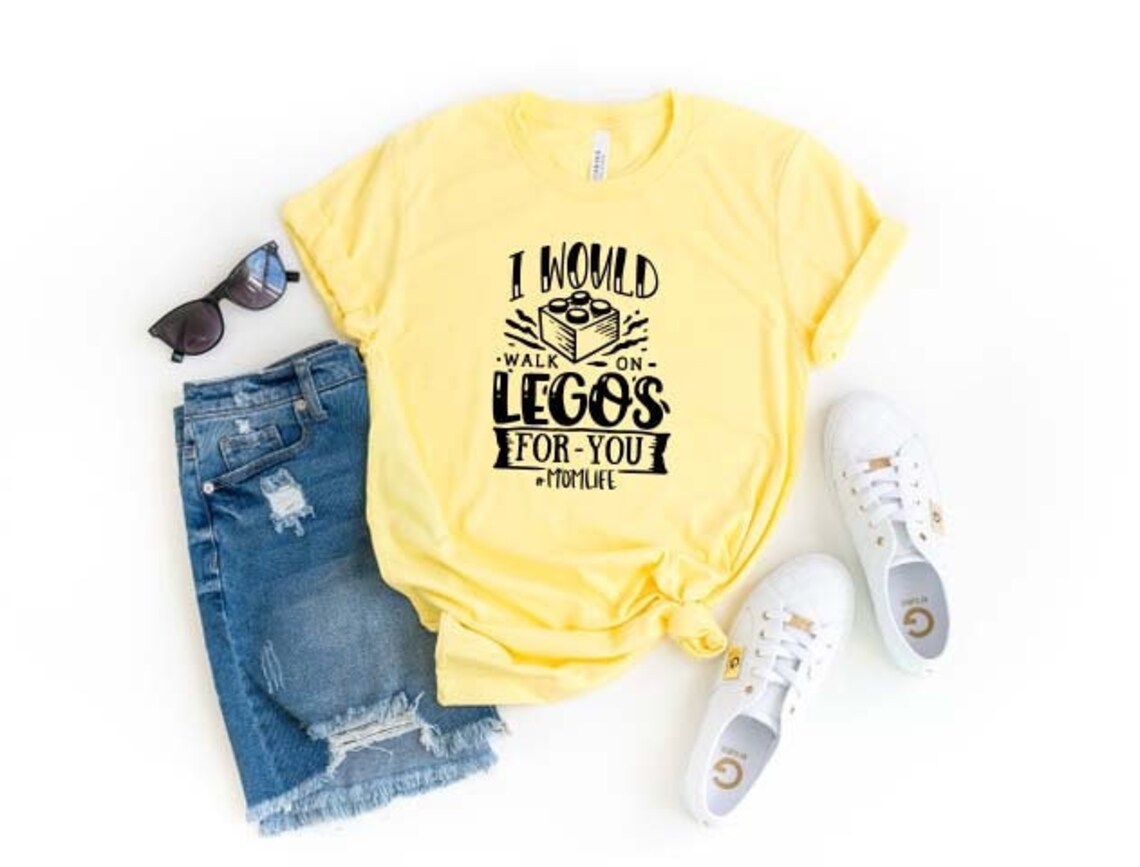 Purchase LEGO Gifts Online:
These are our favorite LEGO gift ideas, but they're not the only ones. We couldn't include everything, like the I Would Walk On Legos For You, Mom Shirt above.
So, for more ideas, check out the stores below:
Don't forget to check a store's minimum cart total to qualify for free shipping. Also, consider instore or curbside pickup to save on shipping costs.
DIY LEGO Gift Idea
If you'd rather make a LEGO gift than buy one, we have the cutest DIY LEGO Head Marker Holder tutorial to teach you how to make that fun craft.
Which of these 10+ LEGO Gift Ideas is your favorite? Let us know in the comments.