Celebrate Dr. Seuss Day, which is also Read Across America Day, on March 2 by reading some of these great Dr. Seuss books.
If you got excited because this is about books, check out all of our other books posts.
I love Dr. Seuss. I actually did a report on him when I was in college.
Did you know that his dad actually was pushing him to be an actual doctor. He didn't want that path, but he wanted to please his dad, as we all do, and that's how he came up with his moniker.
Cool, right?
Also cool: Dr. Seuss has an entire day dedicated to him. March 2, to be exact. That's a great excuse to pick up some Dr. Seuss Books and read them with your children.
Check out our list of great ones below and get them in time for Dr. Seuss Day.
But, before we get to the full list, let's chat about Dr. Seuss Day a little.
If you really want to celebrate, check out our Dr. Seuss Party Ideas to make the day something special.
Dr. Seuss Day: Frequently Asked Questions
What day is Dr. Seuss celebrated?
Dr. Seuss Day is celebrated on March 2 every year. That's Dr. Seuss' actual birthday.

Read Across America Day is also celebrated on the same day annually. The holiday was started in 1998 to encourage reading in children and teens.
How do you celebrate Dr. Seuss Day?
The best way to celebrate Dr. Seuss Day is to pick up a book — any book, even an e-book — and spend part of the day reading.
Who was Dr. Seuss?
Dr. Seuss is the pen name of Theodor Geisel. He wrote and illustrated books under that name.
How many books did Dr. Seuss write?
In total, Dr. Seuss wrote 66 books. That includes books he wrote and illustrated, books he wrote but didn't illustrated, books he co-authored, books he wrote under a pseudonym (Theo LeSieg), and his books that were published posthumously.

Over 600 million copies of Dr. Seuss' have been sold. His books were translated into over 20 languages by the time of his death in 1991.
30 Books To Read To Celebrate Dr. Seuss Day
Affiliate links are included in this post and Drugstore Divas may make a small commission if you use them.
One Fish Two Fish Red Fish Blue Fish
Green Eggs and Ham
Fox in Socks
I Can Read With My Eyes Shut
Oh, The Thinks You Can Think
The Cat in the Hat
Hop on Pop
The Lorax
Horton Hears a Who!
Bartholomew and the Oobleck
Oh Say Can You Say What's the Weather Today?
Dr. Seuss's ABC: An Amazing Alphabet Book!
The Foot Book: Dr. Seuss's Wacky Book of Opposites
The Sneetches and Other Stories
What Pet Should I Get?
Dr. Seuss's Sleep Book
How the Grinch Stole Christmas!
The Butter Battle Book
Yertle the Turtle and Other Stories
The Tooth Book
There's a Wocket in my Pocket
Purchase Dr. Seuss Books Online:
These aren't all of the Dr. Seuss books out there. There are more, including the Cat in the Hat's Learning Library books. Those books, like Happy Pi Day to You!, are in the Dr. Seuss family, but aren't necessarily written by Dr. Seuss.
To purchase those books, check out the stores below:
Don't forget to check a store's minimum cart total to qualify for free shipping. Also consider instore or curbside pickup to avoid shipping charges.
Dr. Seuss Crafts:
If you want to make some decorations to celebrate Dr. Seuss Day, you're in luck. We have a few really cute tutorials to make some fun Dr. Seuss crafts.
Dr. Seuss Seussville Sign Tutorial
A few cardboard arrows, some Dr. Seuss letters, and a leftover flagpole come together to make this really cute Dr. Seuss Seussville Sign.
It's something you can display outside if you're planning a Dr. Seuss party or you can just put it in the reading section of your child's room or playroom.
Dr. Seuss' The Lorax Centerpiece Tutorial
The most stand out part about The Lorax are the Truffula trees. So this the Dr. Seuss' The Lorax Centerpiece really focuses on crafting those trees.
This craft is written as a party centerpiece, but you can make it smaller and adjust it to fit a bookshelf or wherever you want to display it.
And, if you don't want to make a huge craft, you can modify it totally so that you turn those Truffula trees into tiny decorations to display around your home.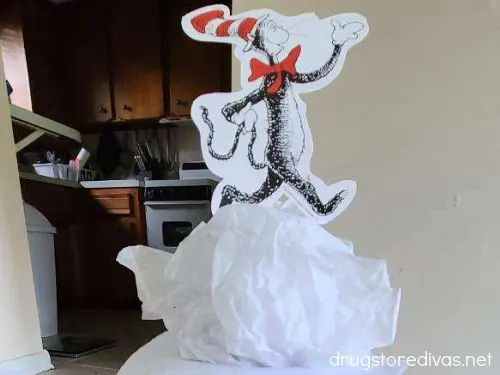 The Cat In The Hat Centerpiece Tutorial
The Cat In The Hat is the iconic Dr. Seuss character. So if you're looking for a craft to make to celebrate Dr. Seuss' birthday, this is the one to make.
It is a tall centerpiece that was originally created to sit on a table and be a focal point of a party. But, you can modify it and make it smaller so that you can put it in a display case or on a smaller table in your home.
Dr. Seuss Party Ideas:
If you want to celebrate Dr. Seuss Day with a party, or you just want to throw a Dr. Seuss party, you're in luck. We have a post with The Best Dr. Seuss Party Ideas.
You'll get ideas for food, decorations, goodie bags, crafts, and more.
More Book Gift Ideas:
Books are such a great gift idea. I try to give them often because books are a way to force people off of screens. So any of these Dr. Seuss books would be the perfect gift.
But, if you're looking for more book gift ideas, or just something to pair these books with, we have a few posts that can help with that.
Which of these 30 Books To Read To Celebrate Dr. Seuss Day will you read first?