Did you buy Tajín to use on watermelon but now that summer's ending you need some new ways to use it? Check out our list of Tasty Recipes With Tajín for inspiration
For more ideas of what to cook, check out all of our recipes.
Tajín seasoning is a popular chili lime seasoning, used often on fresh fruit. So people generally buy it, use it on summer watermelon, and that's it. The nearly-full bottle then ends up sitting in the spice rack until next summer.
Instead of letting it collect dust, make one of these other Tajín recipes. They all use simple ingredients, which are delicious alone but are really enhanced by the addition of the Tajín. So you could make them without Tajín, but why would you?
Real quick, in case you don't know. Tajín seasoning (which is technically Tajín Clásico Seasoning) is made from dehydrated natural chili peppers, dehydrated lime juice, and sea salt. If you're worried about your salt intake, there is a low-sodium version of Tajín that you can use instead.
Tajín started out as a way to add a little punch of flavor to people's favorite fruits, like watermelon, mango, pineapple, and cucumber. But, as people found out about the popular Mexican spice blend, they started finding tons of uses for it. Everything from topping guacamole to using it around the rim of cocktails, like Bloody Mary drinks.
One thing that's mostly universal is that the most common use of Tajín is as a finishing spice. It's not something like garlic powder where there are different ways to use it while you're cooking. Tajin does season your food, but only after it's finished.
Another thing. All these savory dishes specifically use the powdered version of Tajín. There is a liquid Tajín hot sauce that adds a spicy flavor to recipes. That's not what we're using here.
And finally, follow the recipes as written the first time you make them. We do encourage measuring spices with your heart rather than a measuring spoon. But, if you've never tried the seasoning mix before, a good idea is to make the recipes as is. Then, go ahead and ab lib.
5+ Tasty Recipes With Tajín
These are all the Tajín recipes that we currently have on Drugstore Divas. But, we do use Tajín all the time. So, as soon as we add a new recipe with Tajin to the blog, we'll add it to this list. So, be sure to save it (bookmark it, pin it, or however you save recipes) and come back to it from time to time to see what's new.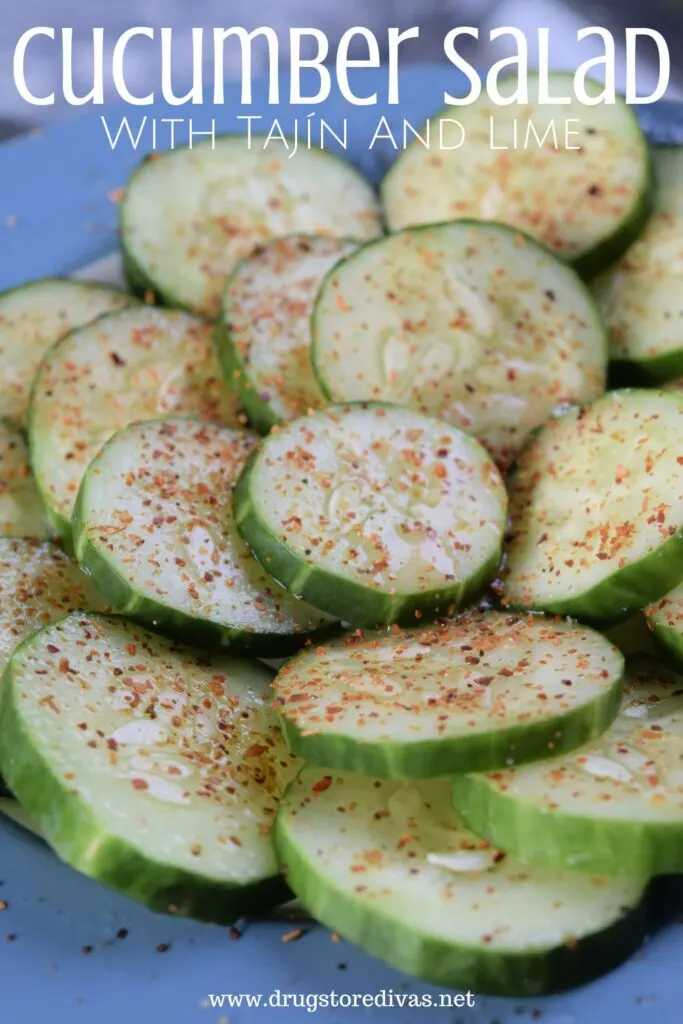 Cucumber Salad with Lime and Tajín
One of the best ways to use Tajín is by making Cucumber Salad with Lime and Tajín, which is a really popular snack in Mexico. Once you make the simple recipe, you'll understand why. It's really easy to make and very refreshing.
This is the perfect snack to use up our garden cucumbers, which grow great in the summer heat. But, if you don't have a garden or you're making these any season other than summer, you can use cucumbers from your local grocery stores instead. You can use fresh lime juice in this, but I just use bottled lime juice because it's cheaper to use that. Either is fine.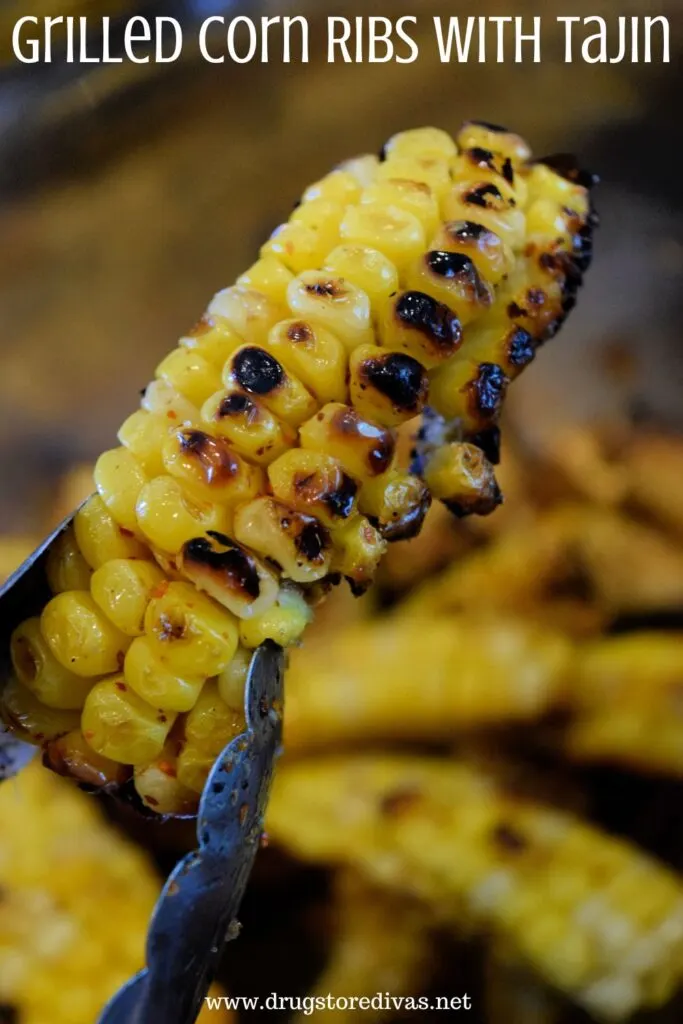 Grilled Corn Ribs With Tajín
Corn ribs were TikTok famous last year, and once you make them, you'll absolutely know why. It's a fun way to enjoy fresh corn on the cob.
The corn cobs are cut into pieces, grilled until the resemble ribs, then seasoned. You can season them however you want, however we prefer to make Grilled Corn Ribs With Tajín. It's the perfect compliment to sweet corn.
Deviled Eggs With Tajín
Deviled Eggs are such a popular appetizer. But, have you had Deviled Eggs With Tajín? If not, you need to try it.
This recipe is a little different, so it's a little sweeter than a traditional deviled egg. The Tajín matches that flavoring perfectly, making the deviled eggs just a little bit more interesting.
Also, quick note: My best friend uses Tajín on hard boiled eggs. So, if you don't want to go through the hassle of making deviled eggs, but you want to try the combo of eggs and Tajín, go with that.
Grilled Mexican Street Corn Salad (Grilled Esquites)
Many people know Tajín because of Mexican Street Corn, which is a staple in Mexican cuisine. An easy way to eat it is as Grilled Esquites, which is basically Mexican Street Corn in a cup. Our version, Grilled Mexican Street Corn Salad, is served family style because we always make it for potlucks. But you can make it and serve it however you want.
The grilled corn and jalapeno are joined by queso fresco, sour cream, mayo, green onions, and seasoning — including Tajín — to make a really great Mexican side dish.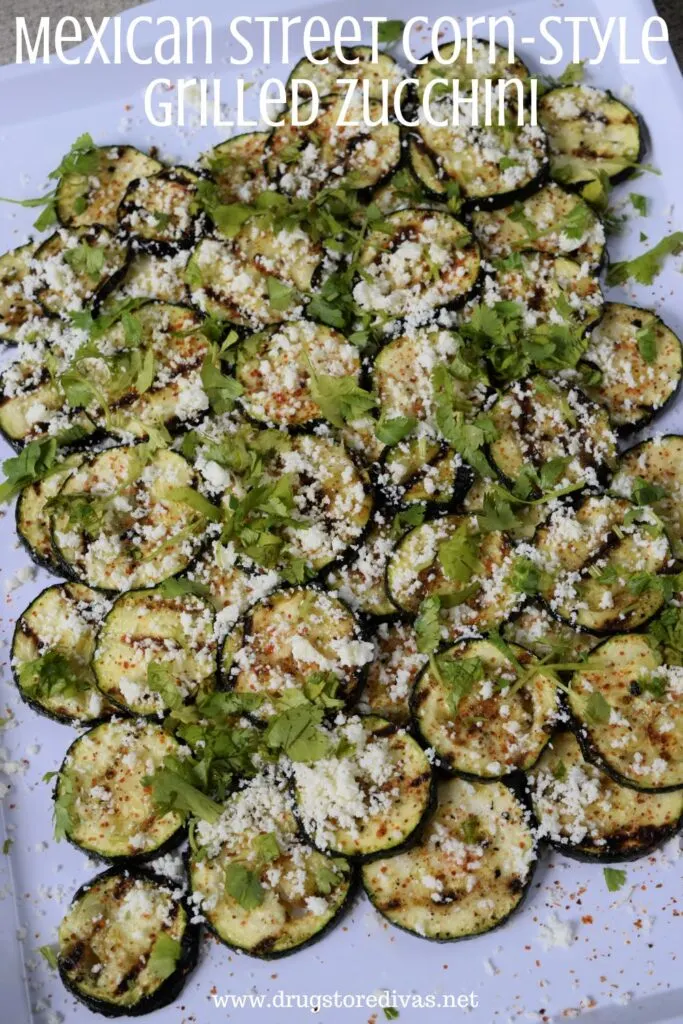 Mexican Street Corn-Style Grilled Zucchini
If you like the flavors of Mexican Street Corn, but don't like corn, we have this Mexican Street Corn-Style Grilled Zucchini. It's a great way to enjoy those flavors during months when corn is not in season.
Grilled zucchini is topped with cotija cheese, cilantro, and seasoning — including, of course, Tajín. We serve this one family style at our backyard barbecues.
Mexican Corn And Zucchini Salad
If you like corn and zucchini, you'll love this Mexican Corn And Zucchini Salad. It has both of them, so you don't have to choose. What's good about this recipe is that unlike the two before it, it's cooked on the stovetop in a large skillet so you don't have to worry about grilling.
Tajín seasoning is sprinkled on top of the cooked veggies, along with some queso fresco and other seasoning, to make a really tasty side dish to go with whatever main course you're serving.
Which of these Tasty Recipes With Tajín are you going to try first? Let us know in the comments.