Easter is over, but those colored eggs are still lingering in the fridge. Use them up with these a few creative Leftover Easter Egg Recipes.
Want more ideas of what to cook? Check out all of our recipes.
Dying Easter eggs is a classic Easter tradition that almost everyone takes part in, in some way.
Take us for example. We didn't dye eggs last year, but we were recipients of a pair of dyed eggs from our nephews. Which means we had to eat the eggs.
Sure. We could have just peeled them, dipped them in some salt, and ate them that way. But if you have more than a pair of leftover hard-boiled eggs after your Easter egg hunt, you want to get a creative. So we put together a list of easy recipes using hard boiled eggs.
Hard boiled eggs aren't only for Easter. Make a spooky version with our Halloween Spiderweb Hard Boiled Eggs.
5 Delicious Leftover Easter Egg Recipes
Affiliate links are included in this post and Drugstore Divas may make a small commission if you use them.
As we add more tasty recipes with hard boiled eggs to the blog, we'll update this list. So be sure to save it (bookmark it, pin it on Pinterest, however you save posts) so you can come back to it later for more ideas.
Deviled Eggs With Tajin
In order to make deviled eggs, you start by hard boiling eggs, then cooling them in cold water. When they're cool, you remove the egg yolks, mix them with some ingredients, and pipe that egg mixture back into the egg whites.
So, when you start with Easter eggs, you're already done with the longest part of the recipe.
These Deviled Eggs with Tajin are a little different than a traditional deviled eggs recipe our yolks are mixed with mayo and rice wine vinegar, which makes them a little sweeter (which most taste buds appreciate, I've found).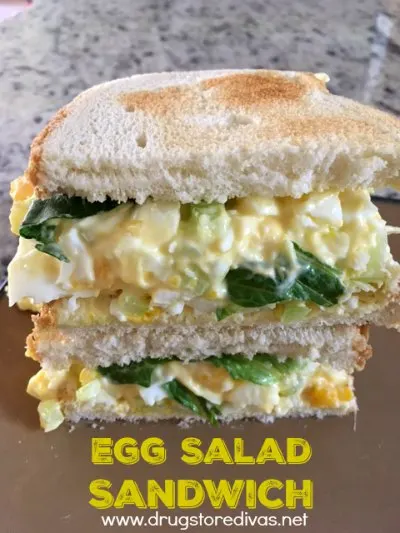 Egg Salad Sandwich
Hard boiled eggs are the main ingredient in this classic Egg Salad Sandwich. So, having leftover hard boiled eggs from Easter makes this such an easy recipe.
All you need to do is peel the hard boiled eggs, add them to the other ingredients, toast some bread, and lunch is ready.
And, if you don't want to eat this as a sandwich, that's fine. Skip the bread and serve this egg salad recipe over a bed of lettuce leaves instead.
Grilled Chicken Salad
Adding a hard boiled egg to a salad with lots of veggies is a great way to add some extra protein, especially if you don't feel like grilling chicken for this Grilled Chicken Salad.
Taking a leftover Easter egg and being able to just slice it and throw it in your salad makes your life so much easier.
If this got you thinking that salads are a good use of leftover eggs, but you don't want this same meal two days in a row, consider a Cobb Salad. That's basically a bowl of lots veggies, chicken, bacon, cheese crumbles, and sliced egg.
Miso Ramen With Egg
Trust me when I tell you that adding a hard boiled egg to ramen is such a delicious way to up your ramen game.
If you're using a leftover Easter egg, make the Miso Ramen recipe as written, then pour it into bowls. Add a peeled hard boiled egg into each bowl and submerge it just a little bit to warm it up before cutting it. It's a lot easier than actually trying to poach an egg in ramen (which is often how you add an egg).
And, quick side note: If you're making packaged ramen at home, dropping a raw egg in at the same time as the noodles, then gently breaking it up, and cooking it alongside the noodles will bring that packaged ramen to the next level. I promise.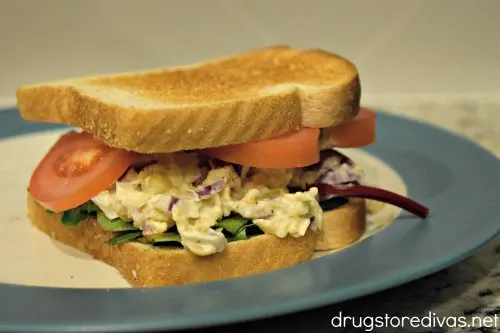 Tuna Fish Sandwich
Here's my hack to making the best Tuna Fish Sandwich: Add a hard boiled egg. I'm serious. That leftover Easter egg makes such a difference in a tuna salad sandwich.
It's a tip that I learned from my elementary school best friend's grandma and I've been using it ever since. Mix together tuna and mayo, plop in a hard boiled egg, and mix it all together. I add seasoning (which she never did) and celery, lettuce, or red onion, and it's such a delicious recipe.
If you have a little bit of curiosity — and some leftover Easter eggs — try this for lunch. You'll never make it without egg again.
Potato Salad With Eggs
An easy way to use up a bunch of eggs is to make Potato Salad with Eggs. That's how my mom makes hers. Personally, I make an eggless Loaded Potato Salad (with sour cream, cheese, bacon, and green onions) or we do an Avocado Potato Salad, which is a great option when you're looking for something different.
But, to make potato salad with eggs, you just need to boil six potatoes, add in mayo, dijon mustard, and seasoning, then five hard boiled eggs.
It's too late for this year, but this egg-heavy potato salad is a great addition to your Easter dinner because of course, you use up eggs, but also, traditional potato salad goes really well with ham (which is most people's favorite recipe for Easter dinner).
Hard Boiled Egg Sandwiches
A really simple way to use up hard boiled eggs is to eat them as hard boiled egg sandwiches.
Toast a piece of bread, drizzle it with olive oil, and add a little salt. Then, cut the egg with a sharp knife or an egg slicer (which we love for even slices, by the way), and scatter the pieces on top of the toast.
It the perfect recipe for Easter breakfast, when you're trying to quickly get some food into your kids before they binge all the chocolate the Easter bunny brought them.
Which of these Leftover Easter Egg recipes will you try first? Let us know in the comments.