Tis the season for unexpected guests. Get ready with 7 Ways To Prepare For Unexpected Guests, like having clean sheets and beer ready.
For more help, check out all of our posts about preparing for guests.
This time of year can be crazy. We been spending every Sunday sitting in our garage watching football. And, every Sunday, without fail, someone random stops by for Sunday Funday. So, we have found ways to prepare for unexpected guests … when, you know, we're not expecting them.
Usually, we'll be lounging and the doorbell rings or someone knocks on the garage door.
You know how it goes, right?
You answer it and see a friend who happened to be in the area and wanted to stop in and say hello.
Of course you invite them in because that friend would invite you in. But maybe, just for a second, you panic because you didn't have any advanced notice to get ready for guests.
No worries. I've got you covered.
7 Ways To Prepare For Unexpected Guests
Affiliate links are included in this post and Drugstore Divas may make a small commission if you use them.
Always have toilet paper.
In this house, we have three bathrooms for two people and that means a lot toilet paper holders needing toilet paper. Our main guest bathroom is on the bottom floor, right next to the garage. It always has two rolls of toiler paper in there: one on the holder itself and a second in a clear box in the corner, across from the toilet.
We have so many guests come and watch football in our garage-turned-home theater from August until February, even when we're not expecting them, and they tend to stay all day. They'll probably need the bathroom at least once, and I don't want that one time to be embarrassing for anyone because there's no toilet paper. So we keep two rolls in there, then the rest of a pack in a closet across from that bathroom.
Every time our guests leave, I make sure to pop my head in that bathroom and see if the extra roll is still in the clear box or not. If it is, great. If not, I refill it.
Pick up after yourself.
So, here's an embarrassing story from my past. I was working a gazillion hours the week before my friend was coming to visit me when I lived in Pennsylvania. The night before the visit, my goal was to clean my entire apartment, including some dishes I left in the sink because I just didn't have time. The night before arrives and I got stuck at work. No worries. I finally get home and before I could even clean one thing: my doorbell rang. Here was my friend … and also here was a sink full of dirty dishes and piles of mess that needed to be picked up.
He came a day early. Surprise.
Joke's on me.
Ever since, I've been really careful to make sure all my common areas are tidy at all times. Anywhere a guest might be — the kitchen, the living room, the bathroom — they're all perfect.
My office sometimes looks like something exploded in it. But no one comes over asking if they can work for me. So no one ever sees the office.
Stock up on snacks.
We love to feed people. Any time anyone is over, it's so important to us to be able to feed (or at least offer to feed) our guests. That means our pantry and fridge need to be stocked with foods that are easy to serve in a pinch.
Cheese and crackers are a must. Chips too. I break out chips so often when people are here, it's not even funny.
And, if no one stops by, that means more snacks for me and Pete. Nothing bad about that.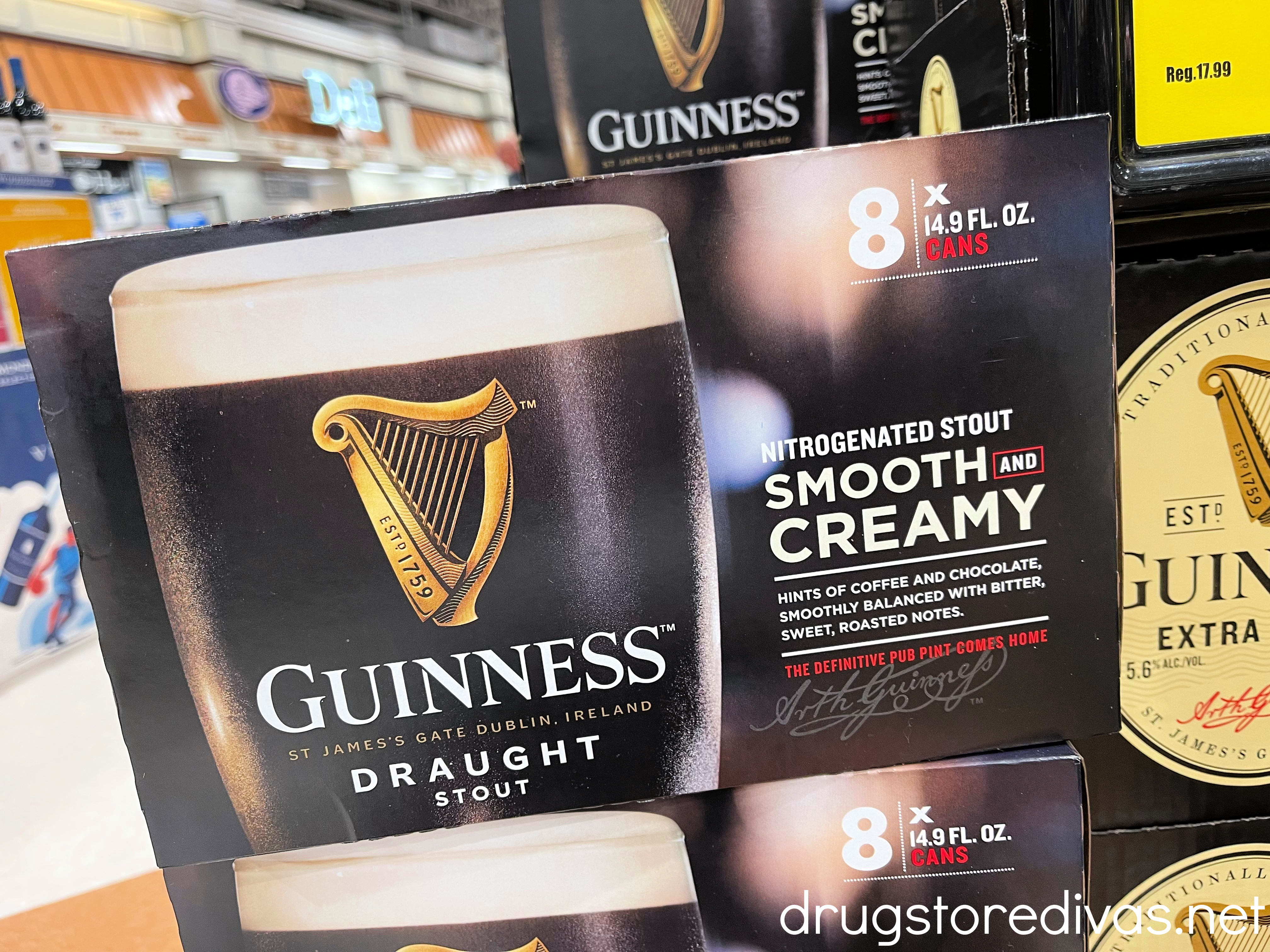 Have beer in the fridge.
We always have beer in the fridge, even when Pete was doing Dry January. Because even though he wasn't drinking, our guests were.
Sometimes friends stop by unexpectedly, just needing a moment to chill out. And we always welcome that. We're so happy to be the house where people know they can stop by without notice and we will never turn anyone away.
When people come to hang out, we always offer them a drink, and that includes beer. But we can only offer them beer if we have beer in the fridge. So, even if you don't drink, you might want to have a six-pack on hand, just in case your guests wants an adult beverage.
Always get dressed.
When I was working at an office, I would shower first thing in the morning. It would wake me up and get my day started. But, since I started working for myself at home, the first 90 minutes of my day are so crucial. I wake up, pour a cup of coffee, and dive right into work … in my pajamas, glasses, and messy hair.
Often, the doorbell will ring when I look like this.
Usually it's my parents. And that's fine. But sometimes it's an unexpected guest. So here I am with a messy ponytail, a face washed with microcellular water, looking like I just rolled out of bed to answer the door.
So, my advice to you is to always get dressed into clothes and don't lounge in pajamas once the clock gets to double digits. Someone could drop by and need your help with something outside, or need you to run a quick errand with them, or just need a cup of coffee and some porch sitting. And that's a lot more comfortable in real clothes than pajamas.
Keep your sheets washed.
Every time we have overnight guests leave, I immediately wash and change the bedding. It's a really good habit because then I always know the sheets are clean for the next guests. It's better than trying to remember if I did or didn't wash them last time.
I do the same thing with towels, too. When we have overnight guests leave, I make sure to collect all the towels from the bathroom (bath towels, hand towels, and wash cloths) and wash them right away. That way, they're always clean for the next set of guests.
Now, if you have guests who just randomly stop by because they're in the neighborhood, you wouldn't expect them to need your guest bedroom or bathroom. But it happens. Trust me.
Know where your extras are.
Whenever I stop by my parents' house, my phone is always dying. I play a lot of Pokemon Go, and I have a slight Snapchat obsession, so my phone dies often. Even now, I'm typing this on the iPad, trying to ignore my phone because it's on 15%. So when I get to my parents' house, I'm always on the hunt for a charger.
The funny thing is, when my aunt and uncle came to visit a couple years ago, they forgot a phone charger. Completely left New York without one and got to North Carolina on one charge. But then couldn't charge their phones when they got here.
I had an extra charger and knew exactly where it was, so I was able to get it to them right away.
What to clean for guests?
There are a few things to always clean, just in case unexpected guests stop by. To make your life easier, I put together a really quick checklist.
Guest bathroom
Toilet
Towels
Check soap (refill if needed)
Check body wash, shampoo, and conditioner (refill if needed)
Shower curtain (wash this after guests leave)
Guest bedroom
Sheets
Pillows
Keep one drawer in a dresser empty at all times
Keep part of a closet empty at all times
What do you do to prepare for unexpected guests? Do you have tips for how to prepare your home for guests? Let us know in the comments?